Find Reviews for a Haunt near You! Find Reviews for a Haunt near You!
Find Reviews for a Haunt near You!
ScareATorium
2605 Northland Plaza Drive, Columbus OH, 43231
Reviewed by:Team Mysterious Misery on October 10, 2015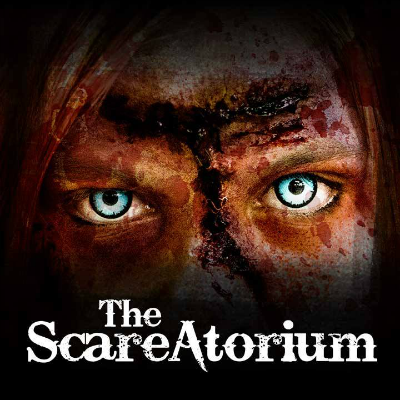 Free Parking, Restrooms On-Site, Food/Concessions, Gift Shop/Souvenirs, Optional Games/Midway, Special Events, This haunt will not touch you, Original Characters, Indoor Haunt, Family-Friendly, Indoor/Outdoor Waiting Line, Covered Outdoor Line
Scare-A-Torium showcases many of the industry's best people from Mr. Newsome in makeup to the Collins who have been in this industry for years. It does not surprise me that the numbers are up this year for this haunt and it is becoming the must-see haunt in central, Ohio! With a passionate cast and great costuming, you begin with many scares there but they keep it going with theme and special effects. Being indoors is an added bonus, as you don't have to deal with the weather and can go and have a frightening time. They offer something for everyone, even lights-on tours on select dates for the little ones or the scaredy cats in your family. Don't forget the added escape rooms this year as we made it out with only 12 seconds left! So see if you can do it too! Make sure you see Fingers the Clown who is always looking for a deal!
---
The Scare-A-Torium is a haunt where the cast is always a highlight. They have about 70-76 cast and crew members on board and on any given night. The cast members have to go through an audition process to make it to the final show. Since they do this, the Scare-A-Torium brings some of the best into their haunt, giving you the patron the best in the haunt business. You will not know it but as you may be running through screaming your heads off, some of cast can be anything from children to local drama students giving you the best few minutes that they can offer, which only enhances this haunt. The Scare-A-Torium works hard in giving their cast the best tools to be the most effective in the haunt. These actors have been put through many tests, have learned many scare techniques, been to many classes and much more. Some of the best scares are found here and this year you will see some very young beginners learning the ropes. There are also zone coaches who have worked hard and displayed hard work and talent to be in that position. Our shout-out goes to Alex "The Guardian Angel." He had me so engaged and intrigued that I was having an internal debate on whether he was real or not!
---
The Scare-A-Torium is a haunted attraction that stays consistent every year in offering the best in the industry. They are fortunate to have Mr. Keith Newsome and the amazing makeup team that keep this attraction top notch. This is an attraction were the artists go all in and show you the best they have to offer. If you're looking for a classic horror film monster you will not find it here as the Scare-A-Torium creates their own nightmares to present to you. Sometimes it's not all about the haunting characters, but some of the basic characters have so much beauty in the makeup that you become lost in it. Let's not forget the clowns and their wild, wicked makeup that help enhance those scenes. The costuming helps create the characters and helps tell the scene. The costuming at this haunt plays a major role in the story telling.
---
Customer service is top notch at the Scare-A-Torium, and there is good reason why. The Collins family has been in the haunt industry for many years and in all those years they have gained the skills and knowledge to be able to provide this type of service. This is their 3rd year in this location so now they know what works and what is the most effective for their haunt. Scare-A-Torium is easy to find with well-lit signs and lights. They have many radio spots and billboards also. They have a huge parking lot and parking is FREE! They have police present making sure that crowds don't get restless and that cars and people are safe. They have lines well-marked and staff are well-trained. With headsets they can easily talk to each other to answer questions correctly and quickly. They have an educated staff with plans in place to answer all questions and handle all emergencies. They have all the proper permits and safety checks. The staff and the haunt do an amazing job in this area.
---
When you reach the Scare-A-Torium you will be treated by their name in bright red letters on the front of the building. You will see a line of anxious people waiting to get in. One of the most extinct sounds you will hear is the nun screaming into a bullhorn as she doesn't like things to be disorderly. You can feel the excitement outside in the line. Once you make it into the first room you will be given the rules, watch a video and much more. This is when the adrenaline will start rushing! Once you make it past that room you will see the sights and hear the sounds and screams. When you make it to the front of the line you start getting second thoughts. Being in the haunt industry for years, the owners have figured out the balance for the atmosphere at the haunt.
---
Scare-A-Torium utilizes special effects throughout many parts of the haunt. They have found an amazing balance between not over the top, in your face and not too little. In the Asylum you will find simple special effects that disorient you or get you off tract. You will also find special effects as big as people trying to escape! In the fun house you will get to experience UV and black lights as well as 3D elements that give you an ultimate experience. You will get these effects from the makeup on the actors to the walls and always from the floor. You will also find special effects in the two new escape rooms this year!
---
Scare-A-Torium is the overall theme and it means a collection of fears which is exactly what this haunt presents. Up first is the Asylum which is based on a true story that an Asylum stood in that very same area many years ago. You will find many fears in that area. Next up is RIP's Funhouse which brings even more fears such as clowns, bridges, not being able to escape and so much more. Also don't forget the fears of the two new escape rooms. So at having an overall collection of fears, this haunt does this well.
---
Scare-A-Torium is one of the top haunted houses in Central, Ohio. It offers many scares in many areas. The Northland Asylum will scare members of your group as you travel through what is a true story. With the cast on their A game, they will be on the floor or always in your face for a scare. The children are creepy as well. They also have some great pieces who don't look scary but they grab your attention and then become scary. Then you move over to RIP's Funhouse where clowns are everywhere, so if you or anyone in your group suffers from Coulrophobia this will offer many scares. It is not just the clowns in this group it is the special painting and 3D that offer additional scares that you would not expect. This year they offer RIP's Boxcar and Cut-Throat Cabins which are 3 minute panic rooms that get your heart pumping! These will bring the competitive side out of you out but can also be scary due to the elements of failing and not knowing what is next.
---
We have always felt like Scare-A-Torium gives you a good bang for your buck. $20 will get you into The Northland Asylum and RIP's 3D funhouse. However this year they have added two additional escape rooms and each is $5 per person and they are an absolute must! Below is some of the pricing breakdown and you can find the rest on their website.
General Admission $20 (The Northland Asylum & RIP's #D Funhouse): Customers enter the Scare-A-torium in general queue lines in the order of arrival.
VIP FASTPass Admission ($30) Save time and avoid the lines! A limited number of VIP Tickets may be purchased nightly. VIP tickets allow fast path entry into Scare-A-torium in a special queue line.
Timed Ticketing Admission ($23) Timed Ticketing allows you to choose a time and date ahead of time and skip the waiting line. Simply choose the day and time you wish to attend, purchase your ticket, print it, and bring the ticket with you to redeem at the Box Office. A limited number of tickets are sold in 30 minute time slots.
NEW THIS YEAR: ESCAPE ROOMS: (Separate admission) RIP's Boxcar & Cut-Throat Cabin. They are $5 per a person per a room.
Sunday Lights-On Tours: ($10 Adults (12+), $5 Children (3-11) 5 pm – 7 pm (October 11, 18, 25) features escorted Tours with the house lights, sound effects, and animatronics turned on BUT WITHOUT MONSTERS; suitable for younger audiences (may be frightening for some). Children (12 and under) MUST be accompanied by an Adult to participate in Lights-On.
---
---
Awards
Haunt Award – Hardest Haunt to Escape Alive (Given by: Team Mysterious Misery)Shout out Award – Actor Shout Out Award – Alex Cook, A.K.A. "The Fallen Angel" (Given by: Team Mysterious Misery)