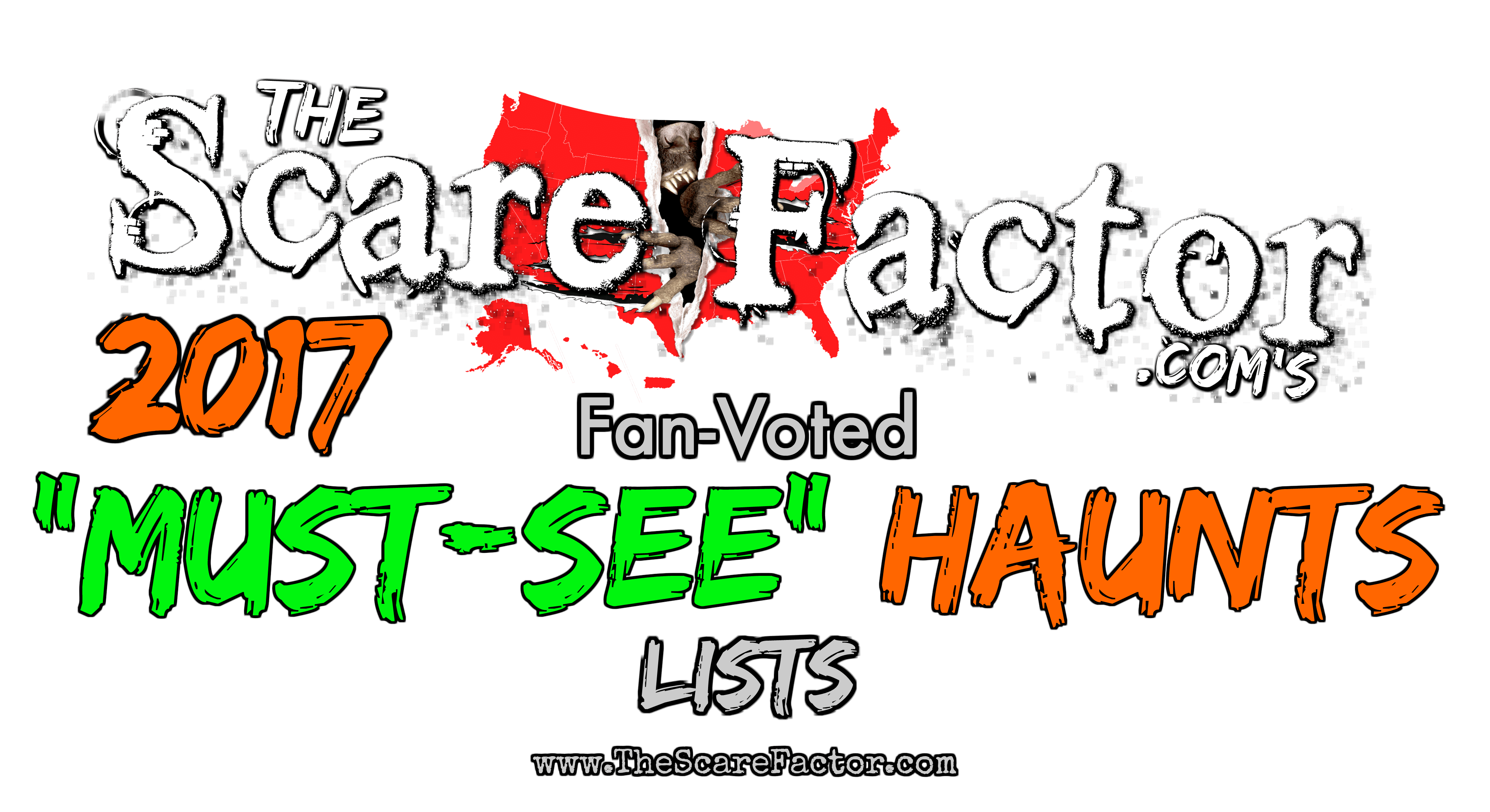 Voting Rules
---
Welcome to The Scare Factor: the World's LEADING Website for Haunted House Reviews and Directory Listings! In our efforts to promote the industry and raise awareness for local Halloween haunted attractions, we're excited to announce our 2017 "Top Fan-Voted 'Must See' Haunts" voting poll.
For the next few weeks, haunt enthusiasts will have the chance to vote for their favorite Halloween haunted attraction and give them the recognition they deserve! Here are the details…
Participation
Visitors:
Anyone with a valid email address can vote! Visitors may only vote once, so choose who you vote for wisely!
Attractions:
Any haunted attraction listed in our Haunted House Directory is eligible to participate (receive votes).
If you know of a haunt that you want to vote for that isn't listed, contact us immediately with their name and a link to their website or Facebook page. We will add their listing as soon as possible and voting will be enabled for that haunt immediately.
How to Vote
Visit our Haunted House Directory and find the haunt that you want to vote for.Click on their name and click the "Vote" button from the next page."Confirm Your Vote" by entering your email address and proving your humanity with the reCaptcha.After that, click the Cast My Vote! button and your vote will be submitted.Check back often to stay updated on the results as they come in!
Results:
While the poll is running, periodic results will be posted to keep followers up to date. The final results will be released on a State-by-State basis after the poll ends (July 31st, 2017).Examples:Top 10 Fan-Voted "Must-See" Haunts in Pennsylvania"Top 10 Fan-Voted "Must-See" Haunts in TexasEtc…For the haunts who receive the most votes during the poll, we will also create a "Top 31 Fan-Voted Must-See Haunts in the U.S." list.Be sure to like and follow our Facebook Page to stay updated!
Results will also be posted in our Haunt Blog.
Because there are unknown factors involved with any voting poll (how many votes will be submitted, etc.), the number of haunts that will be included in each list of results will vary. Our goal is to highlight the attractions that perform exceptionally well during this poll, so we will use our best judgement and discretion when deciding how many haunts to include in each list. However, we will do our best to stick with the following criteria:
A minimum of three (3) haunts must be participating from a given State for a list to be created.
A maximum of ten (10) participating haunts will be included in any single State's list of results.
Haunts in Other Countries:
If votes are submitted for attraction(s) that are located in Countries other than the United States, there must be a minimum of three (3) participating attractions in that Country before we can create a separate list of results for them.
To the Haunts/Attractions:
Customized promotional artwork will be created for the attractions that make each list. You may be contacted by us in an attempt to get high-resolution logo images for your attraction. You may also be contacted in an attempt to gauge interest about procuring additional promotional materials. Your timely response will help us create these promotional materials in a timely manner.
Cheating
Fairness and accuracy are of the utmost importance to us, so we will be taking measures to protect the results from voter fraud.
We will be monitoring the votes as they come in throughout the duration of the poll. If we believe that votes have been cast with the intent of unfairly raising a haunt's total number of votes, we reserve the right to disqualify any votes or the attraction(s) without obligation to provide reason or compensation.
Other Information:
If you have questions, you can contact us here or email us at TheScareFactor@Gmail.com.
Thanks again for participating in our 2017 Top 31 Fan-Voted "Must See" Haunts poll! We appreciate your participation and cooperation to make this a great promotional event for the Haunted Attraction Industry.
Happy Haunting!The Scare Factor Team