Review of Albany Haunt Productions Haunted Attraction
Review of Albany Haunt Productions Haunted Attraction
Review of Albany Haunt Productions Haunted Attraction
Albany Haunt Productions
Albany Haunt Productions is a Haunted Attraction located in Albany, CA.
1048 Peralta Ave., Albany, CA 94706View All Details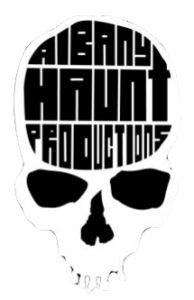 Features:
Free Parking, You will NOT be touched, Original Characters, All-Outdoor Attraction
Team In-Corpse-A-Rated reviewed this attraction on October 28, 2016.
Final Score:

8.38
Summary:
When I think of a home haunt, I think of a private residence that shows off the latest and greatest in Spirit Halloween Store props, Halloween City, Target, Walmart, and the Dollar Store's finest. I'm not knocking home haunts; I think it's great when neighbors get into the Halloween spirit. With that in mind, there's a teenager in the city of Albany who could give master classes in home haunt producing. High school student Sam Dubois made the news last year when his home haunt, "Albany Haunt", came under legal fire when a neighbor brought the wrath of the city government down upon Dubois. We wrote about the whole drama in The Scare Factor's editorial page, "The Trials and Triumphs of a Home Haunter." Surviving all of the hurdles that bureaucrats threw at him, Sam Dubois came back in 2016 in a major way. From costuming, décor and lighting, Albany Haunt is a professional-caliber haunt in a residential backyard. This year's theme is the Broken Spine Mine, an Old West town and haunted mining shaft.
---
Cast:

8.25
Albany Haunt's cast is enthusiastic and believable. The girls at the start of the haunt engaged us in conversation, but the rest of the actors simply startled us from behind corners. There were enough actors in the haunt and there were no dead zones where actors were missing.
---
Costuming:

8
With an Old West/Miner theme, the actors were dressed appropriately. The beginning of the haunt featured girls in Old West Saloon dresses and the boys in cowboy costumes with zombie masks. In the mine shaft, actors were dressed in miner jumpsuits with plastic hard hats. If you want to nitpick, the actors in the mine shaft appear to be in modern miner attire, and the Old West town actors appeared in 1800's garb.
---
Customer Service:

8.75
The footpath of Albany Haunt is a little uneven, so you do have to watch your step. The elevator shaft has a hydraulic floor that rocks like an earthquake, so that could knock someone over. There are no signs on the road to guide you to the destination, so GPS is your friend. At the location, there is an iron archway sign saying, "Albany Haunt", and a banner next to it with the name of the theme, "The Broken Spine Mine." The staff was very friendly and answered all of our questions. The main queue entertainment before entering were actors interacting with the attendees; among them was Sam Dubois armed with a hatchet. There's only street parking; no restrooms, no concessions or gifts, but there are photo opportunities with the actors outside the haunt and others with different props and sets… most notably the zombie Donald Trump and Hillary Clinton mannequins.
---
Atmosphere:

8.25
Albany Haunt is at a private residence, so the house is no different from the other houses in the neighborhood, but the décor in front distinguishes itself. Along with the sign and banner are graveyard headstones. The decorations are modest when compared to what awaits the audience in the backyard.
---
Special Effects:

8.5
Albany Haunt has background music, so there is no awkward silence. The scenes are incredibly detailed for a home haunt. The beginning features an Old West jail with a skeleton in it along with like-minded, Old West building facades. The Home Depot Horse Skeleton was a nice touch as well. Inside the mine shaft is where the special effects really shine. The walls appear to be carved out of solid rock. We see moving skeletons, a small waterfall, a small cavern with stalagmites, a façade of a train with the horn sound, and finish at an elevator shaft that bumps up and down before exiting. The lighting was used in a professional manner, accentuating the mood in the mine shaft. There is a blue light as you enter the shaft and an orange fire glow in the skeleton room.
---
Theme:

9
The theme of Albany Haunt is "The Broken Spine Mine." It's an Old West town with a haunted coal mine. There was some inconsistency with the time period. The town was 1800's, but the shaft had more modern features, such as the miners' plastic orange helmets and the train façade appeared more 20th Century. Overall, the theme was a refreshing change. Old West and mine shafts are not used very often in professional haunts, so Albany Haunt deserves kudos for going against the haunt fashion trends.
---
Fright Effect:

8
Most of the scares came from actors startling us from hidden corners. The décor made for good distractions as the actors came forth. One actor startled us from a drop wall in the mine shaft. Albany Haunt is small, so there were only so many places that actors could be. The scariest part was at the end in the elevator shaft that rocked because it was so unexpected.
---
Value:

8.25
Albany Haunt took about 5 minutes to walk through. There is no price of admission, so you can't go wrong with the cost. All they ask for is a $5 suggested donation and/or canned food drop-off for the Alameda County Food Bank (who had a station in front of the house). All available space was utilized and there are no dead spots. Albany Haunt is a worthy trip if you plan on making multiple haunt stops around the Bay Area. For those who live in Albany and the surrounding cities, this haunt is a treasure they must go see.
---
Guest ReviewsGuest Average: 0 out of 10
Sarah – 10/10Challenge Accepted was awesome! Me and my boyfriend were looking for escape rooms in our area, and …show more as poor college students, price was a big factor. Despite being only two small locations in the mall, they have multiple rooms, at 20, 40, and 60 minutes long, with the 20-minute rooms being only $10 each! We've been back multiple times, and loved every one! Staff is very helpful and enthusiastic about their job, and is thrilled to explain all the little secrets after you escape. Will be back every time they make a new room!
Norma – 4/10We visited this attraction on the last night of their 2018 season I believe. We did show up late …show more (about 20 minutes before they closed) and it was dead in the waiting line. Regardless, every group that was in the haunt somehow ended catching up to one another. We walked as slow as we could knowing there wasn't anyone behind us but we still couldn't stay away from the group in front of us. They had one teenage female that was petrified of everything so all the monsters kept taking advantage of it, cornering her every chance they got. They also followed her through multiple scenes that weren't theirs while our group tried to stay behind some and there were no entertainers around because they were all following her. When they would stop and turn around to go back to their base spots (if they even have them there), some of them just walked passed us without any effort towards scaring us. It was a disaster. This chic's name was Lauren and by the time we got to the exit of this thing, we were relieved that we didn't have to hear her name called out over and over and over anymore. She had to of been extremely annoyed by it herself. It took all of the fun out of it. Actors even stopped us in some of the maze portions so the other monsters could entertain their group for quite some time and they would just be staring off into outer space. The only way we knew they could talk is because they said Lauren's name already. Besides that, costuming was mostly store-bought quality. Nothing different to look at here. Scenes were the same. Some looked as if they had been built out there in the woods for years and they've sat through the seasons and no one's ever gone back to touch them up. Parts of the maze where there's a lot of plastic and wood seem to possibly be a danger. We didn't see any actors for quite some time in them bc they were following Lauren and if someone ignited one of these things, I'm afraid it would have taken us a long time to find the exit. Some spaces were very tight for us, if those were to fill with smoke where there are roofs, I don't think that would be good at all. At one point, we didn't know where to go at all so we weaved through these pipe-like things and found a hole and we started walking on this really dark path into the woods. There were props and things out there but 0 lights. Come to find out, it looked like a previously closed portion of the trail because when we got to the end of it, there was no way to get back into the maze. We had to crawl under caution tape to get back in. That right there tells you that no actors were paying any attention to our group. We paid full price for our tickets that night and we honestly should have just passed this place up. We've been here before too and it wasn't that bad. The highlights of the trip were the gentleman that introduced us to the park and gave us the rules before we went in. There was also one clown (Pickles, maybe
?) that actually put effort into scaring us but he was mostly one of the only ones. In one of the mazes there was a chainsaw assailant behind a door and we could hear the saw and see him through the crack of the door but we couldn't get in. When that door finally opened, holy shit! That was the best scare in there for sure! Also, there are places where you will need to duck down, tight corridors as mentioned above, uneven terrain, and a lot of walking (especially if you're bad at mazes) so be prepared for that.
Norma – 6/10Maybe we just went on a bad night but we weren't very impressed with this haunt. We had heard many …show more good things about it and we ended up with a free Saturday night so we gave it a shot. We showed up at probably 9:30 at night. Waited in line maybe 15-20 minutes so that wasn't bad. We really didn't have problems with spacing inside the haunt except for a few times but we were able to slow down and it helped when there wasn't anyone behind us. I will say, there were a lot of unique things in the haunt portion. One interactive set was very different and unnerving. Some of the characters were really into their roles while others were bland. One was sitting on top of a washing machine and he jumped down and we were thinking, "Oh shit" but he didn't do anything, he just jumped at us a little and said, "What?" In the outdoor portion of the haunt it was a bit too dark to see the characters, especially the Creeper. Our favorite part was the alligator! They know how to utilize this now, commonly-seen prop to the fullest for sure! If you are likely to pee your pants, you just might lose it on that one! I would give the house itself a 7 out of 10. Now we were under the impression that the corn field was haunted too. Although it was a good maze, there were three scareactors in it and they were terrible. No lights, sounds, sets, nothing but mud and corn and the dark. At first it was creepy but after we walked and walked and nothing happened, we were aggravated and ready to find our cars. The last actor that we came across could have hidden well since they were in all black but they didn't, they stood in the middle of the trail acting like they couldn't see, whispering to us as we walked asking us if we were customers. Wow. Don't upgrade to the corn if you're expecting a fright in there, it won't happen.