Review of Necropolis Haunted Attractions Haunted Attraction
Review of Necropolis Haunted Attractions Haunted Attraction
Review of Necropolis Haunted Attractions Haunted Attraction
Necropolis Haunted Attractions
Necropolis Haunted Attractions is a Haunted Attraction located in Indianapolis, IN.
2525 North Shadeland Avenue, Indianapolis, IN 46219View All Details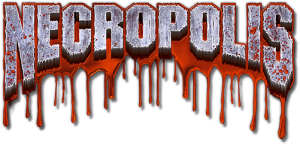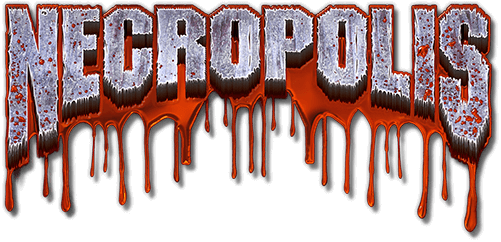 Features:
Free Parking, Optional Games/Midway, You will NOT be touched, Original Characters, Indoor Waiting Line, All-Indoor Attraction
Team Zombillies reviewed this attraction on October 30, 2016.
Final Score:

7.46
Summary:
Necropolis, The City of Perpetual Darkness takes place deep within The Dark Army facility and consists of 4 haunted attractions all at one location: The House, The Graveyard, The Funhouse in 3D and The Factory! Spanning a total of 30,000 square feet, these haunts sure do have a lot of unique effects and frights to offer. Necropolis was voted #13 on our fan-voted, "Must-See Haunts" list earlier this year and we must agree that they are definitely an attraction that shouldn't be missed… especially if you enjoy more of the "old-school" take on a haunted attraction! We have been wanting to visit Necropolis for years and we finally got the chance to make it this season and we sure are glad we did! Several times we found ourselves saying how the things we saw were very neat and different. Don't forget to get your hug from Mr. Tickles before you leave!
House: 7.84
Cemetery: 7.65
Funhouse: 7.57
Factory: 7.44
---
Cast:

7.67
First off, we need to mention that Necropolis was a little short-handed on the night of our visit. The House seemed to be staffed fairly well, but the other haunts were a little more-sparsely populated. Even though there was never a whole lot of time between scares, it was largely because most of the actors were moving along with us (behind the scenes, of course) and popping out at various points to keep the action going. This did help combat the issue, but seeing the same characters over and over again got a little monotonous for us at times… especially when a particular actor's dialogue in The Cemetery was repetitious. The House and The Funhouse seemed to be the stand-out attractions concerning the cast; almost all of them were very energetic, made references to their unique scenes and a few of them even verbally interacted with us along the way, which made them much more believable and helped them "fit" in their respective areas. One of the clowns, for example, followed up her "Wanna play?" request (which would normally be considered "generic" or "typical" at other haunts) with specifying that she wanted to play hide-and-seek. After darting away from our group, we ended up finding her later on and joined her in a spastic celebration of our accomplishment. Granted, it wasn't the scariest thing in the world, but it made us a part of the experience, which is always a welcomed feature! We also made a special note of the werewolf who had a very convincing and believable bark. Another particularly-intimidating actor-ess, "Momma," crossed our path several times during our tour of Necropolis (though, mostly in The Cemetery) and made sure we never did get too comfortable with our surroundings by keeping us creeped out with some great dialogue. Other actors in The Cemetery mainly just provided quick "pop scares" for us; the exception to this would be the masked guy who single-handedly provided the most "jumps" for us out of all of the attractions here! The Factory's cast were a little less memorable and, generally speaking, weren't as heartfelt with their dialogue and performances.
House: 8.21
Cemetery: 7.84
Funhouse: 7.93
Factory: 6.71
---
Costuming:

6.78
Necropolis' costumes may not be the most elaborate outfits that you'll find, but most of them did seem to fit in with their respective scenes and themes. For example, a skull mask or two popped out at us from some of the windows in The House as if to portray a ghostly apparition. A simple black cloak may have been his only other visible attire, but it worked for his pop scare in the instant that we saw him. We did notice several other masks along the way, but their quality actually ranged quite a bit. Perhaps the most elaborate model was the werewolf, as it had realistic hair and plenty of detail work. But, on the other end of the spectrum, a lot of those smooth, white/glow-in-the-dark hockey masks can be found here too. A few of the actors were sporting some spooky makeup designs that ranged from broadly-stroked, fluorescent color schemes in The Funhouse to the detailed designs worn by The Gatekeeper, Momma and the lady in the body bag room. The costumes themselves ranged from grungy, distressed and elaborate ensembles to simple, dark-colored articles and street/staff clothing.
House: 7.12
Cemetery: 6.54
Funhouse: 6.73
Factory: 6.68
---
Customer Service:

9
Several billboards showcasing the haunt were noticed along our route as well as a few signs once we got to the last main intersection before we arrived. A lit arrow sign with "Necropolis" on it helped direct us into the industrial complex where the haunt resides. Parking is kind of scattered in different places around the building; the various loading ramps and fences prevent the ability to have just one big block of parking area. However, it looked like pretty much anything you could find was paved and permissible to use, free of charge. The ticket booth was pretty easy to spot; it's a decorated trailer that's been outfitted with "Necropolis" logos and lots of spooky artwork. The staff members (located at the ticket booth and each of the haunt entrances in the central queue area) were professional, friendly and able to help us with any of our questions. Lots of creepy haunt decor, a chaser with a chainsaw and a looping video of various zombie horde scenes behind a window were available for our viewing pleasure while we waited in the first queue line in the basement. That's right… the basement (see "Atmosphere" below)! Something else we liked about this haunt was how colored arrows and footprints were painted on the floors to help guide you through the labyrinth of queue lines when you're in between attractions. The staff members were there to make sure we got where we needed to go, but having that extra bit of guidance just seemed to make things go a little more smoothly. It's probably particularly helpful on busy nights when lots of people are roaming about. Because this haunt IS located in the basement and due to some of the special effects inside, you will need to navigate some stairs, ramps and uneven flooring during your tour.
---
Atmosphere:

6.83
Upon arrival, we really weren't sure what we had gotten ourselves into. Since we had never been here before, we didn't know quite what to expect other than Necropolis should be rather large. When we pulled in and parked near several large buildings that looked nothing like a haunted house (the industrial complex), our curiosity really began to set in. Again, the only thing we saw that did confirm our arrival at Necropolis was their decorated ticket booth. Shortly after receiving our tickets, one of the residents from down below greeted us and commenced to scaring patrons after they relieved themselves in the porta-potties. There was a preliminary queue outside where we were eventually brought inside to receive the rules by the "Gatekeeper," who then led us downstairs. That's where things REALLY started to look like a haunt! We must say, Necropolis is hidden very well, almost like it's intentional and we sure weren't expecting to see what we found down there. A talking butler prop introduced us to the show before we were guided to the end of the waiting line. The entire zig-zagging queue line area is decorated with many, lighted pumpkins and foliage from above, which really helped in putting us in the Halloween mood! A Zombie CGI was rather entertaining to watch while we waited and a taunting, chainsaw-wielding madman did an excellent job at keeping customers on their toes. This actor paired very well with another particular effect before we went in. Be prepared for them to ask you your name, they were yelling ours from within the haunt before we even got started!
---
Special Effects:

7.3
You don't see very many haunts quite like Necropolis very often. They're more of what we call an "old-school" attraction, meaning most of their effects are built in-house. But, even though you won't find a whole bunch of big, fancy, whiz-bang animatronics and special effects here, there were definitely some unique jaw-droppers that got some nice, long stares from our review team… especially the shifting rooms, "Mr. Tickles," the above-ground cemetery, the cave and the dungeon. Most of the effects and scenes have been carefully constructed with a haunty, detail-oriented touch and, having been in the business for 25 years, it's clear that Necropolis has a pretty good grasp on what it takes to "bring the scenes to life." Most of their intricate scenery can be best described as "custom-made realism," rather than "over-the-top" or "hyper-realistic." On top of that, almost all of the scenes and their decorations and details left us with little doubt as to what they were trying to portray. The House starts you off through an "outdoor" graveyard, complete with fences, lots of foliage and large monuments. Before bringing you back "inside" to their eerie, flagship estate, you'll get to see the outside of "the house" and, if you're lucky, a silhouetted peek of the horrors that are waiting inside! Lots of small details and knick-knacks are packed into the main rooms to really give them the "lived in" look, which made them much more believable. One of the most unique effects that we found in there was the haunted piano; actually, we can't recall seeing one quite like this anywhere else! The cemetery is chocked full of above-ground, concrete graves, monuments, mausoleums, corpses (of course), and even a few overhead surprises that'll help keep you on edge even more! The Funhouse is a 3D attraction that, like most other haunts like this, is decorated with various fluorescently-colored designs that'll throw you for a loop… in more ways than one. The Factory had several scenes that, initially, implied it was a coffin-making facility. The various workshops, coffins and piled-up crates are pretty unique to the area and the mad scientist labs and other experimental areas help reiterate the theme (see below). Several sound effects were heard during our tour of Necropolis as well. Some of them came from the props themselves, while others were in the form of background music to keep a nice, creepy feeling flowing throughout each of the haunts. Because the haunt is located in a 30,000 square-foot basement, a lot of the sounds (particularly the "Halloween" (Michael Myers) music) could be heard overflowing into various areas of different attractions. It was louder at some times than others, but a few spots had their own, eerie ambience tracks that matched their scenes a little better.
House: 7.59
Cemetery: 7.53
Funhouse: 7.05
Factory: 7.03
---
Theme:

7.77
According to Necropolis' home page, this haunted city lived six miles below the Earth's surface for many years without being disturbed. But, in 1983, a news headline that exclaimed, "Plan to Close Phone Plant Stuns Indianapolis" was distributed in The New York Times. It was then that this dark city was discovered and "exposed to the mortal world." Now, 25 years later, haunt seekers from around the globe may visit this city each year during the haunting month of October. Aside from this, each of the other attractions have a short bio that can be found on their site as well, but here's a brief overview: The house is full of strange beings that like to play on your fears and the cemetery is a place for the souls of Necropolis to rest… but we must have disturbed them when we came through because they sure weren't sleeping very well! The Factory is a place where special coffins are created and experiments are conducted in an attempt to perfect the science behind keeping the city's spirits locked down forever. Many caskets were seen in this attraction and it definitely had a great factory feel to it! The Funhouse in 3D is as it sounds; it hosts some creepy clowns and several trippy tricks that they have up their sleeves! Watch out for your eyes though, one of them was very determined to get one of ours!
House: 8.05
Cemetery: 7.7
Funhouse: 7.45
Factory: 7.87
---
Fright Effect:

7.33
Talk about hidden door galore! There were so many unexpected hiding places here that the crew members were catching us off-guard way more than we could have ever expected! From inside a standing couch, secret doors in mausoleums and a small picture hanging on the wall, these were some of the best hiding spots that we've experienced this year. Because most of the frights came from within the walls, not many distractions were provided during our tour. However, we must make note that several of their creative effects actually startled us as well, so kudos for that! Other types of frights we succumbed to include a misleading glowing face room, a run-in with a giant clown, demanding dialogue, exploitation of the fear of heights and a large monster. In The Funhouse, we noticed something very unique that could easily startle someone. We will give you one hint: everyone loves a slinky! We did not expect the finale for the final attraction, so be on the lookout after you exit the building… trust us.
House: 7.58
Cemetery: 7.46
Funhouse: 7.23
Factory: 7.03
---
Value:

7
Combo tickets to visit all 4 haunted attractions at Necropolis can be purchased for $30.00 per adult or $22.00 per child. Single attraction tickets are available for $18.00 and group rate information can be found on their website. If you don't want to stand in the longer lines or are strapped for time, "AIA" (Almost Immediate Access) tickets can be purchased as well; just add $15.00 per person to the ticket option you choose. The main attraction, The House, took our group 8 minutes to navigate, while the cemetery took us another 8 mins., the Funhouse, 5 mins. and The Factory, another 6 minutes. This brought our total time spent inside the haunts to 27 minutes. At $30 per person, this brings their "minutes of entertainment received per dollar spent" score to 0.9 which is quite a bit below average (our "average" out of all of the haunts we were able to visit last season was 1.5). Despite this, we still had a great time at Necropolis and got some good scares along the way. If you find yourself in or near Indianapolis looking for a new take on an old-school haunted house, then make Necropolis one of your "Must-See Haunts" too!
---
Guest ReviewsGuest Average: 0 out of 10
Sarah – 10/10Challenge Accepted was awesome! Me and my boyfriend were looking for escape rooms in our area, and …show more as poor college students, price was a big factor. Despite being only two small locations in the mall, they have multiple rooms, at 20, 40, and 60 minutes long, with the 20-minute rooms being only $10 each! We've been back multiple times, and loved every one! Staff is very helpful and enthusiastic about their job, and is thrilled to explain all the little secrets after you escape. Will be back every time they make a new room!
Norma – 4/10We visited this attraction on the last night of their 2018 season I believe. We did show up late …show more (about 20 minutes before they closed) and it was dead in the waiting line. Regardless, every group that was in the haunt somehow ended catching up to one another. We walked as slow as we could knowing there wasn't anyone behind us but we still couldn't stay away from the group in front of us. They had one teenage female that was petrified of everything so all the monsters kept taking advantage of it, cornering her every chance they got. They also followed her through multiple scenes that weren't theirs while our group tried to stay behind some and there were no entertainers around because they were all following her. When they would stop and turn around to go back to their base spots (if they even have them there), some of them just walked passed us without any effort towards scaring us. It was a disaster. This chic's name was Lauren and by the time we got to the exit of this thing, we were relieved that we didn't have to hear her name called out over and over and over anymore. She had to of been extremely annoyed by it herself. It took all of the fun out of it. Actors even stopped us in some of the maze portions so the other monsters could entertain their group for quite some time and they would just be staring off into outer space. The only way we knew they could talk is because they said Lauren's name already. Besides that, costuming was mostly store-bought quality. Nothing different to look at here. Scenes were the same. Some looked as if they had been built out there in the woods for years and they've sat through the seasons and no one's ever gone back to touch them up. Parts of the maze where there's a lot of plastic and wood seem to possibly be a danger. We didn't see any actors for quite some time in them bc they were following Lauren and if someone ignited one of these things, I'm afraid it would have taken us a long time to find the exit. Some spaces were very tight for us, if those were to fill with smoke where there are roofs, I don't think that would be good at all. At one point, we didn't know where to go at all so we weaved through these pipe-like things and found a hole and we started walking on this really dark path into the woods. There were props and things out there but 0 lights. Come to find out, it looked like a previously closed portion of the trail because when we got to the end of it, there was no way to get back into the maze. We had to crawl under caution tape to get back in. That right there tells you that no actors were paying any attention to our group. We paid full price for our tickets that night and we honestly should have just passed this place up. We've been here before too and it wasn't that bad. The highlights of the trip were the gentleman that introduced us to the park and gave us the rules before we went in. There was also one clown (Pickles, maybe
?) that actually put effort into scaring us but he was mostly one of the only ones. In one of the mazes there was a chainsaw assailant behind a door and we could hear the saw and see him through the crack of the door but we couldn't get in. When that door finally opened, holy shit! That was the best scare in there for sure! Also, there are places where you will need to duck down, tight corridors as mentioned above, uneven terrain, and a lot of walking (especially if you're bad at mazes) so be prepared for that.
Norma – 6/10Maybe we just went on a bad night but we weren't very impressed with this haunt. We had heard many …show more good things about it and we ended up with a free Saturday night so we gave it a shot. We showed up at probably 9:30 at night. Waited in line maybe 15-20 minutes so that wasn't bad. We really didn't have problems with spacing inside the haunt except for a few times but we were able to slow down and it helped when there wasn't anyone behind us. I will say, there were a lot of unique things in the haunt portion. One interactive set was very different and unnerving. Some of the characters were really into their roles while others were bland. One was sitting on top of a washing machine and he jumped down and we were thinking, "Oh shit" but he didn't do anything, he just jumped at us a little and said, "What?" In the outdoor portion of the haunt it was a bit too dark to see the characters, especially the Creeper. Our favorite part was the alligator! They know how to utilize this now, commonly-seen prop to the fullest for sure! If you are likely to pee your pants, you just might lose it on that one! I would give the house itself a 7 out of 10. Now we were under the impression that the corn field was haunted too. Although it was a good maze, there were three scareactors in it and they were terrible. No lights, sounds, sets, nothing but mud and corn and the dark. At first it was creepy but after we walked and walked and nothing happened, we were aggravated and ready to find our cars. The last actor that we came across could have hidden well since they were in all black but they didn't, they stood in the middle of the trail acting like they couldn't see, whispering to us as we walked asking us if we were customers. Wow. Don't upgrade to the corn if you're expecting a fright in there, it won't happen.
---
2016 Awards
Best Hiding Spots (Given by: Team Zombillies)
Actor Shout Out Award - Gatekeeper (Given by: Team Zombillies)
Actor Shout Out Award - Girl in Dress w/Chainsaw (Given by: Team Zombillies)
---