The Dent Schoolhouse – Full Review
The Dent Schoolhouse is a Haunted Attraction located in Cincinnati, OH.
5963 Harrison Ave, Cincinnati, OH 45248View All Details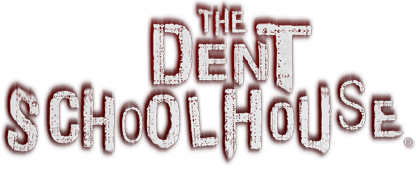 Features:

Free Parking, Restrooms/Porta Potties On-Site, Food/Concessions, Gift Shop/Souvenirs, Special Events, "Hi-Tech" Attraction, You will NOT be touched, Original Characters, Uncovered Outdoor Waiting Line, Indoor/Outdoor Attraction

Most Recent Video from The Scare Factor:
(Scroll for Scores and Written Review)
This MOCK Review was submitted by Alicia Roll (seraphjade92@protonmail.com)
Haunt Name: The Dent Schoolhouse
# of Attractions: 1
Admin Notes:
Special Notes:
Overall / Final Score: 9.11
Summary:
It's an easily recognizable trope – the loveable, hard-working janitor who befriends and watches over all the school children and, in return, they trust and adore him. This is not the case at The Dent Schoolhouse, a haunted attraction within a decrepit schoolhouse that was erected in the late 1800's. Within these harrowing halls stalks the custodian, Charlie, who believes that children should be dead and in pieces instead of heard. The owners of the schoolhouse will tell you that there was a real Charlie who was responsible for the deaths of quite a few children and their restless spirits still linger upon the premises…at least, that's what the legend says. For almost 30 years, The Dent Schoolhouse has been terrifying the Cincinnati area and they are consistently rated one of the best haunts in the nation. With rich and detailed scenery, frightening characters, a plethora of animatronics, and a wide range of tricks and skills, Dent has a lot to offer the eager haunt-goer. School is in session; Charlie is coming for you!
---
Cast Score: 8.24
Cast Scores – By Question

Cast Scores – By Attraction

Cast Review:
Dent was a little light on monsters on this particular evening, but the ones present made up for it in spades. Clowns, living statues, mad scientists, cultists, faculty members and more were unrelenting in their efforts to terrorize. Impressively, a couple ghouls were able to illicit multiple scares, one being an irate teacher who bellowed at us to not be late to class and another an amalgamation of stuffed animals that popped from multiple hiding spots. And though this is not a touch haunt, a few scare actors made the effort to interact with us outside of verbal communication. A particular stand-out was a clown that cackled to herself as she pushed cotton candy cocooned corpses into us while we wandered through. Considering the conga line nature of Dent, most character dialogue was kept to a minimum. However, most made considerable effort in the short time they had. For instance, while winding through a skull laden catacomb, a cultist beseeched us to offer our blood to a winged denizen and proudly proclaimed what our rewards would be upon doing so. Unexpectedly, this winged denizen made his presence known in a fantastically stellar fashion. There were a few places that were noticeably missing some characters. While this did take us out of the story a little bit, it wasn't enough to put a damper on the experience. Full marks go to Pumpkin Smasher, a hammer wielding clown that paces around the outside queue line. He demanded a pumpkin and, when one was not produced, made us pinkie promise to bring him one next time. Menacingly, he warned us that he was either getting a pumpkin or a pinkie.
---
Costuming Score: 9.51
Costuming Scores – By Question

Costuming Scores – By Attraction

Costuming Review:
The residents of Dent seem to have a knack for blending seamlessly into the surrounding rooms and their expertly crafted costumes have a lot to do with that. Some of our best scares were due to naively believing an actor was a part of the scenery, only to be surprised seconds later. There are multiple themed areas within Dent and every scare actor we were able to get a good look at had a costume that fit the encompassing theme with great detail and variety. What's more, the scare actors appeared to have gone all out to make sure everything flowed seamlessly from top to bottom. An impressively realistic living statue had every inch of visible skin covered in detailed makeup that gave the appearance of weathered stone. A very disconcerting, possessed doll that stalked us quietly through the halls was covered in dirty, torn fabric from head to toe with an excellent addition of button eyes. And the absolute crown jewel of the evening was the aforementioned winged denizen in the catacomb who boasted, not only an imposing wingspan and realistic mask but also devilish hooves. Even the queue actors were an absolute treat. A couple menacing scarecrows bore flannel shirts, burlap sack masks, and real hay sticking out from various places. Charlie himself made an appearance wearing what appeared to be a jumpsuit made of canvas material that was reminiscent of what janitors are stereotypically seen in. All in all, the people that pursued us through Dent seem to take their jobs very seriously and it shows.
---
Customer Service Score: 9.86
Customer Service Scores – By Question

Customer Service Scores – By Attraction

Customer Service Review:
The attraction is incredibly easy to find from the road, you can't miss the eerily red, glowing schoolhouse and the long line of "victims," desperate to get inside. There is paid parking right next to Dent but also signs that point to free parking next to the hospital a few blocks down the street. If accommodations are not needed, we highly recommend taking advantage of the free parking. Once on the premises, there are signs everywhere that point to anything you may need. From tickets to separate queue lines that coincide with the kind of ticket you purchased, everything is clearly labeled. If there does happen to be any confusion, there are always a few security people that are happy to point you in the right direction. The employees we interacted with to purchase tickets were friendly and helpful. The Dent Schoolhouse website is very easy to traverse and clearly states dates and times the attraction is open as well as prices. They also have the option to purchase tickets online which has been highly recommended as Dent is never not busy.
---
Immersion Score: 9.46
Immersion Scores – By Question

Immersion Scores – By Attraction

Immersion Review:
A feeling of dread grips you the moment you step onto the property. The dilapidated and boarded up schoolhouse is lit in front by a crimson light that brings the building to life in a hellish way. A school bus sits in front next to a screen that tells the tale of the school's urban legend as the queue actors skulk amongst the waiting crowd. Make sure you stay on your toes while waiting in line as the queue actors are not afraid to take advantage of the distracted haunt-goer (we learned that the hard way). But the real show starts before even entering the building as you wind your way through an outdoor carnival area. The carnival hosts what you would expect at a Halloween carnival such as axe throwing and bobbing for apples, but all the booths have a creepy and sinister spin on them. And the imposing wall of lit jack-o-lanterns was an absolute feast for the eyes. Entering the school is an experience in and of itself as the air shifts around you, the foreboding sets in, and the onslaught begins. The story of Charlie and his murderous deeds is felt throughout the building, from missing posters of the slain children to a news radio bulletin about the killer janitor. And the basement (dear god, the basement) is an absolute phantasmagoria of blood, death, torture, decay, and malevolence. While the attraction held our attention in a vice-like grip through much of the walkthrough, there were a few noticeable areas where something was missing. A giant snake was missing its victim, an experimentation lab was missing its mad scientist and, though we were warned before entering about chainsaws, there were none to be found. Regrettably, this did take us out of the experience but certainly not enough that we didn't enjoy ourselves. Upon leaving the school, you walk into the Monster Midway, where photo-ops abound, tasty treats are peddled and fun activities such as escape rooms and axe throwing are offered (for an extra price.) The absolute highlight for us was a deranged gentleman that gave us a "shocking" experience and a lot of laughs as he artfully took multiple poses for our pictures. You are an absolute star!
---
Special FX Score: 9.39
Special FX Scores – By Question

Special FX Scores – By Attraction

Special FX Review:
The awful din that erupts within Dent is both terrifying and unsettling. Screaming, laughing, banging, and wailing form a hair-raising cacophony that gives you very little time to catch your breath. Every sound has its place and helps to bring each scene to life. The calliope in the evil carnival, the hissing of the giant snake, the sound of snapping electricity in the labs, everything has been thought of to make each horror a reality. Props and imaginative animatronics are absolutely everywhere and further help to build a story. Who knew that human heads could be carved like jack-o-lanterns and lit from within or multiple people missing their lower halves could survive longer than a few seconds? Towering shelves of library books groan and sway, threatening to crush you, a sea of bloody body parts block your way and force you to wade through, and thick layers of fog threaten to choke you as you wander through green lit tunnels (though this wasn't exactly the most pleasant experience). Dent has a giant repertoire of tricks and scares and the attention to detail is positively immaculate. How one manages to replicate that old, musty smell of rot is beyond us. There is always something to look at and it's abundantly clear that it would take multiple visits to notice everything. Whatever your pleasure (or horror), Dent has it and in spades for a full body experience.
---
Scare Factor Score: 8.13
Scare Factor Scores – By Question

Scare Factor Scores – By Attraction

Scare Factor Review:
There is one word that perfectly describes Dent and that is intense. Haunt-goers get very little time to center themselves before a new attack begins. Even for the not easily scared, there will be something within the walls of Dent that will get you. They are also masterful at pulling your attention in one direction so a good scare can pounce from another. Tight spaces don't always make it easy for scare actors to engage the entire group, but Dent tries to make up for that by a well placed animatronic or a startling blast of air. However, in larger spaces, the scare actors really do shine and take full advantage of multiple hiding spots to scare the entire group. They have also, cleverly, implemented scares from unexpected directions in tighter areas. We found ourselves startled at various points from animatronics or scare actors above us (you haven't lived until you've seen a mental patient crawl on the wall!) The finale was, unfortunately, a bit of a letdown when the promised chainsaws did not appear. However, the veritable rollercoaster inside more than made up for it.
---
Entertainment & Value Score: 9.07
E&V Scores – By Question

E&V Scores – By Attraction

E&V Review:
The price of entry at Dent varies depending on the day and how quickly you want to get through the line. Thursdays and Sundays are $23, Fridays are $28 and Saturdays are $33. Fast Pass, which will allow you to wait in a separate line for less time costs an additional $20 and Front of the Line (self-explanatory) costs an additional $30. While it does cost a little extra for the escape rooms and the axe throwing at the Monster Midway, they are not necessary to have a good time after you escape the schoolhouse. We spent around 22 minutes within Dent, but it definitely felt like longer. With so much going on and everything to take in, time almost seems to slow once you are ushered inside. And the Monster Midway was a great way to unwind. Delectable donuts were enjoyed, lots of amazing pictures were taken, and expertly carved pumpkins were admired. The Haunted House Museum is a gem in and of itself, allowing you to take a trip back in time at haunts gone by. Was the experience worth the price of admission? Absolutely and we plan on returning very soon!
---
View Full Score Sheet
---