Haunted Hills Estate – Full Review
Haunted Hills Estate is a Haunted Attraction located in Uniontown, PA.
236 Rolling Hills Estate Road, Uniontown, PA 15401View All Details

Features:

Free Parking, Restrooms/Porta Potties On-Site, Food/Concessions, Gift Shop/Souvenirs, Optional Games/Midway, "Old-School" (Low Tech), You will NOT be touched, Original Characters, Uncovered Outdoor Waiting Line, Indoor/Outdoor Attraction

This attraction was reviewed on September 22, 2018 by Team Scary Potter and the Hauntwarts Express.
How Do We Get These Scores?

Final Score:

9.26
How Did We Get This Score?

Summary:
Uniontown, Pennsylvania's Haunted Hills Estate has always been a unique kind of haunt. Beginning as an interactive 'Challenge Trail' that tasked players with overcoming a variety of physical and mental obstacles while navigating a haunted trail was a revolutionary concept when the Estate first entered the October scene a decade and a half ago.
Throughout its evolution, the Estate has settled into a tri-attraction formula, while still maintaining a version of its initial trail. Having added a more traditionally-themed spookhouse and an alternating, experimental third attraction, the Estate has expanded into a fully-fashioned haunt emporium.
This season has brought further maturation to the Estate's hallmark feature. The Moonlight Massacre Challenge Trail has eschewed the formula of previous iterations, presenting a single task for intrepid customers. Between you, brave adventurer, and your goal, however, lie a few dozen carnivorous, animated scarecrows seeking to foil your attempts and fatten their bellies. No pressure.
Across the estate, their Legends attraction has transformed into J.H. Finklestein's Funeral Home, a pleasant tour through a by-the-book mortuary… until the dead begin to awaken.
Completely new this season is the Estate's very own magic show! Surely the moniker 'The Magic Chamber of Horrors' must be a misnomer, though, as the spirited cast seem as competent as they are pacifistic. Ok, perhaps there SEEMS to be an undercurrent of malicious jealousy between the performers, but that will likely only lead to a much more exciting exhibition… right? The show must go on!
Come on down to Uniontown for a front row seat this Halloween season!
---
Cast: 9.37
How Did We Get This Score?

I'll be honest with you : one of our greatest excitements when preparing to visit the Estate is getting to interact with its cast. Without a doubt, 2018's roster absolutely succeeded at satisfying that anticipatory fervor.
We've found that, often, the Estate's best-of honors in this category belong to the midway residents, and that is largely true for this season as well… give or take a few asterisks.
Because we're THOSE PEOPLE, we experienced the attractions in reverse order, making Jack, the introductory character for the Trail, the first indigenous personality to cross our paths, followed by Calvin, the Funeral Home's truly bizarre representative, and finally Crystal, the sassy Matrie d' for the Magic Chamber. These idiosyncratic folks really serve multiple roles as rules-dictators/line keepers, but also as the queue entertainment. Mixed into that latter distinction, they also interjected helpful background information regarding their particular haunt.
As a pleasantly-biggoted boy-turned-scarecrow-turned-boy? (it was hard to keep up), it's true that Jack's social memes were frozen, perhaps, somewhere briefly post-natal. What he may have lacked in polite etiquette, however, was more than made up for by his rambunctious playfulness. He managed to be clever and witty during our long ad-libbed interaction, while still maintaining a lovably-zany vulgarity as he belittled us.
Calvin was a more subdued, sinister character with his own distinct peculiarities. He was more the type of fella that one would take to a funeral parlor to giddily sketch black, ballpoint mustaches on its lifeless occupants and then find a stray cat to ballroom dance with in an abandoned alley. You know : a real take-home-to-mother type. His cheeky giggle betrays just a hint of malevolent sadism, but is too cute to refuse. With a demeanor occupying a unique intersection between mischief and merriment., he, too, was excellent at playing along with our tomfoolery.
Calvin's occasional side-kick, a curious fellow that we have nicknamed 'Hearshel' was also very good. The two shared only a brief exchange during our time in line, but the interplay was very entertaining. Oh, and Hearshel kissed my ankle so of course he's my favorite. Duh.
Then, there was Crystal…indeed : charming, madcap Crystal. Good actors (and as I'm sure you're beginning to realize, the Estate has a LOT of good actors) build up a well-stocked faux-memory bank to access for different situations, dependent on the nature and context of cues that are presented to them. But there is still a ceiling, a reasonable limit after which their spring of snide anecdotes and clever comebacks necessarily dries. We spoke to Crystal for perhaps 10 minutes and in characteristic fashion, came at her from every prodding, dialogous angle we could muster, but she didn't flinch a single time, retaining character and adroitly responding to whichever brazen absurdities we fired at her, retaining her casual flair between well-placed giggles. It was one of the most impressive improvisational feats that we've experienced reviewing haunted attractions. The other midway-gentlemen were excellent, don't mistake me, but Crystal managed to just barely outshine even their excellent portrayals.
Oh, but you thought I was done, didn't you; that I had emptied my linguistic cartridge and was preparing to move onto the next category. Oh no, friends; we're not finished yet.
In fairness to the 'interior' actors, who received understandably briefer and less directly-interactive spells with us, they, too, were wonderful.
The entire cast of the Chamber performed so well together, particularly during the finale, that one may be excused in assuming that they had unknowingly wandered into the show-tent of a roving, macabre theater troupe instead of the guts of a haunted attraction. Led by the tongue-twisting, entendre-doubling, off-color uproar of Lucy, the magician's scheming assistant, the beats of the final act unfold in rapid progression as each of the Magician's ensemble perform their feats of oft-disastrous wizardry with wry smiles and nimble pageantry.
The Chamber was a unique experiment as a haunted experience. With most of the attraction acting as an inflating precursor to the final act, the success of the attraction depended entirely on the capable shoulders of its cast. There would be no 'the actors were rough, but the animatronics were great' or 'I really loved the set design but the cast could use some work.' No, the effectiveness of the attraction would be determined in one character-based, crowd-interactive, minutes-long vignette.
Thankfully for them (and for us), it was fantastic.
The Funeral Home boasted some really impressive performances as well. After the devilish Calvin, nutty proprietor, Finklestein, was quite good. Like the trio (or quartet) of gate keepers, we required a generous portion of improvisation from the good Mr. Fink and he responded admirably. In fact, he seemed quite comfortable berating my running commentary to the point that I began wondering if I, too, was involved in the production ' unaware of my subconscious programming, installed in my cortex at birth to prepare me to suitably interact during this singular, reflexive moment… – but probably not, right?
He was certainly adept at handling the fuzzing maggot that he introduced us to, though it was a bit awkward to watch him turn on one of the special effects manually. A bit of sleight-of-hand training from Amazo may be in order!
Izzy, easily the Estatian most pleasantly-disposed toward us, was also a treat. After sweetly sharing a secret, she made us fly like planes and insisted that she loved us. We love you too, Izzy. We love you too.
Dave still thinks he's an airplane. He has been banned from every major airport in the United States. I have no idea how he is still alive.
The make up artist, coffin saleswoman, and swamp men (see Scare Factor below for more information on the last two) also gave stand out performances.
Though there a variety of good down through weak performances throughout the remainder of the Funeral Home, the only really stand-out rough performance came on the Trail. In short, he had a really difficult time remembering his lines. For anyone acclimated to the brief correspondence of traditional haunts, this may seem a nearly-unbelievable revelation, but when one considers the paragraphs of dialogue that many of the Estate's actors need to memorize, it becomes a lot more understandable.
Honestly, the recitation, though flawed, was still so unexpectedly bizarre that we still enjoyed it. In fairness, the second half of his performance was fine and everything went smoothly after that.
I discuss the powerful presentation of Jack's dad (and the ever-present scarecrows) in Scare Factor below, but I do want to give explicit credit to the pair of young ladies involved in a torture scene outside of Jack's dad's house. We were inside that madman's cabin for a few minutes, and those two maintained their scene the entire time. It was actually really impressive ' I kept getting distracted, listening to ensure that, yes, it's still going on out there. Maintaining a scene for that long takes an impressive amount of dedication.
Baitshop Betty and the Cemetery Steward performed well also, and we really did appreciate our Japanese blessing!
Truth be told, anyone who visits the Estate, phone-veg's through the lines and then plows into the attractions hoping only for a handful of reasonable startle-scares is really doing themselves a disservice. The best moments from our time at the Estate revolved around our prolonged interactions with cast members.
---
Costuming: 9.15
How Did We Get This Score?

Excluding a clan of marauding scarecrows, the Estate has chosen to adorn its residents' visages with make-up enhancements instead of any form of masks. We actually found this to be very effective in subtly enhancing the creepy demeanor of most actors. The last major, interactive character of the Funeral Home really stood out, or at least the angry blue veins bulging under his facial epidermis did.
The corpses (former and current) comprising the majority of the Funeral Home's occupants were believable and suitably attired. Similar too were the magic show performers ' properly gaudy and flamboyant, alongside the roaming scare-clowns hidden in the shadows of the Chamber's winding passages. The human survivors, nervously aiding us on the trail looked like… you know, humans, which they were. The scarecrows, from what we saw of them (peripherally over our shoulders as we sprinted away from them) looked to be well-outfitted (which actually greatly aided their ability to hide and ambush we, unsuspecting trespassers)
Quite a few really impressive costumes were worn throughout the 3 attractions, detailed and elaborate like the formal wear of Gothic royalty.
---
Customer Service: 9.61
How Did We Get This Score?

We had no trouble locating the Estate. I've said a few times that perhaps their sign could be a bit brighter but, really, it's the only thing of note against the darkness of the countryside. The blazing hub and foreboding frontage of the Funeral Parlor make it almost impossible to miss. Free self-parking is available in the giant field next to the attraction.
I covered the resident line-scarers briefly (wink) in the Cast section above. Here, let's go with : dey gud, and spare my wrists.
Several port-a-potties are available at the edge of the parking lot. One of them was unfortunately reluctant to lock. Let's pretend that that dereliction of duty didn't result in a very embarrassing 2.74 seconds for your narrator and move on.
We noted a few new additions to the culinary offerings of the Estate's chow wagon. Of particular note, the promised-pizza from last season's review has finally arrived, and it is as exquisite as promised! Though petitely apportioned, those steamy, cheese-bliss wedges exceeded all of our expectations. Be sure to reward yourself with a piece or two of doughy nirvana after the rugged trials of the Trail.
I must say that every staff member that we spoke to was very friendly and helpful ' including the ticket gal and the two young ladies operating the food vendor.
An extra special thank you to our liaison, Emily, for setting up the visit for us and even arranging to open the trail early so that we would be sure not to get rained out! We truly appreciate all of the courtesies shown to us during our visit.
Oh, and I'm sure you're wondering so : right, yeah, it never ended up raining. Sigh.
---
Atmosphere: 9.12
How Did We Get This Score?

With one exception, the excellent, creepy veneer of the locale remains similar to its previous iterations, so allow me to return to a wise man's (me) linguistic interpretation of the experience (with a few updates) :
Three haunts in a triangular position, encircling a bonfire-laden hub area, occupying a dark, secluded farm in the middle of Absolutely Nowhere, Pennsylvania ' that is the facade of Haunted Hills Estate. The greatest experience, though, comes as you begin descending the first hill towards the trail. You watch the frontage of your wooded destination begin to take form before you, and internally steel yourself to begin your quest. It's definitely a great transitional bridge between the moderate bustling of the other two attractions and the forthcoming isolation of the Challenge Trail.
A very important update for this season, however, involves my single complaint about last year's version : the soundtrack is significantly improved! The eerie jittering of firelight and shadow is now complemented by an appropriately spooky auditory accompaniment. This aural tweak has increased the creepy ambiance of the hub area significantly. With this new, somber soundscape dissolving behind us (instead of the pop music of last season), our descent to the trail was appreciatively all the eerier.
---
Special Effects:

8.96
How Did We Get This Score?

While, in total, the Estate does retain most of its old-school aesthetic, several new animatronic accoutrements have made their way into the attractions. Most impressively, a menacing effect at the beginning of the trail provided us with a harsh warning as to what lay ahead. A well-made, maze-like version of the laser swamp design, complete with appropriate sound effects ushered us out of the Funeral Home.
Several additions helped to improve the overall atmosphere of the Funeral Parlor (it is an updated rendition of the annual 'Legends' attraction, after all), including several very pungent odors wafted into multiple scenes, and an excellent assortment of auditory accompaniments, ranging from dark melodies to intense squealings.
We really liked the practical design of the Chamber's finale. It felt like the intimate, swanky little bar-like venue that Amazo and Co. deserved to showcase their performance. In front of the substantial stage, we sat around a handful of tables, caught-up in the very believable set design, cheering and booing the bickering performers.
In the Funeral Parlor, a simplistic but effective freezer room, complete with strung-up corpse appendages was the stand-out location for us, though there were a lot of well-detailed scenes and rooms inside of the attraction. The fireplace that we were unceremoniously directed through was also a fun, unexpected detour. Staring up at the immortalized remains in the taxidermy room gave me a new perspective on 'life after death.'
The shell of the Trail seemed largely unchanged from last year, though locations that once held brief safety from our nocturnal pursuers were now largely-abandoned vestiges of better days. It was fun to revisit them under an altered scenario, ducking into tombs and sheds to avoid our ravenous scarecrow pursuers (see Scare Factor below), and searching for semi-hidden passages before angry patriarchs did whatever angry patriarchs do when they count to five.
---
Theme:

9.3
How Did We Get This Score?

I'll admit that the Funeral Home's premise and back-story were pretty lackluster ' a Funeral Home's owner resurrecting the recently deceased. Understand, though, that the initial paucity of thematic girth was buoyed a good bit by the ample amount of additional information provided by the gate-keeper and the titular Finklestein. An underwhelming theme can certainly be improved by a robust adherence to and expounding upon of that theme and the Funeral Home did that quite well, with multiple characters offering differing (and often conflicting ' as the man, himself, had warned us going into the haunt) accounts of the proprietor's works and disposition. It was quite strange that most of the characters expected Finklestein to already be dead, though. That may have been a nuance to the story that we missed, but it did seem strange for an actor a few rooms away to insist that the man we just left was long-dead.
The Chamber was a different creature entirely, though. After initially receiving an enticing collection of groundwork-laying exposition and auxiliary snippets from the gatekeeper, we briefly met most of the theatrical principles, receiving foreboding tidings in the process. Intermixed with a few more haunt-standard boo-zones, we proceeded to then become the audience for the homicidal magic show to which the attraction had built up to. It was a unique version of a story-swell that, though brief, really made the finale a lot more fun. Though not truly a 'haunted house' in the traditional sense, the Chamber was probably the most entertaining of the three attractions per-capita, and did still include multiple clever startles and one final unexpected chaotic oomph of spookhouse glee; the completion of which 'inspired' three members of our group to charge, Black Friday-door-busters-wild, to the nearest exit, bowling through an innocent bystander in the process. Now that's a send-off!
The focal attraction of the Estate is, again, the Challenge Trail, but we found that this year, the namesake impetus for this forested romp has been distilled down to a single directive. That's right ' though in previous years, the Challenge Trail has always featured between six and ten game-like segments interspersed into the haunted trail. This season, the trail is one continuous experience, pausing only briefly during a few moments of much-needed (and well-earned) safety. The positive aspects of this are outlined in the Scare Factor below, but I will admit that the storyline and simplistic challenge that we faced just didn't seem to have the same thematic as previous years. Though beginning strongly enough with a thick supply of exposition from the gatekeeper, Jack, the rest of our perilous journey felt more like a frantic scavenger hunt without any real narrative compulsion or cohesion. Most of the characters that we interacted seemed more interested in complaining to us for trespassing or offering brief segued reposes from our main goal… which didn't feel quite as weighty as the world-saving, curse-undoing iterations from previous seasons. And that single puzzle that we'd been tasked with unraveling all along? It was kind of a no-brainer and resulted in, essentially, 'Welp, you did it; there's the door!'
All that said, we felt that changing the trail into a single, fluid experience, was actually a welcome change. With the 'protect your flags' element back and much more fairly instituted (almost perfectly so in fact), despite the narrative shortcomings outlined above, the trail was actually more FUN than last season. I think that if the Estate chooses to employ a similar configuration next season, but adds in a stronger narrative, a more complex challenge, and more meaningful interaction with the other human denizens of the trail (one gentleman inside a crypt-like building seemed to exist only to silently point to the exit five feet away on the other side of the room; most of those who spoke to us didn't ever really have much purpose in doing so), the next version of this form of Challenge Trail could easily transcend all those that came before.
---
Scare Factor:

8.92
How Did We Get This Score?

The Funeral Home is the closest Haunted Hills gets to a traditional spookhouse. Though there were only a smattering of boo-scares, the interactive actors were, by and large, a lot more menacing and confrontational than in the other attractions (excluding scarecrows). It featured a healthy variety of scares between a unwelcoming environment, a handful of air blasts, and even a bit of fun with maggots and spiders.
The best moments of fear, though, took place near its end. First, a soft-spoken, but hard-nosed brute waxed philosophically inches from our faces… and then sent us off to experience the 'Hell' of which he had referenced : the mysterious billows of the Funeral Homes laser swamp. Inside it, a single actor taunted us, laughing; always laughing, as we clumsily clattered in circles. He was able to hide beneath the surface of the fog and continuously startle our dumb-founded efforts.
The Chamber focused on a small number of quality, effective fright opportunities, with its finale serving as the pandemonial lynch pin in an exciting performance. As mentioned in the Theme category, it generated a literal stampede. The pair of hidden clowns (and their cursed, blaring horns) were the finest startle up until that point.
And then the trail… I may have espoused my disappointment in a few aspects of its technical and thematic tunings, but here I must adopt a different tone. The secondary rule set of the Trail involves the customer donning a flag-belt (like those used to play flag football) and to protect it from an army of nourishment-curious scarecrows (I mean, what kind of mutated fiend subsists on vinyl triangles??). The Estate introduced a similar mechanic last season with moderate success. It felt like more of a side-quest to fill the space between challenges.
This year, however, with the removal of the trail-challenge dichotomy, things got a lot more interesting. Yes, they're just plastic flags; yes, you're never in any real harm, but, honestly, as we cautiously tread betwixt sections of overhanging, breeze-twitching foliage, a legitimate feeling of honest tension emerged and stayed throughout the entire trek. Apparent safehouses really did spur relief sighs, and even when we found ourselves being blessed by a helpful young woman, we were continually twisting in our seats, inspecting every too-convenient shadowy alcove. The temperament of the trail has completely changed.
It's true that the Challenge Trail has never been THAT scary. It's had impressive outliers, certainly, but the Estate's headline attraction was always about successfully completing the challenges. This year, though, it really changed.
Fortunately, the game element wasn't completely taken away (see Theme above) because without that impetus, the tension of the trail would not have been possible. You are furiously searching for several totems that you need to complete your quest while also nervously attempting to evade vicious straw monsters. Each element serves to enhance the customers enjoyment of the other ' and they do this quite well.
And this is done in a few different ways. Most of the time, fleeing with expedition was the logical course of action, but we encountered several situations that required alternative solutions. Running would attract the monsters, we were warned at once junction. They are attracted to sound, was the key to successfully navigating another passage. Near the beginning we huddled together silently in a shed, knowing that the more sound we made, the longer our nemesis would orbit our location. We really enjoyed the varying methods required to evade capture ' it added a lot of variety to the challenge at hand.
Though many of the scarecrows were legitimately intimidating, bursting from arboreal niches with venomous intent (one particular, armed scarecrow was able to startle our whole group), the creepiest antagonist along the trail was Jack's own father. He spoke with such a malicious intensity that when he demanded we exit his home within five seconds, you can be certain that we were tripping over each other to vacate the premises before the old man had even begun counting.
---
Entertainment & Value:

9.77
How Did We Get This Score?

The trail took us 28 minutes to complete (though I'd imagine this is HIGHLY variable, given the nature of the attraction); 25 minutes for the Funeral Home, and 10 to complete The Chamber. All together, that means that we received 63 minutes of entertainment for a general admission price ($25), which places the minutes of entertainment per dollar spent at 2.52, which is well above average for most haunts in the region.
The Funeral Home is a pretty solid experience this year and the Chamber was an unexpected treat. Though I suppose I do miss some aspects of the old version of the Trail, and feel like there are a lot of ways to enhance and improve this year's iteration, the wonderfully-omnipresent tension generated by its new design easily overpowers any negative considerations that I have toward it.
I may have commended over-long the quality of the cast this season, but I really do believe that they deserve it. Honestly, the Estate is largely based around providing interesting, entertaining interactions ' its value each year often lives or dies by them, and this is one of, if not the best shows that we've seen from them. It's no secret that, in attractions we visit season after season, we begin to recognize many of the perennial actors. With few or no exceptions, everyone that we remembered from previous versions of the Estate provided their best performances. It truly is amazing to see how far many of these frequent haunters have come with their portrayals. I can not offer enough plaudits to this season's cast… though I sure as Hell have tried. 😉
So, it is with our honor that we offer our highest recommendation to visit Haunted Hills Estate this season. Any haunt go'er who enjoys a bit of theater, a heap of frights, and a lot of fun should definitely check them out in Uniontown this season. It's just… MAGICAL.
* curtain *
---
How Did We Get These Scores

Promo Images:
Click to Enlarge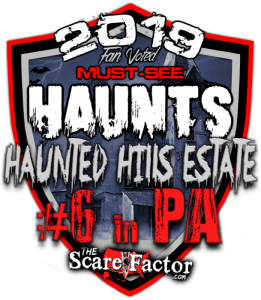 ---
Guest ReviewsGuest Average: 9.82 out of 10
Joe – 10/10 – October 18, 2019quickly has become my family's favorite haunted attraction. lots to do while you're there. recommend …show more getting the fast pass because it gets packed fast.
Addison – 10/10 – October 18, 2018The actors really get into their part and make this attraction really amazing.
John – 10/10 – October 14, 2016These guys know how to have fun loved the Twisted Nightmare and the Challenge Trail. This is must do …show more again can't wait for when they open again!!
---
Past Awards
---
2018 Awards
"Like a broken broken record" - Best Ad-Libbing (Given by: Team Scary Potter and the Hauntwarts Express)
"The gang's all here!" - Best Cast (Given by: Team Scary Potter and the Hauntwarts Express)
"I see what you did there" - Best Executed/Unique Theme - Chamber (Given by: Team Scary Potter and the Hauntwarts Express)
"That's all folks!" - Best Finale - Chamber (Given by: Team Scary Potter and the Hauntwarts Express)
"The waiting is the hardest part" - Best Line Entertianment (Calvin, Crystal, Jack, Hearshel) (Given by: Team Scary Potter and the Hauntwarts Express)
"I want to hold your ha-an-anddd'" - Best Sustained Scare - Challenge Trail (Given by: Team Scary Potter and the Hauntwarts Express)
"A penny saved is a penny earned" - Best Value (Given by: Team Scary Potter and the Hauntwarts Express)
---