Haunted Hills Estate – Full Review
Haunted Hills Estate is a Haunted Attraction located in Uniontown, PA.
236 Rolling Hills Estate Road, Uniontown, PA 15401View All Details

Features:

Free Parking, Restrooms/Porta Potties On-Site, Food/Concessions, Gift Shop/Souvenirs, Optional Games/Midway, "Old-School" (Low Tech), You will NOT be touched, Original Characters, Uncovered Outdoor Waiting Line, Indoor/Outdoor Attraction

This attraction was reviewed on October 12, 2019 by Team Scary Potter and the Hauntwarts Express.
How Do We Get These Scores?

Final Score:

8.49
How Did We Get This Score?

Summary:
Oh, Edgar, why did you need to read THAT book?
Haunted Hills Estate is back this season, rebranded as a Haunted Scream Park, but still maintaining its trilogy of attractions, this year named 'The House', 'Imperium', and 'The Deadwoods Challenge Trail.'
This season's version of attractions felt exceedingly…Dickensian : best of times/worst of times. The House is probably the greatest version of the 'Legends' attraction that the Estate has offered; the other two, honestly, are not.
There is still a lot to like about The Estate, though, as I illustrate below what Team Scary Potter experienced braving the aftermath of Edgar Hill's curious experiments…
---
Cast: 8.62
How Did We Get This Score?

One aspect that the Estate has thankfully retained is an excellent stable of actors. Though our interactions felt a bit less substantial this year, there were still plenty of them provided by capable cast members.
Excluding line haunters, our introduction to the proceedings was offered by feisty, Nickleback-loving Natasha, the gatekeeper/rules-giver for The House. Her lively, mostly affable exchange was a strong counterpoint to our second host, Madam Cora. Though not UNpleasantly-disposed toward us (at least initially), her delivery was much more guarded and cautious as she presented very troubling news.
Quick, reader : describe to me one instance in the history of mankind in which the discovery and investigation of an ancient, evil tome has borne POSITIVE consequences. Right. If I had a dollar for every time I've awakened a long-dormant elder god via the written word… Still, I just couldn't help myself.
Ah, Cora, what have you gotten us into this time?
Perhaps the better question : what have you gotten YOURSELF into… or what's gotten into you?
Excluding the silent antagonists of the Trail (who, despite their low numbers, were pretty decent at their singular purpose), and a few creeping monstrosities in Imperium, most of the characters we encountered were interactive to varying degrees. Each of the primary actors on the Trail were entertaining in different ways. Bones (Calvin, we know you're just wearing a thinly-veiled disguise), playful with a hint of sinister glee was a great challengeer. Though, if I may, and this may be upsetting, so I apologize… cats do defecate, my friend. It's a natural biological process for most complex organisms.
Everybody poops.
Root and Mr. Priest were each entertaining as well, certainly, though members of our team just refused to trust the former. Maybe he has one of those faces. I still love you, boi. Also, the peculiar, simple lass who aided us affixing our flags was friendly and helpful, but seemed a bit shy.
…
The House was brimming with enjoyable residents, even beyond those already mentioned. The Gardner may not have a green thumb, but we liked her all the same. The schizophrenic boy in the basement was delightfully creepy, but what are you doing dipping into the booze, boy; you're about a decade underage!
Also, Mr. Cluck, I have no idea what was going on with you, but you are amazing.
We didn't really get to interact with Mr. Hill himself during our primary walk through, but in the aftermath, he was an absolute blast.
Our absolute standout performance across the entire attraction though, of course, was Pete the maggot. So often disrespected, you are one of a proud, proud people. Never let anyone discount your genetic lineage, little guy.
Each attraction could have used a few more actors (of different breeds), but the performance quality makes up for their somewhat thin numbers.
---
Costuming: 8.66
How Did We Get This Score?

Most of the actors we encountered who weren't groping for our flags were versions of human or post-human characterizations so the enhancement technique of the day was extensive make-upping, and the Estate's make up artists have performed admirably this season.
Of particular note, Cora's mutating visage requires special notice, emphasizing a simple but effective technique to illustrate her unfortunate transformation. Oops. Again, really sorry about that…
We were pleased not to see any egregious street clothes violations, even among more briefly appearing characters. It was difficult to really pick out clear makeup details through much our journey, but a ragged, hobo-in-training in the maze behind The House had exceptional makeup and the polite, but grim clergyman on the trail caught our attention as well.
Of the few inhuman occupants, when one stumbles into the shambling path of a post-bender Big Bird, one can not easily turn a blind eye to that beloved character's plight. Ernie, Oscar, and Elmo are currently negotiating with executives to perform a televised intervention. We're pulling for you, big guy. It does get better!
Also, the Pumpkin King does look amazing. I just wish we could have satisfied his odd fetish (seeds, bro?) and wiled away the evening playing hula ring toss instead of, well, being savagely murdered. Shucks.
We were very impressed with Haunted Hills Estate's attention to aesthetic details this season.
Seriously though, Tall, dark, and yellow, put the bottle down; your family misses you.
---
Customer Service: 8.95
How Did We Get This Score?

We had a very amusing interaction with the Estate's parking spotter. When entering the parking lot, he kind of sighed and leveled with us (approximate quote), 'Look, you can go to the right there. It's kind of muddy, but there should definitely be some spots. Or you can go to the left, and God help you. Maybe you'll get lucky.' I wanted to hug him for his honesty.
Incidentally we chose left and found a spot immediately. Divine intervention?
We visited on a very busy night and obviously I've dramatized a bit… for the first time EVER. Wink.
Haunted Hills Estate has rebranded itself as a Scream Park this season. What does this mean, functionally? A more robust midway ' games of all variety, hoards of roaming entertainers (including a fire breather!), a much larger concessions tent, several impressive photo ops (including a massive Krampus). The basic 3-attraction design has remained the same, but the environment surrounding it has become MUCH more active.
Speaking of their roaming entertainers, we were impressed by the broad variety on display, from the creepy to the comical, including one hyperactive hype man named Sprinkles. Only available on select weekends, we were lucky to be present to see him in action.
Creepy line scarers are fine and can work well in many instances, but most haunts can greatly benefit from an over-the-top, flamboyant persona to rile up the crowd pre-attraction. That was Sprinkles, leaping onto the House's platform to demand crowd participation and generate excitement. He wasn't alone, certainly. Both he and the other line-scarers were successful and engaging in group-on-one interactions, but that showy gent was a true crowd pleaser.
One important note here of a different tone : be careful on the trail area, it can become quite muddy (WEAR OLD SHOES) and the flag-eating beasts that lurk back there were especially brazen this season. One woman in our group was essentially leg-swept (unintentionally of course) by a plastic-distracted hooligan monster. She wasn't seriously injured but was definitely shaken up by the experience. Also, the return visit requires a short walk up a fairly steep hill.
The House is also a bit more physically-demanding than the average haunted attraction ' being able to duck and walk for several yards is essential. There's nothing extreme or intense, just a bit of stretching required from time to time.
As always, the staff of HHE were amazing and very friendly. Thank you to everyone for having us.
---
Atmosphere: 8.9
How Did We Get This Score?

Becoming a scream park this year, HHE has undergone a significant alteration in the manner in which it presents itself. Previous seasons, arriving at the estate, we were greeted by a bonfire in the center of hub area, tri-cornered by attractions. It was a low-key experience, with haunted music eventually joining the tableau in later seasons.
This year is wildly different : loud music, hoards of roaming haunters, midway games, pomp, excitement. The Estate has certainly undergone a massive shift in its atmospheric intentions.
Is it an improvement? That's a matter of personal perspective, I'd say, but MOST customers will probably prefer the new incarnation.
It's a boisterous welcome to the world of Haunted Hills, and its CERTAINLY much more exciting during the line-slump. As I discussed in Customer Service, HHE does have some excellent actors stirring things up while you wait.
The entire hub is much less somber now, more of an uproarious party, and who doesn't love a party? Sprinkles sure as hell does. And you know what else he loves? Bears; we have that one on good authority.
---
Special Effects:

8.21
How Did We Get This Score?

The House's design has certainly improved. The dining area was a stand-out set, with an oozing, half-dissected carcass casually occupying the table, creepy portraits watch us as we navigated it. Frankly, we lost track of what our host was telling us because we were too distracted by examining the environment. The garden area (perhaps a BIT more water may help) is also a fun addition. Well, not fun for the plants, unfortunately. Clearly the Hills are pack rats. The basement has become a stew of layers of grime and corroded bottles ' a filthy mish-mash of discarded odds and ends. So, of course, we loved it. The spider who seemed to be in charge of organizational assignment down there is slacking badly.
The bedroom closet we passed through would not normally have received specific attention, but the non-Scary Potter members of our group got lost in its linear depths for several minutes. How such a thing is possible, I have no idea, but any closet capable of such confusion deserves mention.
The trail is designed very similarly to last season, with its funeral parlor being its most impressive focal point. It is well-constructed, with appropriate relics and furnishments arranged throughout.
The House's sporatic, ambient soundtrack worked well to enhance the mood as we carefully made our way through its hallways, as did Imperium's. The latter really did have some impressive sound effects occurring throughout the tour.
I anticipate that 99% of patrons will have the same most memorable special effect after visiting The Estate. Though I will not ruin the surprise, let me offer this warning : not every member of the cast is House-broken.
The Challenges on the trail… were rough. The second challenge was interesting enough, and I liked the way that its true nature wasn't immediately spelled out until preparing for it was too late. The first and third, though, were simple 'throw a thing at a thing'-type challenges. Each member of our group received only a single toss, therefore, we each spent most of our time standing and watching other people do things. It wasn't particularly exciting or engaging.
---
Theme:

7.7
How Did We Get This Score?

The online backstories for each attraction are interesting and varied, well-written. They also don't seem to have a whole lot in common with what actually transpired during our visit.
That isn't entirely fair ' The House is close enough, as the background preamble is beneficially vague in terms of what one should actually expect to experience. The opening sequence with Madam Cora was an excellent introduction to the attraction that may have set the narrative bar a bit too high for the rest of the journey to keep up. The story line largely slims down to normal haunted house level vaguery afterward. Still, the interactions that transpired weren't implausible by any means. There just seemed to be much meatier material available to stretch across the attraction.
The first two challenges along the trail seemed mostly self-contained. Why a funeral was occurring at that particular time, in that particular location, one can only guess. Still, they weren't necessarily antithetical to the basic assignment we were given : collect seeds to satisfy the Pumpkin King (which doesn't really match the story online at all, but was on-site consistent, which I'd argue is more important). The rules-giver didn't explain much beyond that though, to be fair, he seemed a bit distracted mumbling insults to or about customers.
Imperium… it has a really interesting prologue on the HHE website but… honestly, I have no idea what was supposed to be happening when we went through. A military man of some sort told us to be careful not to go through, etc, but the 'Super Soldier' plot line for this mysterious government facility never really materialized.
Its important to note that Imperium began the season as a very light escape room, but was transitioned into a normal walk through attraction part way through the season. It's a good decision, certainly, and any sort of significant coherent narrative theme is much less important in its present form.
---
Scare Factor:

7.95
How Did We Get This Score?

Note : I will almost certainly refer to scarecrows as zombies at some point. I apologize in advance.
Easily last year's scariest element, protecting life-flags from malnourished scarecrow monsters, remains an essential portion of the Trail. This year, though, the effect frankly didn't work very well. I believe the size of our party contributed to this. Last season, four friends cautiously scampering from protected building to protected building, anxiously scrutinizing every wooded nook for rising monstrosities or well-hidden clues became a small battalion of strangers casually side-stepping a small number of (at times) overzealous antagonists (see Customer Service). The change in atmosphere was significant and unfortunate.
I don't believe that the inclusion of challenges has detracted from the scare-portion of the Trail's potential, but the inverse population (huge group, small number of scarecrows) deflated the well-crafted omnipresent dread. Also, the light variety of different 'types' of scarecrows (some were attracted to sound, some motion) was removed as well.
Because of this, the scarecrows this season felt like more of a nuisance, and the desire to protect our precious flags, minimal.
Watching a scarecrow upend a woman in our group didn't help much either.
I will say that the ending is significantly improved, though. And, obviously, the scares affected our entire group.
The House did a pretty good job of maintaining an enduring creepiness, though the narrative promise begun in the first room didn't really hold up. Thereafter, the characters we met were creepy, but never really scary ' excluding perhaps the young gentleman in the basement, his was an excellent depiction. The House did have a few good non-human startles that caught us off guard, but were very light on human-based jump scares.
Imperium had a few decent pop-up startles, but wasn't particularly frightening. If I had been able to hear anything that the last gentleman said, it probably would have been a good ending, but the sound effects overpowered him. He did chase one of the other actors out of the building and legitimately bodyslammed him which was a good send off.
---
Entertainment & Value:

8.63
How Did We Get This Score?

This was a difficult season for Haunted Hills, and, frankly, for me to review it. Last season's version of the Estate was excellent, hinting all the right notes across 2 (almost 3) attractions.
This year, however, is not that.
The House (colloquially known as Legends most seasons) is possibly the best it's ever been. In previous years I have viewed it as an ok-to-pretty good first act appetizer before the sometimes great/sometimes rough Middle Child Attraction and the main course, The Challenge Trail. It turns out that this season, the hors d'oeuvres outshine the entire remainder of the meal… by some margin. As exciting as it is to finally get a version of Legends that lives up to its potential, as equally disappointing it is to be forced to admit that the other two attractions have fallen in the interim; fallen hard.
They both feel incomplete. The Trail is serviceable, I believe, and did afford moments of genuine enjoyment, even if we received such limited opportunities to interact with the challenges. Imperium failed to ever really gather any momentum and was suddenly over, 5 minutes after it had begun.
We spent 17 minutes in the excellent House, 33 on the Trail, and 5 within Imperium. That's 55 minutes of total entertainment, making the MPD against a $25 standard ticket as 2.2. This is well above average.
We did enjoy our time and Haunted Hills this season, despite its shortcomings. If next season's versions of the 2nd and 3rd attractions mirror The House's newfound quality, it will certainly be the best iteration of The Estate to date, and a completely unmissable haunted experience.
As it stands, with tempered expectations, Haunted Hills Estate is a good way to spend a haunted evening this Halloween season.
---
How Did We Get These Scores

Promo Images:
Click to Enlarge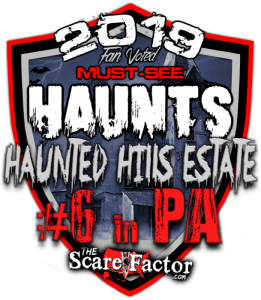 ---
Guest ReviewsGuest Average: 9.82 out of 10
Joe – 10/10 – October 18, 2019quickly has become my family's favorite haunted attraction. lots to do while you're there. recommend …show more getting the fast pass because it gets packed fast.
Addison – 10/10 – October 18, 2018The actors really get into their part and make this attraction really amazing.
John – 10/10 – October 14, 2016These guys know how to have fun loved the Twisted Nightmare and the Challenge Trail. This is must do …show more again can't wait for when they open again!!
---
Past Awards
---
2018 Awards
"Like a broken broken record" - Best Ad-Libbing (Given by: Team Scary Potter and the Hauntwarts Express)
"The gang's all here!" - Best Cast (Given by: Team Scary Potter and the Hauntwarts Express)
"I see what you did there" - Best Executed/Unique Theme - Chamber (Given by: Team Scary Potter and the Hauntwarts Express)
"That's all folks!" - Best Finale - Chamber (Given by: Team Scary Potter and the Hauntwarts Express)
"The waiting is the hardest part" - Best Line Entertianment (Calvin, Crystal, Jack, Hearshel) (Given by: Team Scary Potter and the Hauntwarts Express)
"I want to hold your ha-an-anddd'" - Best Sustained Scare - Challenge Trail (Given by: Team Scary Potter and the Hauntwarts Express)
"A penny saved is a penny earned" - Best Value (Given by: Team Scary Potter and the Hauntwarts Express)
---