Haunted Hills Estate – Full Review
Haunted Hills Estate is a Haunted Attraction located in Uniontown, PA.
236 Rolling Hills Estate Road, Uniontown, PA 15401View All Details

Features:

Free Parking, Restrooms/Porta Potties On-Site, Food/Concessions, Gift Shop/Souvenirs, Optional Games/Midway, "Old-School" (Low Tech), You will NOT be touched, Original Characters, Uncovered Outdoor Waiting Line, Indoor/Outdoor Attraction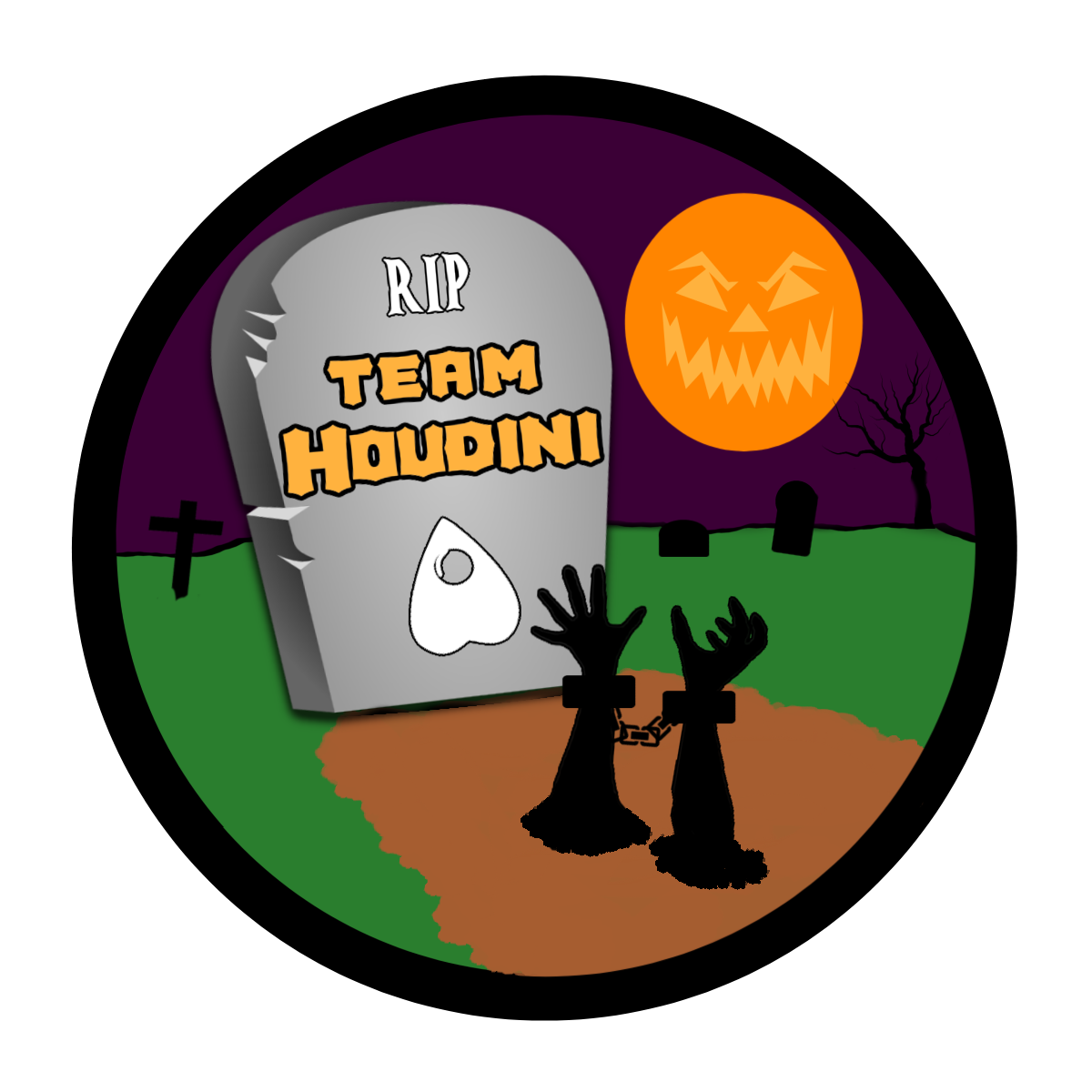 This attraction was reviewed on September 26, 2020 by Team Houdini.
How Do We Get These Scores?

Final Score:

8.06
How Did We Get This Score?

Summary:
Haunted Hills Estate has returned for 2020. Building off of last years 'Scream Park' expansion, they have added even more to their horror arsenal.
Going from a trilogy to a full-out anthology, boasting six haunted attractions this season which include: Experiment 31, a top-secret experiment facility that is tearing apart the fabric of reality as we know it, The House: a classic haunted house inhabited by the spirits of the Hill family, The Burial: a place where the dead go to die but not to rest, Corn-Tine: a corn field where the pesticides have inflicted horrendous mutations to those that tended to it, Sin Creek: a small town of inbred cannibals looking for food and fun, and The Deadwoods: a walk through the woods of the pumpkin creatures.
They have also expanded their midway adding axe throwing, and two games of skill with a haunted twist. They still offer plenty of tasty treats and a gift shop area with creepy crafts and more (finally a haunt with shot glasses!). Haunted Hills Estates has a lot to offer!
Although Haunted Hills Estate has been around for quite some time and we have had the pleasure of visiting, in the past, this is the first time Team Houdini has had the opportunity to review HHE.
For the 2020 season, Haunted Hills Estates has made some adjustments to go along with its expansion. The House is still the focal point of the park with its unkempt appearance. Experiment 31 has shed its escape room'ish design of last year to a straight forward sci-fi walk through. Corn-tine is a new corn maze added at the end of the trail.
The biggest change this season was the Challenge Trail. From our previous visits, the Challenge Trail really set Haunted Hills Estate apart from other haunts. As you traversed the woods, you would be presented with physical and mental puzzles to complete. We have not encountered other haunts that did anything at that level. Unfortunately, this season, the challenges have been removed from the trail and it is now a straight walkthrough.
The trail makes up the three of the six haunts listed, The Burial, Sin Creek, and The Deadwoods. But in reality, it feels more like one long trail, which we will get into in detail shortly. These changes could have been applied due to COVID regulations and to limit items touched, but we felt this definitely took away from Haunted Hills Estate's exclusive allure.
---
Cast: 7.38
How Did We Get This Score?

We stumbled upon forty eight abominations throughout the six attractions, midway, and outside ticket line. The line actor in the ticket line had a colorful clown costume on… sneaking up behind customers silently waiting for them to notice.
Inside the park, the first chap we spoke with was a solemn man who took our tickets before entering 'The House.' For a dead guy, he was very polite and well-spoken with a slight accent. No rules were provided, just a reminder to put my phone away.
Once inside we were greeted by a young playful spirit holding a teddy bear. She played the part well as cheerfully and creepily-reminiscent of a dead Harley Quinn. It was hard to hear her spiel as the house was extremely loud. This year I did not get to read from a cursed book and I was disappointed, all that time I wasted practicing my Latin!
There were no real stand out performances in the house. The majority were jump scare actors that popped in and out of existence. Fitting for a classic haunted house, but we would have liked some additional interaction.
We did have one female lunatic who laughed hysterically as she followed us out into the cemetery; she provided the most interaction. As we left, we were bid adieu by a chainsaw-wielding killer. 'The House' housed a total of eight residual residents… which was a decent number, but we felt there could be more or they could have been positioned better. In a ten-minute haunt, going a minute or two without any characters or interaction is noticeable.
Next, it was on to 'Experiment 31.' We were received by the head female nurse of the 'Aurora Institute;' she too had an accent. She provided the intro of the haunt and welcomed us to the 'enlightenment."
As we progressed on our journey to become 'more beautiful as in the eyes of the doctor himself,' it was easy to tell that beauty was definitely in the eye of the beholder. The patients or experiments were in varying degrees of distortion. Some characters were bloodied and disfigured as some were completely mutated into alien-like creatures.
The majority of the actors were boo-scare actors, hopping out and screaming at us, the new patients. One of the alien-like creatures followed us quite a bit, popping out at three different times (we only counted him once) and mimicking the way I was walking.
'Experiment 31' definitely had more aggressive, in-your-face personas than 'The House,' but still lacked the deeper interaction we hoped for. There were a total of nine creative creatures inside 'Experiment 31.' Since the haunt is only 3.5 minutes the nine actors made a bigger impact than those we met in 'The House."
Moving forth, we headed to the trail portion which contains three of the haunts. As we did not see any real separation between haunts, we are going to lump these actors together.
The good news is the trail offers the most actors and interaction of the evening. Our first encounter was a woman who provided us the rules and how to traverse the upcoming hike to get to the trail. Yes, it takes about four minutes to walk from the midway to the trail, downhill, in the dark' but you are permitted use your phone as a flashlight. If you have health issues, difficulty walking, or if you are out of shape like me, you may want to sit this one out.
If you survive the walk down to the trail, you will meet a ticket taker who provides the story of the haunt. She was an older woman… not quite "all there," but working alone in a wooded cemetery at night might make anyone crazy.
The trail provided a mix of characters. One of the best performances was the mentally-unhinged man who was having a breakdown. The giant crow followed and pecked at all of the intruders. Some other individuals wanted our eyes. We also came across a silent monk walking the catacombs.
There were still a decent amount of screamers, growlers, and snarlers (yeah, I'm making that a word), in the woods looking to get a quick scare. We had a conversation with a deformed (possibly inbred) individual who mistook one of our reviewers as his 'cousin Bubba.' He was quite mad that Bubba wasn't at the wedding as they were to be married.
Some hillbillies told us to 'watch ourselves' because 'we don't know what is out there.' Others wanted to know why we were in 'their woods.' There was a man with a goat head (I hate that imagery) who was just staring at people, super creepy. We ran into some kinfolk who wanted to play. Others were shooting their guns at us to scare us away. We were quite confused.
At a dead end of a trail, we saw a guy in the distance
burying something; the light behind him provided an eerie scene. We also found a demon who stared at me and did not say anything.
There were nineteen awesome actors in the three parts of the trail. At sixteen minutes of haunt time, we felt nineteen actors was adequate. There were a few spots in the walk where we felt an additional actor or two could be used.
Finally, in 'Corn-tine,' we discovered four actors that ran and hopped in and out of the dense corn for a quick startle. We could hear yells coming from the corn that they were 'gonna get us' and 'get some moonshine.' One had a chainsaw who leapt out at unsuspecting times laughing. Considering that the maze took just under 4 minutes, those four actors seemed to fill the maze well.
Before heading out, my wife and I decided to have a little competition at the axe throwing attraction. During our time, one of the lurkers tried to distract my wife. Then, he made fun of me when I did not get the axe to stick and she did. It was funny, but may not have been the smartest idea to make fun of someone when they are holding a sharp axe XD.
After we finished, and I won, an actress with pale skin, red hair, white eyes, and a face mask approached us. She had on an old fashioned blouse and most noticeable a real white rat on her shoulder. She too mocked my axe throwing, which I won and had two bullseyes, then mocked the size of my manhood… claiming to see such would take two Hubble telescopes. Then she informed my wife she needs to go to Spencer's and get 'The Lumberjack.' I'm not sure what is more upsetting that my wife did not stick up for me or that they have cameras in the porta-potties.
---
Costuming: 8.59
How Did We Get This Score?

If you're going to provide a good character you need to look the part. Haunted Hills Estate does a great job of providing realistic and detailed costumes, and a good mix of both makeup and masks.
In 'The House,' the ticket taker had ghostly makeup and a dark suit as most would be buried in. He was also wearing a black facemask (one of the few actors we saw with a face mask on) as he was working so closely with people he could not maintain six feet… or perhaps he passed from COVID and they left his mask on. At least it was black and matched his suit.
The first girl we encountered had on a red Victorian-style dress with white-ish makeup. Most of the spooks we saw had on black clothing and ghostly makeup consisting of pale skin and dark black eyes, giving a corpse-like appearance. Some popped in and out so quickly it was difficult to tell exactly what they had on.
The head nurse at 'Experiment 31' was wearing a nurse's outfit that looked a little worn and dirty. She also had a facemask on as she was interacting pretty closely with patrons, and it did fit her costume.
Inside of the 'Experiment 31' there was an increase of masks worn. The alien creature had a well-made and well-fitted mask; it looked appropriately out of this world (pun intended)! The other patients had disfigured faces that were a mix of makeup and prosthetics. Bloody scrubs were also worn by these patients.
In the trail sections, there was more diversity… although dark and black clothing was utilized to let some characters blend in with the natural darkness of the moonlit woods.
The most noticeable costume was the Raven; the costume was well put together and looked pretty realistic. The monk we encountered wore a brown hooded robe. The hillbillies had typical jeans and flannel shirts… and most wore disfigured masks that gave the appearance of inbreeding ala Wrong Turn.
The demon mask had a creepy effect as did the goat faced fellow. The eyes, hair, and horns just gave me the chills. One of the poppers had dark clothes and a burlap-type sack on his head which let him blend in with the surroundings.
In the corn maze, there was no external light except the moon. My eyes could not make out the detail of the individuals very well. It appeared they had on dark clothes and some kind of face coverings but details were difficult to distinguish.
---
Customer Service: 9.1
How Did We Get This Score?

Haunted Hills Estates was easy to find using GPS. They have made some changes to their facade and ticketing area from what I remember. There is a lighted sign by the driveway where you turn in.
Also, now, there is a huge entrance with the name and pictures on the front about 10 feet high with lights shining on it. It is pretty difficult to miss. This also blocks off the inside of the haunt providing some mystery until you buy your tickets to enter.
There was one line lurker as we waited in the ticket line. Also this year, there was an individual taking temperatures before you entered the ticket line. Once he took your temp, then security officers did a wand and pat down.
Haunted Hills Estate provides all information on their website and is heavily active on social media. On Facebook, they have weekly horror trivia games where free tickets can be won.
We did not notice any major safety issues. However, as the majority of the haunt is outdoors, in the woods, on uneven ground, and in the dark, so you could possibly trip.
Regarding COVID-19, according to the HHE website, they have the following procedures in place: social distancing, limited capacity, frequent sanitation, staff and customer temperature checks, staff and customer face mask coverings, social distancing between groups, and compliance of all CDC guidelines.
During our visit, we noticed temperature checks were in place for customers as stated. Staff was wearing masks, but not all haunters were. Since we were wearing masks we did not have an issue with this.
We were placed with other groups for each attraction. Approximately twelve people that were not with us were placed in our group for a total of fifteen. Since most of the haunt was outside and we had our masks on, we tried to keep distance as much as possible.
All of the staff we encountered from the sales desk to the gift shop were extremely nice and helpful. Porta potties are on site near the front of the entrance, and there is a food stand offering several snacks including pizza, corn dogs, funnel cake, and much, much, more. We did not partake in any of these tasty treats but quickly regretted this as we drove home and remembered all the restaurants were closed already.
---
Atmosphere: 9
How Did We Get This Score?

The new signage at the ticket area conceals the inside nicely. As you are outside of the park, the eerie music, screams, and noises from the haunts swirl around the waiting area. The sign looming above with pictures of two large creatures casts aside all doubt that you are at a haunt.
Once in the Midway the sounds of horror and excitement increase. Fog flows from around the house and dances across the ground then disappears as it rises into the air.
Almost directly in front of you is 'The House.' The old run-down chateau with boarded-up windows sits waiting for your visit. Lights softly illuminate the structure giving it a peculiar glow.
To the left is 'Experiment 31' with its cold steel walls blushing a purple hue with a soundtrack of metal type music I think (I'm old; all I know is I didn't like it) also filled the air.
A few lurkers roamed Midway as mentioned. A bonfire was also lit, but it was pretty warm this evening… quite a perfect evening, weather-wise. All of these delights to the senses, minus the metal music, definitely got us pumped up for the night.
Another cool part is when you head to the trail. There is a decent four-minute walk from the midway to the dark woods below. You definitely get an uneasy feeling leaving the lively area to something darker and more sinister.
My favorite visual of the night was when we exited the woods and were waiting to enter the corn maze. The sky was clear and pitch black, and the moon was bright as were the stars. At the top of the hill where the midway was, there is a collection of fog sitting on the horizon. It mixed with the lighting making a purple glow. The trees and houses were just silhouettes mixed in the purple haze. It almost looked like a scene from a movie. Unfortunately, the pictures I took did not do it justice but it was a perfect backdrop for the end of our tour.
---
Special Effects:

8.35
How Did We Get This Score?

Inside of 'The House,' the first thing we noticed was the soundtrack; it was loud. As mentioned I could not hear what the hostess was telling us about the house due to the noises. The mix of rumbles, screams, and machinery was overwhelming.
The style of the house was excellent and we definitely felt as if we were in a traditional haunted house. The rooms were dark with lighting that accented certain areas as needed. Some walls were plain wood, while others were adorned with peeling wallpaper. The living room had items including a TV that were completely covered in layers of dust, which definitely added to the abandoned effect.
The House provided a good flow that felt natural from a living room to a kitchen area. The kitchen area was dirty, as expected, and the stove had a glow to it as if it were in use. Body parts were thrown around the room and stored in buckets.
Continuing the flow, we entered the dining room with creepy pictures and a dead body on the dinner table. One interesting feature was having to leave the dining room through the fireplace, which looked as if there were hot glowing embers inside. Once inside it sounded like crackling fire: a nice added effect.
'The House' provides the normal rooms found in traditional houses. The rickety bridge was a cool effect that led to an outdoor area before heading into the basement of the house. Although we have seen the majority of these scenes before, it still provided a realism that felt as if we were in a haunted house. The sets, sound, and lighting were all on point. The use of animatronic scares in between actors was effective at providing quick jump scares.
Upon entering the 'Experiment 31' facility, a peculiar soundtrack filled the halls. A deep bass track flows throughout that you can feel. A woman's voice can be heard talking about the Aurora Institute and its mission. Machinery, pops and clicks engulfed us as we proceeded.
The halls and rooms looked like cold metal walls, some appeared to be rusty and worn. The set design appeared unchanged from last year except for the removal of the escape room puzzles.
The corridors were predominately tight and claustrophobic until the final room which offered the best scenes. The majority of the light is natural light as this is an outside (open ceiling) attraction. The final room was brightly-lit with a cool effect that helped reiterate the sci-fi theme and offered a better glance at the dead bodies around the room.
The special effects added to the jump scares along with the actors. Due to parts of the haunt being outside and having an open ceiling, it did not feel like we were completely immersed in the haunt.
The trail portion (that encompassed 'The Burial', 'The Deadwoods', and 'Sin Creek') provided a mix of soundtracks. When we first arrived, the opening music was a mix of heavy drums and wispy wind sounds, which felt natural for a walk in the woods. Loud crows and screeches echoed through the dimly lit woods.
The most realism was heard between the soundtracks and screams when all you could hear was the light breeze rustling the leaves, the crickets chirping, and locusts singing.
The sets appeared realistic and felt cohesive to the story. Starting out with mausoleums, cemeteries, and a chapel to name a few. The scenes seemed to become more of a mixed bag as we proceeded, but followed a backwoods/country theme. At one point, we caught up to another group and they took them down a different path, so we were curious about what was down the other path.
As mentioned earlier, Haunted Hills Estate claims to provide six attractions. Three of these are found in the trail, but we did not see any distinct separation for each area. It wasn't until we reached an old hillbilly woman doing laundry who told us we were heading to 'Sin Creek.' Apparently, we had just come from 'The Burial' and 'Deadwoods.' If she did not tell us, we would have thought this was just one long trail. So, in our opinion, it feels more like a marketing technique to make the haunt seem bigger than what it is. Unfortunately, they are not the only haunt that does this.
The finale of the trail is 'Corn-Tine.' It is a corn field… so there is corn with multiple paths in the dark. That is pretty much it, no special effects in the corn maze; just a few scarecrows, with no sounds and no lights.
The audio and lighting effects throughout sounded and looked excellent. The scenes themselves were solid and, when combined with the actors' energy, they really came to life.
---
Theme:

7.87
How Did We Get This Score?

Each area had its own them and, for the most part, the themes were depicted correctly.
'The House' was an old abandoned haunted house. This was clearly evident as we went through.
'Experiment 31' was an experimental medical facility gone wrong. Without information from the nurse, I may have thought it was an alien sci-fi theme.
As mentioned we did not see any signs listing the names of the trail haunts or sections. Perhaps we missed them? Looking at the names of the haunts on the website, 'The Burial' would have been the first section with the cemetery and gravesites and church. 'The deadwoods' area was listed as a walkthrough with pumpkin creatures. This area seemed to be a mixed bag. 'Sin Creek' was the backwoods folks that were deformed which made sense as they were living in sin with each other if you know what I mean. Finally, 'Corn-tine' was a corn maze with monsters.
For the most part, the themes were designed well with a few shortcomings… nothing we have not seen before at other haunts or done in a revolutionary manner that really stuck out.
---
Scare Factor:

7.13
How Did We Get This Score?

As mentioned, Haunted Hills Estate focuses a lot on jump scares. Loud bangs from animatronics followed by screams and "boo's" from actors made up about 90% of the scares. The other 10 percent was a mix of interactive repartee… lurkers, and dwellers (those that just hang out and stare).
'The House' had the least interaction focusing on jump scares; the characters were more timid in this area. 'Experiment 31 definitely had the most intense actors for startle scares with a little interaction (i.e.: the guy mimicking my movement). They were quicker and more in your face than 'The House.'
Even though the trail had the most actors and interaction with said actors, they were not as scary as they were entertaining. They did camouflage well with the dark surroundings and did cause a few startles. Being in the rear of the groups did provide us with a few stalkers, but most of the scares were absorbed by the group in front of us… yet another common issue in haunts that run large groups.
---
Entertainment & Value:

7.6
How Did We Get This Score?

Haunted Hills Estate provides a lot for its customers, albeit perhaps they might be overselling on the 'scream park' aspect (two games, axe throwing, and concessions), and really stretching out their 'six attractions.' But, we get it, that's how business goes.
HHE did deliver us a total of 33 minutes of pure fun and scare time. The times are broken down for each area above, and we only counted the time in the actual haunts (not the time it took to wait in line and walk to and from the haunts, as we were in the park a total of an hour and a half). This included minimal wait times as we had RIP passes.
At a general admission price of $30 this puts the minutes per dollar at 1.1 which is just around or a little below average. Times may vary depending on your group's walking speed, especially on the trail.
Tickets can be purchased online to limit interaction at the haunt. Tickets for 'The House' and 'Experiment 31' are $25 + $2.25 for handling fees. All 6 attractions will cost you $30 + $2.50 for handling fees. A spirit pass for all six attractions will cost $40 + $3 for handling (This option provides a minimal wait for the haunts). Finally a RIP pass to skip the line for haunted attractions will cost you $50 +$3.50 for fees.
Hopefully, after COVID, the Challenge Trail will return, as we really feel that aspect made Haunted Hills Estate a stand-out above other haunts in the area. That being said, HHE does deliver awesome set designs, outstanding audio sound (a little loud but no cracks, pops, or quality issues), beautiful lighting effects, remarkable ambiance, a lot of jump scares, and a little actor interface.
At the end of the night, Haunted Hills Estate is definitely an enjoyable evening with decent scares!
---
How Did We Get These Scores

Promo Images:
Click to Enlarge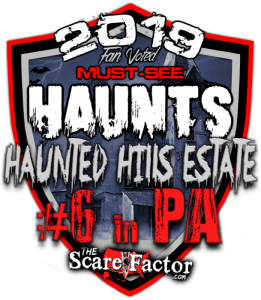 ---
Guest ReviewsGuest Average: 9.82 out of 10
Joe – 10/10 – October 18, 2019quickly has become my family's favorite haunted attraction. lots to do while you're there. recommend …show more getting the fast pass because it gets packed fast.
Addison – 10/10 – October 18, 2018The actors really get into their part and make this attraction really amazing.
John – 10/10 – October 14, 2016These guys know how to have fun loved the Twisted Nightmare and the Challenge Trail. This is must do …show more again can't wait for when they open again!!
---
Past Awards
---
2018 Awards
"Like a broken broken record" - Best Ad-Libbing (Given by: Team Scary Potter and the Hauntwarts Express)
"The gang's all here!" - Best Cast (Given by: Team Scary Potter and the Hauntwarts Express)
"I see what you did there" - Best Executed/Unique Theme - Chamber (Given by: Team Scary Potter and the Hauntwarts Express)
"That's all folks!" - Best Finale - Chamber (Given by: Team Scary Potter and the Hauntwarts Express)
"The waiting is the hardest part" - Best Line Entertianment (Calvin, Crystal, Jack, Hearshel) (Given by: Team Scary Potter and the Hauntwarts Express)
"I want to hold your ha-an-anddd'" - Best Sustained Scare - Challenge Trail (Given by: Team Scary Potter and the Hauntwarts Express)
"A penny saved is a penny earned" - Best Value (Given by: Team Scary Potter and the Hauntwarts Express)
---