Hanna Haunted Acres
"Indianapolis' Haunted Theme Park"
Hanna Haunted Acres is a Haunted Attraction located in Indianapolis, IN.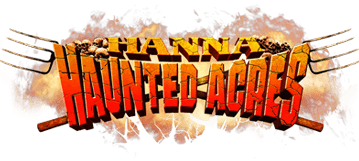 Location
7323 East Hanna AvenueIndianapolis, IN 46239
---
About This Attraction:
Haunt Types:




# of Attractions: 6
Min. Recommended Age: 12
Summary:
HANNA HAUNTED HAYRIDE – OUR SIGNATURE ATTRACTION
The Haunted Hayride is a crown achievement at Hanna Haunted Acres. You will discover that it is more than just a hayride through the woods. It is a well paced roller coaster cruising through the dour woods with all possible nightmarish creatures imaginable lurking about. Forced to keep at the pace of the tractor pulling your wagon, you will have no choice but to endure the malicious beasts as they step into the light for your terror. Some will follow you, others will try to take you back to the woods with them, but rest assured, all of them will make sure you scream like a child.
PANDEMIC
A 747 airliner has just crash landed into the Indy cornfields. Your mission is to investigate the crash and extract anything of high value. We are receiving reports that there was a very dangerous virus called Saber being carried onboard. Based upon the briefings, this virus is made to turn human beings into animals, but the tests were failures, resulting in subjects remaining human but growing horrendous, animalistic features such as sharp incisors, long claws, heightened length and strength, and even spikes from the cranium… this just in: we have just received word that there have been numerous spottings of fast moving creatures in the cornfields near the crash. We will be sending you in with the cavalry.
BLOOD BARN
Step into the red colored barn house and discover the real animalistic doings that go on inside. A grisly sight to behold, you will be gasping for air due to the foul stench of the leftover bodies and will be clamoring to escape as you discover that the slaughterhouse boss is still lurking about. So get out or become next on the menu. You could be fed to the hogs, or hung from the ceiling. Either way, you better run out of this barn house. Because you are the only cattle the boss will see.
FREAKSHOW
Venture into Freakshow. A humiliated make-up artist at the carnival was fed up with people criticizing his work. He decided to turn the whole carnival upside down. He got his hands on some very awful chemicals. Not deadly, but morbid nonetheless. He locked everyone in and released the toxins into the atmosphere, turning everyone into wide-eyed laughing psychopaths. Their teeth and smiles grotesquely enlarged, their eyes bloodshot red and yellow, and their bodies amazingly slender and disgusting now. The former carnies now roam the abandoned carnival grounds. And we have opened it back up for you to see. Can you hear the maniacal laughter in the distance? It is closer than you think.
OUTBREAK
Get ready to have the the toxicity charts go through the roof as you navigate your way through the slick, grisly, and grimy hallways of the Outbreak, a haunt so notorious and foul that even the most hardened haunt-goers think twice about entering. Zombies are pitiful creatures but they are not to be trifled with if encountered in Outbreak. They want your flesh and blood and will stop at nothing to retrieve it. Hence, you should move quickly, since the undead have an uncanny ability to seek out their food no matter what.
DESCENSION
Hanna is proud to open Descension, a haunt so pitch black, it'll make your skin crawl just to walk through. Navigate through the underground tunnel, now free to venture into, and realize that you are not alone down there, and that there are no bodies left over. Whoever was left down there, is now a what instead of a who. Use your senses to guide your way through, but you never know how close something might be in front of you. Even with your eyes open.
---
Features:
Free Parking, Restrooms/Porta Potties On-Site, Food/Concessions, Optional Games/Midway, You will NOT be touched, Indoor/Outdoor Waiting Line, Indoor/Outdoor Attraction
Links:
Contact:
Payment Methods:



Guest ReviewsGuest Average: 5 out of 10
---