Review of Lakewood Lodge at Locked Inn A Live Escape Room Experience Escape Room
Review of Lakewood Lodge at Locked Inn A Live Escape Room Experience Escape Room
Review of Lakewood Lodge at Locked Inn A Live Escape Room Experience Escape Room
Lakewood Lodge at Locked Inn A Live Escape Room Experience
Lakewood Lodge at Locked Inn A Live Escape Room Experience is a Escape Room located in , .
214 Dozier Blvd, Florence, SC 29501View All Details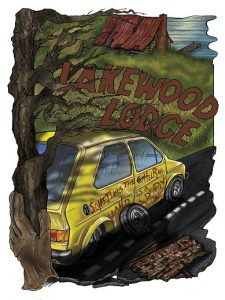 Team Jefferson Starship reviewed this attraction on April 15, 2017.
Final Score:

9.46
Summary:
While many escape room attractions are connected to either haunts or theme parks, Locked Inn is a stand-alone venture. Featuring two rooms with separate themes, the events at Locked Inn can last up to sixty minutes each. Our visit involved six individuals attempting to escape 'Lakewood Lodge,' the lair of a serial killer.
Located in Suite 121 of the Gould Business Incubator, beside the SIMT building, behind Florence-Darlington Tech, Locked Inn provides a new experience for the local area that should prove to be fun and challenging for those both new to and experienced with escape room entertainment. Open for the past 9 months, Locked Inn has doubled in size from one escape room event to two with plans to add a third in the future. Their Lakewood Lodge room holds about 2-8 people and the Submerged room holds 2-7.
---
Atmosphere:

9.6
The staff of Locked Inn have worked to create a great atmosphere. The lobby is a small area that has to be vacated when guests are coming and going, but there is a secondary waiting area down the hall with restrooms and vending machines. However, once you've been given the rules, the game starts almost immediately. You'll be going in blind, just like we did, so we won't spoil things, but you really do get the feeling of being locked inside the Lakewood Lodge.
We had one guest with us who generally does not like Haunted Houses and, by extension, Escape Rooms. However, even though it wasn't his idea of a fun evening, he said that he was never made to feel uncomfortable and enjoyed the experience.
---
Theme:

8.76
It's easy to tell the theme of Lakewood Lodge, and the inside is well done. The Lakewood Lodge escape room is purported to be a remote cabin wherein visitors are trapped while waiting for their captor (a serial killer) to return. There are wonderful set pieces and décor in the room to reinforce the setting. While the serial killer victim theme is common across a variety of escape rooms, Lakewood Lodge is still unique enough to be fun and interesting.
---
Special Effects:

9.71
There were some nice special effects that added to the immersion of the experience both visually and auditorily. Many elements were hidden in plain sight, concealed enough to not distract from the room or the experience. Some of the puzzles were interactive parts of the room. There were individual flash lights in the room and the addition of this personal lighting made a big difference, adding to both the involvement and the difficulty of some of the puzzles.
While many of the individual pieces in the room are not hand-made or created, they have been carefully chosen and put together to create a one-of-a-kind experience. There are some truly unique puzzles, clues, and locks in Lakewood Lodge.
---
Gameplay:

9.63
Elements that are not part of the game are clearly marked. Clues are easily accessible – no climbing or crawling around is needed. Additional hints or clues can be retrieved by the use of a walkie talkie, an element that slightly breaks the immersion, but works well enough. Sometimes the walkie talkie is slightly drowned out by the sound effects surrounding the room, but this is easily remedied.
Some puzzles must be solved in a specific order because you will unlock clues for the next lock/puzzle; however, for several puzzles there are multiple clues. It's possible that someone could "miss" a clue or two and still be able to solve the locks and puzzles.
There is a clock on the wall counting down your time, but it does not command attention over other things in the room.
---
Customer Service:

9.77
The staff at Locked Inn are some great people: professional, affable, and excited. The parking at the Gould building is not the greatest, but it is free and there is plenty of it. LockedInn requires reservations to be made prior to arrival – however, this is easily done online or by calling ahead in advance. There are t-shirts for sale in the lobby.
It looked as if the room was navigable by a wheelchair; though a chair-bound customer may have some difficulty maneuvering and would certainly need help from friends to reach some of the clues. There would still be enough accessible clues for active participation.
---
Value:

9.3
Both of the rooms offered by Locked Inn – Lakewood Lodge and Submerged – are 60 minute escape rooms. Cost per person is $25, which comes out to $2.40 per potential minute of fun. We say potential here because the room times out at 60 minutes. However, quick and quick-witted guests may be able to find their way through the puzzles faster. There is a 'high score' board in the lobby with the fastest times on it. There are obviously some folks out there who are very very good at these kinds of puzzles. This was a fun experience and we were able to escape the room in 42 minutes.
---
Have you visited this attraction?