Find Reviews for a Haunt near You! Find Reviews for a Haunt near You!
Find Reviews for a Haunt near You!
Land of Illusion
8762 Thomas Road, Middletown, OH 45042View All Details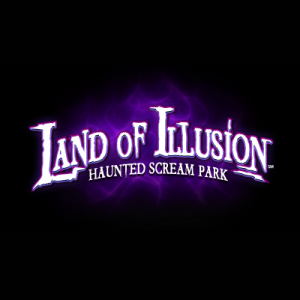 Features:
Paid Parking, Restrooms On-Site, Food/Concessions, Gift Shop/Souvenirs, Optional Games/Midway, Special Events, "Hi-Tech" Attraction, Original Characters, Celebrity Appearances, Indoor/Outdoor Waiting Line, Indoor/Outdoor Attraction
reviewed this attraction on September 18, 2010.
Final Score:

9
Summary:
With the addition of "The Shanty", the Land Of Illusion now offers up scares a plenty. Also new is "The Nest", which adds to the scares of the Middletown Haunted Trail. One price allows you to journey through the special effects of The Temple Of Terror, face your fear of clowns in Killer Klowns 3D, encounter the victims of Bradley Carver in Dr. Psycho's Haunted Estate, take a 2 mile hike of fear along the Middletown Haunted Trail where you will encounter "The Nest", where the vampire population has risen, and hope you don't get bitten before you leave. Add in the Voodoo Bayou Shanty, where a voodoo curse is alive and well, and you have one of the best haunts around. Be afraid….be very afraid!
---
Cast:

9
Overall, this haunt has a great cast. They know what they are there to do, and they do it well. Each separate haunt has it's own unique characters which tie into the theme for that haunt. Whether you choose to visit only one of the five, or all 5, you will get what you paid for, and that is plenty of scares out of many great characters. We are not giving any secrets away, but the characters are all original, with the exception of one or two movie characters.
---
Costuming:

9
This is another of many strong areas at this attraction. You will see very few masks, and amazing make-up. Alot of the newer haunts utilize too many masks and movie characters. This haunt, being one of the veteran haunts, knows that masks don't scare people…Originality does. It doesn't matter if they have a hired make-up artist, or if the cast do their own. The point is whatever the case may be, they know how to be original and creative. The newer haunts need to take lessons from this one.
---
Customer Service:

10
Advertisement. Need we say more? Billboards all over from miles away, signs as far away as the Interstates leading you right to the parking lot. Well lighted, clearly marked exits, and they do their best to get people through the lines as quickly as possible without causing groups to merge. Security guards practically everywhere you look. No matter where you are coming from, if you can get within 10 miles of this place, the signs will get you where you need to go.
---
Atmosphere:

9
Wide open area with a bonfire, radio broadcasts from a different station every night, and the brand new "Club Zombie", where you can dance around on stage to the music, you may want to hang out here from open to close and visit the 5 attractions at your leisure. This is the first and only "Haunted Theme Park" in the area. You don't have to buy a ticket, go through the attractions and leave. You can buy a ticket and hang out.
---
Special Effects:

9
This isn't a special effects based haunt as a whole, but the Temple Of Terror is what gives this haunt such a high score. The Temple Of Terror is a special effects motherload. If you are a special effects junkie, you may pay the full price for this attraction alone. There are great special effects throughout the entire haunt, but this one sets the standard for all those special effects wanna-be's.
---
Theme:

9
Five attractions, five different themes. What more could a person ask for. From the backbone that is the Middletown Haunted Trail, to the brand new "The Shanty". This is a haunted "theme park". It's like if you go to Six Flags, etc., each ride is different and unique in it's own way. Each attraction has its own unique theme and scares. Whatever your fear, whether it be clowns, voodoo curses, or vampires, this haunt has it all. There is nothing like it around that we have seen. This haunt is like visiting 5 different haunts in one day, which can't be done unless they are within 2 miles of each other.
---
Fright Effect:

8
There are more than enough scares to go around here, but the scares are lacking at the Temple Of Terror. What the Temple Of Terror lacks in scares, it makes up for in special effects. The Killer Klowns 3D attraction also lacks in the scare department. The majority of the scares come from Dr. Psycho's Haunted Estate, The Middletown Haunted Trail, and the brand new The Shanty. Our personal favorite is The Shanty. Even though it's new, it has quite a few great scares. The only thing lacking is the size. If you have ever been to the Land Of Illusion, you will know how much bigger and better the scares get. We look for an expansion to The Shanty in the next year or two.
---
Value:

10
New this year is a single ticket price of $29.95, which allows you all day access to the 5 attractions here. In previous years there has been a separate price for each attraction, plus a combo ticket. We really like the single price. Also, VIP Fast Passes for $10 more, which allows you not only access to all 5 attractions all night, but gets you right to the front of the line, and we all know how much that helps, especially when you may only get to go through each attraction once, as opposed to being able to go through each one 2 or more times. Also new this year are Sunday's for $24.95. Five dollar discounts are offered on the billboards, with more discounts offered on the website. It will cost in excess of $100 to pay for 5 different haunts anywhere else.
---
Promo Images:
Click to Enlarge
Have you visited this attraction?
---
2016 Awards
Most Tormenting to Victims - Middletown Haunted Trail (Given by: Team Zombillies)
Most Suspenseful Scene - Middletown Haunted Trail, Myers Walkway (Given by: Team Zombillies)
Actor Shout Out Award - Klowns: Gutta (Given by: Team Zombillies)
Actor Shout Out Award - Shanty: Amos (Given by: Team Zombillies)
Actor Shout Out Award - Temple: Guys in Elevator (Given by: Team Zombillies)
Actor Shout Out Award - Trail: Dr. Beak (Given by: Team Zombillies)
Actor Shout Out Award - Trail: Lunch Lady (Given by: Team Zombillies)
---
2015 Awards
Most Entertaining Clown - "The Cage Maze Chainsaw Clown" in "Killer Klowns" (Given by: Team Zombillies)
Scariest Duo - "The Catacombs Couple" (Given by: Team Zombillies)
Memorable Scare - "The Shadow Spirit" in "Dr. Psycho's Haunted Estate" (Given by: Team Zombillies)
Most Twisted Haunt - "The Voodoo Bayou Shanty" (Given by: Team Zombillies)
Actor Shout Out Award - "Dr. Psycho" in "Dr. Psycho's Haunted Estate" (Given by: Team Zombillies)
Actor Shout Out Award - Andrew Rasnic, A.K.A. "Bubba" in "The Middletown Haunted Trail" (Given by: Team Zombillies)
Actor Shout Out Award - Arthur Gehring, A.K.A. "Snagz, the Clown" in "Killer Klowns" (Given by: Team Zombillies)
Actor Shout Out Award - Mike Carmichael, A.K.A. "Arlen Dubois the Butcher" (Given by: Team Zombillies)
Actor Shout Out Award - Tonya R. Murray, A.K.A. "The Widowmaker" in "The Middletown Haunted Trail" (Given by: Team Zombillies)
Actor Shout Out Award (Given by: Team Zombillies)
---
2014 Awards
Best Pyrotechnical Scare (Given by: Team Zombillies)
Most Entertaining Clown (Given by: Team Zombillies)
Memorable Moment (Given by: Team Zombillies)
Actor Shout Out Award - Dr. Psycho's Haunted Estate: Redneck with Shotgun (Given by: Team Zombillies)
Actor Shout Out Award - Middletown Haunted Trail: Flesh Eater (Given by: Team Zombillies)
Actor Shout Out Award - The Shanty: Voodoo Guy (Given by: Team Zombillies)
---