Find Reviews for a Haunt near You! Find Reviews for a Haunt near You!
Find Reviews for a Haunt near You!
Dead Acres Haunted Hoochie
13861 E. Broad Street, Pataskala, OH 43062View All Details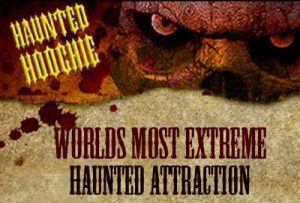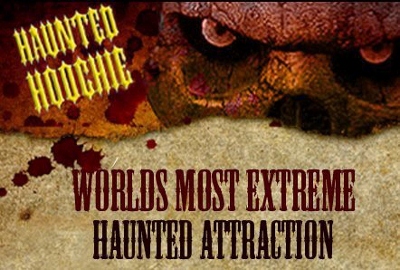 Features:
Restrooms On-Site, Food/Concessions, Gift Shop/Souvenirs, "Hi-Tech" Attraction, "Extreme" Attraction, You may be touched, Original Characters, Uncovered Outdoor Waiting Line, Indoor/Outdoor Attraction
Team Zombillies reviewed this attraction on October 16, 2010.
Final Score:

9.31
Summary:
Dead Acres is celebrating its 20th gruesome anniversary this year and offers two haunts: The Haunted Hoochie and Bad Trip In 3D. For $20.00 you will find yourself getting scared senseless by some of the most bloodthirsty actors around! This attraction is very intense, grueling, and so horrifying to some that visitor's discretion is advised. The Haunted Hoochie continues to deliver 'brutal horror' while Bad Trip In 3D sends you through a new depth of mind-bending clowns and psychedelic conceptions that only Dead Acres can provide. They have a new graveyard addition to their haunt this year and the homicidal hillbillies of the Haunted Hoochie have still been 'working hard to make you sick!' So if you think you're brave enough, step in line to experience Dead Acres!
---
Cast:

8.99
This attraction is 50,000 square feet run by around 150 paid actors and staff who return year after year; some of which have been around since the very beginning! These guys know what they are there to do and do it very, very well. These ravenous hillbillies not only stay in context with the theme but they take it to the next level. Dead Acres' cast is trained in-house and is the most interactive we've seen this season. It is very intense inside the Hoochie because the actors will come from literally everywhere! They were coming from hidden doors, drop down pictures, coffins, from above, and seemingly out of nowhere. This cast is so sick and twisted that many of the things they will show you may actually be quite disturbing to some audiences. There aren't as many actors in Bad Trip In 3D as there could be, but they still deliver some good scares and keep you on you feet in this haunt. But beware, even though you may not touch the actors at this attraction, it doesn't mean that they can't touch you!!
---
Costuming:

8.85
You won't find very many store bought costumes here; they put most of their costumes and makeup together themselves. The majority of them are ripped and torn clothes your average hillbilly would wear right after he slaughtered his farm animals. This makes for a lot of realism when combined with their scenes and multiplies the overall scariness of the haunt. Make up is applied in-house and makes the actors look just like they act… insane! There are masks throughout the attraction, but they don't take away from the score because they add their own touch to make them their own. Everything blends together seamlessly.
---
Customer Service:

9.73
There is plenty of parking available right off the highway in an open grassy area for $3.00 a car. There are signs by the road and once you pull in, the friendly staff will direct you where to park. The area is lit up very well so it is easy to see where you are going until you get inside the Haunted Hoochie. There were plenty of clearly marked exits throughout the inside of the attraction and the ones in Bad Trip In 3D were jumping out at us! All safety codes and inspections are up to date, however, you will encounter some uneven ground inside so watch your step as you are running so you don't trip and succumb to the wrath of the psychotic hillbillies! There was plenty of staff outside the haunt available to help you out if you decide you need it. Though the line for the Hoochie can be very long, they do offer plenty of entertainment during your wait. They have a stage set up for bands, but on the particular night we went they had a DJ playing a mix of music. There is also a huge projector screen on the side of the building playing horror films for you to watch as well. Numerous actors were constantly coming out to play, keeping the crowd stirred up. They have concessions available as well as plenty of souvenirs to purchase at the ticket booth ranging from tees, hoodies, and other apparel to various kinds of Haunted Hoochie and Dead Acres memorabilia.
---
Atmosphere:

9.6
The atmosphere at this attraction will certainly prepare you to experience Dead Acres to the fullest. Raging actors outside the haunt will keep you pumped up in expectation for what you will endure inside the haunt. Constant 'bloody-murder' screaming, chainsaws, among other unexplainable sounds combined with loud music make for an all out assault on the senses. The overall d
---
Special Effects:

9.51
There are many impressive special effects throughout entire attraction which are a combination of animatronics and props that they make, buy, and just pick up alongside the road. The many animatronics they have are mostly ones that we have never seen used as well, or at all, at another haunt. Some of the most memorable were the headless horseman, T-rex, flying dragon, and the huge python! These animatronics were not only 'eye candy' but a lot of them delivered unexpected scares because of their well-thought-out placement. Most of these scares could have been good enough by themselves, but good enough isn't what Dead Acres is all about. The loud intimidating soundtracks and use of special lighting confuse the senses and make it almost impossible to be fully aware of what is around you. Use of sparking chainsaws, baseball bats, axes, machetes, augers, sledge hammers, and much more, most of which actually being used on victims, always makes for some of the more intimidating and genuinely fearsome effects around, especially when you're on the working end of them!
---
Theme:

9.63
Dead Acres' theme is 'brutal horror,' They not only stick with the theme, but we are convinced that every actor at the Haunted Hoochie has it ingrained into their DNA. Need we say more?
---
Fright Effect:

8.94
Everything you will experience at this attraction combines to deliver an overall emotionally and psychologically taxing environment. Actors use profanity and torture against one another as well as helpless casualties which takes the scare levels of this haunt to the next extreme. Distraction is utilized very skillfully at this haunt by getting you focused on one thing just so they can unexpectedly surprise you from somewhere else. You may be paying attention to an animatronic but, well, all we can say is 'watch out.' The loud music, strobe lights, and never-ending actors impair your ability to hear and think to the point where you may be glad things have calmed down a bit here and there inside the haunt. But they won't last long! You can never be prepared for what these actors might have up their sleeves. The cast makes sure everyone in the group gets everything they've got coming to them and then some. Animatronics seem to mainly scare those in the front more than those further back in the group, but everyone will still get the chance to enjoy them and it depends on what you are afraid of. There are many different levels of scares in these two haunts ranging from 3D amazements to a creepy, bone-chilling graveyard, a burning hallway, and simple startles to no-holds-barred executions, suicide, among other unforeseeable entrapments.
---
Value:

9.19
Tickets are $20.00 a person this year in honor of their 20th anniversary which is a good decrease from last year's price. This is a great value for a haunt that offers blood, guts, gore, and things you don't want to imagine in your wildest dreams!. It took us approximately 30 minutes to complete both haunts so this puts a slight impact on the value, but each one is jam packed with sights, startles, scares, and screams to make it worth your while. Many people come from all around the world to experience this haunt so make sure you try and arrive early. The later it gets, the longer the lines are, but they do have $30.00 VIP tickets available so you can skip the line at the darkest show on earth!!
---
Promo Images:
Click to Enlarge