Find Reviews for a Haunt near You! Find Reviews for a Haunt near You!
Find Reviews for a Haunt near You!
Wicked World Scare Grounds
5817 Tates Creek Road, Nicholasville, KY 40356View All Details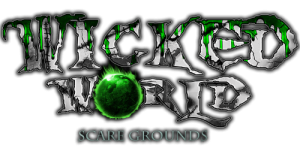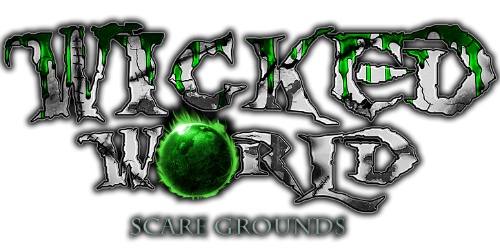 Features:
Free Parking, Restrooms On-Site, Food/Concessions, Original Characters, Indoor/Outdoor Waiting Line, Indoor/Outdoor Attraction
Team Zombillies reviewed this attraction on October 22, 2010.
Final Score:

9.13
Summary:
The Wicked World Scare Grounds is Lexington, Kentucky's newest and largest haunt. There are two haunts now at a single location: The Nightmare Haunted House and Terror on Tates Creek Haunted Trail. The Nightmare H.H. has now joined forces with Tates, moved to their location, and both are now run by a single owner. The house will take you on a journey to experience the horrible and sinister things that take place in Mercy Hospital which has been closed for 62 years, while the trail has been completely changed and will bring you face-to-face with many of the things that come to mind when you think of Halloween. The Wicked World plans to add a lot more surprises next season and, from what they have accomplished this year, we can't wait to see what they will have up their sleeves!!
---
Cast:

9.11
There are 55 paid and volunteer actors divided up on the 15 acres that the trail and 8,000 sq. ft. building reside on. Actors on the trail were very well hidden but many didn't show as much experience as those in the hospital. All characters were believable and in context with the theme, especially those in the hospital. But don't underestimate the trail… you never know what you might cross paths with. Even though this is the first year that the trail is working under The Nightmare Haunted House and they have some newer actors, their training seems to be serving them very well! Actors in the hospital are very energetic and fit their roles way too well. Peter Rottentail, clowns, a voodoo cult, problematic pirates, and a demanding voice coming from the confinements of darkness present only a fraction of the uncertainties you will encounter on the trail. There were several memorable actors in the hospital as well, mainly because they are so unique and original. Demented nurses, towering tyrants, and a crazy man in an elevator could be the least of your worries during your time of need at Mercy Hospital.
---
Costuming:

9.33
Many characters along the trail wore a lot of store bought costumes while all costumes in the hospital were original and mostly hand made. Wicked World takes great pride in designing their own masks and costumes and they do so with great success! Any costumes that are bought are modified to match their scenes and used to the best of their abilities. The original costumes are very well detailed making them stand out from most haunts. Some of their faces are horrifically airbrushed but the majority of the actors apply their make-up themselves with good detail. There are many masks used throughout the Scare Grounds but all of them flow with their scenes very well and some parts probably couldn't be played as well without them.
---
Customer Service:

9.81
Kind of ironic how some of the scariest characters in the area can also be some of the friendliest! These people treated us like we were some old friends they hadn't seen in a while and were more than ready to answer any questions we had. Customer Service is important to them, and they show it! All fire and safety inspections are up to date but the trail has several thresholds that could be tripped on if you're running too fast! Most of the trail is lighted enough to see where you're going, but there are also some scenes that are intentionally left black. The hospital on the other hand, is lit quite well throughout the haunt. Actors in both haunts also know how to get you out when you tell them 'You are serious', (though there are still clearly marked exits where actors are scarce). The only downside that we encountered was that we didn't see their sign or hearse until we got right up on it and it was too late to turn, but once we entered the Scare Grounds there is plenty of grassy parking and staff who will kindly direct you where to park. There is a concession stand and many Wicked World Scare Grounds souvenirs for you to purchase near the ticket booth. They also have a 'Last Ride' simulator for $3.00 a ride to entertain you while you wait and many of the actors will roam about scaring the crowd and giving you a little taste of what you are about to experience. Once the line nears the entrance, a small portion of the line will be seated to watch a showing which reveals some interesting facts about the Mercy Hospital.
---
Atmosphere:

8.95
Hearing the array of frightful sounds and screams coming from the trail and hospital keep you pumped up while you are waiting in line. Loud rock/metal music being played and the roaming actors entice your eagerness to enter the haunts. The Last Ride simulator and pictures on the ticket booth also keep you in the mood so you are anticipating and left wondering what's inside waiting for you.
---
Special Effects:

8.96
There are many original effects and props all through both haunts. Most of the trail consists of walking through black covered passages thus adding to the creativity of this haunt. There were many props set up along the trail drawing your attention because they looked like they were real. They also had a spooky fountain, long vortex tunnel/bridge, pitch black mazes, and a not so inviting Voodoo cabin. The special effects of the trail set it apart from any other trail we have experienced. The hospital had original d
---
Theme:

9.2
The theme for Terror on Tates Creek Haunted Trail this year is everything that comes to mind when you think of Halloween and The Nightmare Haunted House's theme is Mercy Hospital. Both haunts do a very good job at keeping their scenes and actors in context with the themes.
---
Fright Effect:

8.75
These haunts provide a multitude of great scares. Distraction is definitely a strength in the hospital and excellent hiding spots are utilized on the trail. An animatronic or prop would have your attention while an actor would come from a hidden location when you least expect it. Scare levels range from just walking in the unnerving darkness with high-pitched screams to entrapments to riding in a very unstable elevator with a psycho to being chased by blood thirsty actors. Some of the actors have strong dialogue making you feel even more uncomfortable in their settings. The trail will keep you wondering what you will be scared by next due to their broad theme and character choices. You might have your eyes on a clearing in the woods trying to catch your next assailant in the act only to find out that the monsters and hideous creatures that lurk in these woods are one step ahead of you! The hospital starts you off with a short, informative film about Mercy Hospital with a, lets just say, interacting ending before you find yourself wandering the evil hallways of the once peaceful institution. Both haunts provide awesome scares for everyone as opposed to focusing on the front and/or rear of the group.
---
Value:

8.94
: For the first year of Terror on Tates Creek Haunted Trail and The Nightmare Haunted House's co-existence, the combo ticket is $20 for both haunts. The Last Ride simulator is available for $3 located next to the souvenir and concession booths that you need not forget to check out! If you only have the will power to endure one haunt, tickets for The Nightmare may be purchased for $12 and the trail for $10. prices for a single haunt proved to be very reasonable and worth while, but why not save a couple bucks and spend an hour or two(depending on lines) getting scared senseless with your friends? Want to save even more? Bring in a canned food item and receive $1 off any ticket or combo price! Proceeds will benefit God's Pantry. Make sure to pay a visit to The Wicked World Scare Grounds, where Mercy isn't just a name… it's a Nightmare!!!!!
---
Promo Images:
Click to Enlarge
---
2016 Awards
Scariest Actor - Cujo (Given by: Team Zombillies)
Most Realistic Costume - Roadie (Given by: Team Zombillies)
Best Clowning Around (Given by: Team Zombillies)
Most Interactive Queue Entertainers (Given by: Team Zombillies)
Most Evident Character Backgrounds (Given by: Team Zombillies)
Actor Shout Out Award - "The Barker" A.K.A Evan Lawson (Given by: Team Zombillies)
Actor Shout Out Award - Darkwood, "Ivan Darkwood" A.K.A Shorty Smith (Given by: Team Zombillies)
Actor Shout Out Award - Mercy, "Lucious" A.K.A Randy Wayne Smith (Given by: Team Zombillies)
Actor Shout Out Award - Mercy, "Milosha" A.K.A Sara Sakowich (Given by: Team Zombillies)
Actor Shout Out Award - Mercy, "Nurse Lilly Ann Patterson" A.K.A Belinda Smith (Given by: Team Zombillies)
---
2015 Awards
Most Interactive Queue Entertainers (Given by: Team Zombillies)
Actor Shout Out Award - Ashton Lester, A.K.A. "Slashton" (Given by: Team Zombillies)
Actor Shout Out Award - Evan Lawson, A.K.A. "Irish, the Scottish Clown" (Given by: Team Zombillies)
Actor Shout Out Award - Jarmen Wadkins, A.K.A. "Carnage" (Given by: Team Zombillies)
Actor Shout Out Award - Lisa Saunders, A.K.A. "Victoria Meelwurhm" (Given by: Team Zombillies)
Actor Shout Out Award - Randy Wayne Smith, A.K.A. "Silas" (Given by: Team Zombillies)
Actor Shout Out Award - Skylar Cannon, A.K.A. "Roadie Fisher" (Given by: Team Zombillies)
---
2014 Awards
Creepiest Vocals (Given by: Team Zombillies)
Best Introduction of the Theme (Given by: Team Zombillies)
Actor Shout Out Award - Fish Boy (Given by: Team Zombillies)
Actor Shout Out Award - Schizo Clown (Given by: Team Zombillies)
Actor Shout Out Award - Spider Sprinkles (Given by: Team Zombillies)
Actor Shout Out Award - Train Engineer (Given by: Team Zombillies)
---