Find Reviews for a Haunt near You! Find Reviews for a Haunt near You!
Find Reviews for a Haunt near You!
Indy Scream Park
5211 S New Columbus Road, Anderson, IN 46013View All Details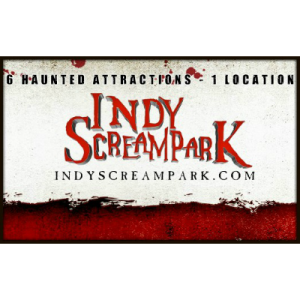 Features:
Paid Parking, Restrooms On-Site, Handicap Accessible, Food/Concessions, Gift Shop/Souvenirs, Optional Games/Midway, Special Events, "Hi-Tech" Attraction, You may be touched, Original Characters, Indoor/Outdoor Waiting Line, Indoor/Outdoor Attraction
Team Zombillies reviewed this attraction on October 29, 2010.
Final Score:

8.97
Summary:
Haunted Attraction Magazine and HauntedHouse.com have come together in 2010 to provide haunt seekers in Indiana with five haunts at a single location known as the Indy ScreamPark. Visitors will be taunted by crazy clowns in Bedlam 3D, shocked by the sheer darkness within Kurayami, repulsed by rats in Nachtmahr, horrified by hillbillies roaming in The Backwoods and consumed by corn upon entering the Dark Harvest. This is one of the most entertaining haunts in the area! $25.00 general admission tickets will get you five of the most diverse haunts we've seen at a single location and lots of concessions, souvenirs, and other activities will keep you entertained between them. Talented actors, grizzly graveyards, skin-crawling scenes and an average of $5.00 per haunt was a great success for 2010 and will surely be a hit for the 2011 season!
---
Cast:

8.59
There are 110-120 paid actors amongst the 22,000 square foot building plus 4 acres of corn and the 1/2 mile journey you will encounter through the woods. This cast has been through safety training as well as special actor training so they can safely provide their scary interactions. Clowns in Bedlam 3D were very hysterical and bobbing around with the custom background music intensifying the theme in this haunt. There were very few actors encountered in Kurayami, but they still offered unexpected scares by flashing flash lights in your face, but take advantage of these lights because they also briefly light up the path ahead of you. The characters in Nachtmahr were some of the most interactive and also supplied the most scares throughout the attraction. There also seemed to be a lot more actors and each delivered scares pertaining to their unique scenes. The Backwoods offered the most intense actors who were demanding we stay in the woods with their inbred family, and they sure know how to hunt! They also supplied scares that will mess with your senses more than anything else at this attraction. Creatures hiding in the Dark Harvest were hidden very well, blending in with the corn, but weren't as intimidating or interactive as others and also there weren't near as many as we expected for a corn field. All characters played along with their themes and relative scenes making them flow almost seamlessly. All characters had very believable voices, which is one of their most intensifying features. Characters that are most memorable are the crazy clowns, Papa with his chains, the old women getting ready to cook supper, and the grave dwellers.
---
Costuming:

8.2
Costumes throughout the haunt fit in extremely well with their relative scenes. Most are very creative and there were a lot that we had never seen. Many are bought but some are custom made such as the clowns in Bedlam 3D. There were many realistic looking costumes especially in the Backwoods where they have clothing purchased from Goodwill and other thrift stores. One character was even wearing a fur cloak to show off his prized kill of the season. Makeup throughout the attraction was very realistic looking and applied in-house by an artist who came in from Michigan. There are some masks throughout the haunt, each matching their characters and overall very detailed, and were used mostly by actors standing deadly still to prevent you from knowing whether they were real or not.
---
Customer Service:

9.42
There is plenty of free grassy parking once you arrive. This attraction was easy to find, the closer we got, we started noticing billboard advertisements along the outer loop of Indianapolis. There were also several signs letting you know where to pull in and park. Parking and the attraction itself is lit up very well making it easy to navigate from your car, to the concessions, and to each haunt. Lighting through the haunts was great with the exception of Kurayami being so dark at points where you couldn't see your own hand in front of your face, but there were still glowing exit signs (typically near actors) and clearly marked exits throughout the rest of the haunts. All fire and safety codes are up to date, and all actors have been through safety training in case of an emergency and staff is available at the ticket booth and at the entrance to each haunt to answer any questions or concerns you may have. Three of the haunts are located inside one building where music, black lights, and laser lights are displayed to prepare you for each twisted encounter you are about to undergo. We didn't see any actors coming out to interact with the crowd at the inside haunts but there were staff in themed attire marking wristbands before entering each haunt. The outside haunts, however, did have a few actors coming out to the lines and kept hearts racing. There were multiple concession stands offering a variety of food, drinks, and cold beer as well as Casket Ball (basketball) where you play to win a prize and they also had Zombie Paintball to keep you laughing the rest of your butts off that didn't get scared off. Don't forget to check out the souvenirs they have available before you leave as well!
---
Atmosphere:

9.2
This attraction provides an excellent atmosphere for a first year haunt! There is d
---
Special Effects:

8.63
There are so many amazing special effects throughout the haunts and many we have not encountered before. Some are made but most are bought and the psychedelic, mind-blowing paint in Bedlam 3D was achieved by professional 3D painters making this the most eye-catching 3D haunt we have seen yet. This was also the first haunt we've experienced that uses bungee cords to send their actors literally flying in your face! Kurayami's effects are limited to walls that can shock you at any given moment and flashlights that aid the actors with their well-placed scares, but random noise-making devices also help keep you on edge along the pitch dark path. Nachtmahr is filled with endless hallways, rock walls, leaning book shelves and pillars, a few animatronics, lots of caskets and, of course, those that inhabit them. With the outside haunts, the Dark Harvest is another haunt that relies mostly on good-old-fashioned scares, but don't let your guard down, chainsaws and flames are just some of the dangers that inhabit this field. The Backwoods haunt enlists the help of campfires, real animal hides and carcasses, a camper trailer, outhouses, and many other skin-crawling scenes to make you feel at home with these inbred hillbillies.
---
Theme:

9.5
Bedlam 3D's visual effects and psychotic clowns provide a 'Crazy Mania' sensation through the psychedelic passageways of the ScreamParks first haunt. Kurayami, which is Japanese for 'blackout', provides just thay. The only light you will get from this haunt is from the glowing exit signs unless you cross paths with one of the unseen evils that lurk in the darkness, at which time they will make themselves visible quite abruptly. Nachtmahr, German for 'Nightmare', gives you the feel of walking through a haunted mansion, which you may see again even after you're home and in bed. The twelve foot tall corn, scarecrows, and plentiful hiding spots provide an obvious theme for Dark Harvest and the inbred, horrifying hillbillies, hanging deer carcasses, tall timbers, and outhouses remind you that you are, in fact, deep in the Backwoods.
---
Fright Effect:

8.85
The diversity of this attraction carries over into its scares and provides patrons with frights ranging from comical (but creepy) cannibals to all-out chainsaw onslaughts. Distraction isn't used as often as some haunts that we've seen but when it IS used, look out! The awesome scenery and talented actors will keep you in need of a clear path to your exit. Some scares' timing can be somewhat predictable, but what you will be scared by remains a mystery from scene to scene. The ScreamPark also does a very good job of making sure everyone in the group gets some great scares instead of picking on the front or back of the line. There will be many times where you will be wondering if what you are looking at is real or fake since these actors are very detailed, both physically and professionally.
---
Value:

9.33
Experiencing 5 different themed haunts all in one location for a general admission of $25.00 is a great bang for your buck, averaging at $5.00 per haunt! You can also pay a little extra and skip the lines for $35.00 VIP or $29.00 if you purchase the tickets online. General admission for Thursdays and Sundays is $20.00. Special online group rates are also available as well as a printable $4.00 off VIP admission coupon. Make sure you visit this haunted park filled with attractions designed to entertain and scare tens of thousands of patrons during the Halloween season!
---
Have you visited this attraction?