Find Reviews for a Haunt near You! Find Reviews for a Haunt near You!
Find Reviews for a Haunt near You!
Land of Illusion
8762 Thomas Road, Middletown, OH 45042View All Details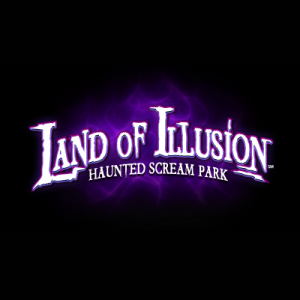 Features:
Paid Parking, Restrooms On-Site, Food/Concessions, Gift Shop/Souvenirs, Optional Games/Midway, Special Events, "Hi-Tech" Attraction, Original Characters, Celebrity Appearances, Indoor/Outdoor Waiting Line, Indoor/Outdoor Attraction
Team Zombillies reviewed this attraction on September 2, 2011.
Final Score:

9.1
Summary:
Land of Illusion Haunted Theme Park is in their 14th year of tormenting the souls of the innocent. For one low ticket price you will gain access to all 6 of their unique attractions! There is a wide variety of scares and gore to go around to each and every victim. The highlight of the park is the award winning Middletown Haunted Trail where you will find out 'what Hell is really like.' At the Voodoo Bayou Shanty, stop in and meet the family. If you think your folks are crazy, your dead wrong!! Funny isn't so funny anymore when it turns into terror that the 3D Killer Klowns instill into the souls of those who dare to pass through. Dr Psycho's Haunted Estate will give you a tour of his home revealing how this evil mad man got his name. You will walk though the cemeteries of the criminally insane and behold the dismembered bodies that were once part of his demented experiments, if you don't become one yourself. Upon entering the Temple of Terror watch your head and have steady footing as you try to defeat the terrifying curse that keeps many victims lost inside its deadly tombs. New for 2011 is the Field of Screams which is a family oriented corn maze into the darkness. Try to find your way through the disorienting paths of the field to the 9 checkpoints that lead to freedom! But put your least directionally-challenged person first as the only help they will give you is a single small flashlight. What better way to spend the Halloween season than experience the Land of Illusion Haunted Theme Park? Where your worst fears become reality!
---
Cast:

7.89
The 117 actors that we counted are pumped about getting back to what they do best this year! With keeping opening night in mind, it was evident that the dust had settled on the actors over the past year, but as the night drew on, you could see their hunger for horror grow! Most of the actors stuck to their roles quite well, however we ran across a few that remained quieter than would be expected, given their locations. The vast majority of actors were very energetic and made the scenes come to life. Don't try to change their minds on what they have in store for you, this will only make things worse! If you plan on visiting Land of Illusion this year, be aware of your surroundings. Some of these guys will attack from above while others will literally be crawling beneath your feet in an attempt to horrify you!
---
Costuming:

8.96
Costumes were of top-notch quality and fit in with their scenes. We noticed a lot of masks, but most of them appeared to be custom made and are definitely not your run-of-the-mill, store bought stuff. Costumes range from a few of your favorite movie slashers like Michael Myers to werewolves, hillbillies and Land of Illusion's own Dr. Psycho. Those who utilized makeup for their costumes did this very well. Some is put on so well you're left wondering if what you were looking at was just fake or did they really just go out and butcher something… or someone?
---
Customer Service:

9.8
We noticed an advertisement for them on a billboard miles from their location! As we neared we began to see signs at intersections giving directions to the park. There were a few times though where we were wondering if we were going the right way because we didn't see any signs at intersections for a while. If it wasn't for our GPS we may not have found it as easily. There are search lights high in the sky so once you get about a mile away you just follow the lights and once you get there they have a big, well lit sign that shows you where the entrance is. The parking area is gravel and well lit, which makes it nice, though it is $3.00 per vehicle to park. Upon entering, it is easy to navigate your way around the park. There are neon signs placed throughout the park pointing you in the right direction for tickets and each haunt. If you get hungry you can stop by the Creepy Caf
---
Atmosphere:

9.04
The park gives off an overall feeling of fun and fright. The zombies roaming around keep you on your toes and a few encounters with some other actors including the 3D killer Klowns showing off a few of their twisted stunts keeps everybody entertained, even while you're not in a haunt. This is just a small taste of the horrific fates you will have inside these haunts! You can hear the loud music coming from Club Zombie all over the park which was playing a variation of music. As you are nearing some of the haunts you can hear bone chilling soundtracks that will get you pumped up and either eager to enter or scared for survival. The sound effects used throughout the haunts fit in perfectly. Some lightning strikes left us questioning if it was getting ready to storm and some of the loud pops had us ducking so we wouldn't get shot.
---
Special Effects:

9.24
Special Effects: 9.24: You will see many props and effects not seen or used in other haunts. You will come across quite a few top notch animatronics and their placement is excellent. We noticed that in several areas your surroundings have been taken to the limit to provide you with the maximum backdrop for the best scares they can give you! Every haunt sticks with its own theme in this area as well as animatronics, lighting and props fit in with each scene seamlessly. You won't see clowns, for example, in the Voodoo Bayou Shanty. These guys know WHAT belongs WHERE and they know how to use it!
---
Theme:

9
Each of the 6 attractions has their own unique theme. There were a few things here and there that seemed out of place but for the most part everything fit in well with its surroundings in each haunt. Land of Illusion even keeps the theme of a 'Theme Park' in between haunts with their concessions, ticket booth and live music. As for specific themes, well, each haunts name pretty well gives them away with the exception of the trail where you will find a diverse collection of your worst fears.
---
Fright Effect:

8.89
You can definitely tell they have been in the business for many years. Frights come in all shapes and sizes from jumps and startles to screams and desperate running for a chance to escape! Distractions were used and so were the plentiful hiding spots leaving you wondering what was going to pop out around the next corner. Some actors used screaming and props to send their victims running while others use sheer intimidation to stop you in your tracks, paralyzed in fear. As a whole, Land of Illusion has the means to send you home needing a change of clothes and they don't intend to disappoint!
---
Value:

10
The ticket pricing for the park is second to none! Not many haunt's ticket prices can compare. With 6 unique attractions all with different themes, you will have a hard time finding another haunt for a deal this scary. Ticket prices are for one ticket allowing you access into all 6 attractions, and as many times as you dare in a single night. General admission for Friday nights is $29. 99, Saturdays is $34.99, and Sunday tickets are $24.99 each. VIP fast pass tickets are $ 39.99 for Friday's when purchased online and $44.99 purchased on site. VIP for Saturday's are $44.99 each when purchased online and $49.99 on site. Check their site for group rate packages and discount coupons!! If you buy VIP fast passes online for a Saturday night this will make it around $7.50 PER haunt!!!!! We haven't come across any haunts of this stature for less than $10.00 let alone $7.50 for VIP, and if you go on Friday or Sunday it would be even cheaper! Also include parking which is $3.00 per vehicle on top of your ticket prices. This is such a great deal so don't miss out on the bloodshed, monsters, blood and corpses this year at Land of Illusion before they change their minds!
---
Promo Images:
Click to Enlarge
Have you visited this attraction?
---
2016 Awards
Most Tormenting to Victims - Middletown Haunted Trail (Given by: Team Zombillies)
Most Suspenseful Scene - Middletown Haunted Trail, Myers Walkway (Given by: Team Zombillies)
Actor Shout Out Award - Klowns: Gutta (Given by: Team Zombillies)
Actor Shout Out Award - Shanty: Amos (Given by: Team Zombillies)
Actor Shout Out Award - Temple: Guys in Elevator (Given by: Team Zombillies)
Actor Shout Out Award - Trail: Dr. Beak (Given by: Team Zombillies)
Actor Shout Out Award - Trail: Lunch Lady (Given by: Team Zombillies)
---
2015 Awards
Most Entertaining Clown - "The Cage Maze Chainsaw Clown" in "Killer Klowns" (Given by: Team Zombillies)
Scariest Duo - "The Catacombs Couple" (Given by: Team Zombillies)
Memorable Scare - "The Shadow Spirit" in "Dr. Psycho's Haunted Estate" (Given by: Team Zombillies)
Most Twisted Haunt - "The Voodoo Bayou Shanty" (Given by: Team Zombillies)
Actor Shout Out Award - "Dr. Psycho" in "Dr. Psycho's Haunted Estate" (Given by: Team Zombillies)
Actor Shout Out Award - Andrew Rasnic, A.K.A. "Bubba" in "The Middletown Haunted Trail" (Given by: Team Zombillies)
Actor Shout Out Award - Arthur Gehring, A.K.A. "Snagz, the Clown" in "Killer Klowns" (Given by: Team Zombillies)
Actor Shout Out Award - Mike Carmichael, A.K.A. "Arlen Dubois the Butcher" (Given by: Team Zombillies)
Actor Shout Out Award - Tonya R. Murray, A.K.A. "The Widowmaker" in "The Middletown Haunted Trail" (Given by: Team Zombillies)
Actor Shout Out Award (Given by: Team Zombillies)
---
2014 Awards
Best Pyrotechnical Scare (Given by: Team Zombillies)
Most Entertaining Clown (Given by: Team Zombillies)
Memorable Moment (Given by: Team Zombillies)
Actor Shout Out Award - Dr. Psycho's Haunted Estate: Redneck with Shotgun (Given by: Team Zombillies)
Actor Shout Out Award - Middletown Haunted Trail: Flesh Eater (Given by: Team Zombillies)
Actor Shout Out Award - The Shanty: Voodoo Guy (Given by: Team Zombillies)
---