Find Reviews for a Haunt near You! Find Reviews for a Haunt near You!
Find Reviews for a Haunt near You!
The Baxter Avenue Morgue
451 Baxter Avenue, Louisville, KY 40204View All Details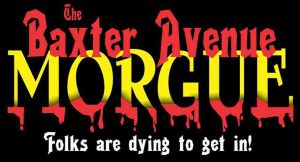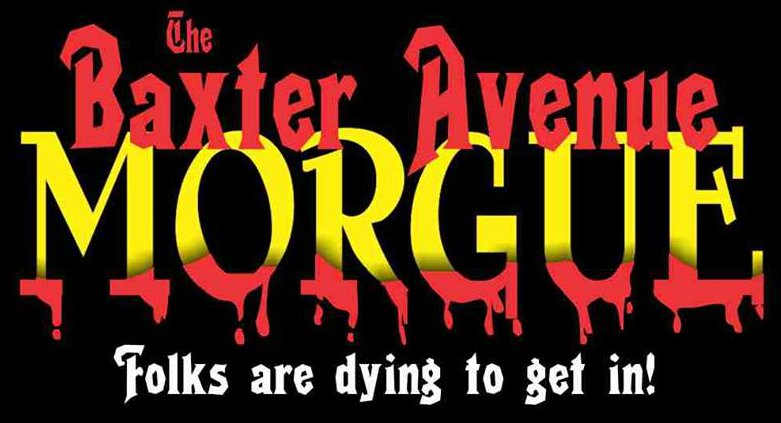 Features:
Free Parking, Restrooms On-Site, Gift Shop/Souvenirs, "Old-School" (Low Tech), You may be touched, Original Characters, Uncovered Outdoor Waiting Line, All-Indoor Attraction
Team Zombillies reviewed this attraction on September 23, 2011.
Final Score:

8.76
Summary:
The Baxter Avenue Morgue is in its 11th year of showing off their reanimated dead family that has been created over many years including their family pet, 'Pongo' the dog. This 'functionally dysfunctional' family knows how to treat company and we're not talking home-cooked meals. You're looking at experiments-gone-awry, demons, zombies, and pretty much anything else that gets 'upset' after being awakened from the dead. Are you looking for a haunt where you can find some up-town scares for an affordable price? Then make sure you visit the Baxter Avenue Morgue in 2011, where people are dying to get in!
---
Cast:

8.7
Baxter Avenue Morgue's cast consists of anywhere between 50 to 80 actors with 40 paid cast members, 10 paid staff, 5 year round paid set and maintenance build team and a volunteer support cast of 25. Some have been there for as long as 11 years. This crew does an excellent job of providing scares all throughout the 15,000 square foot morgue. Before the morgue opens its creaky doors, all of the actors (new and veteran) must go through a one-week in-house training course. This is one of the most devoted crews we have seen yet! Each character has a background and they all know their roles and stay in character very well. It's almost as if they really ARE their characters. This is a very interactive bunch so watch your back from the moment you step foot on the Morgue's property. This is the most 'functionally dysfunctional' family you will ever meet so you're fair game here!
---
Costuming:

8.8
Each character is outfitted in a very appropriate costume for their scene. It is evident that they spend a great deal of time hand-making each costume. We did not find any poorly placed costumes and each had horrifying detail that will send chills running down your spine! During their training, the actors had professional make-up artists instruct each character on how to make themselves look as gruesome as possible. Although there were only a few masks, the gory detail that was used made us wonder if they were even masks at all. Just a few of the gruesome characters that you will encounter during your tour of the Morgue are Mr. and Mrs. Vanderdark, Nurse Hatchet, and the family's dog Pongo who may even show you some of his tricks… IF he's feeling friendly.
---
Customer Service:

8.8
You will see a well-lit sign in front of the building to let you know you have arrived. There is plenty of free parking behind the building and it is well lit. The exits are very cleverly marked throughout the haunt with a yellow chicken so you can make your way to safety if you are too horrified by the terrors within the Morgue! If you have any questions or need any help, there is plenty of staff who will be glad to assist you. The many zombies roaming around and the famous Michael Jackson will entertain you while you wait in line. They dance to 'Thriller' and other various songs. Don't forget to check out the conveniently located concession stand at the end of the haunt.
---
Atmosphere:

8.7
The Baxter Avenue Morgue is not just a name for this haunt. There are records of actual human body storage and disposal at this location. The outward appearance gives off an eerie feel to all who wait to enter. The d
---
Special Effects:

8.3
The Baxter Avenue Morgue buys and builds their own special effects. They range from authentic caskets and body bags to possessed appliances and bone-crunching chainsaws. The majority of the props replicate actual furnishings that you would expect to see in a funeral parlor or morgue. Other special effects include well-placed strategic lighting, horrifying sound effects, a few animatronics, and evidence of foul-play with some of the Morgue's recent 'experiments.'
---
Theme:

9
There is a lot of history behind Baxter Avenue Morgue. Details can be found on the morgue's website but long story short, reanimation of the dead is what you will experience here. A lot of drama has filled this family's past with all of the killing, resurrecting, and re-killing so tempers will flare when unexpected visitors start poking their noses in their business.
---
Fright Effect:

8.9
The idea of knowing these actors CAN TOUCH YOU might just freak you out all on its own. Besides this, scares range from intimidating ear-to-ear grins with blood running down their chins to nerve-curling screeches to an all-out chainsaw assault. One tactic that we particularly enjoyed was being greeted by Nurse Hatchet, 'registered' as patients and seeing all of the demented patients clawing at us from behind bars for help. As if that wasn't enough, later in the haunt we found ourselves as the ones behind bars, which was a cool twist. There were lots of excellent hiding spots and they were used very well with distraction as an assist to many of the scares that everyone in our group received.
---
Value:

8.9
General admission is $20.00 per person on a Friday or Saturday night and speedpasses (VIP) are $30 per person. The haunt lasts between 20 and 25 minutes depending on how fast you can run making this about a dollar a minute. Make sure you check out their website where they may offer printable coupons and group discount information.
---
Promo Images:
Click to Enlarge
Have you visited this attraction?
---
2012 Awards
Actor Shout Out Award - Vanderdark's Secretary (Given by: Team Zombillies)
Actor Shout Out Award - Warren & Lillian Vanderdark (Given by: Team Zombillies)
---