Find Reviews for a Haunt near You! Find Reviews for a Haunt near You!
Find Reviews for a Haunt near You!
House of Pain
868 Staunton Sugar Grove Road, Washington Court House, OH 43160View All Details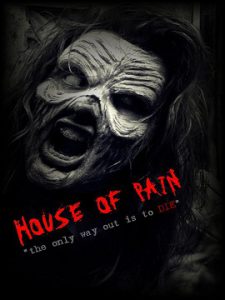 Features:
Free Parking, Restrooms On-Site, Food/Concessions, You may be touched, Original Characters, Uncovered Outdoor Waiting Line, All-Indoor Attraction
Team Zombillies reviewed this attraction on September 24, 2011.
Final Score:

8.64
Summary:
Are you ready for an action-packed, in-your-face haunt that won't break the bank? Then get to the House of Pain where you'll find everything from creepy stare-downs with demonic clowns to all-out chainsaw assaults from every angle imaginable! Don't let your guard down as you negotiate this newly redesigned haunt in Washington Courthouse, OH where everyone's goal is to, literally, 'Scare the Sh*t out of You' for the 2011 season!
---
Cast:

8.95
The House of Pain has 20-35 actors per night to offer plenty of scares throughout the 12,000 square feet this haunt is built on. They are very interactive and some of them will be all over the haunt to provide you with multiple scares from the same horrifying characters. Before the season, the cast goes through a week-long in-house training session to ensure that everyone gets a scare from the moment you walk through the door. All actors stay in context with the theme and among the most memorable were 'Vyrus' and 'Lucifer' the clowns and the dozens of chainsaw-wielding madmen that would love to add your limbs to their collection.
---
Costuming:

8.53
Unique and different characters were chosen for this haunt for the sole purpose of fulfilling the theme. Many of the characters had lots of similarities and seemed to be created by the same demented mind. This is evident because there were mostly masks used, but they are some of the best in the area! Detail was second to originality at this haunt, however, but that doesn't hold back the terrifying scares these masks and costumes help the actors provide. The makeup that was used was also applied in-house and with much talent to the actors that required it.
---
Customer Service:

7.93
Parking is provided in the haunts lawn area next to the road for $2.00 per vehicle. Lighting is minimal, until you get closer to the ticket booth and concessions where it becomes much easier to see where you are going. Snacks and drinks are served with good prices and even better flavor, so be sure to check out the fried Oreos! Signs can be found at the end of the driveway, and at the last two crossroads before you arrive at The Pain. Staff were friendly and there is a warm fire pit next to the ticket booth with plenty of seating to help counteract the cold October nights. We didn't notice very many exits throughout the haunt, but maybe that was because we were running from chainsaws most of the time. Watch your step as well because there are lots of places where the carpet has been bunched up over time and it makes for a possible trip hazard if your footing is off. One of the clowns (Lucifer) came out and entertained us while we were waiting in line.
---
Atmosphere:

8.21
Upon arriving at the House of Pain and parking in the lawn, our first impression was that it would be 'just another backyard haunt.' This was because there was a house within 200 feet of the ticket booth and waiting area. This was further enunciated when we heard the sound of R&B being played for those who haven't entered the haunt yet. However, this was all counteracted by many things that got us back in the mood for Halloween and being scared. Some of these were a devilish looking skull that was displayed over the ticket booth with signs clearly stating 'Expect Content' among other signs including 'Live Murders,' 'Your pain is our pleasure,' and 'The only way out is to die!'
---
Special Effects:

8.23
If you're afraid of chainsaws, this is the place for you… this place is PACKED with them! If you can make it through the pitch black maze, don't slow down until you make it out because these guys know how to use them! When combined with very loud music, strobes, strategic lighting, a custom made black vortex tunnel, and enough chainsaws to tear a hardware store down, The House of Pain lives up to its name.
---
Theme:

9
The House of Pain's theme is to 'scare the sh*t out of you' and they know it. The 15th year for this haunt is sure to please those who seek a ride home needing a change of underwear. One of our very own teammates literally stopped in their tracks and refused to move out of sheer terror and don't think that these guys let up just because they were holding up the line!
---
Fright Effect:

9
Overall, a well-put-together attraction! The Pain knows there's nothing like a good pitch black maze to get you disoriented and feeling helpless for the upcoming haunt. Distraction and timing is used to the fullest extent through multiple hiding places in close quarters to give you multiple horrifying scares in rapid sequence! There were a few hiding spaces that were used where, come to find out, we were looking right at them and didn't even know it. Job well done! Everyone in the group gets a scare too, especially when you're unlucky enough (like us) for all of the actors to follow you out to the end.
---
Value:

9.23
Entrance into the House of Pain will cost you an arm, a leg, and $12 for general tickets and $20 for VIP treatment, which will get you a shorter wait and a quicker death! This is highly recommended for this haunt since groups have more spacing than in most other haunts. Don't forget to bring an extra $2 for parking. Concessions are also readily available where you can get refreshments and snacks for a great price!
---
Promo Images:
Click to Enlarge
Have you visited this attraction?