Find Reviews for a Haunt near You! Find Reviews for a Haunt near You!
Find Reviews for a Haunt near You!
Nightmare Forest Haunt Park
850 Otter Creek Park Road, Brandenburg, KY 40108View All Details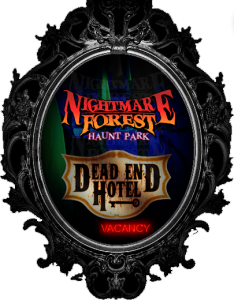 Features:
Free Parking, Restrooms On-Site, Food/Concessions, Optional Games/Midway, You will NOT be touched, Movie Characters, Uncovered Outdoor Waiting Line, Indoor/Outdoor Attraction
Team Zombillies reviewed this attraction on September 30, 2011.
Final Score:

7.97
Summary:
The legendary Nightmare Forest is in it's 15th year of operation. New for 2011, you will experience the Watch 'N Drive-IN where you will be put into the movie sets of Nightmare Forest. You will find yourself in the scenes of Saw, The Ring, Nightmare on Elm Street, Halloween, among many others. After you find your way out of the silver screen, you will enter the Trail of Terror, where your worst nightmares come to life or you learn of ones you never knew you had. Be sure to hit Nightmare Forest at Otter Creek for the 2011 Halloween season!
---
Cast:

7.56
Nightmare Forest has between 30 to 40 paid actors residing within the dark forest trails. The cast goes through a week of training before the haunt opens to make sure everyone understands their roles. In Nightmare Forest itself, most the characters were believable, but some didn't fulfill their roles as well as others and we even noticed a few that broke character. The actors in Trail of Terror were much more interactive and seemed as if they had more experience under their belts. Most of the characters stayed in context with the theme, and some even intensified it by following us into the next scene. They weren't going to give up… no matter what!
---
Costuming:

7.46
Most of the costumes seemed to be store bought with some customization added. We noticed that several of the movie character costumes and masks could have used some more detail which is what made these characters not as believable as others, but they all fit their respective themes. Makeup matched the costumes appropriately and was professionally applied in-house. The hillbillies with shotguns, chainsaw-wielding clowns and the girl from The Ring were some of our favorites at this haunt.
---
Customer Service:

7.51
As you near Otter Creek Park it is hard to miss Nightmare Forest. There are multiple, well-lit white signs with arrows pointing to the entrance where you need to turn. There is plenty of free parking but it is not lit at all so watch your step! Make your way to their nice ticket booth setup where credit cards are accepted and there are portable restrooms located behind. As you navigate from the ticket booth to the Watch 'N Drive-IN, be careful as the lights diminish when you get further away from the ticket booth. You may want to keep an eye on your surroundings because the conniving clowns at the end of Trail of Terror can see you walking to the entrance; and they love to show off their chainsaws! Also watch your footing as there are lots of tree roots to traverse as you traverse these timbers. If you have any questions you can ask the staff working in the ticket booth who will be happy to help you. Also stop by their huge concession stand located near the ticket booth where you can purchase a wide variety of snacks and beverages.
---
Atmosphere:

8.39
Being in this forest and not knowing what is lurking in the darkness around you can give you the heebie geebies! From the moment you get out of your car you can hear screaming, music, guns going off, and the growls of chainsaws! There was loud music playing which was haunted house themed and got us excited about entering the Forest.
---
Special Effects:

7.85
Special effects are both bought and proudly made in-house at this attraction. We noticed many effects that we haven't seen before such as a unique approach to hanging curtains in doorways, an air-filled floor, decoys, and real gunshots! Strategic lighting, lasers, strobes, and fog are also employed in Nightmare Forest. The huge drive in movie screen which previews scenes from the movies you are about to experience is a unique entrance into the forest.
---
Theme:

8.75
There are two themes this year at Otter Creek. Nightmare Forest is a movie based haunt where you will get to experience some of your favorite horror movie sets brought to life. Trail of Terror is based on all original ideas and you never know what you might encounter here. Crazed hillbillies, evil clowns, and creatures we have never seen before reside in this trail and they are all waiting for you!
---
Fright Effect:

8.14
This haunt seemed to use distraction as their best advantage. This is one of the only haunts we've been to that used a decoy as a distraction which made the next scare difficult to foresee! They will also have you focus your attention on what one character is doing while another may come from a different direction when you least expect it. Through most of the scenes, the front of the group got most of the screams but the back was certainly not forgotten. These guys like to follow the ones they like the most!
---
Value:

8.08
General admission for all haunts is $20.00 per person at the door and $18.00 if tickets are purchased online. VIP SpeedPasses are available for $25.00 a person so you can skip the long lines! You can also find a printable coupon on their website good for $2.00 off admission for any night they are open. In comparison to haunts in the area, estimating at 20 minutes in length, this is a good deal and there is something for everyone to experience at Nightmare Forest.
---
Promo Images:
Click to Enlarge