Find Reviews for a Haunt near You! Find Reviews for a Haunt near You!
Find Reviews for a Haunt near You!
The Dungeon Haunted Attraction
202 Felicia Drive, Cincinnati, OH 45238View All Details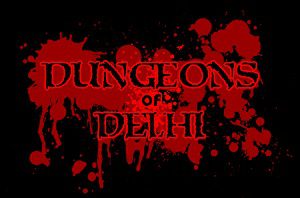 Team Zombillies reviewed this attraction on October 1, 2011.
Final Score:

8.65
Summary:
The 'Year of Fear' is upon Cincinnati for the Halloween season. Dungeons of Delhi has been charitably torturing Southwestern Ohio for the last 18 years and for 2011 they're back with a vengeance! Endure the horrific creatures including zombies, demons and New Blood that dwell in these dark passageways and see if you can escape the Dungeons alive! If you are looking for a haunt that is affordable and can be enjoyed by the whole family then this is it!
---
Cast:

8.35
Up from last year, Dungeons of Delhi has 64 volunteer creatures roaming about the two stories of this old thrift way building. This cast has had training every weekend for 2 months and some have even been practicing since March! Each character fulfilled their roles and fit into the theme flawlessly this season. It seemed as if everywhere we turned there was another character hanging from the wall or crawling on the floor and most of them were very interactive with the group and in context with the theme. A few creatures you will encounter include zombies starving for brains, Silent Hill's Pyramid Head (which we have never seen in a haunt before), some intensely enthusiastic clowns, some so insane you'll find out a whole new meaning to the word, and of course the Saw puppet everyone has been talking about!
---
Costuming:

8.38
Most of their costumes are made in-house by their dedicated and talented crew. These guys have worked day and night for a long time and with a very limited budget to bring you the Dungeons of Delhi's cast and their efforts show! Excellent attention to detail is shown with their costumes and makeup and masks are of great quality as well. New Blood continues to be a crowd pleaser as does the living Saw Puppet. All characters and costumes are in context with the haunt's theme.
---
Customer Service:

9.38
Once you get close to the haunt, it shouldn't be a problem to find because at the closest intersection there are people waving signs and pointing you in the right direction. There are huge well-lit signs painted on the building to let you know you are at the right place as well. Next to the building there is plenty of free well-lit parking at the strip mall. Staff members can be found in the ticket booth or at the entrance of the haunt and they are very helpful and pleased to answer any questions you may have. There are plenty of exits throughout the haunt and steps are noticeably painted with fluorescent colors so they are easy to see. They are up to code with emergency action plans in place and we even noticed a fire extinguisher in several of the rooms. There were several actors roaming around entertaining the crowd and one with a shovel seemed to like his spot scaring victims and digging graves by the haunt's hearse parked out front.
---
Atmosphere:

8.18
As you make your way to the ticket booth, you must first step foot into a cemetery located in front of the haunt where a hearse and man with a shovel awaits you. A large portrait of some kind of demented child on the front of the building broadcasts the horrors within the attraction before you enter.
---
Special Effects:

8.06
Creativity is this haunts main strength considering they don't have the money that most other haunts have. You will see a lot of different things in this haunt you haven't seen before. An interesting 'twist' on a vortex tunnel, awesome lighting, falling walls, shifting floors and skin-crawling sound effects are just a few of the new additions to the new Dungeons of Delhi!
---
Theme:

8.88
2011 is the 'Year of Fear', and these actors have let loose and gone far beyond what they had to offer us last year by introducing unimaginable fears. Every character almost literally screams fear as they each 'welcome' you in their own way on your tour of the Dungeons.
---
Fright Effect:

8.11
These guys have 'kicked it up a notch' compared to last year. Scares vary from creepy props and lustful looks for body parts to screaming startles and an all-out zombie hoard (if you're unlucky enough to be the last group through for the night). Have a watchful eye here as you never know when or where the next scares will come from.
---
Value:

9.88
Dungeons of Delhi kept their prices the same from last year at only $8.00 per person for general admission and they offer a re-entry fee for the same night for $4.00 in case you're still wondering what just happened! Lasting between 15 to 20 minutes this attraction is well worth the price and can be enjoyed by the whole family. If you think your children are too young, they have a lights-on tour on Sunday nights. Put this haunt on your calendar for 2011 because you don't want to miss the Year of Fear!
---
Promo Images:
Click to Enlarge
Guest ReviewsGuest Average: 10 out of 10
Riley – 10/10This place is crazy,with myself serving in the United States Marines I am a very rough and tough guy …show more and I got scared a lot through out this haunt there was a lot of jump scares and animations through it I loved it 10/10
---
2014 Awards
Actor Shout Out Award - Mad Hatter (Given by: Team Zombillies)
Actor Shout Out Award - Madd Matt (Given by: Team Zombillies)
Actor Shout Out Award - Mrs. Killburn (Given by: Team Zombillies)
---
2013 Awards
Memorable Moment - Zendar (Given by: Team Zombillies)
Best Zombies (Given by: Team Zombillies)
Actor Shout Out Award - NewBlood (Given by: Team Zombillies)
Actor Shout Out Award - Psycho (Given by: Team Zombillies)
Actor Shout Out Award - Warlox (Given by: Team Zombillies)
---
2012 Awards
Actor Shout Out Award - Igor (Given by: Team Zombillies)
Actor Shout Out Award - Newblood (Given by: Team Zombillies)
Actor Shout Out Award - The Dark Lord (Given by: Team Zombillies)
---