Find Reviews for a Haunt near You! Find Reviews for a Haunt near You!
Find Reviews for a Haunt near You!
The Haunted Hotel KY
3000 South 4th Street, Louisville, KY 40208View All Details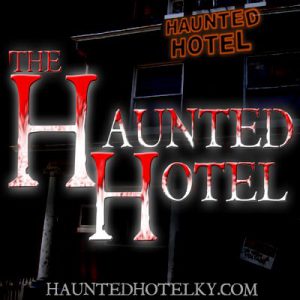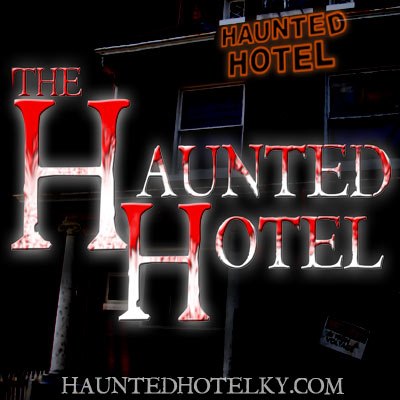 Features:
Free Parking, Restrooms On-Site, Gift Shop/Souvenirs, Special Events, "Hi-Tech" Attraction, You may be touched, Original Characters, Uncovered Outdoor Waiting Line, Indoor/Outdoor Attraction
Team Zombillies reviewed this attraction on October 7, 2011.
Final Score:

9.03
Summary:
The Haunted Hotel is celebrating its 21st anniversary in 2011! This is one of the most extreme haunts in the Louisville area. These actors spend all year preparing for the season and know how to get things done right. Upon entering the Hotel, you must enter an elevator inhabited by a belligerent bellman, but this is no ordinary elevator…. it will plummet you straight into hell! You will then walk (or run) through the extreme environment that is the Haunted Hotel. This is an extreme haunt; Parental discretion is advised for those 12 and under. If you are looking for an intense, in-your-face, action packed environment from practically start to finish in the Louisville area this Halloween season, make sure you stop in for a stay at The Haunted Network's Haunted Hotel… where they'll turn the light out for you!
---
Cast:

9.11
There are about 25 actors that reside within the bloody walls of the 6,000 square foot Hotel. Most of this crew has worked at the Hotel for 5 years and they don't ever really get out of the 'zone' as they practice their roles throughout the year. This is debatably the most aggressive group in the Louisville area that we have ever seen. Most of the characters you will come face to face with are brought to you from the twisted minds of the Haunted Hotel staff; there aren't many here that you've seen before. Each character here knows what their role is which helps intensify the theme. They make it feel like there will never be an end to your horribly interactive stay.
---
Costuming:

8.99
About half of the costumes throughout the haunt are made in-house and the other half are bought and decorated with their victim's blood and guts. Makeup is applied in-house by one of their devoted staff who has been doing this for 11 years and is very effective where used. Necessary masks are store bought (but detailed) and fit in well with their scenes. Some of the more memorable characters include Santa, the chainsaw-slamming clowns, the bellman, and the clowns that threaten to blow your head off with shotguns if you don't give them your wallet.
---
Customer Service:

8.94
It is easy to find the Hotel once you're on 4th Street. You can't miss the flashing red and blue out front and the staff waving lighted wands in the direction of the well-lit parking lot which costs $5. There is a neon sign on the front of the building also making it distinguishable. We noticed that the street right next to the Hotel exit had been blocked for the safety of those who come running out of the haunt. They are up to code, and there are plenty of noticeable exits throughout the haunt as well as a pull station in case of emergency. Stairs and ramps are lit or brightly painted, but there were a few that were hard to see so watch your step in these areas. You can find staff inside the ticket booth that are friendly and will gladly answer any questions you may have. The ticket booth is located next to the exit of the haunt, so when the actors chase groups out they will have a little fun with the crowd too while they are out there. Don't forget to ask about the Haunted Code when purchasing tickets for a chance to win $10,000!!
---
Atmosphere:

8.85
The outside part of the attraction is connected to the side of the building and thick fog hovers above which gives the Hotel an awesome look when you arrive if it's not too windy. The old building looks like it literally could be haunted which promotes an all-around creepy feeling. From the waiting line you can hear many blood-curdling screams, horns, chainsaws, and other unimaginable sounds that we can't explain which makes it more entertaining to stand in line. Sound effects used in each scene match perfectly, some being loud, hard metal music which compliments the characters gruesome behaviors and promotes disillusionment and intensity.
---
Special Effects:

8.91
Special effects and props are both built in-house and purchased. Customers come to get scared and see all the cool stuff and these guys deliver! The Haunted Hotel will present you with the usual strobes, fog and blood. But then you'll get unrelenting chainsaws, a few well-placed animatronics and noisemakers coupled with sickeningly detailed corpse dissections. And be careful not to wake up the attack dog… he's not friendly.
---
Theme:

9.16
Their theme is the Haunted Hotel because there's nothing else quite like it. Their definition of the Haunted Hotel is a family that works together most of the year to practice on what they do and love most. Once they get you inside, they want you to feel as if they might actually kill you and they're good at it! Everyone seems to fit it with the theme and if they don't intimidate you or scare you on your first encounter don't worry, they won't give up! They'll 'slit your throat, burn your body and eat your cat for supper!'
---
Fright Effect:

9.26
If you're afraid of, well, almost anything, then this is the place to go if being scared is on your agenda for the night. The Haunted Hotel has an awesome reputation for being able to scare and/or at least entertain you. 2011 is no different. A variety of scares and tactics are used against everyone in your group from simple startles and creepy glances to heart-stopping ambushes and neck-breaking distractions. It's quite obvious that these guys have been in business for 21 years as their veteran-quality madness and aggressiveness shows in every aspect of this haunt.
---
Value:

9
General admission to the Haunted Hotel is $17 with VIP passes costing $27; both of which can be purchased online. Parking will cost you $5 in the lot directly across from the haunt. Visit the Haunted Network's website for access to coupons by adding yourself to their discount mailing list. It took our review group an estimated 15-20 minutes to complete our horrific walk-through which makes the experience in this haunt competitively priced compared to other haunts in the Louisville area.
---
Promo Images:
Click to Enlarge
Guest ReviewsGuest Average: 10 out of 10
Melissa Miles – 10/10We've been coming for several years and bring our marching band kids that date to come every year!! …show more This is my favorite by far!!!
---
2016 Awards
- Elevator (Given by: Team Zombillies)
Best Chainsaw Maniacs (Given by: Team Zombillies)
Best Original Characters (Given by: Team Zombillies)
Hardest Haunt to Escape Alive (Given by: Team Zombillies)
Most Intense Characters (Given by: Team Zombillies)
Scariest Haunt in Kentucky (Given by: Team Zombillies)
Highest Rated Fright Effect (Given by: Team Zombillies)
Actor Shout Out Award - "Cricket" A.K.A Kristen Warf (Given by: Team Zombillies)
Actor Shout Out Award - "Edna" A.K.A Bobby Castellano (Given by: Team Zombillies)
Actor Shout Out Award - "Thomas Gribbons" A.K.A Matt Perry (Given by: Team Zombillies)
---
2015 Awards
Scariest Actor - "Brutus" (Given by: Team Zombillies)
Grossest Scene - "The Bathroom" (Given by: Team Zombillies)
Best Single Scare Delivered to Entire Group - "The Elevator" (Given by: Team Zombillies)
Best Chainsaw Maniacs (Given by: Team Zombillies)
Hardest Haunt to Escape Alive (Given by: Team Zombillies)
Best Use of Sound (Given by: Team Zombillies)
Most Intense Characters (Given by: Team Zombillies)
Scariest Haunt in Kentucky (Given by: Team Zombillies)
Actor Shout Out Award - Joey Morbid, A.K.A. "Joe Morbid" (Given by: Team Zombillies)
Actor Shout Out Award - Matt Perry, A.K.A. "Thomas Gribbons" (Given by: Team Zombillies)
---
2014 Awards
Best Chainsaw Maniacs (Given by: Team Zombillies)
Best Single Scare Delivered to Entire Group (Given by: Team Zombillies)
Most Intense Characters (Given by: Team Zombillies)
Memorable Moment (Given by: Team Zombillies)
Actor Shout Out Award - Daphne the Plumber (Given by: Team Zombillies)
Actor Shout Out Award - DK (Given by: Team Zombillies)
Actor Shout Out Award - Dr. Vig (Given by: Team Zombillies)
---