Find Reviews for a Haunt near You! Find Reviews for a Haunt near You!
Find Reviews for a Haunt near You!
Asylum Haunted Scream Park
3101 Pond Station Road, Louisville, KY 40272View All Details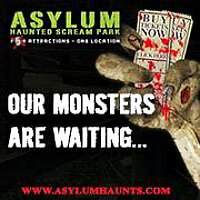 Features:
Free Parking, Restrooms/Porta Potties On-Site, Food/Concessions, Gift Shop/Souvenirs, Optional Games/Midway, Special Events, You will NOT be touched, Original Characters, Uncovered Outdoor Waiting Line, Indoor/Outdoor Attraction
Team Zombillies reviewed this attraction on October 7, 2011.
Final Score:

8.64
Summary:
The Asylum Haunted Scream Park is designed to offer fun and fright for the whole family in a unique way not used by any others in the area. There are four completely different attractions that you can choose from to experience at this single location. Darkness Falls on Asylum is a haunted trail through the woods where the dark itself is the least thing you should be afraid of! This haunt was how this park got started and it's in its 4th year of terrorizing anyone brave enough to take the journey. Zombie City is a very unique attraction where you must put on a mask for your safety and witness exactly why it's no longer called Blackwood City. It's as if you have entered a live zombie film where the acting is as theatrical as it gets. Zombie Hunting is literally loads of fun and something you don't want to miss! This is an interactive shooting gallery where you are equipped with a real loaded paintball gun and you must 'shoot one or become one.' Carnivale of Lost Souls offers some freakish entertainment as well as many fun carnival style games that can be played to win prizes! You can purchase tickets for a single attraction, two attractions, or be brave enough to purchase the combo tickets for admission into all four attractions at a discounted price!
---
Cast:

9.35
The park has between 65 and 75 paid actors a night to provide thrills in all four attractions. They go through pretty strict training in comparison to other haunts which is provided in-house for six weeks long at three hours per night. The actors in Zombie City are incredible, providing the most group and actor interactions we have experienced. They talk to your group and keep you informed about the 'zambies' (zombies with an accent) and what is going on the whole way through! One of the infected was so good he had us retracing our steps and we never realized it until we hit a dead end! All of the actors in the City stayed in context with the theme, and were what made it come alive! In Darkness Falls, most stayed in context with the theme but weren't as effective or interactive as the cast in Zombie City, however scares and entertainment were still provided.
---
Costuming:

9.04
Costumes are both bought and made in-house. Zombie City costumes are authentic, and no masks were noticed. Darkness Falls provided many unique and original costumes. Some of them were also very detailed such as the Tooth Fairy and the Scarecrow. Masks (where used) were appropriate and effective but there weren't many. Most characters had makeup that served as a compliment to their costumes and made them stand out. Makeup is applied by Embodiment FX, which is a professional makeup and special effects crew that serves the area.
---
Customer Service:

9
At the last intersection before you arrive there is a big sign directing you which way to go. Parking is free in a big open area that is dimly lit and portable restrooms are available near the ticket booth. Most of the park is lit up very well making it very easy to navigate. All building and safety codes are in effect and emergency action plans are in effect should the need arise. The staff are very friendly and able to answer any questions that you may have. Some of the terrain is a little rough, but that comes with the territory when you're at a haunted trail. Concessions are available and haunt memorabilia can be purchased at the ticket booth.
---
Atmosphere:

8.88
Once you enter the park, you feel as if you are around a bunch of Halloween fun. A monster on stilts, freaks and carnies from the Carnivale put on crazy shows, and several clowns (one on a mini bike) keep you entertained as soon as you head toward the ticket booth. The sound effects used fit in very well and made the scenes come to life. In Darkness Falls, a lot of the scenes used loud metal music which complimented the characters we encountered.
---
Special Effects:

8.5
Props and special effects are both built in-house and purchased. Zombie City was created with so much detail it was amazing! They did what they set out to do when they wanted us to feel like we were in a real zombie movie. All of the props, lighting and effects combined to make Zombie City one of the most unique experiences of our haunting career. Darkness falls has more traditional uses for their special effects for those looking to get scared. Lighting is strategically placed to create an eerie feeling throughout the trail and loud music and strobes are used to cause mass distraction in a few of their scenes. Other scenes rely more on the talented acting of the cast combined with their horrifically detailed scenes.
---
Theme:

9
The attractions are all unique from each other to provide enjoyment for everyone even if you don't care much for haunted attractions. Zombie City gives you the overall feeling that you are in a real zombie movie where the experience is more theatrical than walking through a typical haunted attraction. But, at the same time, it delivers several scares. Darkness Falls on Asylum is a haunted trail through the woods meant to scare you and where your 'Fears come to life after dark.' Zombie Hunting is an interactive paintball shooting gallery inside a 10,000 square foot shooting range where you can have a blast and try to 'shoot one or become one'. The Carnivale of Lost Souls provides some freak show entertainment and everyone's favorite carnival style games where you purchase tickets to cash in to play the games for a chance to win kid friendly prizes!
---
Fright Effect:

7.25
The only attraction really meant to be scary is Darkness Falls on Asylum. This is the Park's intention. They want to provide the family friendly environment and that's exactly what it is and this makes them unique from the other haunts in the area. If some of your group wants to be scared, they can go to Darkness Falls. If some of them don't, they can go to Zombie City. We did experience some startles in Zombie City but they were mostly provided by Darkness Falls. We noticed distractions and unexpected scares primarily throughout the attraction. Some of these actors had great hiding spots and some will come from no where, out of the sky and over your head when least expected! Some of the dead spots in the trail between scenes are meant to be utilized as 'breaks' but scary at the same time just because of the pure darkness. However, there seemed to be quite a few of these spots. We look forward to seeing what becomes of these haunts in the years to come and the whole park itself!
---
Value:

8.13
General admission for Darkness Falls and Zombie City is $20.00 per person (each haunt charges separate so don't get confused thinking that $20 will get you into both haunts). Zombie Hunting is $8.00 and Carnivale of Lost Souls is priced per game or 13 games for $10.00. They also have combo ticket options, and package deals. The Ultimate Scare package which includes all four attractions is priced at $45.00 per person which is the way to go especially if you can't decide what you want to do but they do also offer ticket upgrades. Group discount information can be found on their website as well as a printable coupon offering $5.00 off any package deal and $2.00 off any single attraction. You can spend $40.00 after using the coupon for all four attractions and get a whole night of entertainment which is pretty reasonable. But if you pay the $20.00 for just one attraction, it's a little bit high-priced.
---
Promo Images:
Click to Enlarge
Guest ReviewsGuest Average: 10 out of 10
Brandi – 10/10This is by far my favorite haunted attraction! The interaction between actors and guest is by far …show more the best. They really make you feel like its real life!! A+++++
---
2016 Awards
Best Haunted Trail - Zombie City (Given by: Team Zombillies)
Highest Dead Body Count (Given by: Team Zombillies)
Actor Shout Out Award - "Annette Jenkins" A.K.A Nurse Ratchet (Given by: Team Zombillies)
Actor Shout Out Award - "Dr. Piper Arden" A.K.A Lluvia (Given by: Team Zombillies)
Actor Shout Out Award - "Isaak Oleander" A.K.A Jake Wheat (Given by: Team Zombillies)
Actor Shout Out Award - "Uncle Rig" A.K.A John Cowgell (Given by: Team Zombillies)
Actor Shout Out Award - "Will James" A.K.A Dr Mimnom (Given by: Team Zombillies)
---
2015 Awards
Best Usage of Fog - "The Gas Leak" in "Zombie City" (Given by: Team Zombillies)
Most Creative Finale - "The Turnstile" in "Zombie City" (Given by: Team Zombillies)
Most Realistic Scare - "The Zombie Uprising Scene" in "Zombie City" (Given by: Team Zombillies)
Highest Rated Theme - "Zombie City" (Given by: Team Zombillies)
Actor Shout Out Award - Annette Jenkins, A.K.A. "Nurse Ratchet" (Given by: Team Zombillies)
Actor Shout Out Award - George Flarsheim, A.K.A. "The Pump Jockey" (Given by: Team Zombillies)
Actor Shout Out Award - J.P. Perry, A.K.A. "Hepatitis Hogslaughter" (Given by: Team Zombillies)
Actor Shout Out Award - Paul Cecil, A.K.A. "The Evil Executive" (Given by: Team Zombillies)
Actor Shout Out Award - Riker Hill, A.K.A. "Dr. Riker" (Given by: Team Zombillies)
Actor Shout Out Award - Thomas Herchenrader, A.K.A. "The Butcher" (Given by: Team Zombillies)
Actor Shout Out Award - Will James, A.K.A. "Dr. Mimnom" (Given by: Team Zombillies)
---
2014 Awards
Most Interactive Character (Given by: Team Zombillies)
Memorable Moment (Given by: Team Zombillies)
Actor Shout Out Award - Darkness Falls: Hepatitis Hogslaughter (Given by: Team Zombillies)
Actor Shout Out Award - Darkness Falls: Voodoo Woman (Given by: Team Zombillies)
Actor Shout Out Award - Zombie City: Dr. Yuri (Given by: Team Zombillies)
Actor Shout Out Award - Zombie City: Jumping on Car Zombie (Given by: Team Zombillies)
Actor Shout Out Award - Zombie City: Lt. Commander Barnes (Given by: Team Zombillies)
---