Find Reviews for a Haunt near You! Find Reviews for a Haunt near You!
Find Reviews for a Haunt near You!
Over the Edge Fear Factory
830 N Campbell Road, Bowling Green, KY 42101View All Details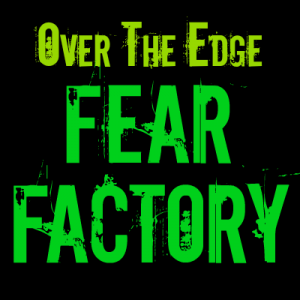 Features:
Free Parking, Restrooms On-Site, Gift Shop/Souvenirs, "Old-School" (Low Tech), You will NOT be touched, Original Characters, Indoor/Outdoor Waiting Line, All-Indoor Attraction
Team Zombillies reviewed this attraction on October 8, 2011.
Final Score:

7.89
Summary:
Big Dream Entertainment presents Over the Edge haunted attraction which is dedicated in memory of Cody Matney. 2011 is their 2nd year of bringing out your greatest fears as you experience this 12,000 square foot old warehouse exploding with over 35 scenes! Best of all, this attraction sets itself apart from others by changing their scenes and adding more things each week all the way up to Halloween night! This is an attraction where if you have been one week you can go again the next because there will be things you didn't get to experience during your previous visit. Based on a gruesome tragedy that took place in the city of Greensburg, KY this attraction will reveal the twisted truth of why your group will be taken 'Over the Edge: If you're not screaming it's 'cause you're already dead!'
---
Cast:

7.5
The 32 volunteer actors that work in Over the Edge know the story behind their haunt all too well. Before the season, auditions are held so that actors can be chosen for the scenes/characters they best fit. The actors meet a couple of hours before opening time so they can be brought up to speed on what is expected from them inside the haunt. Together, they will take you into the past and lead you through these dark and sinister walls to show you the madness that the rest of the city of Greensburg, Kentucky chooses not to relive. Each character helps in bringing this gruesome past back to life!
---
Costuming:

7.8
The actors' costumes are either made in-house or purchased, masks included. Many masks are used, but they are well detailed and placed accordingly to their scenes and necessary for the purpose of telling the story behind the haunt. Makeup is applied in-house and matches each character it is used on. Some of the most memorable characters are the psychotic prisoners, demented clowns, victims of the serial killer and the man in the swamp.
---
Customer Service:

8
Finding the building proved to be somewhat difficult. There aren't many signs or decorations on the exterior of the building to separate it from its surroundings so drive slowly and be on the lookout once you get into town. It's located in the 'old Ford garage' on the main drag through Greensburg, KY with a couple of props in the front windows and a small scrolling LED sign. The local gas station helped point us in the right direction once we realized we missed it. Customer safety is priority one at Over the Edge. Well-lit exits are plentiful throughout the haunt and it is handicap-accessible! Climbing stairs and crawling are part of this attraction so if you have a problem getting through any of these parts, the staff has a way to lead you around it. Parking could prove to be tricky on a busy night as they are located right on Main Street in the middle of Greensburg. You may need to park someplace nearby and make a short walk to the haunt. The friendly staff/owners are willing and able to answer any questions that you may have. Make sure you check out their T-shirts they have available to purchase at the ticket booth!
---
Atmosphere:

7
Upon entering the haunt, sounds from the past echoed throughout the building as we could hear the victims' screams coming from within the attraction. Also, their Wall of Shame is located in the main lobby which displays tallies for those who were either 'P-Bodies', 'Wimp Outs' or ' Cry Baby's' while inside the haunt. As you wait in line you can still hear the victim's cries and things unexplainable while you stand waiting in the dark with a small trickle of light coming from the street lights outside. Sound effects were used all throughout the haunt to match their appropriate scenes but in some places were hard to hear.
---
Special Effects:

8.45
All of the special effects in Over the Edge help bring the theme to life. From the baby dolls and bath tub in the beginning to the jail cells, swamp and graveyard as you make your way through the past. Strobes, fog and lasers are present as well as chainsaws, an overheated hearse (inside the haunt), an electric chair, a steep slide; and what would a story about a serial killer be without blood, guts and gore (which is included)? There are also live animals used inside the haunt! The props and effects have been built or scavenged which helps make everything look more realistic.
---
Theme:

8.1
The theme tells the story of Tom Green; a serial killer from Greensburg who killed 13-14 people. Over the Edge tells the story of his life from birth to death and all of the sick and twisted horrors in between!
---
Fright Effect:

8.1
Scares come from many ways at Over the Edge. From floor to ceiling and wall to wall, you never know where the next scare will come from! Also, a few of their techniques had interesting twists including hiding in plain sight and in other places you wouldn't expect. A variety of scares are presented here as well. A top-of-the-lung scream is sure to make your skin crawl and demons that emerge from the unseen are sure to send you taking a few steps backward just to name a couple. Don't forget to keep an eye out for native wildlife as you negotiate the swamp as well!
---
Value:

8.2
General admission is affordable at $10.00 per person and VIP tickets are available for $15 when you want to skip to the front of the line. These prices make this haunt one of the most affordable on our list. It took our review team an estimated 20 minutes, but your group may take shorter or longer depending on if you run all the way through or curl up in a little ball in the corner somewhere (not recommended). This attraction states on their website and multiple other places ' Do not come alone!!'
---