Find Reviews for a Haunt near You! Find Reviews for a Haunt near You!
Find Reviews for a Haunt near You!
The Haunted Farm
5450 Old Millersport Road NE, Pleasantville, OH 43148View All Details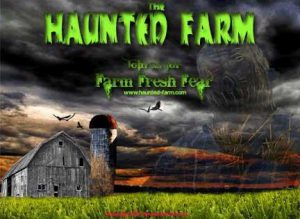 Team Mysterious Misery reviewed this attraction on October 7, 2011.
Final Score:

7.87
Summary:
The Haunted Farm is quickly becoming one of the most talked about haunted attractions in the Lancaster/Pleasantville area. With a well-executed theme, a cast with experience, and all the other right elements it is no wonder it is starting to become a favorite among many. The Haunted Farm can bring out the fear in everyone. They can also accommodate those who normally cannot experience the haunt season due to medical or physical limitations. The Haunted Farm has in your face moments where panic sets in and you want to run. They also have those creepy moments where it's just you lost in a corn maize with your thoughts, I know all too well it was me this year. The effects whether they be small or big, fake or alive, they are properly executed just for you. So check out The Haunted Farm for Fresh Farm Fear.
---
Cast:

7.5
The Haunted Farm has a cast of 72 actors that work so closely together that they feel like family. On any given night you will come face to face with at least 63 of these actors. Their main goal is to show you fresh farm fear. The majority of the cast has many years of haunt experience and they know what techniques work. This is a cast that continues to grow and strength in their ability and skills. They continually go to classes and conventions to learn more ideas and how to execute them properly. The cast of 72 does a great job at developing their own characters but at the same time making sure they flow together in a uniformed presence. This cast never gives up on getting a scare or two. Just when you think they are gone there they are again and again. Brandon is a military must see, that brings the in your face haunting all night long, not giving you a single minute to think. This cast has overcome many obstacles this year from death to serious illness to bring you their passion of haunting.
---
Costuming:

7
The Haunted Farm has been blessed with 3 FX makeup artist that are wonderful. The makeup artist were a part of a movie that was shoot on location at the farm and they loved it so much that they wanted to stay through haunt season. The youngest FX artist is 13 years old and he is a breath of fresh air and the future of the haunting industry. The Haunted Farm is not over the top in costuming but they do what works in maintaining the theme. This haunt does utilize rubber mask, but many are special made and they fit in with the theme.
---
Customer Service:

8
Kim Hicks and her operation does a wonderful job at customer service. Kim goes above and beyond to accommodate everyone, so that everyone can enjoy some fresh farm fear. In the daytime they run special groups through such as MRDD. Everything at the farm can accommodate any person that may need special assistance or use a wheel chair. The night we visited there was a bachelorette party and the farm found out ahead of time. So for this bride they put a zombie groom in the haunt just to follow her around all evening. It was priceless. The Haunted Farm has met all safety requirements and they plans in place for emergencies. They have a store called the crow's nest which has items to buy and concessions. They offer live bands and bomb fires while you wait. The Haunted Farm can be tricky to get to so make sure you have your GPS and printed directions. There are not many signs leading the way, but if you get lost most places you stop and ask can tell you exactly how to get to it.
---
Atmosphere:

8
The Haunted Farm is a haunted attraction that has many different atmospheres according to where you are in this 9 acre haunt. This attraction is outside. So when you pull up it is dark, the stars are out and there is the fall air blowing. You can hear the screams in a distance. As you get closer you can feel the excitement and anticipation. You first see a huge rickety old barn where the queue line actors start preying on you and learning your name. You can hear the live band and feel the bomb fire. As you go through the barn the atmosphere changes to an in your face haunt, Giving you the feeling of urgency and ready to exit. The corn maize on the other hand starts to give you the creepy feeling someone is watching you and starts to play with your head as you get lost over and over again. The hayride is more relaxed feeling, but still leaves you on the edge of your seat. Be prepared because you may be the one that gets ripped off the hayride by a gruesome creature. The Haunted Farm does an impressive job on creating many different atmospheres to create a great haunt.
---
Special Effects:

8
The Haunted Farm is one attraction that a cohesive balance in using store bought and man-made special effects that scares everyone. They do not go over the top, but yet use just enough in the right areas to create horrific scenes. They have some older effects that you may have seen before such as the claustrophobic walls but they are still perfectly placed that you didn't expect it. They also have ones that are unique to their haunt such as 'Scratch', which is absolutely amazing. Then they utilize everyday items to create effects such as 'Lucy', she gets me every time. The Haunted Farm is a must see for the cohesiveness of the big and small effects.
---
Theme:

8
The Haunted Farm is one attraction that utilizes what it already has to make the theme work flawlessly. The story is that the in the 1800s , The Watson Family , had a farm during the depression. Their farm was not doing very well and this made the family very mean and hateful. In the next year the Watson's farm flourished and the towns people started to talk. They noticed drifters going on to the farm to work but never leaving. There were strange noises in the barn and foul smells. As you walk through all three parts of the farm you come face to face with the drifters that never made it off the farm. You will also meet The Watson's as they already know you by name. There are a couple scenes that we feel didn't fit exactly into the overall theme but where great scenes. The Haunted Farm does a great job at the storytelling.
---
Fright Effect:

8
The Haunted Farm is a dynamic haunt that utilizes all the elements to create a night of terror just for you. Fresh Farm Fear is what they are serving up every night for the hundreds that pile through the gates. Whether you are scared of the horrific creatures, or being left all alone in a corn maze with just your thoughts, or even being ripped off the hayride in terror by a drifter, be ready to be scared. This attraction plays on many levels of haunting and creepy. It introduces you to new fears and ones that you thought could never happen.
---
Value:

8.5
We think the admission price is a steal for all that this haunt has to offer. The Haunted Farm is approximately 9 acres of fear that includes the haunted barn, the corn maize, and the hayride. This is one of the longest haunted attractions that we have had the opportunity of experience. Just because it is long they don't make less scares , they make more. The general admission for adults is $16 and under 10 is $13.00. In case you already made the dive and it starts to rain they have rain dates that is just the barn and it is $10 adults and $8 for under 10. As haunt season is in full swing the lines are getting longer, so you may want to consider the fast pass option. It is $25 for adults and $20 for under 10 but also includes hot chocolate or cider, your choice. If you have a big group call for group pricing. Want to plan a special event they can help you with that also.
---
Have you visited this attraction?