Find Reviews for a Haunt near You! Find Reviews for a Haunt near You!
Find Reviews for a Haunt near You!
Hill of Terror
3666 Priceville Road, Bonnieville, KY 42713View All Details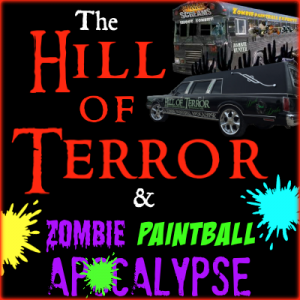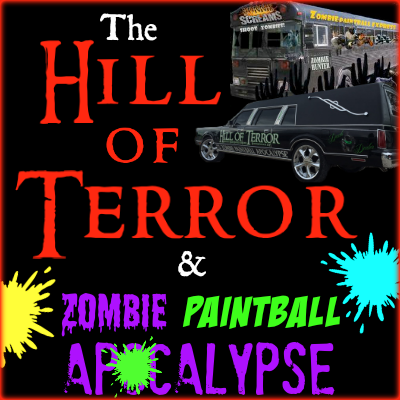 Features:
Free Parking, Restrooms On-Site, Food/Concessions, Gift Shop/Souvenirs, Optional Games/Midway, You will NOT be touched, Uncovered Outdoor Waiting Line, Indoor/Outdoor Attraction
Team Zombillies reviewed this attraction on October 8, 2011.
Final Score:

9.51
Summary:
Enough good things can't be said about one of the newest haunts in our area. One of the few haunted attractions that we've visited scoring higher than '9.5' is located in Bonnieville, KY and it's called the Hill of Terror. These guys have an outstanding crew of volunteer workers and if we hadn't been told this was the haunts 2nd year in operation, we would have thought it was their 20th! Action-packed from the moment you buy your ticket until you come back to the parking lot over an hour later, the Hill of Terror is a must-see haunted attraction for the 2011 season! 'You better bring an extra pair of underwear.'
---
Cast:

9.7
One of the best aspects of this haunt is its awesome cast of 60-70 volunteers. Every one of them are horrifically realistic, interactive, in context with the haunts theme and go through a one-week training program on what is expected from them for the coming haunt season. These in-your-face actors are very talented and obviously love what they do. From the moment you get on the wagon, you will experience zombies, hillbillies, clowns, werewolves, trailer trash and everything in between! They are also spread out nicely throughout the haunt as there were very few dead zones along this massive outdoor trail; a welcome surprise from most of the other trail haunts.
---
Costuming:

9.35
Costumes are a 50/50 mix of bought and homebuilt creations while masks (where used) are primarily purchased. Two of the haunts employees are dedicated just for getting the massive crew ready to scare on haunt nights with their excellent makeup and costuming skills. There are lots of original characters at Hill of Terror that you won't find together at most other haunts. The combination of creatures you will find here include Pinhead, wretched werewolves, crazy clowns, heinous hillbillies, terrifying trailer trash, and many, many more!
---
Customer Service:

9
The only thing keeping this score from being a 10 was the parking lot. It was dimly lit and no one was out there helping to park the large amount of vehicles that were there (which was necessary on the night we were there). Other than that, everything else was lit (that should be) and easy to navigate. Signs will guide you to the haunt all the way from the exit ramp off I-65 and a custom-painted bus lets you know you have arrived. Building, safety and fire codes are up to date and emergency action plans are in effect should the need arise. A large concession stand is on location at the top of the hill as is your chance to experience 'The Last Ride.' Some rough terrain is to be expected with an outdoor haunt, but arrows and (emergency) exit signs will help you make it through alive! If you need more assistance, the friendly and plentiful staff are willing and able to answer any questions you may have. T-shirts are also available in case you want to come home with something besides nightmares.
---
Atmosphere:

9.55
Upon arriving at the Hill of Terror's ticket booth, some Halloween themed music increases customers' anticipation for the extreme horrors that await them on the trail. The old barn reinforces the fact that you're out in the middle of nowhere and adds suspicion to whether or not this is really an attraction… or something else. Further discomfort comes when you realize that you're going to be carted off on a wagon with a bunch of other people and not knowing where you're going (unless you've seen the terrors that inhabit these timbers before).
---
Special Effects:

9.76
The special effects at this haunt are a combination of items they have purchased and ones they are proud to call their own original creations. .50 caliber machine guns, a flame thrower, a huge snake, claustrophobic tunnels, chaotic crawling, vibrating floors, and shotgun homicides are just a few of the high points at this haunt that you won't find at many other attractions. Fog, strobe lights, chainsaws, power tools and a sign stating, 'What happens in the corn field, stays in the corn field' help increase customer scares.
---
Theme:

9.15
No Mercy' is the theme for Boonieville's own Hill of Terror. These guys are relentless in their efforts to send you home needing 'an extra pair of underwear.' Constant, merciless attacks from all angles and very few dead zones solidify this haunts theme. We were told 'If we can't scare you, we'll annoy you!'
---
Fright Effect:

9.59
All of the preceding factors in this review culminate to give customers what they pay to get, and that is scared! The cast's excellent tactics and enthusiasm, realistic costumes, makeup and special effects combine to make this haunt one of the best in Kentucky! This newbie haunt has earned its spot in the same class as veteran haunts that have been in the industry for much longer than 2 years. The excellent hiding places in each scene and along the trail make it difficult to predict where the next scare will come from and they aim for everyone in the group (not just the front or back). Scares range from creepy stares and promises of doom to ambushes from every angle and chainsaw chases for those who don't feel like losing a limb. On your journey across the Hill of Terror, you will go through a barn filled with pure madness, a corn field, the woods, a trailer park, a semi-trailer, more corn field, more woods, and many more scenes… not necessarily in that order.
---
Value:

10
General admission to the Hill of Terror is $20. Unfortunately, no VIP tickets are available at this time so expect a wait on a busy night. Even with the wait, you'll get more than you bargained for at this haunt. After we made it to the trail, we spent a good 1-11/2 hours before we made it back to the safety of our car. You won't find many other haunts where you can spend $20 and spend that amount of time with seemingly endless scares and startles for nearly the entire length of the trail. Even after the wagon brings you back down the hill, it still isn't over! For those looking for an excellent 'bang' for their buck, this is a must-see haunted attraction.
---
Promo Images:
Click to Enlarge