Find Reviews for a Haunt near You! Find Reviews for a Haunt near You!
Find Reviews for a Haunt near You!
Literally A Haunted House at Culbertson Mansion
914 East Main Street, New Albany, IN 47150View All Details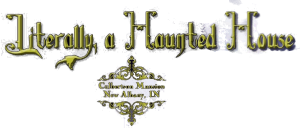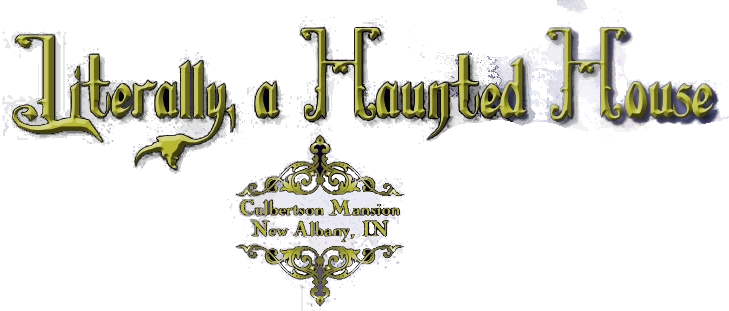 Features:
Free Parking, Restrooms On-Site, Gift Shop/Souvenirs, "Old-School" (Low Tech), You may be touched, Original Characters, Covered Outdoor Waiting Line, Indoor/Outdoor Attraction, Family Friendly
Team Zombillies reviewed this attraction on October 14, 2011.
Final Score:

8.91
Summary:
Culbertson Mansion, Literally a haunted house is in their 27th year of operation in 2011! The carnival has left town but ghostly and demonic presences still remain. This year, the whole house has been given a makeover and you can watch in horror as you witness some of the best scenes, actors and props that Culbertson has offered to date! Come see for yourself and try to make it through alive and without becoming one of the possessed!
---
Cast:

9.01
The cast consists of anywhere from 30 to 50 and sometimes even up to 60 volunteer cast members! The veteran actors train the newbies and all the cast has gone through two orientations. The majority of the cast are younger, but don't let this fool you! It's obvious they've had a lot of practice and enjoy what they are doing. It seems that volunteers have a tendency to be more passionate about what they do and Culbertson Mansion is no exception. These actors will scream, growl, climb walls or whatever else it takes to get a scare out of your group! They interact with each victim from the moment they step in line until they leave the property. Characters are all original this year, which enhances this haunt's theme.
---
Costuming:

9.18
Costumes and masks are bought or customized in-house to both fit the haunt's theme and/or the Victorian era when the Mansion was in its prime. Characters range from soldiers and the undead to doctors and demons. Makeup is also applied in-house by a talented air brush artist and some of the actors who aren't afraid to pour on the blood and spend the time to make sure every detail is as horrific as the attraction itself. Some of the masks and makeup look more realistic and detailed on some actors than others, but it works for the scenes where those actors are located.
---
Customer Service:

9.7
Culbertson Mansion is conveniently located in downtown New Albany, IN and fairly easy to find because it has its own city signs; but the building kind of blends in with its historic district surroundings so be on the lookout once you get on the right street. Plenty of free parking can be found beside and behind the Mansion and portable restrooms are conveniently located before you enter the ticket booth. Make sure you swing back through here and check out the gift shop and concessions for a bite to eat and some cool souvenirs before you hit the road. The waiting area is covered and well-lit, as are the stairs and plentiful exits in almost every room of the attraction. If you have any questions or concerns, the friendly staff (distinguished by Culbertson Mansion attire) are willing and able to help. There are plenty of actors roaming around while you wait including Spot the friendly zombie, some 'zombabies', other demented souls and the only chainsaw maniac in a white dress!
---
Atmosphere:

8.7
What better atmosphere to have than the real Culberson Mansion and the authentic carriage house behind that houses the attraction? The exterior of the buildings and outdoor cemetery let you know you're at a haunt and the tents, gift shop and concessions let you know you're at an attraction. Once you enter the property, you can hear 'gunfire' and screams coming from the burial grounds where the flesh-eating undead arise from their graves. Sound effects used throughout the haunt were well chosen and intensified each scene.
---
Special Effects:

8.8
Most of the special effects that you will see throughout the haunt are created in-house, however a few things here and there are purchased. One of the crew attended a tombstone-building class this year and cremation caskets were donated for the haunt's upgraded outdoor cemetery. A horrifying ride returns this year paired with a passageway that's 'not as it seems' and a way-too-weird Ouija board is a nice addition to one of the haunts demonic scenes. Strategic lighting, fog and strobes are used to finish off this haunt's already head-tripping attraction. A new interesting approach to the existing loft is the fluorescent painted d
---
Theme:

8.85
Ghostly and Demonic' is the Culbertson Mansion's theme this year. Every scene and actor accents these iconic words with zombies crawling from their graves, possessed people climbing the walls and lots of other original creations.
---
Fright Effect:

8.26
The culmination of Culbertson's efforts makes for a great haunt! Good hiding spots, teamwork and distractions make for excellent scare zones. Scares range from crazy, demonic stare-downs and theatrical skits to chainsaw chases and mind-bending assaults. You won't be safe burying your head behind the person in front of you at this haunt; these guys make sure everyone gets a piece of the action. Some of the scares are hard to predict as well due to their distraction techniques combined with lighting and well-hidden drop doors.
---
Value:

8.74
The price remains unchanged since last year at $13.00 per person for general admission. This is one of the lowest priced haunts in the area! Unfortunately your tour will no longer take you inside Culbertson Mansion, so this shortens the length a bit making your journey last between 10 and 15 minutes depending on how many times your group stops in sheer terror or runs for their lives! Louisvillehalloween.com and Facebook offer $2 off coupons that are available to print for up to 4 people which makes the final price $11. As with every year, the proceeds go towards restoring the historic Culbertson Mansion.
---
Promo Images:
Click to Enlarge