Find Reviews for a Haunt near You! Find Reviews for a Haunt near You!
Find Reviews for a Haunt near You!
Wells Township Haunted House
101 Market Street, Brilliant, OH 43913View All Details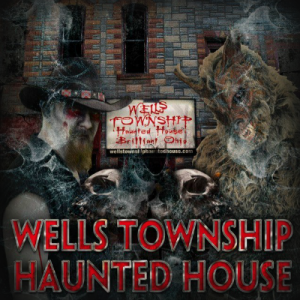 Features:
Free Parking, Restrooms On-Site, Food/Concessions, Gift Shop/Souvenirs, "Hi-Tech" Attraction, You may be touched, Original Characters, Uncovered Outdoor Waiting Line, All-Indoor Attraction
Team Mysterious Misery reviewed this attraction on October 15, 2011.
Final Score:

9.77
Summary:
Wells Township Haunted House is a must see haunted attraction for this season and many more seasons to come. This high energy , action pack haunt gives you a bang for your buck. This attraction comes at you from many levels and scares the crap out of you. This is also one of the few attractions left that the characters are not afraid to be in your face and touch you. Be afraid when someone from your group come up missing, because they will. When the actors buckle you down to a wall, be frightened. With the use of special effect, creative imaginations, a great cast, amazing hospitality, and the use of set up scenes by a tour guide, we quickly seen how Wells Township is becoming a fan favorite for haunting season. The passion that runs in the veins of every person volunteering shows quite nicely and gives the haunt an added bonus.
---
Cast:

9.6
Wells Township has the future of the haunt industry in casting. Most of the 130 volunteers are younger than 22. On any average night there will be at least 90 of those volunteers working the haunt. Having such a young cast gives the whole haunt a powerful, high pace, energy all night. May you be the 1st group or the 102nd group you will still receive the same action packed, high energy performance from each and every actor in the haunt. These kids give it everything they got and it is out of this world. Don't forget about the older actors, because they are amazing at what they do. They know their roles and portray their characters flawlessly. One thing that was unique about this attraction is that the characters they are portraying seem to match their natural personality, which made each one that much more believable. All of them are non-paid volunteers, who just want to be a part of something amazing. This is a cast that is high energy and leaves you screaming to get out. We can't pick out just one because they are all phenomenal and it can only get better with time. The cast at Wells Township Haunted House is something you must experience this season.
---
Costuming:

9.7
Wells Township Haunted House does an exceptional job in the area of costuming. This attraction is unique that it gives it patron more than just the normal characters and costuming. Most of the costuming you see here you will not find anywhere else because they were created and designed for specific areas in the haunt. Wells Township keeps the mask very minimal, which gives you the opportunity to see the amazing work of the 8 make-up artist. We got to see first-hand the amazing work that Anita does and it is truly not to be missed. The very few mask that they do execute in this haunt are not your average store bought mask. They are very realistic and unique. Costuming at this attraction is not always over the top, but more realistic so it makes it believable, which because creepy on a whole new level. Wolfie is a must see at this attraction. The details for this character are amazing. You may never look at the tooth fairy the same way ever again. When you are not sure if it belongs to the haunt or it's just a local, be scared.
---
Customer Service:

10
Wells Township Haunted House sets the bar for customer service. Mr. Sean Norman and the many others that make this haunt work so seamlessly are flawless in this area. The passion that they show for this haunted attraction shows in everything they do. Driving from Columbus it was a long drive but easy to find. With advertisement on the radio and signs, not a problem to find. When you get there you are welcomed with many options. They have concessions and an ice cream truck, you will never go hungry here. They have a gift shop where you can purchase items, we suggest an icon character t-shirt. They have a fire, music, and lots of entertainment. Lots of well-lit parking areas, They have police presence at all times. If any question shall arise they have a cast member that promptly get an answer for you. They utilize the use of headsets that makes everything run very smoothly. They also love when other haunts come and visit. Their passion for the haunt makes them want to share everything about it. We attended on a record breaking crowd night and they showed up hospitality that was truly unbelievable.
---
Atmosphere:

9.8
Wells Township Haunted House has two different atmospheres. The first hits you upon your arrival. It is like a huge party. Wells Township does not have a queue line so it makes it easy for you to mingle and enjoy the party. You stand in line to pay and then you get a number and they call the numbers out. This way you are not stuck following the boring lines but enjoying the entertainment. They have live bands, impersonators that have their own music and video, videos playing. They have many actors roaming around ready to take a picture or you can use some of the props that they have out for photo opportunities. They have fires and places to sit. You can't go hungry with all the food choices. Don't forget to make sure you get the opportunity to see an amazing fireball being set off before you enter. It is definitely a fun party atmosphere. The second atmosphere hits you when you enter the building. You have an instant thought of, oh no the party is over. The atmosphere quickly changes to dark and creepy. Each scene creates a whole new atmosphere to help the story telling. This is an attraction where the atmosphere plays an important role in each part of the attraction.
---
Special Effects:

9.8
Wells Township Haunted House is top notch on special effects. They could be minimal or they can be grand but each one is perfectly placed for the most use. Wells Township prides their self on building as many of the things that they can, which is amazing. This attraction utilizes everyday items in such a grand way, that it is mind blowing If you knew what they used for what you would be amazed and shocked as well. Wells Township Haunted House has the usual vortex tunnel and claustrophobic walls but with twist that makes them new and amazing. They also have unique special effect from an elevator, a slide, vertical flipping boards, and tomb releasing queens. There many special effects such as simple wires and lightings that enhances the overall scene. Wells Township Haunted House has special effects that are definitely a must see this season.
---
Theme:

0
---
Fright Effect:

9.7
Wells Township offers you a variety of scares on many levels. They have something for everyone. They are not afraid to be a in your face and touch haunt. They are also not afraid to be a creepy in your head haunt. Around every corner is high energy, action packed haunting. Each scene is different and the story telling is creepy but enhances the haunt. The cast thrives on your fears and your screams. So the more they get from you the more they are pumped up to keep it coming. Just when you think it's over, it's not. If you think its fake, think again. If you have a phobia, be ready to face it. After exiting this haunt you will be amazed, frightened, and start to look at things differently.
---
Value:

9.8
Wells Township is an absolute steal at $12. Amazing Deal! It blows our mind that they can offer this type of haunted attraction with the party outside for only $12.00. Wells Township is worth every penny of the $12.00. They offer VIP also. VIP can only be purchased on site for $20.00. We attended on a crowd record breaking night and seen how crucial it is to buy your tickets in advance or even to buy VIP. Mr. Norman said the attendance has been amazing this year, and hopes every Friday and Saturday will only get bigger. So if you are not one of those people who want to sit around for hours buy early or buy VIP. Free Parking, which always an added plus. Tons of things to buy and eat so bring the extra cash and have a frightful night.
---
Guest ReviewsGuest Average: 9.88 out of 10
Jenn Harris – 10/10The best haunted house I have ever been too. Everything is so realistic. From the props to the …show more characters. If you're looking for a great time & a great scare, make sure to visit WTHH!!
---
2015 Awards
Most Interactive Queue Entertainers (Given by: Team Mysterious Misery)
Most Interactive Haunt (Given by: Team Mysterious Misery)
Actor Shout Out Award - Mark Miller, A.K.A. "Mr. Tickles" (Given by: Team Mysterious Misery)
---
2013 Awards
Highest Rated Haunt (Given by: Team Mysterious Misery)
---
2012 Awards
Highest Rated Haunt (Given by: Team Mysterious Misery)
---