Find Reviews for a Haunt near You! Find Reviews for a Haunt near You!
Find Reviews for a Haunt near You!
Wicked World Scare Grounds
5817 Tates Creek Road, Nicholasville, KY 40356View All Details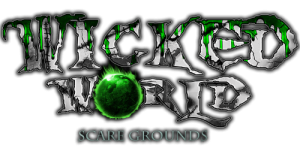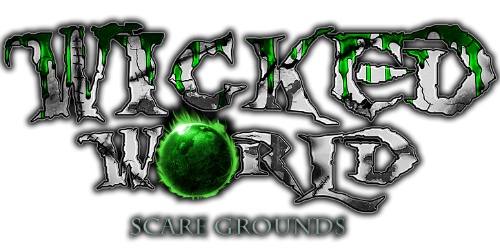 Features:
Free Parking, Restrooms On-Site, Food/Concessions, Original Characters, Indoor/Outdoor Waiting Line, Indoor/Outdoor Attraction
Team Zombillies reviewed this attraction on October 21, 2011.
Final Score:

8.92
Summary:
2011 marks the second year for Wicked World Scaregrounds at their new location and their sixth year in business. 'Rage' and his crew of menacing minions have done it again with Nightmare Haunted House and Terror on Tate's Creek! Look forward to seeing original characters that you won't find at any other haunted attraction and scares that will send chills down your spine. A grand total of $20 buys you a combo ticket and about 45 minutes of fun and frights as you and your friends negotiate these two haunts, depending on how fast you can run! Wicked World Scaregrounds covers about 15 acres of land and an estimated 7,500 sq. ft. building that rests on some of the most horrifying property in Lexington. Be sure to check in to these attractions this year, even though you may not check out; because 'Mercy isn't just a name… it's a Nightmare!'
---
Cast:

8.22
This year, Wicked World Scaregrounds has increased their cast size to around 60 paid actors and about half of these are newbies for 2011. But don't let that scare you away because the veterans at WWS have taught them well. These guys come at you from almost every angle, match their respective scenes and obviously have a history behind them that they're dying to show you! Nightmare returns with its legendary cast from Mercy Hospital including a demonic doctor, psychotic patients and a few experiments-gone-wrong. Terror on Tate's Creek returns as well completely remodeled with a new dark carnival cast that includes a 'cage clown' and several other original, sinister characters. Next year, we look forward to the cast being more interactive as we tried to exchange dialogue with several of the actors and few of them were able to make conversation with us while remaining in character.
---
Costuming:

8.63
WWS designs their own makeup, costumes and masks; all of which are in context with each haunt's respective theme. The masterminds behind the madness have done their homework when it comes to their makeup and mask-making skills. 'Rage,' one of the attraction's signature characters, is a testament to the uncanny ability of these talented artists to create monsters, beasts, demons and freaks that you will not find at any other haunted attraction! You will also find many other characters throughout the complex that just make you wonder, 'Now who would come up with something like that?!'
---
Customer Service:

9.38
A well-lit white sign and hearse will welcome you to Wicked World Scaregrounds. This was our second year visiting WWS and both times we passed up the entrance because trees next to the road were blocking the sign until the very last second. For those that haven't been here before, slow down and keep a sharp eye out for the sign once your GPS says you're getting close. Upon arriving you will find plenty of staff that will assist you through the lit parking lot and portable restrooms for your convenience. A concession stand and a gift shop are also on site so make sure you check them out before you leave. A coffin ride (appropriately named 'The Last Ride') returns this year at the same price of $3 and is located past the concessions on your way to Nightmare. Here, the abundant and friendly staff will send you on your last trip, EVER, and can answer any questions you may have before they close the door. Plenty of exits (doors and signs) are found in both haunts proving that safety is priority one to WWS. While waiting in line, rock music and roaming actors will still keep you 'entertained' and a new, short movie at the beginning of Nightmare will show you the background of the haunted Mercy Hospital you are about to enter. Lastly, watch your footing. Be careful walking through the trail as the wooden bridges can be slippery as the dew starts to settle and there is some uneven flooring (some of which is intended) throughout the attraction.
---
Atmosphere:

9.07
As soon as we arrived at Wicked World Scaregrounds, we were greeted by a hearse and an 8-foot tall, unhappy-looking madman called 'Rage.' This alone is enough to get your blood running in preparation for the haunts at hand. Other roaming actors and rock music are still present before entering, as is the 'Last Ride' coffin simulation ride. A welcome addition to WWS this year is the towering roller coaster that overlooks Terror on Tate's Creek; we'll let you use your imagination on this one. Sound effects inside the haunts are fitting to the scenes they are heard in and are of good quality.
---
Special Effects:

9.27
WWS' score increased in this category due to their amazing attention to detail inside Nightmare Haunted House. New, improved and authentic props have been added such as the decapitation chair that really intensifies some of the scenes. Others include an elevator, the working movie theater, the freezer room, and chainsaws that are as real as real can get! Blood-splattered walls, peeling wallpaper and a rock wall water fountain also add to the authenticity of the d
---
Theme:

9.11
Wicked World Scaregrounds has a separate theme for each attraction. Nightmare's returning theme is Mercy Hospital which is pretty self-explanatory, but for the dyslexic folks out there… it's a hospital! You will find doctors, nurses, patients and some 'experimental practices' inside this haunt. Terror on Tate's Creek, however, has a completely different theme for 2011. This year, you will find all things considered related to a dark carnival. From the towering roller coaster, demented clowns and carnies to dizzying rooms and some sights that just shouldn't be seen, Terror on Tate's creek is a real mind-bender.
---
Fright Effect:

8.67
WWS continues to provide a diverse collection of fears and scares for everyone in the group. Putting yourself in the middle of the line probably won't help you much at this horrific attraction. Distraction and deception are Nightmare's weapons of choice. Things may not be as they seem and some scares seem to literally 'come out of the woodwork.' Scares range from unnerving stares to loud, startling noises to an all-out chainsaw onslaught. Terror on Tate's Creek also provides multiple scares that range throughout the carnival-style spectrum. A few more dead spots were noticed compared to last year, but they seemed to make it easier for the actors to catch us off guard. One of the scares we found to be most effective came from a character we call the 'cage clown.'
---
Value:

9.03
We raised the score on value this year due to the newly-revamped Terror on Tate's Creek and the excellent detail inside Nightmare; both of which kept up the awesome scares and prices to back it up. Ticket prices for Nightmare Haunted House remain constant at $12 but Terror on Tate's Creek increased $2 from last year to match the price of the hospital. However, $20 for a combo ticket will grant you admission to both attractions, saving you $4. The Last Ride simulator remains the same as last year's $3. It took our review group an estimated 15-20 minutes to complete our tour of Mercy Hospital and an estimated 20-25 minutes to return from Terror on Tate's Creek. Looking for an affordable haunt in Lexington, KY that's definitely worth it? Then be sure to stop by Wicked World Scaregrounds, 'Welcome to the Nightmare!'
---
Promo Images:
Click to Enlarge
---
2016 Awards
Scariest Actor - Cujo (Given by: Team Zombillies)
Most Realistic Costume - Roadie (Given by: Team Zombillies)
Best Clowning Around (Given by: Team Zombillies)
Most Interactive Queue Entertainers (Given by: Team Zombillies)
Most Evident Character Backgrounds (Given by: Team Zombillies)
Actor Shout Out Award - "The Barker" A.K.A Evan Lawson (Given by: Team Zombillies)
Actor Shout Out Award - Darkwood, "Ivan Darkwood" A.K.A Shorty Smith (Given by: Team Zombillies)
Actor Shout Out Award - Mercy, "Lucious" A.K.A Randy Wayne Smith (Given by: Team Zombillies)
Actor Shout Out Award - Mercy, "Milosha" A.K.A Sara Sakowich (Given by: Team Zombillies)
Actor Shout Out Award - Mercy, "Nurse Lilly Ann Patterson" A.K.A Belinda Smith (Given by: Team Zombillies)
---
2015 Awards
Most Interactive Queue Entertainers (Given by: Team Zombillies)
Actor Shout Out Award - Ashton Lester, A.K.A. "Slashton" (Given by: Team Zombillies)
Actor Shout Out Award - Evan Lawson, A.K.A. "Irish, the Scottish Clown" (Given by: Team Zombillies)
Actor Shout Out Award - Jarmen Wadkins, A.K.A. "Carnage" (Given by: Team Zombillies)
Actor Shout Out Award - Lisa Saunders, A.K.A. "Victoria Meelwurhm" (Given by: Team Zombillies)
Actor Shout Out Award - Randy Wayne Smith, A.K.A. "Silas" (Given by: Team Zombillies)
Actor Shout Out Award - Skylar Cannon, A.K.A. "Roadie Fisher" (Given by: Team Zombillies)
---
2014 Awards
Creepiest Vocals (Given by: Team Zombillies)
Best Introduction of the Theme (Given by: Team Zombillies)
Actor Shout Out Award - Fish Boy (Given by: Team Zombillies)
Actor Shout Out Award - Schizo Clown (Given by: Team Zombillies)
Actor Shout Out Award - Spider Sprinkles (Given by: Team Zombillies)
Actor Shout Out Award - Train Engineer (Given by: Team Zombillies)
---