Find Reviews for a Haunt near You! Find Reviews for a Haunt near You!
Find Reviews for a Haunt near You!
USS Nightmare
101 Riverboat row, Newport, KY 41071View All Details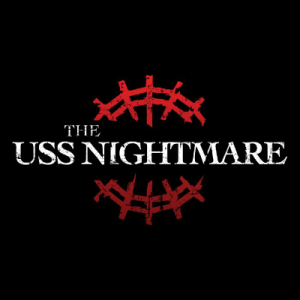 Features:
Free Parking, Restrooms On-Site, Food/Concessions, Gift Shop/Souvenirs, Optional Games/Midway, Special Events, "Hi-Tech" Attraction, Original Characters, Covered Outdoor Waiting Line, All-Indoor Attraction
Team Zombillies reviewed this attraction on October 22, 2011.
Final Score:

9.53
Summary:
U.S.S. Nightmare is in its 20th year of operation and 2011 brings new scares and opportunities for you to enjoy this premium haunted attraction! This year, the crew will be putting on an 'unrated' night on the last Saturday of the season where the crew will be unleashing their full fury upon Newport, KY near Cincinnati, OH. Witness the curse of this real haunted steamboat as it manifests itself in the form of crew workers, scientists, their experiments, huge sea-monsters and the Captain himself as you twist and turn through the horrifying bowels of this once highly-regarded vessel. Visit www.ussnightmare.com for full details and ticketing information, but be sure to add U.S.S. Nightmare to your list of haunts to visit this Halloween season… where you can 'prepare to have the ship scared out of you!'
---
Cast:

9.4
38-40 paid actors work throughout U.S.S. Nightmare this year with an additional 6 or 7 'floaters.' These crewmen are assigned to fill in designated scenes while actors are on break and follow customers as they tour the ship. 2011 marks the loss of a few sea-worn veteran actors, but fresh and energetic mates fill their shoes! An estimated 45% of the cast are new this year. Every season, U.S.S. Nightmare holds a job fair where auditions are held and actors are matched to the scenes they best fit. Also during this time, the veteran sailors teach these newbies tricks they just can't learn except for out on the water. Actors are also awarded prizes if they are deemed worthy. Characters are authentic to the personnel that you would normally see aboard a haunted steamboat. There are menacing maintenance workers, maniacal medical personnel, slobbering sailors and even the cursed captain himself who may have a trick or two up his sleeve! All of the cast almost seem to be brainwashed into believing that they really do work/live onboard the ship as their interactive dialogue and scare tactics are second-to-none in the area!
---
Costuming:

9.25
U.S.S. Nightmare employs 16 people specifically for the task of making sure everyone on board is looking as horrific as possible. Not many masks are used here. Prosthetics and other partial applications are this haunt's weapons of choice for appearance. Some actors use very little makeup at all, but instead rely on their detailed costumes, crafty dialogue and actions to make the scare. It is apparent that many hours of costuming work have been put into every character. Each actor looks like they really are who they intend to look like and matches the theme and their scene(s) flawlessly!
---
Customer Service:

9
Parking was our biggest issue with our experience at U.S.S. Nightmare without knowing the area and following a GPS. It became apparent to us that most customers actually look at the 'directions' tab on the haunt's website which gives a very clear map of where to park along with 'do not listen to your GPS' instructions (which we did not look at beforehand… laugh all you want). Lighting is adequate where needed and portable restrooms and pictures are available to all who purchase a ticket. A TV near the waiting area will show you the background of the haunted steamboat you have just boarded along with the story behind the attraction. Emergency exits are plentiful throughout the haunt as are security personnel and other staff who will help anyone in need at a moment's notice. Be aware that you will be on '21/2′ floors of the steamboat so there will be ramps to negotiate while touring the wreck. However, the haunt still tries to remain handicap accessible and will provide alternate routes if necessary. If you make it through, concessions, your group's picture(s) and laser tag are available in a separate building at the end of the haunt.
---
Atmosphere:

10
What better atmosphere for a haunted attraction called 'U.S.S. Nightmare' than a real steamboat?! This vessel was christened as the 'William S. Mitchell' and remained in service for many years as a dredger. One night, however, the boat careened downriver uncontrollably and ran into many obstacles that tore the steamer 'limb from limb' and claimed over 100 lives. Many unexplained theories and testimonies have been recorded… none of which can completely explain what happened then and still happens today. Your tour of U.S.S. Nightmare will take you through the many rooms of the ship as well as portions of the bilge (mechanical rooms) which are filled with amazingly authentic d
---
Special Effects:

9.5
Where do we start? Many of the special effects are mere by-products of having a haunted attraction onboard an old steam boat. Some of these include piping, boilers and turbines that were once used to send this ship up and down the river. The crew of U.S.S. Nightmare has a crew of 6-16 workers that are designated the haunt's 'design team' and 2 others are sculptors. Most of the props are purchased, but then customized by these teams to fit the attractions theme and specific scenes where they are used. Strategic lighting, intense strobes, fog and blinders are used to keep what's waiting for you a mystery. Never-before-seen creatures, evidence of foul-play and half-human half-fish characters are further proof of the unknown history of the attraction. A brief clown-themed section of the haunt provides a psychedelic twist, literally, and a close-call with the captain's riddle will leave you wondering if you will suffer the same fate as the crew.
---
Theme:

9.78
Water + boat + haunted house = pirates and crew! Aboard the U.S.S. Nightmare, you will find all things that are cursed and scary on the water. From the top-notch butcher who provides meals (your group) to the crew to the demonic captain that simply has no mercy to the scientists and experiments that have been cursed to a lifetime of unrest, this haunted attraction knows how to make your fears come to life! There are even times during your tour when you will be outside of the walls of this demonic dredger only to look down and be seemingly dangling over the Ohio River. The only parts that didn't exactly fit the nautical theme were a few clown scenes. Everything else is related either directly or indirectly to life on the water as a sailor.
---
Fright Effect:

9.3
If you're scared of water or life at sea, this is DEFINITELY the haunt for you! These guys know how to take Pirates of the Caribbean and throw it in your face in their own interactive demented way. Strong, dialogue and excellent hiding places are the main tactics used to get scares from customers at this attraction and they do so in ways that you'll rarely see anywhere else. Distraction is also a valuable talent that these actors aren't afraid to use. Scares also range from seemingly harmless conversation to a gargantuan sea-monster and a chainsaw chase to remind you what's in store if you're daring enough to re-enter! Our whole group found it hard to not freak ourselves out from the intense buildup of anticipation for what lurked around every corner.
---
Value:

10
It took our group an estimated 30 minutes to complete our tour of U.S.S. Nightmare. With a ticket price of $16 for general admission combined with excellent scares and 'grade A' decor, this attraction is one of the most cost-effective in the area! For a full list of ticket prices including R.I.P. express tickets, group rates, coupons, discounts and show dates for normal nights as well as the 'matinee' and 'unrated' nights, visit www.ussnightmare.com and click on 'Tickets.'
---
Promo Images:
Click to Enlarge