Find Reviews for a Haunt near You! Find Reviews for a Haunt near You!
Find Reviews for a Haunt near You!
House of Pain
868 Staunton Sugar Grove Road, Washington Court House, OH 43160View All Details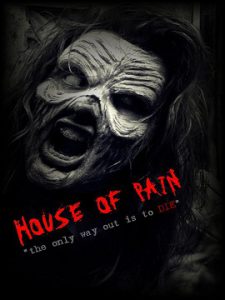 Features:
Free Parking, Restrooms On-Site, Food/Concessions, You may be touched, Original Characters, Uncovered Outdoor Waiting Line, All-Indoor Attraction
Team Mysterious Misery reviewed this attraction on September 21, 2012.
Final Score:

8.75
Summary:
Do you want to experience a high energy, in your face, intense haunt that is great for every budget? Well here you go, fried up with maggots and put on a silver plate, you will experience demonic clowns, blood boiling screams and many special effects. The intensity in this haunt continues from start to finish so you will not have time to think about much. Don't get lost and don't give the creatures much time because they will suck away your person space in an instant. Good luck trying to get out of this haunt with all your body parts attached because your pain is most definitely their pleasure in the 2012 haunt season.
---
Cast:

8.8
The House of Pain has on average 45 actors per night to offer plenty of scares. The actors are everywhere and anywhere creating no dead spaces on the 8 acre property. The House of Pain actors are high energy and intense and they don't mind invading your personal space. They want their scare so they will be everywhere you turn until their job is done .Before the season, the cast goes through a month-long in-house training session to ensure they got the character just right to enhance the experience for each person that walks through their door. Each actor embraces their character and pulls out all the stops so that you forget that they are actors, but think of them as a horrific things. Among the most memorable were the clowns who are brave enough to hand above people's heads and be acrobatic enough not to kick me in the head. Don't forget the screaming young ladies who can keep screaming enough to make your ears bleed, but monster's like blood.
---
Costuming:

8.7
House of Pain does not have your average movie monsters. They have unique characters that help create the scenes in this haunt. The characters in each scene seemed to have similarities and were created by someone totally twisted with input from the actor. We did see this haunt scale back on the mask this year and work DJ's creativity to create one of kind creatures. House of Pain increased the details in the design of each character so that they become more realistic. The makeup is applied in house by DJ and the other actors.
---
Customer Service:

8
Driving in we seen several little black signs on the right side of the road with reflective markings letting us know we were on the right path. Once we got to the drive we seen a huge arrow sign that was lit up to let you know that was the drive to take. Parking is provided in the haunts lawn area next to the road for free. Lighting is minimal in the parking area but as you get closer the more lit the place becomes. Fair food is available with unbeatable prices. Staff was friendly and very helpful. They are always around and in communication with each other so they can provide you with the best experience possible. There is a fire pit with an illumining fire and lots of seats to huddle around and think about how fast you are going to need to run. The safety codes are all updated and the haunt has been inspected. They even have emergency plan in place just in case. Watch your step as well because many of the items are handmade and if you are screaming and running you may just loose step. Music, bands, and other acts wait to keep you entertained. Remember this is an outdoor haunt so dress accordingly due to weather conditions.
---
Atmosphere:

8.5
As we reached the House of Pain we thought, 'Wow, this is a long drive for a backyard throw together.' We were wrong, shame on us for judging a book by its cover. As we approached the haunt the metal music and people screaming in terror helped us change our minds quickly. The haunting signs saying 'Your pain is our pleasure' made us think twice about our previous judgment. All things Halloween as you are close to the haunt gives you the creepy, outdoor, spine chilling feeling laced with the autumn nights add to the overall atmosphere.
---
Special Effects:

8.5
The House of Pain is full of special effects. Many of them master minded from DJ because he didn't want a haunt full of animatronics but an experience. Many of the special effects came from his warped 20 year old brain. The House of Pain has many simple and classic effects that I was excited to see because I thought there use has gotten lost in the new age of electronics. If you are lucky enough to make it through the blackout maze you have much more in store. Do not let your head get the best of you in the black out. Chainsaws are everywhere and they like to get as close as they can. If you take someone who is afraid of chainsaws they will be an added highlight of your night, as the are all around with them and your friend will be screaming and running in terror. Other elements include strobes, special lighting, loud horns, music and anything else DJ and the cast could think of, The House of Pain is worth dying for.
---
Theme:

9
The House of Pain's theme is to give you a terrifying night and an experience. They know how to pull this off. The 16th year for this haunt and they are daring those who will cry for their mommy to come out and have a good night with them. The costuming, actors, and scenes also play key roles in making this haunt one bad a**, suck your thumb haunt.
---
Fright Effect:

9
Overall, The House of Pain is an amazing haunt. This haunt starts off by letting you get comfortable with the waiting atmosphere. Then through you in complete black out where your mind plays trick and your group gets mad because you can't get them out. This haunt does a wonderful job at no dead spaces. No matter where you turn there is someone or something there not giving you the time to wrap your mind around what is going on. Each area does a great job of not using straight forward exiting but making you guess where the exit is giving the actor's time to creep into your personal space. Rapid fire in your face scares; passionate actors, intense atmosphere, and a multitude of effects bring out the best in this haunt. Great job! Everyone in the group gets a scare too, especially when you're unlucky enough (like us) for all of the actors to follow you out to the end.
---
Value:

9.5
Entrance into the House of Pain will cost your soul, oh and your body and $14 for general tickets. This is a spine splitting great deal for the intensity of this haunt. Concessions are also readily available where you can get refreshments and snacks for a great price!
---
Promo Images:
Click to Enlarge
Have you visited this attraction?