Find Reviews for a Haunt near You! Find Reviews for a Haunt near You!
Find Reviews for a Haunt near You!
The Baxter Avenue Morgue
451 Baxter Avenue, Louisville, KY 40204View All Details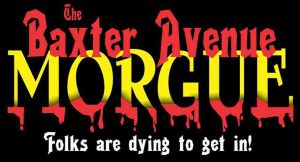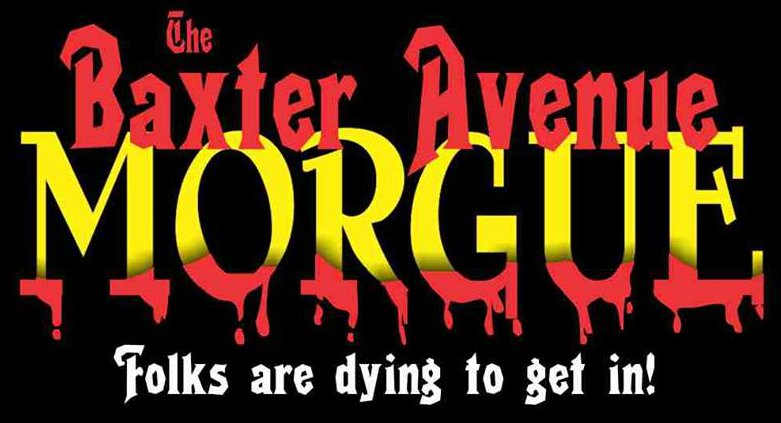 Features:
Free Parking, Restrooms On-Site, Gift Shop/Souvenirs, "Old-School" (Low Tech), You may be touched, Original Characters, Uncovered Outdoor Waiting Line, All-Indoor Attraction
Team Zombillies reviewed this attraction on September 22, 2012.
Final Score:

8.42
Summary:
2012 marks the 12th year that the Vanderdark's have been inviting innocent souls into their home which resides within the walls of the 100 year old Baxter Avenue Morgue! Inside this eerie dwelling you will meet the reanimated Mr. and Mrs. Warren Vanderdark themselves, Warren's secretary who is a new addition this year, Prophet, who only brings death and destruction, the family pet 'Pongo', and many other creatures that you have never seen before! The Morgue has proved to be really haunted, but after you enter it's depths, ghostly spirits will be the last thing you will be worried about. The awakened dead are far more sinister! Always remember during your visit at Baxter Avenue Morgue, if you are to become lost, do not try to retrace your steps!
---
Cast:

8.36
The family that resides within the Morgue consists of between 20 to 30 paid and volunteer cast members. Before opening, the cast attends a one week 'Scare Tactics' course where each of the actors are brought up to speed on safety, scaring, and training. The night we went through it seemed as though there were not enough characters to fill dead spaces, especially in the first few rooms, but their number of actors is down from last year. Although this family remains to be the most 'functionally dysfunctional' family we have met, they didn't seem quite as aggressive as they have been in the past. We think this is due to the fact that we visited them on their first weekend open, so as the season progresses so should their aggression and intensity! We also noticed less interaction this year as most of the characters would stay in a single location and strictly perform their scares rather than interacting with our group as we passed by. There was quite a bit of character to character interaction though which helped make some of the scenes come alive.
---
Costuming:

8.87
Costumes throughout the haunt are mostly made in-house by the actors wearing them. Most of these costumes are greatly detailed to match their respective scenes. However, there were two that just didn't seem to fit in like the rest. One was the clown mask worn by the chainsaw-wielding madman and the other was a white mask and gown worn by the announcer welcoming you to the crazies inside the asylum portion of the haunt. Other than these two mentioned costumes, the rest seemed very realistic and intensified the haunts morgue theme. Some of the cast members attended a seminar, where they learned how to apply movie-grade makeup with an airbrush. This shows on many of the characters in the haunt, but most noticeable on the secretary because you are kept in a dimly-lit room with her during the opening scene. Masks are used effectively, and most of them are something they have created and you won't see them anywhere else. Some of the more memorable characters we encountered were Mr. and Mrs. Vanderdark, Pongo, the Prophet, the wall climber, the screamer and the new secretary.
---
Customer Service:

8.9
As you approach the Morgue, there are orange lights in the trees out front and a big sign across the street pointing you in the right direction of the parking lot, which is down an alley next to the Morgue, well-lit, and free! Once you are ready to purchase tickets, you need to walk around to the front of the Morgue where the ticket booth and waiting area are located. Just in case, there are portable restrooms located behind the building. As you wait in line, you will be approached by some of the family members as they study you and determine whether you would make a nice addition to their family or not! Also as you stand in line, the Terpsichore Dance Team will provide you with entertainment by dancing to 'Thriller' and various other songs. 'Thriller' is a crowd favorite and has been performed outside the Morgue for years! The dance team consists of young children that will amaze you by how well they are coordinated. Though this group is volunteer, they do accept tips, so be sure to pay attention to their routines as you await your entrance. As you navigate your way through the grisly rooms of the Morgue, there are exits throughout marked with 'yellow chickens' so you can easily escape if needed. We did come across some uneven flooring in several areas of the haunt, so try not to run unless death is nipping at your heels! After you exit the building there is a concession stand that offers plenty of snacks, drinks, weaponry, makeup, stylish Morgue shirts (some are limited), and other memorabilia so make sure you stop in and check this cool stuff out before you leave!
---
Atmosphere:

8.8
The Baxter Avenue Morgue really is located within an old morgue! That being said, this is an old creepy building that is as realistic and authentic as it gets! Not only is it creepy, it is said to be truly haunted. Earlier this year on SyFy's Fact or Faked, they broadcasted live from the Morgue investigating whether it was haunted or not which turned out to be….Fact!! This intensifies the spooky vibe you get as you become eager, or nervous, to enter. Other than it's name, from the outside you can't really tell that this is an old morgue. There weren't many things out front to let us know this was a haunted house. There were some orange lights and the sign across the street, but if you have never been here before you may be puzzled at first as to which building the haunt is taking place in. There was music playing outside but it was from the dance team and some of it didn't relate to the haunt.
---
Special Effects:

8.08
The special effects you will experience at the Morgue are mostly made in-house from scratch, but a few are bought and modified to meet their expectations. You will see many original effects that realistically intensify scenes such as a full casket door that you must walk through, shaking washing machine, swinging body bags, authentic body drawers, and gurneys. This haunt seems to mostly rely on their own original effects but also uses chainsaws, air cannons, drop down panels, and coffins with surprises! Sound effects of excellent quality are also used throughout the attraction and make this already spooky attraction even more suspenseful.
---
Theme:

9
The history of The Baxter Avenue Morgue continues to grow year after year. The theme has not changed this year but has expanded to introduce you to a few new family members and their history as well. The full history of The Baxter Avenue Morgue can be found on their website. The Morgue is owned by the Vanderdark's who have a very twisted and drama-filled past! They also have a tendency to reanimate the dead, which is what you will experience inside the Morgue. Every scene in the Morgue seems to be in context with the theme except for the insane hospital, which seems out of place inside a morgue. However there was a new addition this year, the Crematory, which helped intensify the theme.
---
Fright Effect:

7.08
Scares delivered at the Morgue range from slight creepiness and startles to rooms filled with piercing screams! They also come from every angle, so be aware of what is above and below you! This haunt can also use your sense of touch against you, so to stay on your toes! They don't just nail the person in the front of the line every time either. Everyone in the line should get pin-pointed at some time or another whether it be a blow on the neck, an unexpected touch, or even a character latching onto you because they want to keep you and follow everywhere you go! This year when we went through the Morgue, we could predict most of what was going to happen. This was due to us being placed behind another group that they combined us with as we entered. This made the total number of people in our group 8, and it seemed like the group in front of us received most of the scares as we watched from behind; when it was our turn, we knew what was coming. Fewer people in each group would help improve this category. Distractions were used several times throughout the attraction, but could be used more often to help make some of the scares less predictable.
---
Value:

8.3
A trip through The Baxter Avenue Morgue will cost you $20.00 for general admission plus whatever body parts you may lose during your visit. Speedpass admission is available for $40.00 per ticket. Speedpass allows you to skip the waiting line before and after the ticket window. There is a $5.00 off general admission coupon offered on their website, but this coupon is only valid in September. Be sure to visit their website for other discounts including group discounts. If you go to select Circle K stores and purchase a Polar Pop, you will receive a coupon for a $15.00 ticket and when you redeem it at the Morgue, you will receive a $5.00 gas card for Circle K! This makes your admission only $10.00 if you redeem both of these offers! General admission prices have remained the same from last year but the Speedpass has increased $10.00. Depending on how fast you run, or how long you refuse to remove yourself from a corner, your tour will last between 15 to 25 minutes. If you are unable to get in on any of the discounts, general admission is a bit high at this attraction compared to similar haunts in this area. Make sure you stop in and meet the Vanderdarks this Halloween season and see for yourself what they have up their sleeves this year!
---
Promo Images:
Click to Enlarge
Have you visited this attraction?
---
2012 Awards
Actor Shout Out Award - Vanderdark's Secretary (Given by: Team Zombillies)
Actor Shout Out Award - Warren & Lillian Vanderdark (Given by: Team Zombillies)
---