Find Reviews for a Haunt near You! Find Reviews for a Haunt near You!
Find Reviews for a Haunt near You!
The Haunted Hotel KY
3000 South 4th Street, Louisville, KY 40208View All Details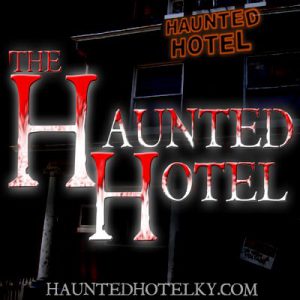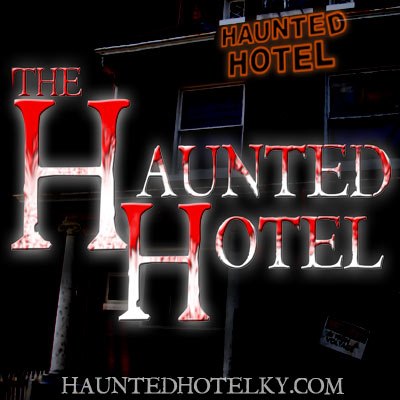 Features:
Free Parking, Restrooms On-Site, Gift Shop/Souvenirs, Special Events, "Hi-Tech" Attraction, You may be touched, Original Characters, Uncovered Outdoor Waiting Line, Indoor/Outdoor Attraction
Team Zombillies reviewed this attraction on September 22, 2012.
Final Score:

9.23
Summary:
The Haunted Hotel remains one of the most extreme haunts in the Louisville area in 2012 for their 24th year in operation. This year, they are under new ownership by Brian Stich and Kevin Stich, former owners of Wolf Creek Haunted Forest. 'Louisville's longest standing and scariest Halloween attraction' has had many improvements and changes made this year, totaling at 18 to 20 new scenes! But this haunt has a long standing reputation of keeping their customers coming back year after year, and the new owners are off to the perfect start in making sure this continues to happen. If you are looking for an intense, in-your-face attraction from beginning to end, this is one haunt you don't want to miss! But remember, the cost of your stay at the Haunted Hotel will not be made in dollars and cents; instead the toll will be your soul!
---
Cast:

9.53
There are between 25 and 30 paid, high-energy characters that have checked into the Hotel for the 2012 season. This year, the cast is a little more different than normal. Since Wolf Creek Haunted Forest is no longer open, some of the original actors from there and some from the Hotel have been brought together to create the Hotel's new crew! The cast has gone through four sessions of training, and the original Hotel actors have taught Wolf Creek actors what working in the Hotel is all about. Not only can you not tell the difference, they're back with a vengeance! These guys (and gals), know their roles and play them to the limit and beyond! They are in-your-face, very interactive with the entire group, and seem to have stronger dialogue this year.
---
Costuming:

9
Costumes used throughout the haunt are mostly made in-house from scratch. They are gory, bloodstained, and most look very realistic. There are many masks used throughout the haunt, but most are silicone and the rest have been purchased from overseas so you shouldn't come across any that you have seen before. Each costume matched their respective scenes as the theme evolves throughout the haunt which added greatly to realism. Some of the most memorable characters were the innkeeper, the elevator 'operator,' the clowns, the Nazi zombie, the demented dominatrix, and we even caught someone taking a shower!
---
Customer Service:

8.96
Once you are on 4th street, all you pretty much have to do is look for the flashing red and blue lights of the Louisville Metro PD blocking off an adjacent street. Once you arrive at the Hotel, they should direct you towards the proper parking area, which is the same as last year, only this year parking was free! The lot is rather small though and dimly lit, but we believe the convenience store next door to the haunt is available for parking as well. Once you are ready to purchase tickets, the ticket booth is located on the side of the building by the exit of the haunt. There are several portable restrooms located in the front yard of the Hotel for your convenience. T-shirts are also available at the ticket booth, one for $8.00 or two for $14.00 which is a screamin' deal! In case you have any questions or concerns, friendly staff can be found in the ticket booth and at the entrance of the haunt. In case you get hungry or need something to drink, there is a convenience store right next door! Once inside there are clearly marked exits throughout, and a few thresholds to watch out for. Make sure you are careful as you escape their demented elevator!
---
Atmosphere:

9.19
The atmosphere of the Hotel has improved this year. As soon as we got parked we could hear loud spooky music coming from the haunt. This immediately got us ready to be scared! There was still thick fog coming from the attraction and hovering around it which helps this spooky old building look even spookier. As we started walking towards the building we began to hear yelling, chainsaws, screams, and unexplainable noises escaping from within the walls of The Haunted Hotel. Also this year, there were several actors roaming around interacting with the crowd, and of course the exit's location being next to the ticket booth never ceases to provide everyone with a laugh!
---
Special Effects:

8.95
Most of the special effects are made from scratch but some have been reused and modified to the increased demands of the new owner. There are so many things going on inside The Haunted Hotel, we don't even know where to begin without giving it all away! The outside maze is still in place but a vortex tunnel and a pitch black tunnel have been added and are used to their fullest extents! Random animatronics, strobe lights, fog, chainsaws, and some of the bloodiest props around help Haunted Hotel bring your wildest nightmares to life! Realistic sound effects and loud metal music are used in most of the scenes and add a final touch to make each scene more disturbing.
---
Theme:

9.4
The theme of the Hotel is just that, a hotel! The theme was brought to life and stood out a lot more this season than in the past. Imagine that the characters from your worst nightmares have rented rooms and decided to take over the entire Hotel! Each room and character were in context with the theme; a bedroom was even included towards the beginning of the tour, but it seemed to drift more towards the 'anything could be in here' factor as we progressed.
---
Fright Effect:

9.32
The Haunted Hotel has been known to scare some of the strongest souls out there, and this year is no different. However if you are one of those that are pretty hard to scare and they don't succeed, don't worry they won't let you off as easy as other attractions! They will continue to pry at you until you give in. This is one thing that sets this haunt apart from a lot of others, they don't give up, no matter how hard you are to scare. The cast you will meet in the Hotel are very dynamic, aggressive, and in-your-face. They also know how to use distractions very well, and will most definitely use them to their advantage. Different levels of scares delivered from the Hotel include: slight creepiness when you first arrive, to startles, jumps, screams, and possibly even panic or feeling as if you need to run for your life! If you have been to the Hotel in the past and thought the actors were extreme, imagine them being able to touch you, which is an intensifying change that has been added this year.
---
Value:

9.38
General admission to The Haunted Hotel this year will cost you $18.00 and VIP admission tickets are available for $27.00, both still able to be purchased online. The Hotel is running a special this year; for November 2nd and 3rd only, you can purchase tickets for a 'lights out' event for $10.00. Be sure to check out their Facebook page and their all-new website for possible coupons and discounts. It is hard to say how long your stay may last, it mainly depends on your reactions if you become terrified. If you run out of the haunt it will take you around 10 to 15 minutes, but if you like to try and see what all is inside, it will take you more like 20 to 25 minutes. Keep in mind that this is considered an extreme attraction, so use your own judgment when wondering if your child is old enough, but we feel that you shouldn't bring anyone under the age of 13 to this attraction.
---
Promo Images:
Click to Enlarge
Guest ReviewsGuest Average: 10 out of 10
Melissa Miles – 10/10We've been coming for several years and bring our marching band kids that date to come every year!! …show more This is my favorite by far!!!
---
2016 Awards
- Elevator (Given by: Team Zombillies)
Best Chainsaw Maniacs (Given by: Team Zombillies)
Best Original Characters (Given by: Team Zombillies)
Hardest Haunt to Escape Alive (Given by: Team Zombillies)
Most Intense Characters (Given by: Team Zombillies)
Scariest Haunt in Kentucky (Given by: Team Zombillies)
Highest Rated Fright Effect (Given by: Team Zombillies)
Actor Shout Out Award - "Cricket" A.K.A Kristen Warf (Given by: Team Zombillies)
Actor Shout Out Award - "Edna" A.K.A Bobby Castellano (Given by: Team Zombillies)
Actor Shout Out Award - "Thomas Gribbons" A.K.A Matt Perry (Given by: Team Zombillies)
---
2015 Awards
Scariest Actor - "Brutus" (Given by: Team Zombillies)
Grossest Scene - "The Bathroom" (Given by: Team Zombillies)
Best Single Scare Delivered to Entire Group - "The Elevator" (Given by: Team Zombillies)
Best Chainsaw Maniacs (Given by: Team Zombillies)
Hardest Haunt to Escape Alive (Given by: Team Zombillies)
Best Use of Sound (Given by: Team Zombillies)
Most Intense Characters (Given by: Team Zombillies)
Scariest Haunt in Kentucky (Given by: Team Zombillies)
Actor Shout Out Award - Joey Morbid, A.K.A. "Joe Morbid" (Given by: Team Zombillies)
Actor Shout Out Award - Matt Perry, A.K.A. "Thomas Gribbons" (Given by: Team Zombillies)
---
2014 Awards
Best Chainsaw Maniacs (Given by: Team Zombillies)
Best Single Scare Delivered to Entire Group (Given by: Team Zombillies)
Most Intense Characters (Given by: Team Zombillies)
Memorable Moment (Given by: Team Zombillies)
Actor Shout Out Award - Daphne the Plumber (Given by: Team Zombillies)
Actor Shout Out Award - DK (Given by: Team Zombillies)
Actor Shout Out Award - Dr. Vig (Given by: Team Zombillies)
---