Find Reviews for a Haunt near You! Find Reviews for a Haunt near You!
Find Reviews for a Haunt near You!
Over the Edge Fear Factory
830 N Campbell Road, Bowling Green, KY 42101View All Details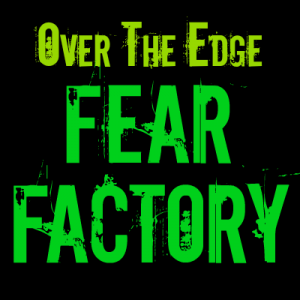 Features:
Free Parking, Restrooms On-Site, Gift Shop/Souvenirs, "Old-School" (Low Tech), You will NOT be touched, Original Characters, Indoor/Outdoor Waiting Line, All-Indoor Attraction
Team Zombillies reviewed this attraction on September 28, 2012.
Final Score:

8.43
Summary:
2012 marks Over the Edge Haunted Attraction's 3rd year of bringing out your fears, and remains dedicated in memory of Cody Matney. This 12,000 square foot warehouse still stands out from the others in a very unique way. From opening weekend, until closing weekend, more and more ideas will continue to be added to the haunt, so if you've paid them a visit already, you can go back later and experience something different! Continuing to bring the story of Tom Greene to life, Over the Edge is proving to be a great haunted attraction! Make sure to stop in if you're able to visit central Kentucky for the 2012 haunt season! Remember, do not come alone!!
---
Cast:

8.2
All of the actors knew what their story was about, who their characters were, and also how to bring them to life, which made this already-too-real theme even more authentic! The cast goes through auditions and several walk-throughs with the owners before the season starts and before they open each night to make sure they're all aware of what's expected of them. While more interaction with groups would raise the score in this category, most of them were believable. The only characters that didn't fit the 'Tom Greene' theme were the zombies, but they made for a great ending to this unique attraction! Over the Edge has around 40 volunteer actors this year, but it seemed as though they were spread a little thin due to a few small dead spots throughout the attraction.
---
Costuming:

8
Each of the costumes matched their respective scenes, although, more elaboration with some of the more iconic characters would enhance the realism even more. Costuming and makeup work are provided by the owners, who personally assist each actor before they open to make sure everyone looks the part! Costumes are typically purchased used from local stores and then modified and/or distressed until they suit each of the characters' expectations. Masks are used generously at O.T.E. and most of them resemble clowns, monsters and other fictional characters. However, a personal 'touch' from the haunt would add more originality and help send these characters… over the edge! The most memorable characters from our visit were 'Granny,' the 'crazy guy' in the padded room, the butcher, the burned girl, and the 'military guy' and zombies near the end of the attraction (even though he wasn't part of the original theme).
---
Customer Service:

8.46
It was much easier to locate Over the Edge this year with the haunt's hearse located outside their front door, which was also adorned with several flashing lights to help grab your attention. Two small signs are also present on the front of the building as well as a few dark decorations and props. Parking is very limited immediately outside the attraction, but the owners have cleared access to the parking lots at neighboring businesses so parking will rarely become an issue and the walk will never be far; but be careful when crossing if you need to park on the other side of the road as this is a main thoroughfare through the town of Greensburg. Once inside, we were welcomed by the friendly owners of the haunt who were able to help us with anything we needed and direct us to the entrance of the attraction. T-shirts are available for purchase and their 'wall of shame' returns with counts of crybabies, peebodies, and wimps from this year as well as 2011 for comparison. Safety is priority 1 for O.T.E. and they have coordinated with their Fire and Building Inspectors to create a very safe and handicap accessible attraction! Exits are plentiful throughout the attraction, but curb yourself from running wildly out the final exit as you may run out into traffic if you don't stop soon enough!
---
Atmosphere:

7.8
Over the Edge is located in an old Ford garage which adds authenticity to the theme, but a few more decoration additions to the outside of the building would help make it a bit more intimidating. The hearse is a new addition this year and raised the score in the category by nearly a full point! Some spooky sound effects before you enter the attraction would also help conceal what's going on inside the haunt and add some suspense. We were told that the owners have a sound system in their possession and they are constantly adding new things so look for this system to be in operation by the end of the season!
---
Special Effects:

8.72
Over the Edge uses a combination of made-from-scratch props as well as some that are manufactured and have been modified to fit the theme. Some of the effects used include pneumatics, regurgitating undead monsters, strobe lights, as well as some things that most will find entertaining, such as paintball guns and a slide! The most impressive and memorable effects we noticed were the zombie shoot, the burned girl, the sparking wires, and the lightning effect that some other haunts have a hard time re-creating. If the actors were to work alongside a few more of these effects, an increase in score in this category would result.
---
Theme:

8.4
The theme is a story about a serial killer named Tom Greene. He got away with killing at least 13 people in this small town of Greensburg, Kentucky and was never found… until now! All of the actors followed this theme and took us through the tragic and twisted life of this madman and brought his story to life! The exception to this statement was the zombie section near the end of the haunt, which otherwise would have led to a higher score in this category. On the other hand, the pitch-black maze and psychedelic sections build off of the crazy and demented aspects of what must have been going through this small-town serial killer's mind!
---
Fright Effect:

8.61
The fright effect for this attraction has increased this year from last year's score of 8.1! This is largely a result of some great hiding places as well as some surprise attacks from seemingly-lifeless props! This also made it more difficult to predict the scares. Everyone in our group got scares ranging from 'Grannys' words of advice to apocalyptic zombies and enraged madman attacks. A few more actors and special effect distractions would help raise the score in this category even higher!
---
Value:

9.21
General admission to experience the life of Tom Greene will cost you only $10.00 and a VIP entrance will cost you $15.00! These are excellent prices as they are some of the lowest in Kentucky! When combined with around 30 minutes of 'haunt time' and the quality of scares inside Over the Edge, there is no question about why this is the strongest category for this haunted attraction!
---