Find Reviews for a Haunt near You! Find Reviews for a Haunt near You!
Find Reviews for a Haunt near You!
Hill of Terror
3666 Priceville Road, Bonnieville, KY 42713View All Details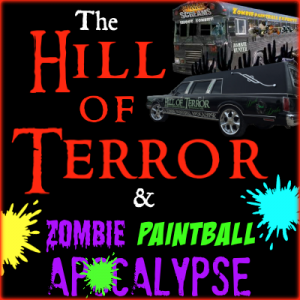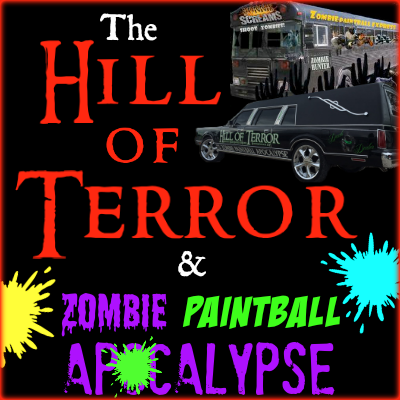 Features:
Free Parking, Restrooms On-Site, Food/Concessions, Gift Shop/Souvenirs, Optional Games/Midway, You will NOT be touched, Uncovered Outdoor Waiting Line, Indoor/Outdoor Attraction
Team Zombillies reviewed this attraction on September 28, 2012.
Final Score:

9.52
Summary:
2012 is Hill of Terror's 3rd year in operation and, as they say, the 3rd time's the charm! H.O.T. continues to scare Bonnieville, KY in ways that other haunts can only envy! Here you will find everything from deranged clowns to heinous hillbillies and everything in between, so come if you dare, but bring a comfy pair of boots and possibly a change of underwear as you will be here for a while. The Hill is located on 130+ acres through the hills and corn fields of Kentucky. Make sure Hill of Terror is on your list of must-see attractions for the 2012 haunt season, where you'll pay to get in, but pray to get out!
---
Cast:

9.6
Hill of Terror's cast returns with a vengeance this year with at least 50 volunteer actors on an average night with one thing on their minds… To scare the living daylights out of you! A small drop in score is due to there being fewer actors on the Hill this year, but don't let that fool you; they know how to pick up the slack! Several actors can be found darting to and from different places so they can provide multiple (but still effective) scares! Actors go through a one-week training session before the season starts and execute walk-throughs that vary for each scene as the year progresses. Since each scene's theme varies from the next, each actor maintains context with their respective themes more easily. Another aspect that lowers the score in this category is how they weren't quite as interactive as they were last year, particularly between the barn and the corn field. This is largely by default since there were fewer actors.
---
Costuming:

9.4
Costuming improves this year with more realistic masks and incredibly detailed characters! 2 or 3 designated artists are dedicated to making sure the Hill's actors look their best before each night of fright begins! Costumes are a compilation of pre-owned outfits and store-bought articles, but everything has been distressed or otherwise modified to suit each character's theme and surroundings. Amazing attention to detail is paid to most costumes to make realism one of this haunts strong points! Some of the characters that stood out to us the most were all the intimidating and fearsome characters in the barn, the clowns, the dogs, the moonshiners, the two-headed baby's mama, and the fire girl!
---
Customer Service:

9.25
We found the Hill to be easier to find this year with lighted signs leading us there all the way from the interstate plus more visible lights mounted on their bus located at the end of their drive. The parking lot is still a large, grassy field which is dimly lit, but it gets brighter as you get closer to the barn. Their plentiful staff members were friendly and made sure we knew about all of the things they had to offer this year! Pictures of your group with Chucky and his Bride are new this year and the fortune teller returns to let you know how your tour of the Hill will go! Hidden queue actors keep visitors entertained as they wait in line and portable restrooms are placed in several locations for your convenience. Once you reach the top, a concession stand is located at the beginning and end of the trail so you won't have to go home hungry! More queue actors are present at the top as well as a 'Last Ride' coffin simulation before you enter the barn. As with most trails, tree roots and other types of uneven ground are factor, but lighting is usually placed nearby to keep from getting too surprised. Exits are scarce, but this is also typical with trails; however, the staff and actors are prepared to deal with any emergency situation that arises.
---
Atmosphere:

9.5
These guys get you going from the moment you pull into the parking lot with their well-decorated bus on display by the road and spooky music echoing into the parking lot. The ticket booth barn is eerie in itself, but is also decked-out with string lights, cobwebs and other traditional Halloween d
---
Special Effects:

9.6
: Hill of Terror has some of the best effects we've seen used on a trail. The effects are both purchased and made in-house but are modified to their full potential. Ranging from chainsaws and flame-throwers to slides, a 'swinging' clown and even air tools, these guys come up with all sorts of original ideas in an attempt to turn you into another one of their props! What sets this trail apart from others is how the actors work with their special effects; each one stood out just as great as the other and most were used in conjunction with one another to create scares that can't be had with just one or the other. From things as simple as a train horn to as technical as pneumatic animatronics and CGI effects, a wide variety of special effects can be found on the Hill. Another strong point we noticed about the attraction is the realistic sound effects. We came across several props we have seen similarities to but they were more effective because of the loud and realistic sound effects matched with them giving us a much more realistic scare.
---
Theme:

9.3
The same theme from last year carries over into 2012. The Hill of Terror has 'no mercy' and is split up into several different sections, each with their own horrific and grotesque themes that make sure everyone gets what they paid for! From careless hillbillies and psychotic rednecks to sinister clowns and demonic bunnies, chances are, you'll find what you're looking for on the Hill!
---
Fright Effect:

9.5
The Hill's fright effect suffers ever-so-slightly this year due to fewer actors and the byproduct of this fact. Since some of the actors that had just scared us were seen running ahead of us on parts of the trail, it was easier to predict what types of scares would be coming our way, which slightly counteracted their surprises. However, the same cannot be said for the various buildings throughout the trail. Everyone in our group was singled out at one point or another and faced with scares ranging from intimidating stares to weapons pointed in their face and some of the actors were even able to hide in plain sight! The incredible use of distractions is also a strong point in this category; we often found ourselves looking where we thought a scare would come from, only to find that we were dead wrong! Hill of Terror is quickly building a great reputation of being able to provide an onslaught of scares year after year.
---
Value:

10
With ticket prices at $20 each, average tour times between 1 and 1.5 hours and the various scares and other entertainment available, Hill of Terror's value is very difficult to beat! We haven't been able to find any other attraction that yields you this much entertainment for the price they ask, which is reflected in their perfect score in this category! Unfortunately, VIP tickets are not available at this time, but as long as you buy a ticket, you WILL get your turn at Hill of Terror! There are 2 tractors and wagons taking people to and from the top of the Hill and plenty of actors are sure to keep you entertained while you wait!
---
Promo Images:
Click to Enlarge