Find Reviews for a Haunt near You! Find Reviews for a Haunt near You!
Find Reviews for a Haunt near You!
Nightmare Forest Haunt Park
850 Otter Creek Park Road, Brandenburg, KY 40108View All Details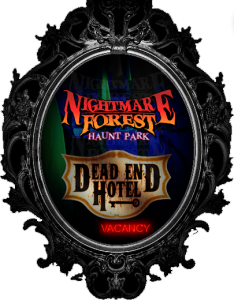 Features:
Free Parking, Restrooms On-Site, Food/Concessions, Optional Games/Midway, You will NOT be touched, Movie Characters, Uncovered Outdoor Waiting Line, Indoor/Outdoor Attraction
Team Zombillies reviewed this attraction on September 29, 2012.
Final Score:

8.59
Summary:
The legendary Nightmare Forest at Otter Creek Park has returned making this their 30th year of bringing some of your worst nightmares to life! 2012 marks the 10th year Nightmare Forest has been open under their current owners, and they have revamped the Forest to bring you more fear and twisted suffering. New for this season, the creators of Nightmare Forest have introduced a fourth attraction, Nightmare Harvest, which is a hillbilly inhabited corn maze looking to harvest more than corn! The Nightmare Forest Drive-In will put you in an environment not experienced in other haunts! Nightmare Forest is back with a vengeance this season! In this trek through the woods, you will enter the scenes and meet the characters from your favorite horror movies that have been brought to life! Trail of Terror also returns this season and displays what has become of the many victims of Nightmare Forest over the years. For one price you get to experience all four of these attractions in one location this season, so if you are looking to experience a variety of haunts, make sure Nightmare Forest is on your list of haunts to visit for the 2012 season!
---
Cast:

8.15
On an average night, there are between 40 to 45 paid and volunteer crew members spread out between the four attractions. This cast goes through 3 days of training before their opening night each year to make sure they are up to date with what is expected of them. In Nightmare Forest, we noticed that several of the characters could have had stronger dialogue, but other than that the crew remained in context with the theme. The zombies in Trail of Terror proved to be the most interactive and realistic out of all of the characters we encountered. They made us feel as if we were really going to get eaten since there seemed to be plenty of them ganging up on us at once, and they did not show any slack as we continued from scene to scene; this made them some of the best 'zombies' we have seen to date! The cannibalistic hayseeds residing within the twisted paths of corn were also interactive but we didn't run into near as many of them as we did zombies. Adding characters to Nightmare Harvest and Nightmare Forest would help to raise this score. Though the Drive-In also didn't have many characters, the two that approached us were very interactive, had strong dialogue, and may not hurt you… as long as you agree to play 'ring around the rosie' with them!
---
Costuming:

8.5
Costumes used throughout the haunts are typically purchased and later modified to match their appropriate scenes. The movie characters had applicable attire but some needed more detail to look authentic. Costuming throughout the other attractions was mainly old ragged and rustic clothing which gave the characters more of a realistic touch. Masks were used only where needed for the movie characters and clowns, but some were un-tucked making them less effective, and could use slight revisions to keep them from looking like average, store-bought masks. Makeup was abundant in Trail of Terror, Nightmare Harvest, and the Drive-In, applied in-house by designated members, and complimented the costumes and characters making these characters more realistic. The many zombies we fled from, Sally, Sammy, the cannibalistic hillbillies, and 'cracked-out' clowns stood out to us the most because of their interactivity towards our group. Some of the movie characters found inside Nightmare Forest are Freddy Krueger, Michael Myers, The Creeper, Pinhead, and Mary Shaw.
---
Customer Service:

8.46
Nightmare Forest is a very easy haunt to find. There are several big, well-lit white signs with arrows and an actor on the main highway pointing you in the right direction once you reach Otter Creek Park's entrance. There were several employees with lighted wands directing us into the correct parking area. Parking is once again free this year and offers several portable restrooms, but it's also very dark so be careful navigating this area. The ticket booth and waiting area were well-lit and easy to navigate. If you have any questions, several friendly staff members can be found at the ticket booth to assist you with your needs. As you make your way to the waiting line, things have been set up a bit different this year. There is still a big concession stand with a grill that offers food, drinks, and snacks along with a covered eating area and tables so you can sit down, relax, and enjoy your meal. A carnival-style midway was added this season with several tents offering freak show entertainment, an 'Odditorium' available for an entrance fee of $2.00, and a tent offering 4×6 group photos. Photos could be purchased at $5.00 for one or $8.00 for two. As we stood in line there were a couple of awesome looking alien monsters to look at before we entered the attractions but a few 'real' queue line actors would increase this score. Once we started navigating the twists and turns within the attractions, we noticed several tree roots along the paths, but it was easy to get through them otherwise.
---
Atmosphere:

8.7
The main road through Otter Creek Park is creepy all by itself with the way that trees have been strategically placed along the road sides. Once we were parked and heading towards the ticket booth we could hear random and spooky music, screams, loud blasts, and many other unnerving sounds getting us prepared for what we were about to find. The atmosphere has improved this season from last with the addition of the carnival-style entertainment. Characters roaming around and interacting with the queue line and louder, scarier music would help improve this score and also help dignify that you were at a haunted attraction. While in Nightmare Harvest, some popular banjo music was heard, and helped intensify the theme in this attraction. Other music could also be heard as we approached most of the scenes in the other haunts and several sound effects were used but could have been more realistic.
---
Special Effects:

8.57
Special effects are both made from scratch and purchased to be modified at Nightmare Forest. We noticed the detail in each scene throughout the haunts had improved a lot this season from last and helped make them more original, especially the graveyard in Trail of Terror. There were several effective props that we had never seen before. Here you will find a very effective vortex tunnel, a car with flames shooting out of the hood, perfectly placed laser lighting, and an astounding 'puzzle box' from Hellraiser that you must walk through that shines its evil into the timbers of the Forest! To help raise this score, distractions could be used throughout the haunts to enhance the effectiveness of some of their props and effects.
---
Theme:

9.25
Nightmare Forest offers a variety of themes. In Nightmare Harvest you are sent in to navigate your way through the tall stalks of corn, but be careful, you will realize you are not alone when you least expect it! The Nightmare Forest Drive-In takes you to a place where you would normally feel safe watching a big screen and prepares you for Nightmare Forest, where you will walk through scenes from your favorite horror movies that have been ripped out of the silver screen! If you have ever wondered what happens to victims that never make it out of a haunted attraction, Trail of Terror will show you! This trail is inhabited with flesh-eating zombies who will follow your every move! Each character and scene fit in great with their respective theme and made us feel as if we were on the set of some of our favorite horror movies, going to be cut up and ground into burger by cannibals, and lose our minds to the undead zombies! Though the movie scenes fit in great with the theme of Nightmare Forest, their relationship to the haunts location did not always match. This experience could become more realistic if these movie sets were from movies that actually take place in the woods.
---
Fright Effect:

8.5
The attractions at Nightmare Forest delivered several different kinds of scares from slight creepiness to startles, jumps, and several distractions. They didn't just go for the front or back of the line but they went for the middle of our group too! We noticed some of the characters had excellent hiding spots, and some could hide in plain sight and still deliver a scare! If the movie characters could be more intimidating and authentic, this would create an overall scarier environment from them. More actors delivering sudden startles in the corn would also help the score in this category. It was easier to predict the scares at this attraction, not always 'what' was going to scare us, but 'when' we were going to get scared. It's a haunted trail, and not many actors are hiding between scenes so each time you come up to a building, you know they are going to try to scare you. The use of more distractions and characters in between scenes would help to greatly improve this score.
---
Value:

8.57
General admission tickets to Nightmare Forest cost $20.00 for all four of their unique attractions. VIP admission tickets are also available for $25.00 which is a great way to go for only $5.00 more if they have a huge line because there is only one line for all four haunts. The length of the trails combined is about 3/4 of a mile and there is about 1 1/2 acres of corn in the field, so it takes approximately 30 minutes to try and escape the twists and turns you will encounter. In price comparison to other haunts in the area, this is a pretty good value since a lot of other attractions don't take this long to experience. Don't forget to visit Nightmare Forest's website and print off their $2-off coupons before you go!
---
Promo Images:
Click to Enlarge