Find Reviews for a Haunt near You! Find Reviews for a Haunt near You!
Find Reviews for a Haunt near You!
Asylum Haunted Scream Park
3101 Pond Station Road, Louisville, KY 40272View All Details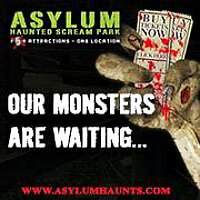 Features:
Free Parking, Restrooms/Porta Potties On-Site, Food/Concessions, Gift Shop/Souvenirs, Optional Games/Midway, Special Events, You will NOT be touched, Original Characters, Uncovered Outdoor Waiting Line, Indoor/Outdoor Attraction
Team Zombillies reviewed this attraction on September 29, 2012.
Final Score:

9.21
Summary:
Asylum Haunted Screampark is in their 2nd year of operation since upgrading from their single attraction (Darkness Falls on Asylum). Many changes have been made in these two years and they are proving to be an outstanding attraction with their increasing review scores! Zombie City: Doomsday is the 'sequel' to last year's haunt and is based off the same story line, but with a few different twists! Darkness Falls on Asylum continues to be the longest and scariest of the 4 attractions at the Screampark and focuses on traditional fears. The Carnivale of Lost Souls also returns this year with many of the same carnival-style games and freak shows as last year, but the attraction with the most improvements is also the newest… Xterminate: Zalien Attack! With the same 1st-person shooter concept that Zombie Hunting introduced last year, Xterminate takes it a step further and brings you closer to these zombie aliens than you probably care to be and arms your group for the mission you've been called to carry out! Make sure Asylum Haunted Screampark is on your list of must-see attractions for the 2012 haunt season!
---
Cast:

9.4
A.H.S. has 100 actors on their payroll this year and several volunteers also jump in to help out each night (which accounts for their increase in score from last year). These characters are all original and exclusive to the Screampark so you won't see them anywhere else! The Screampark puts all of their actors through 2 weeks worth of intense, in-house training and rehearsals to make sure each of them are ready for a great haunt season! Iconic characters from Zombie City include the doctors, incident commander, rednecks and militia personnel. Darkness Falls left us remembering their numerous clowns, the gas-masked chainsaw brute, and the gatekeepers. The 'stars' of Xterminate: Zalien Attack were obviously the zombie aliens, but we were disappointed after watching the video when we never actually met 'the queen' that was referenced. The Carnivale is where you will find many of the same freaks and other entertainers that were present last year as well as several others including a clown riding a motor bike, The Gore, demons and monsters that will keep your heart pumping near the ticket booth. All actors maintained context with their respective themes, were very interactive, and never broke character, no matter what kind of replies we threw at them!
---
Costuming:

9.12
A.H.S. has a crew of 5-7 staff members dedicated to making sure all of the actors look their best on a nightly basis! Each costume is made in-house from scratch to ensure originality and is of excellent quality and greatly detailed to guarantee realism and authenticity. A special effects team from Embodiment FX is brought in each year to take care of actors' makeup which helps give them an edge over the competition. A couple downfalls was the lack of a 'queen' in Xterminate and one of the chainsaw guys in Darkness Falls was dressed in street clothes which took away from his intimidation factor.
---
Customer Service:

9.37
The big, main sign out by the road was not lit when we visited A.H.S. this year which would have made it slightly more difficult to find, had we not already known where it was located. However, when we arrived, a good-sized, dimly-lit grass parking lot was governed by multiple people which made it easy to find a good parking spot. Portable restrooms were located in various places throughout the Screampark for customers' convenience and were well-lit for ease of use. All staff members (that weren't actors) were very friendly and able to help us with anything we needed. A concession stand is located directly across from the ticket booth, but no souvenir shop was noticed by our review team besides the Carnivale, which offers prizes for playing the various carnival-style games. Queue actors provide scares (and consequently, laughs) for those touring the Carnivale as well as those waiting in line for Zombie City and Darkness Falls. Zombie City generally provides smooth walking conditions, but Darkness falls (as with other trails) has you navigating the woods. This involves a rope bridge, stairs, ramps, and other types of uneven ground, so don't run too far without watching where you're going! A.H.S. has worked very hard to make sure their Screampark is as safe as possible while keeping you out of your 'comfort zone.'
---
Atmosphere:

9.36
As you walk out of the parking lot, a certain 'wow factor' is hard to avoid while trying to take in all of the sights and sounds of Asylum Haunted Screampark! With all sorts of menacing monsters and creepy clowns buzzing about mixed with the sounds of screams, music and some great sound effects, A.H.S.'s atmosphere certainly lets you know that it's not going to be your typical 'all fun and games' night, depending on your definition of 'fun.' Some background sound effects and music tracks are sporadically present inside the haunts and help keep the suspense going as you make your way through the attractions.
---
Special Effects:

9.15
A.H.S. utilizes both bought-and-modified props as well as those creatively designed by some of their very own staff members and actors. Likewise, amazing attention to detail in their scenes helps take the Screampark to the next level! While in Zombie City, we experienced a falling floor, clever usage of watercrafts, fog, blood, and weapons which added to the theatrical aspect of the haunt. Darkness Falls utilizes a vortex tunnel, black maze, floating Ufo, rope bridge, side-by-side slides, and a 'popper' amongst others to help deliver scares. Besides scenes decorated to look like a typical warehouse, Xterminate arms groups with paintball guns as their defense against the zaliens that they'll encounter inside the attraction.
---
Theme:

9.3
Zombie City: Doomsday is the 'sequel' to last year's haunt which builds off the same storyline but changes what you'll experience as the cast guides you through this post-apocalyptic, zombie-infested world. Darkness Falls will make you face your more traditional fears that 'come to life after dark.' Xterminate: Zalien Attack will arm you with weapons (paintball guns) that you'll use to eliminate all of the zombie aliens your heart desires, shut down the zalien stronghold and eliminate the queen! Carnivale of Lost Souls is where those who don't want to be scared can still come out and have a good time! Take your turn at typical carnival-style games for a chance to win prizes as souvenirs from A.H.S.!
---
Fright Effect:

8.86
Fright effect has increased over 1-1/2 points from last year! This is largely due to more actors and better scares throughout all of the attractions! While Zombie City is still intended to be more theatrical than scary, attention to detail has increased in their scenes, which creates a more realistic environment and storyline (which IS supposed to be scary in itself). Darkness Falls has implemented better scare zones, but while actor dialogue and interactivity have improved, some of them still seem a bit theatrical which doesn't help our Fright Effect score. Don't get us wrong, there were still plenty of scares, but A.H.S. was running groups as large as 10 through the attractions which seems to make it more difficult to focus the scares and make them more intense. We recommend running smaller groups and utilizing distractions more to increase the score even further in this category. Scares delivered throughout the park ranged from zombie attacks to eerie feelings to chainsaw assaults to plenty of jumps and startles!
---
Value:

9.15
Value has also risen over a full point from last year in spite of their price for Xterminate being higher than it was for Zombie Hunting last year. More-detailed scenes, more interactive actors and better scare zones have markedly improved the value of Asylum Haunted Screampark! Individual haunt prices are $20 for Zombie City and Darkness Falls while $15 will grant you access to Xterminate. Combo tickets for Darkness Falls or Zombie City paired with Xterminate are $30 and $35 will pair you with Zombie City and Darkness Falls. All tickets can be upgraded for the difference in prices except for the 'Ultimate Scare Package' which will grant you access to all three haunts for $45. It took our group approximately 1 hour to visit all 4 attractions (plus line time), but this will depend on how quickly you walk, or run, through the attractions and whether or not you even go through all of them. Individual prices are fairly typical for the area for the amount of time spent in each attraction, but if you divide the combo price among 3 haunts, it comes out to $15 each ($10 off). Further-discounted tickets are advertised on the website to Facebook fans or those willing to register with the site.
---
Promo Images:
Click to Enlarge
Guest ReviewsGuest Average: 10 out of 10
Brandi – 10/10This is by far my favorite haunted attraction! The interaction between actors and guest is by far …show more the best. They really make you feel like its real life!! A+++++
---
2016 Awards
Best Haunted Trail - Zombie City (Given by: Team Zombillies)
Highest Dead Body Count (Given by: Team Zombillies)
Actor Shout Out Award - "Annette Jenkins" A.K.A Nurse Ratchet (Given by: Team Zombillies)
Actor Shout Out Award - "Dr. Piper Arden" A.K.A Lluvia (Given by: Team Zombillies)
Actor Shout Out Award - "Isaak Oleander" A.K.A Jake Wheat (Given by: Team Zombillies)
Actor Shout Out Award - "Uncle Rig" A.K.A John Cowgell (Given by: Team Zombillies)
Actor Shout Out Award - "Will James" A.K.A Dr Mimnom (Given by: Team Zombillies)
---
2015 Awards
Best Usage of Fog - "The Gas Leak" in "Zombie City" (Given by: Team Zombillies)
Most Creative Finale - "The Turnstile" in "Zombie City" (Given by: Team Zombillies)
Most Realistic Scare - "The Zombie Uprising Scene" in "Zombie City" (Given by: Team Zombillies)
Highest Rated Theme - "Zombie City" (Given by: Team Zombillies)
Actor Shout Out Award - Annette Jenkins, A.K.A. "Nurse Ratchet" (Given by: Team Zombillies)
Actor Shout Out Award - George Flarsheim, A.K.A. "The Pump Jockey" (Given by: Team Zombillies)
Actor Shout Out Award - J.P. Perry, A.K.A. "Hepatitis Hogslaughter" (Given by: Team Zombillies)
Actor Shout Out Award - Paul Cecil, A.K.A. "The Evil Executive" (Given by: Team Zombillies)
Actor Shout Out Award - Riker Hill, A.K.A. "Dr. Riker" (Given by: Team Zombillies)
Actor Shout Out Award - Thomas Herchenrader, A.K.A. "The Butcher" (Given by: Team Zombillies)
Actor Shout Out Award - Will James, A.K.A. "Dr. Mimnom" (Given by: Team Zombillies)
---
2014 Awards
Most Interactive Character (Given by: Team Zombillies)
Memorable Moment (Given by: Team Zombillies)
Actor Shout Out Award - Darkness Falls: Hepatitis Hogslaughter (Given by: Team Zombillies)
Actor Shout Out Award - Darkness Falls: Voodoo Woman (Given by: Team Zombillies)
Actor Shout Out Award - Zombie City: Dr. Yuri (Given by: Team Zombillies)
Actor Shout Out Award - Zombie City: Jumping on Car Zombie (Given by: Team Zombillies)
Actor Shout Out Award - Zombie City: Lt. Commander Barnes (Given by: Team Zombillies)
---