Find Reviews for a Haunt near You! Find Reviews for a Haunt near You!
Find Reviews for a Haunt near You!
The 7th Street Haunt
2900 S 7th Street, Louisville, KY 40216View All Details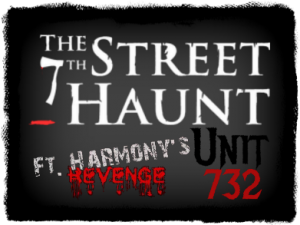 Features:
Free Parking, Restrooms On-Site, Handicap Accessible, Food/Concessions, Gift Shop/Souvenirs, Optional Games/Midway, Special Events, You will NOT be touched, Original Characters, Covered Outdoor Waiting Line, Indoor/Outdoor Waiting Line, All-Indoor Attraction
Team Zombillies reviewed this attraction on October 5, 2012.
Final Score:

7.98
Summary:
2012 welcomes 7th Street Haunt in their very first year of terrorizing Louisville, Kentucky! This brand-new, 10,000 square-foot haunt is designed to bring some of the craziest things you've ever imagined to life. The idea is based on a military base with a futuristic machine that has malfunctioned and is now releasing hallucinogenic toxins into the air! Most of the cast and crew have come to 7th Street after previously working at Psychomania: Theatre of Terror that was located in Clarksville, Indiana before their tragic fire from earlier this year. But don't be fooled, 7th Street Haunt is in no other way related to Psychomania and doesn't claim to be, so be prepared for something completely new and original! Come see for yourself what your imagination has in store for you this season at 7th Street Haunt!
---
Cast:

8
7th Street puts about 30 paid and volunteer actors to work inside Louisville's newest haunted attraction. Before the season started, each of them went through 5 days of 'boot camp' and rehearsals to help tune-in their dialogue and acting skills. While a few of the characters were very believable in fulfilling their roles and maintaining context with the haunt's theme, some of them seemed to lack the variety of dialogue needed to keep groups of people on edge. However, several of the actors were quite memorable to our group. Some of these include the soldiers, hillbillies, clown with the bat, snake charmer, woman crawling on the floor, and the 'dirty old man.'
---
Costuming:

8.2
Costuming at 7th Street is primarily purchased from local stores and then distressed and stained to suit each character's needs. A couple of staff members are in charge of making sure the cast looks their parts and match their scenes before each night begins. All of the characters were easy to identify, but several could use more detail, both with clothing as well as makeup and masks, for increased intimidation. One thing about costuming in a hallucination-themed haunt is you never know what you'll find! We saw everything from scary skeletons and a snake charmer to hillbillies and possessed people crawling on the floor!
---
Customer Service:

9
7th Street's huge semi-trailer-sized sign right by the road made this haunt very easy to find and an equally-large, well-lit gravel parking lot leaves plenty of room to park near the ticket booth. A covered queue line extends partially into the building where a photo set and a fortune teller await you in the lobby area; some friendly staff members also occupy this area and are able to help with anything you might need. A couple of queue actors were also present keeping those outside the haunt on their toes! Concessions are present and T-shirts are available for purchase at $12 each. After entering the haunt and receiving our briefing, we noticed several easy-to-find exits, but some of the exit arrows and curtains made finding our way through the haunt a little confusing. However, flooring is very smooth throughout the attraction and shouldn't cause any problems in the event of an emergency situation, which the actors are meticulously trained to handle. Finally, 7th Street's crew is working diligently to repair their very own, homemade coffin simulator that was salvaged from the Psychomania fire, so look for it to be operational either by the end of this season or perhaps in time for the 2013 season.
---
Atmosphere:

7.5
7th Street haunt relies on the eerie looks of their old warehouse when it comes to atmosphere outside the attraction. While creepy and abandoned-looking from the parking lot, the queue actors were the only things that let us know we had arrived at a dark attraction. Once inside, besides the screams of customers and yelling from the actors, the lobby area isn't quite set up yet for preparing customers for what they'll experience inside the haunt. Few sound effects were noted, partially from hearing pretty much everything going on inside the attraction as we waited, but this also made us wonder just how crazy things were about to get!
---
Special Effects:

7.48
The crew of 7th Street Haunt prides themselves with creating the majority of their props in-house which keeps everything completely original and is sure to be different that most anything you've seen before! Notable effects include fantastic lasers, a vortex tunnel, a man holding his own head, worms inside an occupied casket, and even a mineshaft! Scenes could've been more detailed, but what they had was put together well for a first-year haunt. We look for them to use their special effects a little more to their advantage rather than as decorations as they gain more experience in their new location.
---
Theme:

7.84
The theme behind 7th Street Haunt allows for a lot of traditional and universal scare techniques. The story is based on a military base that has possession of a machine whose purpose is unknown. The twist is, the machine has malfunctioned and is now releasing a hallucinogenic toxin into the air and is causing all those that inhale it to see things beyond their wildest imaginations! If 7th Street continues to use this as their theme, we look for them to perhaps incorporate the idea into more of their scenes and maybe even involve the customers so that what they're seeing becomes more obvious and has a more elaborate story behind it.
---
Fright Effect:

8.08
7th Street has some very energetic cast members awaiting your arrival! All we had to do was pull in the parking lot and we could already see a chainsaw! Once we entered the lobby, the screams coming from customers and actors beating on the walls got us a little uneasy right from the beginning! Once inside the haunt, however, we realized that these 'hallucinations' were much more real than we expected! Distractions were used occasionally and the scares delivered to our entire group ranged from intimidating orders given from soldiers to a crazed clown that made us wonder if we were getting ready to get our heads smashed! The main downfall that we noticed was that a few of the actors could have used more elaborate scare techniques. One, for instance, stood in one spot and continuously screamed at our entire group as we passed him by. A wider variety of scare techniques, backup plans and increased dialogue would help raise the score in this category.
---
Value:

7.7
Ticket prices for 7th Street Haunt are $20 per person, but you can bring in a flyer and receive $5 off! It took our review group about 15-20 minutes to tour the attraction which figures out to over $1 per minute; this makes them a little more pricey than some other haunts in the area. However, if you bring in the flyer, they're pretty competitive with other local haunts. In general, our value scores are very similar to our overall rating, so as the haunt gains experience, we expect to see their value score follow suit.
---
Promo Images:
Click to Enlarge
Have you visited this attraction?
---
2016 Awards
Most Unnerving Sound Effects - Ft. Harmony (Given by: Team Zombillies)
Most Unique Costume - The Demon of Knowledge (Given by: Team Zombillies)
Actor Shout Out Award - "Azrael" A.K.A Justin Sinkler (Given by: Team Zombillies)
Actor Shout Out Award - "Lilith" A.K.A Tasha Dunca (Given by: Team Zombillies)
Actor Shout Out Award - "Molly the Mayor" A.K.A Stacey Drake (Given by: Team Zombillies)
Actor Shout Out Award - "Night Watchman" A.K.A Michael "NoFro" Dickerson (Given by: Team Zombillies)
Actor Shout Out Award - "Quarantined Quinn" A.K.A Emily Moss (Given by: Team Zombillies)
---
2015 Awards
Most Creative Old-School Effects - "Ft. Harmony's Revenge" (Given by: Team Zombillies)
Most Unique Costume - "The Spider" (Given by: Team Zombillies)
Actor Shout Out Award - Gary Reeser, A.K.A. "The Dirty Old Man" (Given by: Team Zombillies)
Actor Shout Out Award - Justin Sinkler, A.K.A. "Azrael" (Given by: Team Zombillies)
Actor Shout Out Award - Matt Clayton, A.K.A. "Thunder Feels" (Given by: Team Zombillies)
Actor Shout Out Award - Rick Hall, A.K.A. "Nemesis" (Given by: Team Zombillies)
Actor Shout Out Award - Tabitha Gray, A.K.A. "Betty Sawz" (Given by: Team Zombillies)
---
2014 Awards
Most Creative Old-School Effects (Given by: Team Zombillies)
Memorable Moment (Given by: Team Zombillies)
Actor Shout Out Award - Grandma Helen (Given by: Team Zombillies)
Actor Shout Out Award - Ricky Mann (Given by: Team Zombillies)
Actor Shout Out Award - Torture Queen (Given by: Team Zombillies)
---