Find Reviews for a Haunt near You! Find Reviews for a Haunt near You!
Find Reviews for a Haunt near You!
The Dent Schoolhouse
5963 Harrison Ave, Cincinnati, OH 45248View All Details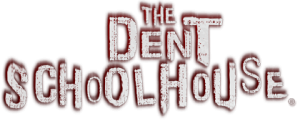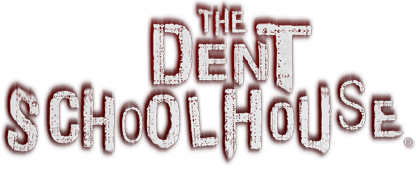 Features:
Free Parking, Restrooms On-Site, Food/Concessions, Gift Shop/Souvenirs, "Hi-Tech" Attraction, Original Characters, Uncovered Outdoor Waiting Line, Indoor/Outdoor Attraction
Team Mysterious Misery reviewed this attraction on October 6, 2012.
Final Score:

9.21
Summary:
The Dent Schoolhouse is critically acclaimed one of the top haunts in the nation and they can hold there disembodied heads high with that claim because we aren't going to argue with it. The Dent Schoolhouse came out with a bang in its 7th season and it does not disappoint. This creepy schoolhouse with a true history will sending you with your lunchbox running home to your mommy, if you make it out alive. Don't get caught in the detention hall because you could possibly spent hours trying to get out. Also don't pretend like you didn't get scared because they have the proof and you may be the next victim, with your picture on Facebook looking like a whining little baby. This is one of the best in our industry and it is not to be missed. If the Travel Channel didn't miss it neither should you.
---
Cast:

9
The Dent Schoolhouse has a cast about seventy-five plus members. On any average night you will get to witness between fifty and sixty of them if you have time to count them all while you are running into the group in front of you in terror. The cast usually starts in February with meet and greets and then on to lessons, classes and shows, plus make personal appearances. This cast is not afraid to be interactive. We had the pleasure of meeting a twisted and creepy girl in the maze. She sang and told me she could get me out but let me right back to the beginning. Each cast member works hard at becoming their character to enhance the scene that they are in. You will never see a character out of context in this haunt. Also look out for Charlie, he is creepy and is always around.
---
Costuming:

9
Costuming is one of a kind of the Dent Schoolhouse. All of the costuming elements help enhance the scenes. The majority of the costuming is school themed such as students, teachers, and the wicked old janitor, Charlie. The costuming at Dent is originally and you will never see an overused idea or costume in this haunt. The Dent built a beautiful new make-up that looks like it should be in a Hollywood studio. This studio was built to help the six to nine make-up artist get everyone created and out in the haunt in a timely manner. Having the artist limits the use of mask which is always a plus in a haunt. The very few mask that they use are specifically designed for this haunt and cost thousands of dollars, they are so realistic they will keep you guessing.
---
Customer Service:

9
The Dent Schoolhouse lies on a main road, so many people have no problem locating it. If you are from out of town with no GPS, just stop and ask because all the locals know where this top rated attraction is. The parking lot can be a little dark and if it has been raining, don't wear your good shoes, but the parking is free. There are sheriffs that help you cost the busy street, so be courteous and listen to them, they are only trying to save your life. This year Dent spent thousands of dollars adding additional safety measures such as exit lights off the ground and more for your safety. All codes have been met and every cast member has safety classes and certifications that they must obtain as well. They also have a plan for handicap accessibility. They are a cash only haunt, but have placed an ATM so that you don't have to wonder around looking for one. Bud, Chuck, and Josh do a flawless job answering questions and making sure you are having an amazing time.
---
Atmosphere:

9.5
The Dent Schoolhouse is not a thrown together building., it is an actually schoolhouse that has been there for many years. The outside of Dent is a very party like atmosphere with all the vendors, food, music, and the history video, and not to mention special appearances. So you will have a rocking good time until the gate opens and you are led into the dark creepy schoolyard. Then the atmosphere changes and you get the unsettling feeling in the pit of your stomach because you never know what is real or fake and what corner it may come from. Everyone has fun at school, right? Guess again my pretties.
---
Special Effects:

9
Dent Schoolhouse is about a third of man-made special effects . The rest are animatronics and props. They have so many that this year they had to buy an additional compressor, that was bigger so that everything could continue to work flawlessly. They are not your average store props these props and animatronics are school related and kept us guessing all night. Shaking desk, teachers having seizures, students being pulled apart and much more. We were tricked on a few and our hearts fell when we realized they were real.
---
Theme:

9.8
The Dent Schoolhouse is not your everyday haunted attraction thrown together with a cheesy theme trying to make a buck during the haunt season. The Dent Schoolhouse was an actual public school that was built in 1894, teaching grades kindergarten through 12th. In 1942 the 'problem children' began vanishing and it left the police baffled. In 1955 there was an odor from the basement that was causing kids to pass out. So upon further investigation they found the remains of the children in that basement. They never did find Charlie, the janitor. Rumor has it is that he came back and now his spirit with the 'bad children's' spirit are roaming the halls.
Dent does a fabulous job of keeping this story alive and so real that you feel like you are walking through it and can see it unfold before your eyes. You thought you was coming for a haunt but you are getting a bonus history lesson. The very small details to the big effects coordinate with the theme and story. The Dent Schoolhouse is a leader in the industry when executing a theme because they deliver with top notch service.
---
Fright Effect:

9
Let's be honest, who doesn't think school is scary in its self. Now we add on the rumor that this is a true life story and building and could be possibly haunted by real spirits. Now let us add all the other details and you get one bad ass, fright night. Every inch of the estimated seventeen thousand square feet is lined with horrific items that correspond with the schoolhouse theme. Just when you think its fake, it's not. When you think it won't move guess again. Be afraid to run, scream, and go crying to your mommy.
---
Value:

9
$20 regular admission for both The Dent Schoolhouse and the new Detention Hall. $30 will get you both The Dent Schoolhouse and the Detention Hall but will put you in the fast pass line. FREE parking as always at the Dent Schoolhouse. Save time by buying your tickets online, print them from home and avoid the ticket line altogether. The Dent Schoolhouse offers souvenirs, concessions, and much more to buy. Remember Dent is a CASH ONLY haunt. They have added an ATM by the ticket booth but don't be the douchebag in your group with no cash on the day the ATM quits working. For the money you are spending you get to see a haunt leader in the industry along with a haunt that has been shown on the travel channel. Don't miss it! Also, group rates are available, discounts, and prices can be found on the website.
---
Promo Images:
Click to Enlarge