Find Reviews for a Haunt near You! Find Reviews for a Haunt near You!
Find Reviews for a Haunt near You!
Fright Manor
2909 South Meridian Street, Indianapolis, IN 46225View All Details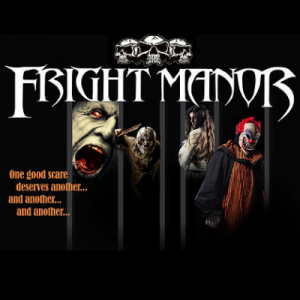 Team Zombillies reviewed this attraction on October 12, 2012.
Final Score:

8.73
Summary:
Fright Manor, 'Indianapolis' Scariest Haunted House' is proud to announce that this is their 30th year in business! In honor of their great accomplishment, they have unveiled an additional attraction for the 2012 season… Zombie Alley! This means that you get to experience three haunts for the price of one all within a single location! Zombie Alley introduces a new approach to scaring the victims at Fright Manor. One person in your group will be equipped with a 'shotgun' and tasked with the responsibility of leading everyone in their group to safety from the 'Zombie Apocalypse' by 'shooting' them quicker than they can attack! As you approach this attraction, you may want to consider your strongest leader. Waiting to show it's victims how easy it is for your body to abandon your soul is The Abandonment, where you will experience things that go bump in the night within the walls of this older-style attraction. Psychomanthium is back for another season, where the dead have risen from their graves providing those who have made it this far with many traditional scares! Fright Manor offers many unique scare styles to suite everyone's cravings for the Halloween season so if you live in the Indianapolis area, make sure you pay them a visit and try to kill as many zombies as you can before they escape into the city!
---
Cast:

8.83
There are 60 paid actors and several volunteers that operate this approximately 16,000 square foot attraction on an average night. This cast goes through personalized training sessions before the season begins, and are constantly reminded of safety rules and haunt policies as well as accountability procedures in emergency situations. On the night of our visit, the characters were very eager to perform. They were in context with the theme, and very interactive with the group by getting in between us and following us to provide additional scares in different areas. However, we came across several areas in Abandonment and Psychomanthium where no live characters were present. These areas (such as one of the butcher rooms) needed characters to help improve this score and make the scenes more realistic. Zombie Alley had plenty of brain-thirsty mutants coming after us and they played their roles perfectly which greatly enhanced the experience. Some of the memorable characters we came across were Freddy Krueger who played his role perfectly, Wolfie, the undead groundskeeper, the psychotic doctor and his equally-psychotic nurse.
---
Costuming:

8.63
Costuming is both purchased to later be modified as well as made from scratch. The Abandonment and Psychomanthium pretty much allowed for universal characters which kept the costuming in context with the theme, and the entire cast found within Zombie Alley were dressed in tattered and torn street clothing which aided in giving them an authentic zombie look. Many masks were used throughout the indoor attractions but were kept in areas where they were needed. A few of the masks looked very realistic, but the majority were average and some didn't seem to fit the characters very well. This was the case with Jason, who had a plastic cheap-looking mask. Some of the characters could also use more detail since some didn't seem to have any makeup on at all and others were only wearing masks with nothing to go with them. Makeup is applied by three in-house employees who use both airbrushing and traditional techniques. Some of the characters' makeup was very detailed such as the queue line's vampire but others weren't as elaborate. We noticed a lot of wounds and blood, but more detail would help make these characters look more realistic.
---
Customer Service:

8.98
Our GPS took us right to Fright Manor. But if you don't know what you're looking for, you may miss it since the signs by the road were not very big. However, the sign on the building is large and noticeable. Parking attendants with lighted wands lead customers to the best (and free) parking spots, which are available next to the building and at nearby businesses. Be aware that the parking lots are dimly lit if you are not very close to the building. An actual restroom is located inside the building near the entrance of the haunt for your convenience. Friendly staff can be found inside the ticket booth and at the entrance of the haunt and they are more than happy to answer any questions you may have. Queue line entertainment is provided by rock music and a couple of actors who have very strong dialogue to prepare you for what you might experience inside. A small concession stand is available at the entrance of the haunt on Friday and Saturday nights that offers drinks and snacks. Once inside the attraction, we noticed there were plenty of exit signs that were lit either red or green. A few uneven thresholds and ramps were noted, but they were in areas where they could be easily seen.
---
Atmosphere:

8
The building itself isn't all that creepy looking itself, but the d
---
Special Effects:

8.65
Special effects are mostly purchased from Transworld and later modified at Fright Manor to suit their appropriate scenes. There were a lot of mechanical surprises that provided scares to our group since they would suddenly come from nowhere making you think they are going to actually hit you! There were some original effects present such as a large concrete tunnel you must crawl through, actors bound to the walls with chains that will get you every time, an entire guy only hanging by strings in a corner, dirt and gravel used on the floor inside the building, and a very large wolf. Most of the scenes were detailed very well including the floors and ceilings making them really come to life. We were very impressed with how effective the special effects were. From a vibrating walkway to electronic guns to falling barrels, circular saws, and sparking knives, these guys will surely keep you on your toes! Some of the effects were camouflaged better than others, making some of them nearly impossible to predict! More original effects as well as better hiding spots would help to improve the score in this category.
---
Theme:

8.82
Each haunt at Fright Manor has it's own unique theme. The Abandonment is set up like an old creepy building where you will encounter strange things that go bump in the night and crawl in your bed. Psychomanthium consists of original and traditional scare techniques that will have you running for your life! Both of these themes are so universal it is harder for them not to be executed well when it comes to character and scene options. Zombie Alley has entrapped many zombies, simulating a zombie apocalypse where you are thrown in the midst of them to kill as many as you can while keeping your group safe! We did come across some movie characters, but they also fit these 'universal' themes. Freddy Krueger, for instance, dwells within the walls of Abandonment, but hey, Freddy haunts you in your dreams so he fits perfectly!
---
Fright Effect:

8.8
Each attraction at Fright Manor was successful at providing a variety of scares to our entire group. Scares ranged from unsettling passageways that kept us in suspense to chainsaw assaults, dark distractions, falling barrels, and of course, zombie attacks! A number of mechanical props were hidden in darkness or blended in with their surroundings which provided our group with even more scares! It was hard to predict the scares since they were so surprising, which was mostly due to good hiding spots, drop panels and total darkness. However, we did walk through several areas waiting for a scare and nothing happened.
---
Value:

9.16
General admission tickets for all three attractions are at a low price of $20.00! For $10.00 more you can get fast pass tickets that will allow you to skip the line on busy nights. Even at the fast pass price of $30.00, this is still only $10.00 per attraction which is a really good bargain! Your adventure can take anywhere from 30 minutes to over an hour depending on your wait time and how fast you can run! Fright Manor offers discounted tickets priced at $15.00 to Police, Military, Firefighters, EMS, and FFA members with proper ID. To make deals even better, a $2.00 off printable coupon can be found on their website! Visa and MasterCard are accepted but a credit card fee of $1.00 will be applied. Groups of 20 or more are also eligible for discounted admission, so be sure to check out their website and Facebook page for more information. 'Will you make it out of these haunts alive or will you be left behind to rot until next year?' Be sure to purchase your tickets to Fright Manor to find out for yourself!!
---
Promo Images:
Click to Enlarge
Have you visited this attraction?
---
2016 Awards
Scariest Old-School Effects (Given by: Team Zombillies)
Actor Shout Out Award - "Damien the Clown" A.K.A Aaron Mason (Given by: Team Zombillies)
Actor Shout Out Award - "Freddy Krueger" A.K.A Justin Danz (Given by: Team Zombillies)
Actor Shout Out Award - "Grinder" A.K.A Jason Baker (Given by: Team Zombillies)
Actor Shout Out Award - "Lust Lady" A.K.A Charity Brewer (Given by: Team Zombillies)
Actor Shout Out Award - "Torture Girl" A.K.A Kayelynn Woodlock (Given by: Team Zombillies)
---
2015 Awards
Most Realistic Costume - "The Stuffed Dog" (Given by: Team Zombillies)
Actor Shout Out Award - "The Gas Masked Sparky Guy" (Given by: Team Zombillies)
Actor Shout Out Award - Cris Shortt, A.K.A. "The Grave Digger" (Given by: Team Zombillies)
---
2014 Awards
Actor Shout Out Award - Chuckles the Clown (Given by: Team Zombillies)
Actor Shout Out Award - Dr. Butcher (Given by: Team Zombillies)
Actor Shout Out Award - The Grave Digger (Given by: Team Zombillies)
---