Find Reviews for a Haunt near You! Find Reviews for a Haunt near You!
Find Reviews for a Haunt near You!
Wells Township Haunted House
101 Market Street, Brilliant, OH 43913View All Details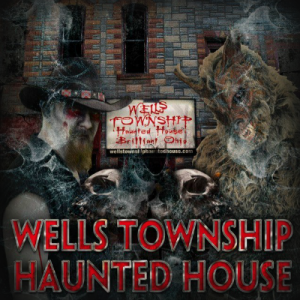 Features:
Free Parking, Restrooms On-Site, Food/Concessions, Gift Shop/Souvenirs, "Hi-Tech" Attraction, You may be touched, Original Characters, Uncovered Outdoor Waiting Line, All-Indoor Attraction
Team Mysterious Misery reviewed this attraction on October 12, 2012.
Final Score:

9.7
Summary:
In its 4th year, Wells Township did not disappoint but delivered and impressed us again. This is a must see haunted attraction for this haunt season and many more haunt seasons to come. This haunt has high energy, innovative, and hold the future of the haunt industry. This attraction comes at you in many levels and will leave you shaking your head. They do an amazing job at creating the fears that you never wanted to be face to face with. When people you came with don't leave the scene with you be scared, very scared. When walls fall on you, you have to slide down a slide, smell horrific dinner that literally makes you vomit, you get electrocuted, you will know you are not in Kansas anymore toto. With the use of special effect, creative imaginations, a great cast, amazing hospitality, and the use of set up scenes by a tour guide, we quickly have seen how Wells Township is becoming a fan favorite for haunting season. The passion that runs in the veins of every person volunteering shows quite nicely and gives the haunt an added bonus. Our favorite is the Dinkus 500 and it is a must.
---
Cast:

9.6
Wells Township is one of the largest non-paid volunteer haunts. The cast volunteers because they want to be a part of something that is talked about all season long. They have approximately 150 volunteers who put in their blood and tears for free to make this haunt one of best. Wells Township can run an effective haunted attraction with 50 volunteers but usually have 80-85 every night, giving you a performance of a lifetime. The large cast includes many actors younger than 22. Just because they are young doesn't mean they don't give you hell. One of the group's favorites is a young, Taylor Norman. She gives you an energetic, high level scene that she continues all night. The job that these young people do, shows me that the future of the haunt industry will be top notch and innovative. Don't forget about the older adults because they hold their own also. Christine Ensell is a must see actress in this haunt. She left us singing, 'the worms crawl n and the worms crawl out.' This cast becomes one with their characters which helps them enhance each scene. This is an exceptional cast that only gets better with time and they are something that adds to the haunt.
---
Costuming:

9.5
Wells Township does an amazing job in this department. Each cast member has a particular costuming and make up scheme that help enhance each scene to make it a total experience. There are 6 make-up artists, who are not afraid to experiment with new makeups and techniques. These make-up artists create new creatures uniquely for Wells Township. Most of the creatures created you will not see in other places. The masks are at a very minimum at this haunt which helps give you a believable experience. One that you must see is Pappy. When you meet him let us know if he is real or in costume. We love Pappy and he is a must see. We got to see first-hand the amazing work they do and it is another bonuses for this haunt.
---
Customer Service:

10
Wells Township is a leader in customer service. We didn't think it could get any better than it did last year and they proved us wrong. Mr. Sean Norman knows exactly what it takes to run a haunt and make customers happy. The many other workers also help Mr. Norman keep this haunt running at top notch even on record breaking notch. The passion that each and every person has for their job at the haunt bleeds threw and each person can feel the energy. Driving 2 hours and 45 minutes from Columbus, we had no trouble finding it. Plenty of advertising on radio station and signs and if you happen to get lost the entire local community knows the direction to point you in. When you arrive to the party atmosphere feel free to jump right in. They have many food concessions, the famous ice cream truck, and much more to feed your tummy. While you wait there are movies, bands, bomb fires, photo ops, entertainment and much more, that you will forget your waiting. They also have a gift shop with yummy cake pops and character icon shirts. They have police presence at all times. They utilize headsets so that your questions are quickly answered. They love when other haunts come to visit and encourage it. Their passion makes their customer service shine. Just remember to take plenty of cash.
---
Atmosphere:

9.5
Wells Township does an amazing job at creating two distinct atmospheres. When you first arrive you reach the first atmosphere which is the Wells Township Party. Wells goes by calling out numbers so you are not waiting in a queue line. This gives everyone a chance to mix and mingle. You will have time to eat, watch a band, hang out by the bonfire, take pictures, and meet new friends. The second atmosphere is the, 'Oh shit what have we signed up for' atmosphere. It happens when your number is called and you are lead into the funeral. Each room creates a new feeling and atmosphere that helps enhance each scene to give you an overall experience.
---
Special Effects:

9.9
Wells Township leads the way in innovation of new and unique special effects. They pride their selves in making most of them by hand. They also listen to ideas of every cast member in creating new special effects. From minimal to grand special effects they are all perfectly place to enhance the scene and haunt. One of the things that empresses my team every year is the away every year is to see what everyday household item is used to create a huge effect inside the haunt. The craftsmanship and innovation is one of a kind at this haunt. Wells Township Haunted House has the usual vortex tunnel and claustrophobic walls but with twist that makes them new and amazing. They also have unique special effect from an elevator, a slide, falling walls, and people gathering pirates. This year Wells Township has come up with their own thrill ride, dinkus 500. It is not at any other haunt but this one and it is an absolute must to get locked in your coffin and dropped to hell. Get out and see one of the best in special effects.
---
Theme:

0
---
Fright Effect:

9.6
Wells Township offers scares like no other. They offer scares on many levels and will get every member in your group, just like they did ours. Wells Township is a very fast paced, high energy haunt that is in your face and they will grab you. They can also get in your head and make you second guess real or not real. Each scene tells a different story that is enhanced with all the other aspects creating an experience for you. The cast feeds off your fear and screams, it keeps them pumped and going on record breaking nights. Just when you think you have a moment to breath, guess again because it has just started. The special effects heighten the fright effect. You never know when you will climb, slide, have a wall fall on you or climb into your own tomb to be released into hell. If you make it out you will have been scared or electrocuted.
---
Value:

9.8
Wells Township has one of the lowest general admissions we have seen at $12, which is an absolute steal. It is amazing that they can offer general admission for $12. You can only get the general admission on site only. Internet tickets are bought only online are $17. You MUST PRINT OUT YOUR TICKET. Bring your ticket to the Internet Ticket Reception Window located at the attraction. Purchasing an Internet Ticket provides you with a separate ticket line dedicated for VIP and Internet Ticket holders ONLY. Pre-assigned group numbers await you at these windows that are separate from General Admission. Internet Ticket groups will be assigned on a first come first served basis. VIP tickets are $25.00 and available on site only. Pre-Assigned entry times have been set aside for those wishing to upgrade to VIP status. Once you purchase a VIP, you pick a time you want to enter the haunt, based on availability. This guarantees your entry time in the attraction. General Admission and Internet tickets can be upgraded to VIP if you pay the difference. VIP and Internet tickets are great options on record setting nights or you have somewhere to be. Parking is free. Cash is always a great option to have on hand.
---
Guest ReviewsGuest Average: 9.88 out of 10
Jenn Harris – 10/10The best haunted house I have ever been too. Everything is so realistic. From the props to the …show more characters. If you're looking for a great time & a great scare, make sure to visit WTHH!!
---
2015 Awards
Most Interactive Queue Entertainers (Given by: Team Mysterious Misery)
Most Interactive Haunt (Given by: Team Mysterious Misery)
Actor Shout Out Award - Mark Miller, A.K.A. "Mr. Tickles" (Given by: Team Mysterious Misery)
---
2013 Awards
Highest Rated Haunt (Given by: Team Mysterious Misery)
---
2012 Awards
Highest Rated Haunt (Given by: Team Mysterious Misery)
---