Find Reviews for a Haunt near You! Find Reviews for a Haunt near You!
Find Reviews for a Haunt near You!
Trails of Terror
2742 E 1100 S, Markleville, IN 46056View All Details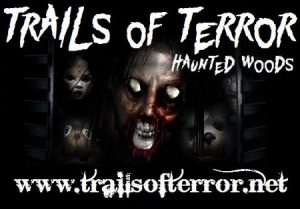 Features:
Free Parking, Restrooms On-Site, You will NOT be touched, Movie Characters, Uncovered Outdoor Waiting Line, Indoor/Outdoor Attraction
Team Zombillies reviewed this attraction on October 13, 2012.
Final Score:

8.62
Summary:
Trails of Terror has been terrorizing Markleville, Indiana for 9 years including this season. Customers have been coming back to the Trails year after year for this unique and original setup that has some customers screaming bloody murder before they even buy their tickets! This 6-acre, 1/2-mile trail provides customers with about 30 minutes of sheer terror for a very competitive price, so make sure Trails of Terror is on your list of Central Indiana haunts to visit and 'face your fears!'
---
Cast:

8.5
About 25 paid actors inhabit the 6-acre woods which was enough to fill each of their scenes, but there were several 'dead' spots between scenes where scares could have easily been provided. Some of the training the cast receives includes topics like scare tactics and use of distractions. Each actor is provided options on scene placement so that all of them are more energetic about the parts they will play in bringing this 1/2-mile trail to life! Most of the characters were very believable and intimidating, but a couple of them severely broke character to help us navigate our way through the woods. While this was appreciated, it was detrimental to the 'lost in the woods' feeling our group was building up to and could have been accomplished in a way that allowed them to stay in character. However several actors like Santa, Michael Myers, the numerous chainsaw-wielding freaks, the 'ghillie suit guy,' and the clowns left lasting impressions on our review group!
---
Costuming:

8.35
Costuming is either provided to the actors by the haunt or some of the actors make their own costumes to their own twisted likings. They are generally purchased and modified either way to suit each character's needs and allow them to match their respective scenes. Makeup is applied in-house by at least 3 staff members to add realism to some of the characters as well. Masks are used liberally throughout the attraction with moderate effectiveness, some crossing the line of believability for their given scenes. Detail, however, is what primarily made Trails of Terror's score drop for this category. Several actors had noticeably incomplete costumes and some of them wore nothing but masks aside from their street clothes and sneakers, which greatly reduced their believability.
---
Customer Service:

7.85
A large sign at the intersection before you arrive at Trails of Terror lets you know you're heading in the right direction. But a smaller un-lit sign at their narrow, gravel entrance can be difficult to see. The parking lot substitutes as the owners' front yard during the rest of the year, but is marked with caution tape and is well-lit with flaggers directing customers to the closest parking spots. Also, portable restrooms are located on the other side of the driveway for customers' convenience. After this point, however, lighting becomes less abundant as you make your way to the ticket booth, where friendly staff members can help you with anything you need! A few actors keep customers entertained as they make their way to the queue line and some of them just might hunt you down in the woods as well! After a short walk through the barn and 'signing your life away,' several very dark areas will be had throughout the trail, so watch your step! There are also two sets of uneven stairs (one of which, we were scared on) with disorienting and strobing lights and a less than perfect bridge crossing the creek, so watch your footing closely in these areas! As with most trails, exit signs are absent with the exception of one located near the concession stand pointing towards the parking lot. Speaking of concessions, Greek's Pizzeria was on-location providing customers with food and drinks to help top off the night!
---
Atmosphere:

7.8
Due to the parking lot being located in the owners' front yard and the lack of decorations on the house or any spooky music to accompany the haunt, Trails of Terror's atmosphere score has suffered. However, after purchasing tickets, customers will begin to experience the darker side of the property as they make their way through a barn where the queue line begins immediately thereafter. However, screams from both actors and customers as well as sounds from props like growling beasts and chainsaws help counteract the first impression that visitors receive.
---
Special Effects:

8.84
There are many kinds of props, decorations, lighting, and other special effects that can be found at Trails of Terror! Most of these have been purchased from some of the top special effects creators in the industry, but most have been modified and/or had pneumatic devices added to them to essentially create original animatronics. For this reason, many of these effects were very well detailed and quite effective! Some of the most memorable effects were the haunt's iconic werewolf that can be seen on their website, the clever use of sheets in the Michael Myers scene, the strategic lighting placed throughout the attraction and even a door that might give you a little more than access to a different scene.
---
Theme:

9.19
Trails of Terror's theme is essentially to give customers traditional, yet original scares. This basically means that you'll experience many commonly-attacked fears like darkness, clowns, chainsaws, werewolves, etc., but with the Trail's own twists added. This attraction gets good marks for providing several original scares that we've never seen before, but likewise, some of them take away from originality just because of what they are, such as Santa, the chainsaws, clowns, and Michael Myers. This downfall is counteracted somewhat due to the way the characters are presented.
---
Fright Effect:

9.3
All of the preceding elements combine to make Trails of Terror a haunted trail that is sure to keep customers either coming back for more or running away in sheer terror, never to return! All of the actors have great hiding spots and provide scares ranging from motionless stares to chainsaw attacks that come from seemingly all directions! Distractions are also a weapon-of-choice for Trails of Terror and they are used very well throughout the attraction. However, one element that brought this score down was how some of the actors ended their efforts after their first attempts if they were not successful… or at least, not as successful as they liked.
---
Value:

9.15
General admission to Trails of Terror will cost customers $13 each, but $11 tickets are available to print from TicketDerby.com via the haunt's website. They are also part of the 'Triangle of Fear' which is a cooperative effort between Trails of Terror, Scarevania, and Old Orchard Trail @ Eaton's Orchard offering discounted ticket prices to haunters attending all three attractions! Our review group spent about 30 minutes touring this 1/2-mile trail which comes out to over 2 minutes of entertainment for every dollar spent, making this haunt a 'killer' deal! Be sure to check out Trails of Terror for yourself to find out just how deadly they really are!
---
Have you visited this attraction?
---
2015 Awards
Actor Shout Out Award - "The Chainsaw Butcher" (Given by: Team Zombillies)
---
2012 Awards
Actor Shout Out Award - Michael Myers (Given by: Team Zombillies)
Actor Shout Out Award - Santa (Given by: Team Zombillies)
---