Find Reviews for a Haunt near You! Find Reviews for a Haunt near You!
Find Reviews for a Haunt near You!
Literally A Haunted House at Culbertson Mansion
914 East Main Street, New Albany, IN 47150View All Details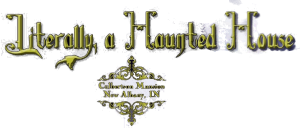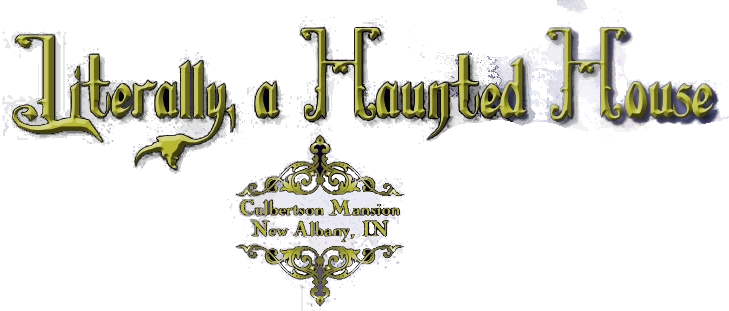 Features:
Free Parking, Restrooms On-Site, Gift Shop/Souvenirs, "Old-School" (Low Tech), You may be touched, Original Characters, Covered Outdoor Waiting Line, Indoor/Outdoor Attraction, Family Friendly
Team Zombillies reviewed this attraction on October 19, 2012.
Final Score:

8.76
Summary:
The Culbertson Mansion is now in their 28th year of terrorizing New Albany, Indiana! This year, the volunteers that bring this historic building to life are honoring some new information that they have come across. It has been found that the mansion's carriage house was owned by a couple that used to use it as a storefront to sell their hand-made dolls. Many of these are now on display for all to see, but they seem to be doing more than just giving visitors something to look at. It seems as though these 'toys' have had a spell cast upon them and they are not only demented, but ready to play with anyone who travels through these dark passageways. But don't take our word for it; make sure that Culbertson Mansion, Literally, a Haunted House is on your list of haunts to see for the 2012 Halloween season!
---
Cast:

9.08
There are usually around 50 volunteer actors in and around the Culbertson Mansion's carriage house, which is plenty to fill each scene without anyone stepping on anyone else's toes. Before the season starts, the cast go through orientation and training sessions and are coached by veteran actors and managers to make sure they fit their parts. Actors are also evaluated and given options on what scenes they are best suited for so that their personalities match their characters. Most of the characters were believable, but some of them didn't match the haunt's 'demented toy' theme. Examples are the zombies, the guy under the stairs and the skeleton mask because they didn't really resemble toys at all. However, most of the actors were interactive and knew their parts very well! Just of few of these outstanding characters include the cymbal-banging monkey, zombie nurses, baby-face chainsaw guy, pregnant-with-demon lady, and the 'Are you my Mommy?' girl because of their originality.
---
Costuming:

8.69
Costumes are typically provided to actors by Culbertson Mansion and are usually found at local thrift stores. Later, they are modified, distressed and otherwise altered to make each character come to life! 3 to 4 airbrush artists are on-staff to make sure that each of the actors looks their best before each night begins. Masks are also typically purchased and later modified to help clarify what each character is supposed to be. Aside from the characters mentioned in the 'Cast' category, the rest of the crew matched the theme pretty well. Their costumes, makeup and masks were very well detailed, but some were better than others. Culbertson Mansion gets props for costuming originality and detail, but the score drops from last year due to the theme change and some of the old characters remaining in the cast.
---
Customer Service:

8.99
If you don't already know where the Culbertson Mansion is, it can be a little difficult to find. There aren't many easily visible signs by the road and parking is located behind the property in a field across the railroad tracks. As you make your way up the sidewalk, a small set of stairs made more visible by rope lights will lead you to the ticket booth and two portable restrooms. A nice concession stand is located in the same tent as the ticket booth and friendly staff members offer customers t-shirts, souvenirs, snacks, drinks, hot food and warm beverages to help counteract the cold October nights. Customers are entertained by a life-size toy monkey that bashes cymbals at visitors that least expect it as well as 'Spot,' the haunt's pet zombie. Once you reach the queue area, a chalkboard holds a count of 'accidents' that have occurred at the attraction for the last several years and a small TV shows live footage from one of the scenes inside the haunt. Stairs, low overhead beams and other hazards can be found throughout the tour, but most of these areas are amply lit and clearly marked with fluorescent paint and bright arrows to help guide customers through the carriage house. Be careful and watch your step while descending from the attic as our review team received multiple scares in this area! However, there were plenty of exits and we were informed that all actors and staff members are trained to deal with any emergency situation that may arise.
---
Atmosphere:

8.6
The Culbertson Mansion gets points on its looks by being an authentic mansion and its naturally-intimidating exterior, but it's not the scariest-looking building from the main road having been recently restored and its plentiful lighting that cuts through the darkness. The carriage house, however, looks far more sinister and what we found inside reflects what we gathered from looking at the various props and d
---
Special Effects:

8.91
Most of the props and special effects at Culbertson Mansion are custom-made by some of the haunt's very own crew members, but some of them have also been purchased from various haunt-related vendors. Many of the scenes are detailed well, but some rooms weren't as elaborate as others. However, many of these original effects stood out to our review team: the demon emerging from the girl's stomach, the barbed wire scene, the skeleton mother in the rocking chair, the casket ride, the rotating box, the entire floor being painted like an Ouija board, and the techniques used for other scene details like the blood-spattered walls.
---
Theme:

8.58
The haunt's theme this year is 'deranged and demented toys' in honor of some new information that was recently discovered about the carriage house, which is where the tour primarily takes place. Apparently, the building was previously owned by a couple that used it as a storefront to sell their hand-made dolls. Several of the characters and scenes helped make this theme more apparent, but there were others that didn't seem to fit as well, such as the zombies and nurses.
---
Fright Effect:

8.24
The culmination of Culbertson Mansion's year-round efforts provide customers with scares they won't soon forget! Scares range from creepy stares and chants during the s
---
Value:

8.97
General admission to Culbertson Mansion is $13 and VIP speed-pass tickets are currently unavailable. It took our review group an estimated 20-25 minutes to complete our tour of the carriage house which comes out to almost 2 minutes per dollar spent. That being said, Culbertson Mansion is one of the better priced haunts in Kentuckiana and when combined with what you will experience inside, it makes them very competitive with other haunts in the area, so make sure that you visit Literally, A Haunted House this Halloween season!
---
Promo Images:
Click to Enlarge