Find Reviews for a Haunt near You! Find Reviews for a Haunt near You!
Find Reviews for a Haunt near You!
Haunted Hotel 13th Floor
511 N Jefferson Street, Huntington, IN 46750View All Details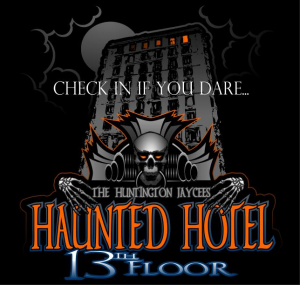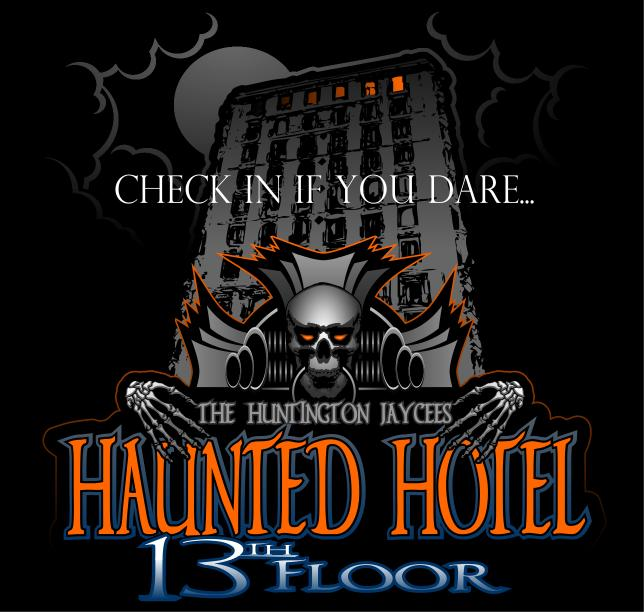 Features:
Free Parking, Restrooms On-Site, Food/Concessions, Gift Shop/Souvenirs, Special Events, You will NOT be touched, Original Characters, Covered Outdoor Waiting Line, All-Indoor Attraction
Team Zombillies reviewed this attraction on October 20, 2012.
Final Score:

8.84
Summary:
Huntington Jaycee's Haunted Hotel: 13th Floor started as a Jaycee's organization that would terrorize many locations and became a permanent haunted house in its current venue in 2006. This 8500 square-foot attraction has been running for over 35 years and has taken a concept used by many haunts in the tri-state and decided to slather it across the entire length of the tour: 3D scenes! Not only that, but many scents were noticed as well which is why it is commonly advertised as being a '4D' attraction. Make your way to the lobby area where the Hotel's clerk will check you in and show you to the elevator that will lead you to the legendary '13th floor,' where some of your darkest and demented fears will be waiting for you! If original scenes, special effects and characters are things you look for in a good haunt, then 'brave souls' such as yourself are welcome at Huntington Jaycee's Haunted Hotel: 13th floor!
---
Cast:

8.96
30-35 paid actors fill in the Hotel nicely. Training sessions include topics such as emergency management and fire extinguisher use, but regular 'field trips' are common as the cast and crew work closely with other haunts in the area and attend conventions to help keep them informed about the latest techniques and scare tactics to use. About half of the characters were in context with the 'hotel' theme and the other half correlate to the story of a travelling circus that is further explained in the Theme category of this review. However, the large majority of actors were very believable, but a couple of them severely broke character and almost seemed to blow us off when other groups started catching up to us in an effort to keep people flowing through the haunt. Other than that, these characters were very interactive with our group and we could tell that they were 'feeding' off of our responses to their intuitive dialogue. Some of the most interactive include the clerk, librarian, trainer, clown, elevator operator, and some of the other hotel workers found in other scenes.
---
Costuming:

8.52
Costumes at the Hotel are primarily purchased from thrift and antique stores in order to ensure that they are period correct so that they are in context with their theme. Articles of clothing matched their respective scenes and were highlighted with fluorescent colors to further enhance the 3D theme that is quite apparent throughout the attraction. Makeup and masks are just as original in that most of them were also sporting fluorescent colors which further enhanced their scenes and costumes. However, because they relied so heavily on the 3D effect of the vibrant colors that were used, some of the detail suffered. Most of the characters without masks had only black or gray face paint besides the fluorescent colors. Masks are made in-house by the haunts crew and appeared to be well-detailed, but once again, the vibrant colors made it difficult to appreciate them.
---
Customer Service:

9.02
For our first visit to the Huntington Hotel, poor signage made it more difficult to realize when we had arrived at the haunt. Furthermore, parking is limited to what is available on the street due to the attraction's downtown location. However, a portable restroom is available in the alley behind the haunt and a nice concession stand serves up hot food, snacks and drinks for customers looking for scares on an empty stomach. Friendly staff members as well as the ticket booth can be found outside the entrance via a small, mobile office trailer and should be purchased before getting in line. T-shirts and water bottles that are available for purchase are also on display here. After being wanded by the police officer before we entered the building, we found a lit staircase that also doubles as the end of the queue line and a clown that entertains visitors before they enter the haunt. But beware if you're afraid of clowns because the stairs are fairly steep. Once at the top, customers are told the rules of the haunt and receive a pair of 3D glasses (although somehow our group was accidentally excluded from this) before they enter. The inside of the attraction is lit very well and emergency exits are plentiful and easy to see.
---
Atmosphere:

8.96
The Haunted Hotel: 13th Floor is located in an authentic building in downtown Huntington and loud, spooky music echoes through the streets as if the building is calling out to all the haunters in town! While this sounds like an incredibly intimidating atmosphere, the massive line that was present as well as being thoroughly-lit from the lights of town and the lack of scary decorations compared to the size of the building was a contributing factor to the score in this category. However, once we began our tour, the incredible attention to detail in some of the scenes quickly put our review group back in the mood and set the tone for the rest of our visit!
---
Special Effects:

8.97
Along with using 3D effects throughout the entire haunt, originality is one of Huntington Hotel's strong points. Several one-of-a-kind props and animatronics are used throughout the attraction including a 'J'-shaped claustrophobic tunnel, custom pneumatic props that propel themselves from drop-panels and an entire room that shifts as you pass through! Furthermore, distractions are also used several times with the effects, but not all of them were successful in providing scares. While they weren't the most horrific sets and props that we've ever seen, most of them were very well-placed and the attention to detail in several of the scenes is sure to provide customers with at least a thoroughly entertaining environment!
---
Theme:

8.64
The Huntington Jaycee's Haunted Hotel: 13th Floor utilizes a story that coincides with the history of the building. The full story is explained on the haunt's website, but it's based off the Warwick Hotel which obviously suits the location quite well. But there's a twist! As the story goes, a traveling circus freakshow passed through town some years ago and it's been thought that all of the patrons, including those from the freakshow, had perished in the fire set by Damien Warwick (the owner of the Hotel). But the Hotel's crew members believe otherwise! Sightings of strange people and creatures have been reported inside the building, leading officials to believe that perhaps some members of the freakshow as well as the Warwick family have decided to stick around for a while!
---
Fright Effect:

8.5
All of the effects, techniques and actors inside Huntington Hotel combine to create a 'horse of a different color.' The 3D effects used throughout the attraction create a kind of delirium that few other haunts recreate! However, the level of scares delivered to our review group and the overall scariness of the scenes and props give the Hotel a modest score in this category. About half of the actors utilized hiding places and the element of surprise to provide scares while the other half relied on their scenes and the props and d
---
Value:

9.13
General admission tickets go for $12 and VIP speed pass tickets sell for $20. Several different styles of t-shirts are available for $15 each and re-fillable water bottles with the haunt's logo can be purchased for $5. Those who purchase VIP tickets, however, will receive the water bottle as a gift! Our review group spent about 20-25 minutes inside the Hotel which comes out to about 2 minutes per dollar spent for general admission tickets. This makes the Huntington Hotel very competitive with other haunts that we review! If you're in the Huntington/Fort Wayne area, we can definitely recommend that you check them out because of their original ideas and designs, interactive characters and very comparable rates for what you'll get inside!
---
Promo Images:
Click to Enlarge
Have you visited this attraction?
---
2014 Awards
Actor Shout Out Award - Caged Creature (Given by: Team Zombillies)
Actor Shout Out Award - Eldon Bellhop (Given by: Team Zombillies)
---
2012 Awards
Actor Shout Out Award - Disorienting clown (Given by: Team Zombillies)
Actor Shout Out Award - The Clerk (Given by: Team Zombillies)
Actor Shout Out Award - The Trainer (Given by: Team Zombillies)
---