Find Reviews for a Haunt near You! Find Reviews for a Haunt near You!
Find Reviews for a Haunt near You!
Frightmares IN
688 NW A Street, Linton, IN 47441View All Details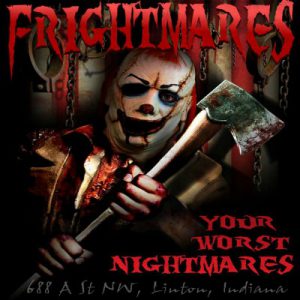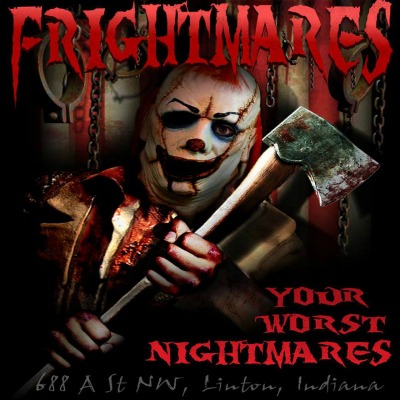 Features:
Free Parking, Restrooms On-Site, Food/Concessions, "Old-School" (Low Tech), You will NOT be touched, Original Characters, Indoor/Outdoor Waiting Line, Indoor/Outdoor Attraction, Family Friendly
Team Zombillies reviewed this attraction on October 26, 2012.
Final Score:

7.86
Summary:
2012 is Frightmares' 2nd year of terrorizing Linton, Indiana! This group of haunters gained experience by working at another nearby attraction known as the House of Dead before deciding to open one of their own! This year, 'In The Movies' is the haunt's theme and several of the characters inside loosely resemble some of your favorite movie characters like Michael Myers and Pinhead! Got a few extra bucks? Want to check out a small-town haunt with their own spin on movie characters? Then check out Frightmares and help them support their local Humane Society!
---
Cast:

8.24
About 50 volunteer actors are jam-packed into this rather small building totaling up to a little over 4,000 square feet including their outside section. Before the season started, the actors went through safety meetings to make sure they could handle emergency situations and came in for a few dry-runs to make sure they were ready for the 2012 season. About 4 actors keep the queue line entertained and the rest torment and misguide customers as they attempt to make their way through the attraction. Most of the characters are believable, but their intensity, dialogue and interactivity can use some work. For example, one character that was noticed multiple times throughout our tour was very interactive, had great dialogue and had us spinning in circles in one scene in particular due to his 'help' in getting us out. However, when we replied to a question from another actor, they immediately replied with what was clearly a scripted comeback and sent us on our way. Characters that stood out to our group were the card-playing skeleton, multiple clowns, witch, pinhead, and old man outside the haunt.
---
Costuming:

7.49
Most of the costuming at Frightmares has been purchased and compiled to create some more-original characters. All of the masks have been purchased from haunt-related vendors but makeup is provided by a cosmetologist that now applies prosthetics and other things to make the actors look as horrific as possible before each night begins! The queue actors outside were dressed in minimally-altered clothing that looked like they came right off the shelf while those inside the haunt appeared to be slightly more detailed. However, more attention to detail and some original alterations to the outfits could take these characters to the next level!
---
Customer Service:

7.84
We came from the East on our journey to Frightmares. Our GPS malfunctioned before we arrived, but a single, lit sign by the highway let us know we had made it! Parking is very limited at this haunt, but this year they have been given permission to allow customers to park at a neighboring business. The ticket booth is located near the highway, as is the queue line. One concern of ours was that the queue actors were scaring customers outside the haunt, which is a good thing, but some of them were so terrified that they were running out very close to the highway. Perhaps the queue line should be routed closer to the building to keep this from being a potentially dangerous situation. Also, no concession stand was found which further lowers the score in this category. However, once inside the haunt, several lit exit signs were noted and flooring is mainly even throughout most of the tour with the exception of a couple small sets of stairs leading into and out of the building. These areas are lit well and allow for sure footing.
---
Atmosphere:

6.94
A small sign located high on the front of the building advertises a used car lot that is possibly what the building serves as in the off-season or is what the building used to be used for. Regardless, it was not related to the haunt's theme and the lack of Halloween- or haunt-related decorations left us wondering what we were going to experience inside the attraction. A hearse was also spotted behind the ticket booth after we made our way to the front of the building which made us wonder why it wasn't parked where it could be more-easily seen from the highway. The queue line actors and Frightmares' sign let us know we had arrived at the right place, but very few other tell-tale signs of a haunt were noted.
---
Special Effects:

8.3
The special effects are a 50/50 mix of bought and made-in-house props that Frightmares calls their own! Some scenes are more detailed than others and the same goes for props and their effectiveness as well. A lengthy claustrophobic tunnel, the thickest fog we've ever seen in a room, strobe lights and lasers are some of the most effective in this attraction! This category has the highest score in this review besides value because of the ability of the actors to utilize the scenes and props to their advantage. Several good hiding spots were noted throughout our tour and, because of this, they were able to use distraction well. We even caught ourselves in one scene wondering if one of the corpse props was real or not!
---
Theme:

7.34
Frightmares' theme this year is 'In The Movies.' We were told that due to certain laws, the haunt was only able to 'loosely' match its characters' looks to the appearances of the 'real guys' in the movies. A drop in score results because it was difficult for our review team to pick out which characters and movies we were supposed to be experiencing. Exceptions to this are Pinhead, Freddy Krueger, and Michael Myers.
---
Fright Effect:

8
The culmination of prior mentioned categories makes this haunt one that provides its customers with different kinds of scares than you'll see at most other attractions. However, some original takes at commonly-used scares still made everyone in our group jump at least once. Actors were noticed several times distracting our group so that another one (or two or three) could surprise us from another direction. Some of them were even able to jump out from hiding in plain sight! On the other hand, others were spotted before their attempts which took away from the element of surprise for some of our group members. The tight quarters, however, helped provide more hiding spots and made it more difficult to predict when the scares would come our way. Scares ranged from creepy, laughter-backed stares and clown attacks to evil witch, doctor, and chainsaw encounters.
---
Value:

8.71
General admission tickets are the lowest we've seen at $8 each! Kids 11 and under get in for $6 and VIP speed pass tickets are available for $16. For about 20-25 minutes of entertainment, that comes out to around 3 minutes of entertainment for every dollar spent which is also one of the best deals we've seen! We look for the overall value of this haunt to increase as their scare skills increase in the coming years. Regardless, if you're in west-central Indiana and are looking for an original haunt that won't break the bank, then be sure to check out Frightmares Haunted House in Linton, Indiana!
---
Have you visited this attraction?
---
2016 Awards
Actor Shout Out Award - Eyeless Lady (Given by: Team Zombillies)
---
2015 Awards
Actor Shout Out Award - "The Gorilla" (Given by: Team Zombillies)
Actor Shout Out Award - Madam Rue (Given by: Team Zombillies)
---
2014 Awards
Actor Shout Out Award - Dot Guy (Given by: Team Zombillies)
Actor Shout Out Award - Madam Rue (Given by: Team Zombillies)
---