Find Reviews for a Haunt near You! Find Reviews for a Haunt near You!
Find Reviews for a Haunt near You!
Shattered Nightmares
1609 Lafayette Avenue, Terre Haute, IN 47804View All Details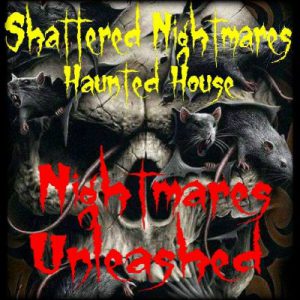 Features:
Free Parking, Restrooms On-Site, "Old-School" (Low Tech), You will NOT be touched, Movie Characters, Original Characters, Indoor Waiting Line, All-Indoor Attraction
Team Zombillies reviewed this attraction on October 26, 2012.
Final Score:

8.94
Summary:
Shattered Nightmares is in their 3rd year for 2012 bringing you 21 rooms full of twisted dreams that have become reality! Many different creatures can be encountered here from some of your favorite movie characters to a ballistic butcher, a werewolf, and many other mysterious maniacs you never thought you would come face-to-face with! Each group is given a tour guide to lead you through the halls of darkness and fear to make sure you get to experience all the features of each scene. If traditional fears and scares is what you are looking for and you think you can handle what goes bump in the night, then have your try at Shattered Nightmares, where they 'put the 'Shat' in Shattered Nightmares Haunted House!'
---
Cast:

9
There are between 30 and 35 volunteer actors within this 5,400 square foot haunt. This crew has some coaching, but most do their own thing and they also do several dry-runs before the season starts. The tour guide that our group was given stayed with us throughout the entire haunt and enhanced the believability of the characters in each scene by making sure we all knew what was going on while still staying in context with the theme! Other characters were also very interactive with our group such as the preacher, the ring leader, and the 'beast' which helped to intensify their characters. Though all of the characters were believable and played their roles very well, a few could use a bit more 'twisted dream' dialogue to make the theme more apparent in some areas. It seemed that most of the areas had plenty of actors in them due to some doing double duties but it seemed the dark maze-like area could use a few more. Some of the characters that stood out to us were the demon from Insidious, Michael Myers, the ring leader, the preacher, the werewolf, the little girl crawling on floor, the 'beast', and the butcher due to their interactivity and intensity.
---
Costuming:

8.65
Costumes are both purchased and made in-house. Many darker areas were present throughout this attraction and the costumes seemed to match so it was harder to see the detail of many of them. The haunt has a small makeup crew who use traditional and prosthetic makeup applications. Masks are used a lot but are needed to effectively create the monsters within these 'twisted dreams'. A few of the costumes weren't as realistic as others mainly because they weren't as effective, such as the werewolf not being in full costume from what we could see. However, other characters, such as the preacher and ring-leader, were very realistic due to the details that were put into their costuming and makeup.
---
Customer Service:

8.66
A well-lit flashing arrow sign was in front of the building on the night of our visit letting us know we had arrived at the correct location as well as a sign on the side of the building. You will need to park on the side of the street wherever spots are available, but it's well-lit in most areas and a portable restroom was located on the side of the building towards the exit of the haunt. Once inside we didn't notice any trip hazards; however, there are stairs so be cautious on them. Exit signs were apparent but some weren't as noticeable as others. Keep in mind that each group is sent in with a tour guide at this attraction so if an emergency were to arise, they will know how to respond. While standing in line, Freddy Krueger came out to entertain the crowd along with a few other characters every now and then who would rattle the fence and provide unnerving stares. We didn't see any concessions available but we were informed that t-shirts are available for purchase. If any questions arise, friendly staff can be found at the ticket booth before entering the haunt.
---
Atmosphere:

8
Shattered Nightmares is located in an old creepy looking warehouse that even has vines growing up the sides of it! The building was accented with a few green lights which intensified its creepiness, but more spooky d
---
Special Effects:

8.99
Props used are typically made from scratch and/or pieced together part by part by the haunt. Many original effects are used such as a vicious vibrating box, a rocking baby, a large cage, unique vortex tunnel, and many others that provide sudden startles that we don't want to give away! Not only were most of their effects original, they were effective as well! They had us jumping, screaming, and in suspense about what was going to be around each corner. Great detail was present in some areas but most scenes and hallways were dark and lacked detail making it harder to tell what some scenes were supposed to represent. Michael's house was excellent and the severed heads from the ceiling that the tour guide kept commenting on really added a realistic touch to the scene.
---
Theme:

9.4
Shattered Nightmares theme for this season is 'twisted dreams'. You will encounter a mixture of horror movie villains along with creepy and hairy creatures that have come to haunt you in reality! This is more of a universal theme where many different ideas can be used and all of the characters and scenes seemed to fit in their own unique way. One thing that would help to increase this score is for the characters to have stronger dialogue referring to dreams and nightmares so the theme is better known.
---
Fright Effect:

9.1
Scares were delivered on a scale from slight creepiness to all out screaming! Many startles were provided from both characters and props as well as distractions which kept our group on our toes the entire way through! Scares were also very hard to predict in many areas, especially the dark areas where some sudden panic was experienced by our review group. Each person in our group was targeted more than once and several of us were targeted at a single time in multiple locations. As mentioned before, adding a few characters to some strategic locations and implementing more interactivity and distractions into the characters and scare tactics would help raise the score in this category.
---
Value:

9.7
General admission tickets are $8.00! Which is a steal! It took our group an estimated 20 to 25 minutes to navigate our way through these twisted dreams giving them a value of around 3 minutes per dollar! This is an excellent deal in comparison to many attractions we have traveled to this season. T-shirts can be purchased for $10.00 so don't forget to check those out. If you are looking for some traditional scares at a great value in the Terre Haute Indiana area, you need to make sure Shattered Nightmares is on your must-see list!! 'Just look for the green lights!'
---
Promo Images:
Click to Enlarge