Find Reviews for a Haunt near You! Find Reviews for a Haunt near You!
Find Reviews for a Haunt near You!
Shadow Asylum
949 N 10th Street, Terre Haute, IN 47807View All Details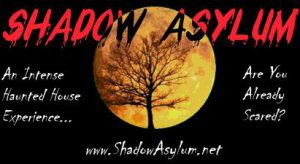 Features:
Free Parking, Gift Shop/Souvenirs, You will NOT be touched, Original Characters, Indoor Waiting Line, All-Indoor Attraction
Team Zombillies reviewed this attraction on October 26, 2012.
Final Score:

9.12
Summary:
2012 is Shadow Asylum's 7th year in operation since opening in Terre Haute, Indiana in 2005. Unlike most other haunts that utilize a select few scenes with an asylum theme, these guys have completely remodeled their haunt and have stretched the asylum theme throughout the attraction! From a meeting with the head psychiatrist to a tour through the examination rooms and patient housing areas within these dark and twisted passageways, beware of the crazy, demented and mutilated patients and staff of this gen-u-wine insane asylum! If you're looking for original haunts in west-central Indiana for a price that won't thin the wallet much, then look no further than Shadow Asylum… they're 'waiting for you!'
---
Cast:

9.24
40 energetic volunteer actors make up the characters behind the walls of Shadow Asylum. This number seemed to eliminate the majority of 'dead spots,' but not all of them. Each year before the season starts, the actors go through many training sessions including watching videos that cover role specific subjects and others like 'baseline' and safety training. Each actor that our review group encountered was in context with the haunt's asylum theme and made the haunt come to life by offering varying intensity levels as we made our way through the scenes. Dialogue was also well executed, but some of the iconic characters could use some work on their interactivity to make them more believable.
---
Costuming:

9.4
Most of the costuming found inside Shadow Asylum is custom made by the haunt's very own 'costuming department.' Outfits are made from scratch or distressed and pieced together after purchasing from various vendors. Makeup is applied by talented airbrush artists using top-shelf products to help add realism to the characters. Most of the masks found in Shadow Asylum are also custom-made by the haunt, but a few are still purchased and modified to fit the characters that use them. The majority of characters found inside the attraction fit the theme very well and remove all doubt that you've just checked into an insane asylum! However, a couple of characters (like the clowns, mannequin guy, and little demons running around) seemed to blur the line a bit. On the other hand, the head psychiatrist, nurses, and various patients inside the haunt were excellently detailed and made for some very believable and realistic characters!
---
Customer Service:

9.01
A searchlight draws customers in without the need for a GPS or directions once you get close enough to follow it. Upon arrival, strobe lights and a hearse with the haunt's name let us know we had arrived, but poor lighting and signage led us to parking on the side of the road for lack of knowing if there was a parking lot (which is located across the street from the haunt). A covered ticket line/booth and portable restrooms increase the score for this category and queue line actors await customers that have just purchased their tickets. Some uneven flooring was noted in several places along our tour of the haunt, but copious amounts of exit signs (both lit and glow-in-the-dark) make for an easy escape in an emergency situation. At the end of the haunt, a very elaborate gift shop offers guests t-shirts of all sizes (including small kids) and souvenirs to remember their trip to Shadow Asylum. Finally, a 'Last Ride' coffin simulator gives customers one last chance to spend their money before leaving the attraction so their friends can watch them squirm via a remote television as they get 'buried alive!'
---
Atmosphere:

8.25
The main aspects that were detrimental to Shadow Asylum's atmosphere were the lack of lighting and music outside the attraction during our time of visit. Strobe lights on a plain white vehicle next to the hearse was an eye-catcher, as was the single actor that was operating the coffin simulator, but the building could have been accented and decorated much better for what it was and failed to lead us up to the extremes that we experienced inside. However, the building itself looks like an old, abandoned warehouse that has a creepiness effect on its own and the music and sound effects used inside the haunt provided a spooky, yet in-your-face internal atmosphere.
---
Special Effects:

9.2
Some of the special effects at Shadow Asylum are purchased, but most of them are made in-house. We came across many original and effective effects during our stay. From circular laser beams to pitch black passageways and a life size jack in the box, we began to wonder if we had been given some of these patients' meds! Furthermore, strategic lighting, ample amounts of blood and realistic hospital/asylum equipment reinforce the theme of the haunt. However, the slight drop in score for this category is the result of a couple of things. While elaborately detailed and very effective, the clown scenes seemed a bit out of place with the haunt's insane asylum theme. They still provided our group with scares, however, and anyone that's terrified of clowns will have a hay-day in these areas! Also the counter-rotating vortex tunnels were a very original concept, but we were able to see through to the second tunnel, which took away from their effectiveness together. Despite this, the tunnels themselves were well-decorated and combined for a total length that surpasses any other vortices that we've encountered in the past!
---
Theme:

9.22
Shadow Asylum's theme changes from year to year. For 2012, it's based on an actual insane asylum! From men dressed like women to crazed nurses, doctors, and plenty of patients, you will definitely have an idea of what a stay at a mental institution could consist of… especially if things go awry as they have at Shadow Asylum. Most of the characters and scenes remove all doubt that you've just stepped foot into a mental hospital and are about to be subjected to every one of the demented patients, staff and experiments within! The exceptions to this are the clown rooms and mannequin room that didn't say 'asylum' quite like the rest of the haunt did. Regardless, this haunt is one of the best ones we've been to as far as being able to replicate the surroundings of a mental institution and continue to do so for the majority of the haunt!
---
Fright Effect:

8.95
The culmination of effects and actors here make for one scary insane asylum! Several of the actors seemed to just pop out of nowhere and distract us so another one could get us while we weren't looking! Some of the actors were very intense as we navigated their scenes, but others did little or simply stared at us as we passed by. While this still provided entertainment for our group, it didn't help the score for this category. Another instance was our meeting with the head psychologist, where his interactive dialogue and formal attire certainly left us feeling intimidated and uneasy about what was about to happen to us, but his threats weren't followed up with a scare for our review group. More interactive dialogue from other characters, increased intensity and scene detail that provides transitions from scene to scene would help keep customers feeling that they've never left the 'asylum' and keep feelings of uneasiness and chaos at heightened levels.
---
Value:

9.7
General admission tickets will cost you $10.00 while VIP tickets are $17.00. A coffin ride can be purchased separate at $3.00 which is well worth it since it could be the only time you make it out of one alive! It took our group an estimated 30 to 35 minutes to break free from these psycho patients and staff making this a killer deal at around 3 minutes of entertainment per dollar spent! Combined with what you'll experience inside, Shadow Asylum is a haunt that's worthy of recognition and has the potential to be one of the best in Indiana!
---
Have you visited this attraction?
---
2014 Awards
Actor Shout Out Award - Imp (Given by: Team Zombillies)
---
2012 Awards
Most Atrocious Scent - Meat Locker (Given by: Team Zombillies)
Actor Shout Out Award - Queue Patient (Given by: Team Zombillies)
---