Find Reviews for a Haunt near You! Find Reviews for a Haunt near You!
Find Reviews for a Haunt near You!
Sandyland Acres
4172 Belleview Road, Petersburg, KY 41080View All Details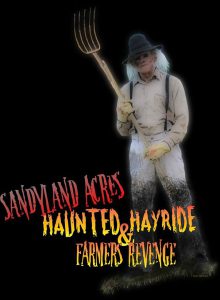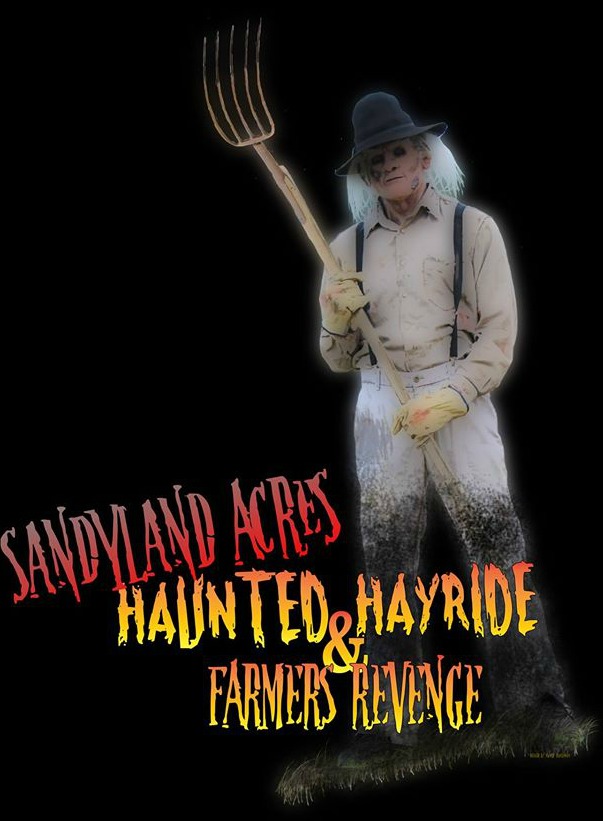 Features:
Free Parking, Restrooms On-Site, Food/Concessions, Gift Shop/Souvenirs, You will NOT be touched, Movie Characters, Original Characters, Uncovered Outdoor Waiting Line, Indoor/Outdoor Attraction, Family Friendly
Team Zombillies reviewed this attraction on October 27, 2012.
Final Score:

8.4
Summary:
Sandyland Acres is in their 7th year of providing seasonal fun for the whole family! After its first season of finding out what you fear most, Farmer's Revenge has returned for it's 2nd year and is ready to use these fears against you! It was apparent that Sandyland had been working hard all year to re-vamp their scenes since many changes from last year were experienced. Your trip on the hayride will impel you into evil corn fields, woods, and keep you within the rails as a fire-blowing vehicle and other various equipment and villains chase you out of their territory! Farmer's Revenge is a haunted barn where you must feel your way out without being cut into tiny shreds by the blood-splattering butcher! 'Halloween season is the time of year when Sandyland Acres comes to life!'
---
Cast:

7.68
Sandyland has 50 paid crew members that are divided between the two attractions. This cast attends two classes before the season starts to go over scare techniques and what to do in emergency situations. Though there seemed to be more actors present on the hayride this season compared to last, more could be added to the corn fields to provide more unsuspected startles as well as in Farmer's Revenge in a few areas between scenes. The characters were more active towards the riders this season by jumping on the wagon more often, continuing their roles after they were off the wagon, and getting in our faces with more threatening dialogue, but some of them didn't make sense with the theme. This was the case with the doll-face, the doctor, the hillbillies, and characters in Farmer's Revenge whose dialogue didn't help in making their roles apparent. As we tried to feel our way through the barn, several characters that we could not see were verbally interactive with our group. However, this wasn't the case on the hayride. Only a few characters were trying to get answers out of the riders on the wagon since they were mainly just waving their weapons around and giving spine-tingling stares. More interaction towards the riders on the hayride along with stronger dialogue that goes along with the theme would help make many of these characters more believable and help to raise this score. Some of the more realistic characters to us were Freddy Krueger, Pennywise, Leatherface, Pinhead, the aliens, and the Grim Reaper because of their demeanor and costuming.
---
Costuming:

8.37
Sandyland has their own seamstress this season who makes a lot of the costumes but some are still purchased when needed. All the costumes matched their respective scenes very well but a few of them weren't as elaborate as others. About half the actors apply their own makeup while the other half is applied by one of the owners. Good detail is applied to the costumes, but not much blood and gore are used in order to help keep the attraction family-friendly. Most of the iconic movie characters were easy to identify like Michael, Freddy, Pinhead, Pennywise, the Headless Horseman and Leatherface, but others were more difficult to tell which movies they were supposed to be from. For this reason, the lack of horrific detail that other haunts use, and the idea of keeping things looking PG to PG-13 for the youngsters naturally lowers the score for this category.
---
Customer Service:

8.87
A sign displayed at an intersection as you near the haunt helps guide you in the right direction. Another large, well-lit sign is on display at the entrance. Employees with lighted wands are present to help you navigate the parking area which is a dim (but free) grassy field. Portable restrooms are located near the entrance of the hayride waiting area. Friendly staff can be found at the ticket booth or in the gift shop in case you have any questions as well as at the entrances to the haunts. The rails on the wagons are at an appropriate level and no large equipment comes in contact with the wagon, making it safe for the little ones. A couple of exit signs were noted in the barn in case you need to find your way out quicker than everyone else. A constant burning flame was present atop a silo at the entrance of the hayride this season, which is blasted as a welcome to the hayride. Freddy Krueger was at it again this season as he mingled with the crowd, but he was the only actor entertaining the line during our visit which results in a drop for this category. However once you have made yourself comfortable on the wagon, Mortimer Sneed will introduce himself and go over the rules of the ride. Your journey on the hay wagon will end near the haunt's spooky gift shop which offers many spooky souvenirs and t-shirts. Don't forget to stop by Auntie Susie's Haunted Kitchen where you can get hot or cold beverages as well as snacks and food. Behind the gift shop is a large sign where you can get your group photo taken with an actor for a fee. A 'glow wagon' was present near the hayride line again this season where glowing accessories can be purchased that will 'protect you along the way!'
---
Atmosphere:

8.66
Sandyland Acres is located on a family-friendly farm. The haunt's hearse near the ticket line, flame-blasting silo, Freddy Krueger, and Halloween d
---
Special Effects:

8.13
Around 75% of the special effects you will experience at the farm are made in-house and the other 25% are purchased from vendors. Original effects are a large spinning saw blade, furry walls, a horse bridge, floating funeral and more! One thing about this hayride that makes it stand out is their usage of real effects including trucks, tractors, flames, and a live horse which helped make their scenes more authentic. Though a lot of the effects are original and genuine, they are more entertaining in some areas than scary. Multiple-vehicle pursuits at once or distractions for some of the bigger effects would help keep some of them less predictable and more intense.
---
Theme:

8.25
The theme this year was mostly aimed at bringing you face-to-face with some of the scariest movie villains out there. Although they are trying to stick towards bringing these cinemas to life, you will still experience some typical farm aspects of each attraction. Hellraiser, 'It', Texas Chainsaw Massacre, Halloween, and what appeared to be Tim Burton's Sleepy Hollow were some of the more apparent movie scenes to us. However, we were unsure of where some of the other scenes came from. That being said there were some scenes that didn't make sense to us and didn't seem to fit the horror movie theme. If any of these scenes are from horror movies, they need to be more elaborate in order to make them more easily identifiable.
---
Fright Effect:

8.13
The hayride is meant to be enjoyable by customers of all ages, but still provides plenty of turmoil for adults as well! From banging weapons on the side of the wagon, fire-spitting vehicle pursuits, unexpected bangs and blasts to encounters with the Grim Reaper himself and a dark horse, there is something for everyone on this ride. Farmer's Revenge is a bit more intense since you will journey this indoor attraction on foot by feeling your way to fate. Watch out for the shocking walls and unforeseen surprises that await you in the darkness! Distractions were used a few times by the characters but if used more often they could provide for many more unexpected startles. While on the hayride, the actors would come from different angles and some even jumped on the wagon to personalize some of the scares. Most of them seemed to focus on the smaller children on-board, but everyone was targeted at some point or another.
---
Value:

8.63
General admission for the hayride is $12.00 and $10.00 for Farmer's Revenge. VIP passes are available for the hayride at $15.00 and can be a good advantage when the lines are long! Combo tickets for both attractions can be purchased for $20.00 while VIP combo tickets for the hayride will cost you $23.00. Kids under the age of 5 are free! If you feel that everyone in your group can handle both attractions, we feel this is the best way to go! We were on the hayride for approximately 20 to 25 minutes making this a heck of a deal! However, our tour of the barn wasn't near as long, only lasting maybe 10 minutes, which isn't as good of a deal when paid for as a separate attraction. Since no increase in ticket prices are present from last season and the amount of time in the attractions improved this resulted in a score increase! For some Halloween entertainment in Petersburg, Kentucky that can be enjoyed by the whole family, make sure you take a ride at Sandyland Acres Haunted Hayride, 'They are waiting for you!'
---
Promo Images:
Click to Enlarge
Have you visited this attraction?
---
2014 Awards
Actor Shout Out Award - Chuckles the Clown (Given by: Team Zombillies)
Actor Shout Out Award - Michael Myers (Given by: Team Zombillies)
Actor Shout Out Award - Mortimer Sneed (Given by: Team Zombillies)
---
2012 Awards
Actor Shout Out Award - Leatherface (Given by: Team Zombillies)
Actor Shout Out Award - Mortimer Sneed (Given by: Team Zombillies)
---