Find Reviews for a Haunt near You! Find Reviews for a Haunt near You!
Find Reviews for a Haunt near You!
The Haunted Farm
5450 Old Millersport Road NE, Pleasantville, OH 43148View All Details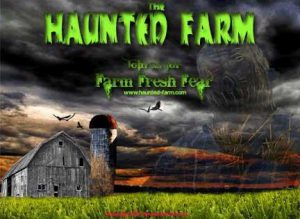 Team Mysterious Misery reviewed this attraction on October 27, 2012.
Final Score:

9
Summary:
The Haunted Farm is many haunt fans favorites. It is quickly becoming one of the most talked about haunted attractions in the Lancaster/Pleasantville area. With a well-executed theme, a cast with experience, and all the other right elements it is no wonder it is starting to become a favorite among many. The Haunted Farm can bring out the fear in everyone. They can also accommodate those who normally cannot experience the haunt season due to medical or physical limitations. The Haunted Farm has in your face moments where panic sets in and you want to run. They also have those creepy moments where it's just you lost in corn maize with your thoughts; I know all too well it was me this year. The effects whether they be small or big, fake or alive, they are properly executed just for you. So check out The Haunted Farm for Fresh Farm Fear.
---
Cast:

9
The Haunted Farm family is a one of a kind. They spend most of their free time working on the haunt or better improving their own character skills. This cast is all volunteers and love what they do. They want to be a part of this haunt scaring the life out of you because they need dinner. The farm family is a total of about 60 actors giving it what they got to create an amazing haunt season. Most of the volunteers have been a part of the farm family for 5 plus years, which is always an advantage to a haunt because they become phenomenal at what they do. This is a cast that continues to grow and strength in their ability and skills. They continually go to classes and conventions to learn more ideas and how to execute them properly. The many years of experience helps each cast member do a great job at developing their own characters but at the same time making sure they flow together in a uniformed presence. This cast never gives up on getting a scare or two. The haunt does not discriminate in age. They have a young man who is 7 years old. His name is AJ and he works the queue line and waiting area and he is an added bonus. He stays in character the whole night and offers up frights before you even pay for your ticket. Sarge has been with the farm for 8 years and he is everywhere at all time. He is relentless and you never get a second to think with him around.
---
Costuming:

9
The Haunted Farm has horde group, and we mean very horde. The Haunted Farm is not over the top in costuming but they do what works in maintaining the theme. This haunt does utilize very few rubber masks, but many are special made and they fit in with the theme. They have unique costuming that you will only see at the farm. The Haunted Farm is blessed with 5 to 7 makeup artist every night. Terry, Matt, Abbey, Brittanie, Kayla, and Crystal make sure each character is looking frighteningly good each night. They also have Ryan who has done FX work in the Ghostwalk Productions movie 'The Farm'.
---
Customer Service:

9
Kim Hicks loves her haunt and goes out of her way to make sure you love it also. Her operation does a wonderful job at customer service. Kim goes above and beyond to accommodate everyone, so that everyone can become the next fresh dinner for the creatures. In the daytime they run special groups through such as MRDD. Everything at the farm can accommodate any person that may need special assistance or use a wheel chair. The Haunted Farm continually meets all safety regulations and requirements. Stop into the Crow's Nest which has items to buy and concessions. They offer live bands and bomb fires while you wait. The Haunted Farm calls out group numbers so you can mingle and enjoy the entertainment going on, or get yummy hot chocolate or snuggle up on your first date by the fire. The Haunted Farm can be tricky to get to so make sure you have your GPS and printed directions. There are not many signs leading the way, but if you get lost most places you stop and ask can tell you exactly how to get to it.
---
Atmosphere:

9
This approximately 8 acre haunt is creepy and gives you the feeling of urgency and that something is going to go all wrong. The first thing is this haunt is all outside. So the crispy night air and the moon high in the sky is enough to set any creepy scene. The arrival and walk are silent until you reach the queue line where the haunting begins. The rickety old barn gives you the anticipation feeling because you know once you walk into those doors you may not walk out. While you wait for those doors to open the creatures start sniffing out dinner and learning your name. One the doors are opened it in high energy in your face haunting by the barn crew, who gives it hell and wants you for dinner. They love your fresh fear. The corn maize on the other hand starts to give you the creepy feeling someone is watching you. The feeling is partly psychological and starts to play with your head. You will be lost over and over again just begging to get out. The hayride is more relaxed feeling, but still leaves you on the edge of your seat. Be prepared because you may be the one that gets ripped off the hayride by a gruesome creature. The Haunted Farm does an impressive job on creating many different atmospheres to create a great haunt.
---
Special Effects:

9
The Haunted Farm is a haunt that will use special effects big or small but are used in the right balance to creep you out all night long. They also do an amazing job at not doing overdoing store bought or animatronics, just enough for perfection. They like picking the brains of others to create man made effects that give up fresh volumes of fear. All three attractions keep a cohesive balance which gives them an edge on competition. They use just enough in the right areas to create horrific scenes. They have some older effects that you may have seen before such as the claustrophobic walls but they are still perfectly placed that you didn't expect it. They also have ones that are unique to their haunt such as CGI ghost hearse, which is absolutely amazing. Then they utilize everyday items to create effects such as 'Lucy', she gets me every time. The Haunted Farm is a leader in special effects balance and they continue to grow in this area.
---
Theme:

9
The Haunted Farm cast and haunt are great storytellers at their attractions. The Haunted Farm is one of the few remaining haunts that utilizes a theme and does it well. The story is that the in the 1800s, The Watson Family, had a farm during the depression. Their farm was not doing very well and this made the family very mean and hateful. In the next year the Watson's farm flourished and the town's people started to talk. They noticed drifters going on to the farm to work but never leaving. There were strange noises in the barn and foul smells. As you enter through all three parts of the farm you come face to face with the drifters that never made it off the farm. They will beg, plead and cry for you to help them but you won't be able to. You will also meet The Watson's as they already know you by name. They will leave you running not to become another foul smell from the barn.
---
Fright Effect:

9
The Haunted Farm has been in the business of looking for farm fresh fear for thirteen years and this year is no different. They can smell, taste and hear your fresh fear miles away and that makes them amp up even more. The Haunted Farm is a dynamic haunt that utilizes all the elements plus their experience to create a night of you running for your life. Every night hundreds pile in to see some of the best of haunting. The barn with its in your face, high energy, looking for fear creatures makes you want to find the nearest exit. The corn maze where all you want to do is get the hell out and you spend hours getting lost over and over again. Drifters and Sarge are quietly sneaking through high corn to be in your face every minute. You can't think or concentrate, all you know is that you desperately want out. The hayride where the fright continues and you are not sure what is next. Count the people that get on the hayride because when it stops that many people won't be getting off, it may be you missing. Be ready to be scares for hours. This attraction plays on many levels of haunting and creepy. It introduces you to new fears and ones that you thought could never happen.
---
Value:

9
We think the admission price is a steal for all that this haunt has to offer. The Haunted Farm is approximately 8 acres of fear that includes the haunted barn, the corn maize, and the hayride. This is one of the longest haunted attractions that we have had the opportunity of experience. Just because it is long they don't make less scares, they make more. The general admission for adults is $16 and under 10 is $13.00. In case you already made the drive and it starts to rain they have rain dates that is just the barn and it is $10 adults and $8 for under 10. As haunt season is in full swing the lines are getting longer, so you may want to consider the fast pass option. It is $25 for adults and $20 for under 10 but also includes hot chocolate or cider, your choice. If you have a big group call for group pricing. Want to plan a special event they can help you with that also.
---
Have you visited this attraction?