Find Reviews for a Haunt near You! Find Reviews for a Haunt near You!
Find Reviews for a Haunt near You!
Dead Acres Haunted Hoochie
13861 E. Broad Street, Pataskala, OH 43062View All Details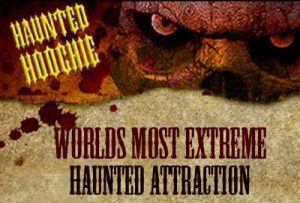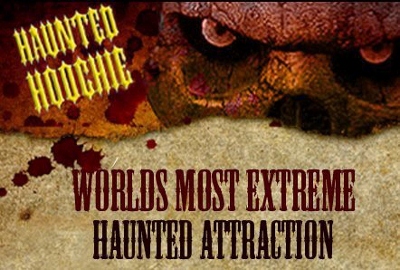 Features:
Restrooms On-Site, Food/Concessions, Gift Shop/Souvenirs, "Hi-Tech" Attraction, "Extreme" Attraction, You may be touched, Original Characters, Uncovered Outdoor Waiting Line, Indoor/Outdoor Attraction
Team Zombillies reviewed this attraction on November 3, 2012.
Final Score:

9.64
Summary:
Dead Acres returns for their 22nd year and continues to terrorize Pataskala, Ohio (just East of Columbus) with the Haunted Hoochie and Bad Trip in 3D! The 2012 haunt season has brought some new additions to both the Hoochie and Bad Trip, which are sure to send customers home in need of a fresh pair of underwear. Dead Acres is known as one of America's top haunts and all doubt about why is removed after a trip through the Hoochie! These are some of the most intense, violent, and gruesome actors out there and tens of thousands of people flock here from all over the world! If you've never been to Dead Acres, then make sure they're on your list of must-see haunts for the Halloween season! 'Don't try this at home!'
---
Cast:

9.42
Dead Acres utilizes some of the most intense actors that we've seen! Between 90 and 100 actors will cross your path during your tours of the Haunted Hoochie and Bad Trip and most of them are dismembering someone's body or threatening you with the same fate! Before the season starts, actors go through rigorous training sessions starting in June that last right up until the haunt season begins and cover topics like scare tactics, safety procedures, and emergency evacuation plans. Each of the characters we encountered were very believable and maintained context with the haunt's theme, but some of the actors could work on their physical and verbal interactivity. Some of the characters that stood out to our review group the most include the suicide victim, the provocative pastor, the Mohawk fiend wearing a tutu, the decapitated clown, and the nurses due to their intensity and believable acting.
---
Costuming:

9.75
Costuming at Dead Acres is some of the most detailed, bloody, and gory we've seen to date! Every article of clothing is customized for each actor in-house from pre-owned clothing that is purchased from thrift stores and other vendors. Most of the actors apply their own makeup before each night begins and do so in a very realistic and detailed manner! Ample amounts of blood are used which makes most of the characters look like they just slaughtered the neighborhood! Masks that have been purchased are used fairly often throughout both attractions, but they have been modified in ways that make them original, effective, and fit the scenes they are used in. Most of the costumes fit the theme and their surroundings very well with the exception of a few places where completely different styles of characters shared the same scenes. But, as always, Dead Acres has a way of 'Hoochiefying' them and making them work together!
---
Customer Service:

9.54
A large sign by the road lets you know you're approaching the haunt from a mile away (literally). Lights and more signs let you know you have arrived and show you where to turn into the well-lit, large, grass parking lot (which charges $3 per car, so have cash ready). Staff members are located in the ticket booths/concession stands and can either help you with any questions you may have or direct you to someone who can. These concession stands offer food, snacks, and drinks as well as several different kinds of Dead Acres- and Haunted Hoochie-adorned clothing at varying prices. Flooring inside the Hoochie is relatively smooth with the exception of the two small bridges leading to and from the 'tree house.' Bad Trip, on the other hand, is relatively unleveled with what seemed to be a wavy, gravel floor. Exits were plentiful in both attractions and customers needing to take the short way out should have no problem. Lighting is also ample with the exception of a few dark areas that are intended for their respective locations inside the Hoochie. Several roaming queue actors, rock/metal music, a TV on the side of the barn, and a stage for bands (when present) keep the crowd entertained as they wait in line.
---
Atmosphere:

9.73
Dead Acres has debatably the most demonic atmosphere we've experienced. 'Flames' shoot from towers, gargoyles guard the property, horrifying actors roam about, and the detail to decorations leave almost more for one to look at than can be observed in one visit! Not only that, rock/metal music, the screams of those who have entered before you, and the sound of 2-cycle engines further increase anticipation for those waiting in line. While this is a lot to take in, it seemed as though a few more queue actors would be beneficial to help keep the crowd on edge.
---
Special Effects:

9.84
A few of the special effects that you'll find at Dead Acres have been purchased from haunt-related vendors, but we were told that about 90% of them are created from the masterminds behind the scenes. Customers will experience just about anything here, from strobe lights, fog, and strategic lighting to huge, elaborate animatronics, incredible attention to scene detail, and other spectacular effects that you'll have to see for yourself to fully appreciate! The detail at this attraction is so remarkable and lavish in both attractions that it is impossible for you to admire it all in a single trip. Many original effects are used throughout both attractions as well such as a keg-standing clown, bleeding walls, rocking tree house, burning hallway, skeleton T-Rex, piled up classic cars, a flying dragon, and a grim reaper who calls to you as he is hovering over the cemetery!
---
Theme:

9.69
Dead Acres theme is based on 'old time terrors' combined with the Haunted Hoochie leaning more towards 'brutal horror,' and that's exactly what you will experience! This crew was constantly in our faces and invading what little bit of personal space we had the entire way through! Some of them even showed us their personal definition of the theme. Bad Trip in 3D is, as the name implies, a 3D attraction where your special glasses will take the scenes and props inside and torque them into a whole new dimension! The props and actors found in this haunt seem to be accurate representations of what one would experience if they were under the influence of illegal substances… so we're told.
---
Fright Effect:

9.72
Dead Acres is one of the most intense, grueling, and blood-thirsty haunts that we have the privilege of reviewing. About half of the actors are staged where the groups can see the horrific acts they commit. The other half seem to pop out of nowhere and either grab you and send you on your way or make valiant efforts at dismembering you and your friends! Many other scare tactics and distractions are used very effectively in several locations and aid the actors in providing multiple scares. One downfall that has plagued Dead Acres for several years is that, on busy nights, they have a tendency to run large groups of people through at a time. While this helps the queue lines move more quickly, it takes away from the unpredictability of some of the scares unless you're one of the first two or three in line. However, these actors somehow always seem to be able to reset themselves and provide scares from all different directions to several people throughout the length of the group.
---
Value:

9.41
General admission tickets, which include both attractions, are $20.00! VIP speed pass tickets are available for $30.00 which is definitely the way to go on a busy night; line times have been known to exceed two hours in previous years. General admission makes each attraction only $10.00! Our review group estimated that it took us around 10-15 minutes to escape the psychedelic labyrinth of clowns and approximately 25 minutes to reclaim all of our body parts that were cut off in the Hoochie. The combination of the two different styled attractions at one low price offers customers with a lot of bang for their buck with 1 to 2 minutes of entertainment for every dollar spent, depending on how fast you can run! If you're looking for a highly-accredited attraction that's very intense with incredible scene detail and scares, then make sure that Dead Acres in Pataskala, Ohio is on your list of must-see haunts for this haunt season!
---
Promo Images:
Click to Enlarge