Find Reviews for a Haunt near You! Find Reviews for a Haunt near You!
Find Reviews for a Haunt near You!
Land of Illusion
8762 Thomas Road, Middletown, OH 45042View All Details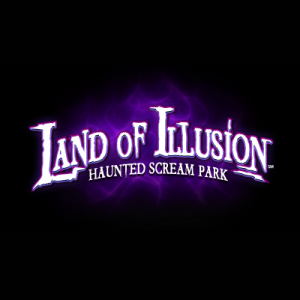 Features:
Paid Parking, Restrooms On-Site, Food/Concessions, Gift Shop/Souvenirs, Optional Games/Midway, Special Events, "Hi-Tech" Attraction, Original Characters, Celebrity Appearances, Indoor/Outdoor Waiting Line, Indoor/Outdoor Attraction
Team Zombillies reviewed this attraction on September 14, 2013.
Final Score:

9.16
Summary:
Land of Illusion Haunted Scream Park is in their 16th year in 2013 and consists of 6 differently themed attractions. New this season is the option of taking a very inimitable ride, Zombie Sniper Patrol! This ride takes place on custom paintball-equipped U.S. Army cargo trucks where you get to slay zombies, LIVE zombies!! After slaying some zombies why not try your luck at escaping the evil that is worshiped in the Temple of Terror? At Dr. Psycho's Haunted Estate, Dr. Psycho himself may be able to fix any health problems you may have, or convince you that he can until you see his demented and twisted experiments behind his dwelling's eerie walls. After escaping him(that is if you do), make your way to Killer Klowns and the Voodoo Bayou Shanty, where we discovered 'what the Circus of Terror left behind' and then some hillbillies with nothing but short sticks in THEIR family tree! Last, but certainly not least, is the Middletown Haunted Trail, where you will find a wide variety of classic scares and even some originals you won't find anywhere else! If you're looking for fun, variety, and a night full of entertainment and fright in one location, then Land of Illusion is the place to be for the 2013 haunt season; 'This is no ordinary haunted house attraction. This is real!'
---
Cast:

8.3
There are usually around 125 cast members lurking throughout LOI. From what we understand, since each attraction has a different manager the cast members' training techniques vary according to which attraction they work in. The majority of characters spread throughout the park were believable and they were all in context with the theme. We noticed a lot of the actors fell short of trying to interact with or entertain us after their initial scare attempts and saying a few words or using repeat phrases such as, 'Wanna play a game?' or 'Where you goin'?' but we expect this to improve as the season continues. A few of them, however, such as Dr. Psycho, Bubba from the trail, the guy riding the bike in Killer Klowns, and the miner with a pick ax in the temple are worthy of mention due to their exceptional interactivity and enthusiastic performances. If all of the characters were as believable and entertaining as they were during our visit, the score for this category would've been considerably higher. We came across multiple areas in some of the attractions where no actors were present (where they were sorely needed), which also results in a drop in score for this category. Some additional characters that stood out to us were Rebecca Rot , Mama T, the man with the crossbow in the Shanty, Mad Molly, and the female clown with dreads in Killer Klowns.
---
Costuming:

9.1
Costuming is a combination of purchased and custom made pieces. You will see many original and top-notch quality costumes here that match their respective scenes so well that it's hard to tell that their costumes! There are multiple makeup artists for the attractions at LOI who do a fantastic job at increasing the realistic nature of the characters, especially on the trail. However, some of the Trail's characters' costumes seemed incomplete, like the werewolves for example. At first glance, we could tell we were obviously looking at werewolves, but then we noticed the actors' hands and arms and legs and feet were still relatively untouched. This led to some confusion about whether or not this was intentional, given that there was no verbal interaction with the actor (no talking usually means 100% werewolf). Also, one of the hillbillies was seen wearing an army camo jacket while standing in the wide open part of the Trail. This not only made it difficult for us to see any gruesome details that could've been present, but it also made the character seem as though they should have been working in Zombie Sniper Patrol instead of the Haunted Trail. But don't let these mentions fool you about the other 95% of the characters at LOI. Most of them, were very realistic and complimented their respective themes and scenes exceptionally well! Many masks are used as well and the majority of them are also very realistic (including some CFX masks) and are appropriate for the characters when and where they are used.
---
Customer Service:

9.72
Land of Illusion has some of the best customer service in our coverage area! A massive gravel parking lot is well lit and provides ample space for parking even on their busiest nights. The park now uses electronic turnstiles that scan a QR code on your wristband so that each wristband is guaranteed to be valid for only one night. New since our last review are the Voodoo lounge, where alcoholic beverages can be purchased for customers 21 years of age and older, and the Creepy Cafe, where non-alcoholic beverages and other concessions can be purchased by all members of the family! Also new, and a very welcome change, are the updated restroom facilities (instead of the portable restrooms) that work very well for… disposing of, the refreshments and concessions you may purchase in the Lounge and Cafe! Various types of entertainment are provided on the stage in the park's midway which is now referred to as the 'Stage of Rage' instead of Club Zombie like it was in previous years. Also don't forget to stop by 'Ghostly Gifts' before you leave and check out the souvenirs and clothing they have to offer! Some more welcome additions we noticed this year were the multiple propane heaters staged throughout the park to help keep customers and staff members warm during those notoriously cold October nights. With all the cool stuff that Land of Illusion has to offer, there were a few things that we noticed that would have increased the score in this category had they been corrected. We didn't come across as many signs on the roads this year as we have in previous years, which would've made the attraction more difficult to find, had we not had a GPS. We also did not have a map of the park during our visit (available on their website), which made Zombie Sniper Patrol more difficult to find than it could have been, had there been better signage. To find it, you actually need to walk towards the general admission line to Middletown Haunted Trail, where signage will THEN show you how to get there. There were also places with several trip hazards and uneven ground present so watch your step through some of the attractions. Also, even though the park always follows local fire and safety codes, exit signs were found in some attractions more than others and several of those signs appeared to be marked over with something to make them less-noticeabl
---
Atmosphere:

9.5
Land of Illusion is a haunted scream park and that's exactly what it feels like once you've made your way inside. There are just so many things going on it can be overwhelming, but exciting at first! Our first clue that let us know we were at a haunt was the massive ticket booth that looks like a haunted house itself! Music was playing from the stage, however it didn't really help set the 'spooky' mood since it was a mixture of present hits and R&B. Regardless, the actors roaming around engaging with the crowd helped prepare us for what we were about to encounter, along with TV screens in the queue areas, detailed props, and 'missing' signs posted in obvious areas of the park. The sounds heard within the attractions were very realistic and among the best we have heard, including hissing snakes, squealing plants, swarming flies, sirens, lightening strikes/thunder, and sounds of wildlife!
---
Special Effects:

8.9
There is a great deal of different types of effects and plenty of eye-candy to experience at LOI. You will come across top-notch animatronics, very impressive props, a CGI effect, a flame thrower, unsuspected startles such as drop panels and air cannons, moving rooms, and scenes detailed so well that you would have to take advantage of your unlimited access to each attraction just to see everything! Many original effects are also present such as a covered bridge, a giant cauldron, a never-ending hallway, school buses stuck in the ground, and a horrendous face-off scene! While there are more special effects used here than any other attraction our team has experienced, some of them aren't as effective by themselves as they could be when used as an addition with actors, other effects, or used with distractions that would help keep them less predictable. Most of the effects used exceptionally complimented the actors and scenes, such as smells, strategic and disorienting lighting, thick fog, and exceedingly realistic d
---
Theme:

9.33
Land of Illusion has been known for the last few years for having 5 to 6 haunted attractions at one location, with each of them having their own unique theme. 2013 is no different. LOI's signature attraction, Middletown Haunted Trail, is where it all got started and provides customers with a variety of classic and contemporary themes. From vampires and scarecrows to demons, werewolves and even aliens, you never know what's around the next corner! Since there really is no specific theme for the Trail itself, each section is, in effect, it's own theme, and the dead spots between scenes served as transitions between each of the themes. Nearby the Trail is Zombie Sniper Patrol, which is LOI's recreation of reincarnated carcasses that is the zombie apocalypse! The military trucks and camo-clad personnel really bring home the concept that something BAD is going on and the ride on the truck could be everyone's last. The only things we really saw during our zombie patrol that didn't say "zombie apocalype" were the multiple fluorescent zombie cutouts throughout the woods that served as target practice and potential ammo-wasters (clever zombies). The Voodoo Bayou Shanty brings to life the story of a family who has been plagued by a voodoo curse for generations. These incest hillbillies look, dress and act their parts so well that we were watching our backs for more reasons than one! The incredible scene detail was also extremely accurate-looking which helped reinforce the theme for this attraction. Killer Klowns' theme is just what it's name suggests… Clowns. Inside you'll find several wacky and deranged actors and several disorienting and misleading special effects used in an attempt to keep you there forever! And what clown-themed attraction would be complete without a few carnival scenes, which are also present throughout Killer Klowns. Dr. Psycho's Haunted Estate takes you on a tour through the property where you will experience the twisted experiments that gave this doctor his name. While some areas of this attraction, like the basement scenes and botanical garden/laboratory scenes seemed accurate for being inside the residence of a mad doctor, other places, like the two back-to-back funeral visitation scenes and multiple outdoor graveyards, seemed to be a bit repetitive. Finally, the Temple of Terror imposes it's curse on all who dare to enter it's "sacred chambers." Even through the queue line, it's quite obvious that the Temple's theme is based on Egyptian mythology. Every sandy cave, skeleton, mummy and monster throughout the haunt simply 'screams' Temple of Terror! We did, however find a couple of downsides to the Temple's theme. Mainly, the haunt's jungle scene and miner character, while well-detailed and effective, seemed a bit out of place compared to the rest of the attraction. Other than that, the Temple, once again, scored the highest among our group of reviewers for the night we visited Land of Illusion.
---
Fright Effect:

8.9
Land of Illusion is one of those places where you want to pay attention above, below, and beside you at all times because it's hard to predict where the next scare will come from! While the Trail, Dr. Psycho's and the Shanty had a tendency to direct their scares toward the middle of our group (where the females were), Killer Klowns was better about targeting the entire group. However, if we rated the individual attractions separately, the Temple of Terror would receive the highest score in this category due to them having an ample amount of actors, which in turn provided many great scares and distractions (seemingly around every corner), and those scares were delivered to our entire review group! But unfortunately, the other attractions had some excessive dead spots, distractions weren't used as well and fewer scares per minute of entertainment were provided in comparison, which results in a score drop.
---
Value:

9.5
Ticket prices remain pretty reasonable this season since Land of Illusion has so much to offer for one low ticket price! Unlimited access to all 5 of the haunted attractions on a Friday or Saturday night will cost you $34.99 per person and $24.99 on Sunday nights. Zombie Sniper Patrol has a separate admission price at $12.99 per ride which includes 100 rounds of ammo. 100 additional rounds of ammo can be purchased on the ride if you run out (cash only) for $5.00. Fast pass admission is optional and will cost you an additional $15.00 per person which gives you access to shorter lines in all attractions. Make sure you check their website for available group rates. There is also a parking fee of $5.00 per carload (donated to non-profit organizations). It took our review team over two hours to make our way through all 6 attractions and that was with fairly short lines so if you go, show up early, and if it's busy the fast pass is probably the best route to go to ensure you see all the attractions. Although it took a large amount of time to tour all the haunts, we found ourselves wondering where the actors were on several occasions which results in a decrease in score for this category as well as increased parking prices from our previous review. The separate price for Zombie Sniper Patrol seems decent for the amount of time it took us to save the world (15 minutes). However, there weren't many live zombies to shoot at which also drops this score a bit. Regardless, if you are only going to hit one attraction for the year and you like experiencing multiple themes, you should consider paying Land of Illusion a visit, where they are 'dedicated to inducing spine-tingling, gouge-your-eyes-out fear'!
---
Promo Images:
Click to Enlarge
Have you visited this attraction?
---
2016 Awards
Most Tormenting to Victims - Middletown Haunted Trail (Given by: Team Zombillies)
Most Suspenseful Scene - Middletown Haunted Trail, Myers Walkway (Given by: Team Zombillies)
Actor Shout Out Award - Klowns: Gutta (Given by: Team Zombillies)
Actor Shout Out Award - Shanty: Amos (Given by: Team Zombillies)
Actor Shout Out Award - Temple: Guys in Elevator (Given by: Team Zombillies)
Actor Shout Out Award - Trail: Dr. Beak (Given by: Team Zombillies)
Actor Shout Out Award - Trail: Lunch Lady (Given by: Team Zombillies)
---
2015 Awards
Most Entertaining Clown - "The Cage Maze Chainsaw Clown" in "Killer Klowns" (Given by: Team Zombillies)
Scariest Duo - "The Catacombs Couple" (Given by: Team Zombillies)
Memorable Scare - "The Shadow Spirit" in "Dr. Psycho's Haunted Estate" (Given by: Team Zombillies)
Most Twisted Haunt - "The Voodoo Bayou Shanty" (Given by: Team Zombillies)
Actor Shout Out Award - "Dr. Psycho" in "Dr. Psycho's Haunted Estate" (Given by: Team Zombillies)
Actor Shout Out Award - Andrew Rasnic, A.K.A. "Bubba" in "The Middletown Haunted Trail" (Given by: Team Zombillies)
Actor Shout Out Award - Arthur Gehring, A.K.A. "Snagz, the Clown" in "Killer Klowns" (Given by: Team Zombillies)
Actor Shout Out Award - Mike Carmichael, A.K.A. "Arlen Dubois the Butcher" (Given by: Team Zombillies)
Actor Shout Out Award - Tonya R. Murray, A.K.A. "The Widowmaker" in "The Middletown Haunted Trail" (Given by: Team Zombillies)
Actor Shout Out Award (Given by: Team Zombillies)
---
2014 Awards
Best Pyrotechnical Scare (Given by: Team Zombillies)
Most Entertaining Clown (Given by: Team Zombillies)
Memorable Moment (Given by: Team Zombillies)
Actor Shout Out Award - Dr. Psycho's Haunted Estate: Redneck with Shotgun (Given by: Team Zombillies)
Actor Shout Out Award - Middletown Haunted Trail: Flesh Eater (Given by: Team Zombillies)
Actor Shout Out Award - The Shanty: Voodoo Guy (Given by: Team Zombillies)
---