Find Reviews for a Haunt near You! Find Reviews for a Haunt near You!
Find Reviews for a Haunt near You!
The Haunted Hotel KY
3000 South 4th Street, Louisville, KY 40208View All Details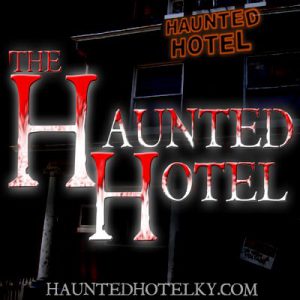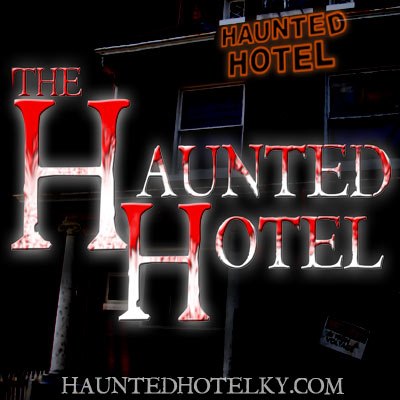 Features:
Free Parking, Restrooms On-Site, Gift Shop/Souvenirs, Special Events, "Hi-Tech" Attraction, You may be touched, Original Characters, Uncovered Outdoor Waiting Line, Indoor/Outdoor Attraction
Team Zombillies reviewed this attraction on September 20, 2013.
Final Score:

8.98
Summary:
2013 is the Haunted Hotel's 25th year in operation and it's 2nd year under new ownership. This year, the Hotel continues to provide the Louisville area with the extreme and high-energy scares that it's come to be known for with some new scenes and original actors to boot! Step into the Haunted Hotel and your friendly, un-dead concierge will send you down the elevator, where you'll navigate the horrific rooms and passageways that have been overcome by sinister and demonic staff and visitors, amongst other things. If you make it outside, returning customers will notice that the 2nd half of the attraction has been lengthened and evidence of foul play lingers as you witness the various experiments that the Haunted Hotel's Dr. Singe has been working on. Also new this year are the Haunted Hotel season passes, which offer unlimited access to the Hotel as well as a plethora of other goodies you'll be sure to take advantage of for one low price! If you're looking for an extreme haunt in the Louisville area and money's a little tight, look no further because 'The price of a night's not paid in gold… The price of a night is YOUR mortal soul!'
---
Cast:

9.02
On average, 27-30 paid actors are suiting up and bringing the Haunted Hotel to life this year. A couple of the actors that have been there for several years have stepped up to management roles this year to help with training the actors, which mainly involves walk-throughs as well as specialized tactics, like aggression. All of the characters at the Hotel were believable, and made sense with their scenes. This cast was very physically interactive with us which helped intensify our stay! Some of the dialogue from the characters was very interactive, such as with the female Concierge, Dr. Singe, and he who inhabits the green laser room. On the other hand, some of the characters in more intense areas of the attraction could benefit from the usage of more dialogue in general. For example, several of the actors were growling at us when it seemed as though there was nothing keeping them from talking to us or making intimidating threats, as we've seen in the past. More characters could have been used in a few areas to help take the intensity to the next level, but at the same time, there were very few dead spots! Some other characters that stood out to us were Pongo, the elevator attendant, and the chainsaw assailants because of their energy and effort towards providing scares for the entire group!
---
Costuming:

9.1
Costuming used at the Haunted Hotel is completely original, consisting of articles of clothing that have been modified to match the needs of the characters as well as their scenes. There are four ladies that apply realistic makeup to the characters at the attraction; three of them work at airbrush stations while the other one applies latex features. The haunt uses both silicone and latex masks. Although most of them were purchased this year from vendors, they are detailed and complimented those wearing them. Special contacts that were used on some the characters also helped set them apart from the others. Some of the more impressive costumes belonged to Dr. Singe, the chainsaw aggressors, and the Concierge.
---
Customer Service:

8.6
The first thing we should mention is that parking for the Haunted Hotel can be tricky if you aren't sure where to go. There is a small lot directly across the street that we have always been fortunate to use and there is a convenience store with a small lot on the South side of the Hotel that it's customers can use, where food and drinks can also be purchased. Other than that, normal street parking is available… when available. However, parking this year at any of these areas is free, which is a plus! Feel free to make use of the portable restrooms located near the queue line, then make your way around the right side of the building to find the haunt's hearse and ticket booth, which are located at the exit of the attraction. T-shirts can also be purchased here as well. Several warnings and disclosures are also posted in this area, so you can't say they didn't warn you as you come running out of the exit! Once inside, there are several dark areas which are needed for some of the scenes, but all of the stairs we came across were well-lit, making them easy to traverse. However, we must mention that the Haunted Hotel is, in fact, an old building and one of the staircases had a loose handrail, so be mindful of this while navigating them. All that aside, the Hotel's staff have made an extensive effort to make sure their attraction is safe and meets all federal, state, and local fire codes. Many exit signs, fire extinguishers, and emergency lighting fixtures were noticed during our stay at Haunted Hotel. One last note is that it was raining on the night of our visit so there weren't any queue actors entertaining the line, which was very short anyway, but one of the helpful staff members was out there to give us a few ground rules before allowing us to enter.
---
Atmosphere:

8.5
The Hotel has a naturally creepy looking building that can give you chills just by looking at it! The addition of outside music and roaming characters last season improved the exterior of the attraction, however they were absent during our visit this season resulting in a drop in score for this category. It was raining on the evening we visited the hotel, which may have been the cause for this. We knew we were at the right place when we saw the orange-colored neon 'Haunted Hotel' sign accenting the front of the building. The fog that was escaping the outside portion of the attraction, along with some unnerving sounds including screams, sirens, and chainsaws, got us a little prepared for what we were about to experience inside. Returning some aggressive roaming actors and adding more haunt-themed d
---
Special Effects:

9.17
The special effects used at the Hotel are both purchased and made in-house. More specifically, the props and decorations used throughout the haunt are proudly made in-house, while animatronics, fog machines, etc. are purchased from special effects vendors like The Scare Factory. Inside this attraction, we found quite the variety of effects, ranging from the original twitching dead bodies, shifting rooms and floors, an overhead meat conveyor, and carnivorous vegetation to more commonly-seen effects like fog, strobe lights, and, of course, chainsaws! All of the special effects inside the Hotel worked well with the scenes that they were used in and complimented the actors in their distractions and acts of violence. We won't give everything away… you'll have to see it for yourself! But the Haunted Hotel has definitely earned the increase in score in this category!
---
Theme:

8.5
We were informed that the Haunted Hotel was once your typical, cozy hotel with visitors from all over the world. But, after a suspicious murder, the staff began to see strange things, like visitors turning up missing or dead in their rooms. Eventually, the staff started becoming sick and those who didn't die or quit from fear started acting as though they were possessed! The Hotel was tragically sold at auction, but when the new owners purchased the place for it's historical value, they kept some of the old staff and picked up some new additions along the way! The new guests started becoming more and more eccentric, including a once world renowned doctor who has been fleeing the police and military for years. To this day, he continues his experiments on the guests, staff, and SWAT team members that try to flush him out on a daily basis. Currently, the Hotel is infested with some of the most grotesque monsters you can imagine! From an elevator ride to Hell to a five-star dining experience, the Haunted Hotel is sure to offer you an experience you won't soon forget. The changes in special effects and costuming fit remarkably well with this theme, and the actors definitely let you know you aren't in Kansas anymore!
---
Fright Effect:

9.45
One aspect that really caught our attention this year was the fact that they were very liberal with their ability to touch! These actors used some excellent hiding spots, with a few of them being completely undetectable until we were grabbed! In fact, their hiding spots were so good that one of them literally came out of the woodwork! But good hiding spots aren't all you need to be worried about. Once they've got you within their grasp, the intensity level shoots up to 11! However, some live victims to authenticate their threats and better usage of distractions would help to increase the score in this category. But don't be fooled, loud rock/metal music, insane sound effects, electrical pops and even simple props like a knife (like the one used to stab our review member) combined with aggressive acting, and even some distractions here and there, culminate to provide those who dare to enter with one of the scariest and most intense haunted attractions in the Louisville area!
---
Value:

9.46
General admission, VIP, and the 'Lights Out' event tickets remain at $18, $27, and $10, respectively. T-Shirts are $8 each or 2 for $14. New this year are the Haunted Hotel Season Passes, which include unlimited general admission access (for the purchaser) to the Haunted Hotel, one ticket to 7th Street Haunt, one VIP ticket to Haunted Hotel, one free Haunted Hotel T-Shirt, one free 'Lights Out' event ticket, a custom keepsake photograph, a Haunted Hotel picture I.D. card key, and a 2014 sneek peek tour before next season begins. Everything is rated at a $100 value, but you can have it for 50% off at, you guessed it, $50! The 'Lights Out' event is held on October 3rd and those brave enough to purchase a ticket will be permitted to walk through will all of the lights in Haunted Hotel turned OFF! All of the actors are still present, the sound effects are changed to zombies feeding all around you, and all you get is a single glow stick and perhaps a very small, strategically-placed light to cue you on the exits while you walk through. Haunted Hotel gets a bump up in score for this category for keeping the same prices as last year, adding Season Pass availability, and lengthening the attraction this year. Changes to increase the scores in other categories will enhance the score for this category as well.
---
Promo Images:
Click to Enlarge
Guest ReviewsGuest Average: 10 out of 10
Melissa Miles – 10/10We've been coming for several years and bring our marching band kids that date to come every year!! …show more This is my favorite by far!!!
---
2016 Awards
- Elevator (Given by: Team Zombillies)
Best Chainsaw Maniacs (Given by: Team Zombillies)
Best Original Characters (Given by: Team Zombillies)
Hardest Haunt to Escape Alive (Given by: Team Zombillies)
Most Intense Characters (Given by: Team Zombillies)
Scariest Haunt in Kentucky (Given by: Team Zombillies)
Highest Rated Fright Effect (Given by: Team Zombillies)
Actor Shout Out Award - "Cricket" A.K.A Kristen Warf (Given by: Team Zombillies)
Actor Shout Out Award - "Edna" A.K.A Bobby Castellano (Given by: Team Zombillies)
Actor Shout Out Award - "Thomas Gribbons" A.K.A Matt Perry (Given by: Team Zombillies)
---
2015 Awards
Scariest Actor - "Brutus" (Given by: Team Zombillies)
Grossest Scene - "The Bathroom" (Given by: Team Zombillies)
Best Single Scare Delivered to Entire Group - "The Elevator" (Given by: Team Zombillies)
Best Chainsaw Maniacs (Given by: Team Zombillies)
Hardest Haunt to Escape Alive (Given by: Team Zombillies)
Best Use of Sound (Given by: Team Zombillies)
Most Intense Characters (Given by: Team Zombillies)
Scariest Haunt in Kentucky (Given by: Team Zombillies)
Actor Shout Out Award - Joey Morbid, A.K.A. "Joe Morbid" (Given by: Team Zombillies)
Actor Shout Out Award - Matt Perry, A.K.A. "Thomas Gribbons" (Given by: Team Zombillies)
---
2014 Awards
Best Chainsaw Maniacs (Given by: Team Zombillies)
Best Single Scare Delivered to Entire Group (Given by: Team Zombillies)
Most Intense Characters (Given by: Team Zombillies)
Memorable Moment (Given by: Team Zombillies)
Actor Shout Out Award - Daphne the Plumber (Given by: Team Zombillies)
Actor Shout Out Award - DK (Given by: Team Zombillies)
Actor Shout Out Award - Dr. Vig (Given by: Team Zombillies)
---